Jump to recipe
Make these simple and delicious Lemon Blueberry Cake Bars using Partake Food's 5-in-1 Baking Mix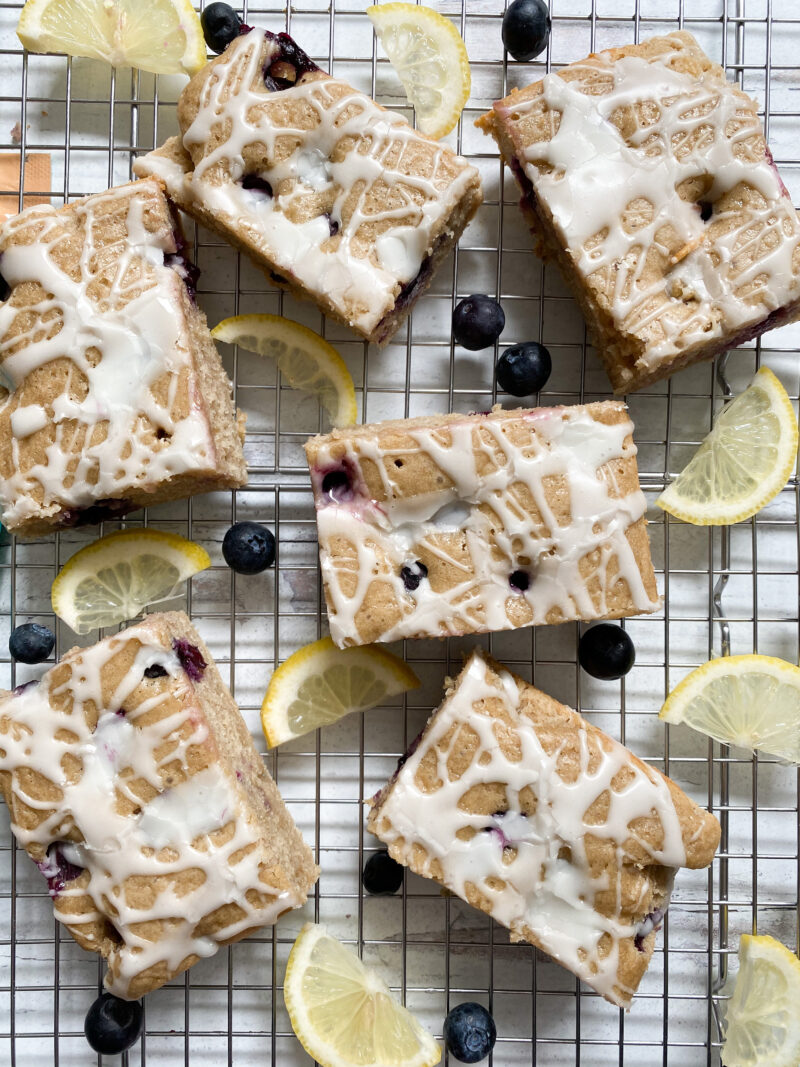 With Summer in full force and the peak of blueberry season, I knew that a delicious and easy baking recipe was in order. I am not a big baker myself (hence the lack of baking recipes on this blog) so I always look for shortcuts.
Whenever I find a vegan and allergy-friendly baking mix, I get so excited. As a Vegan with a nut allergy, I find it to be difficult to find baking mixes that aren't full of almond flour or other peanut & tree nut ingredients. I am really excited about this Partake Food's 5-in-1 Baking Mix because it's Vegan & free of the top 8 allergens. I always feel safe eating products because of this.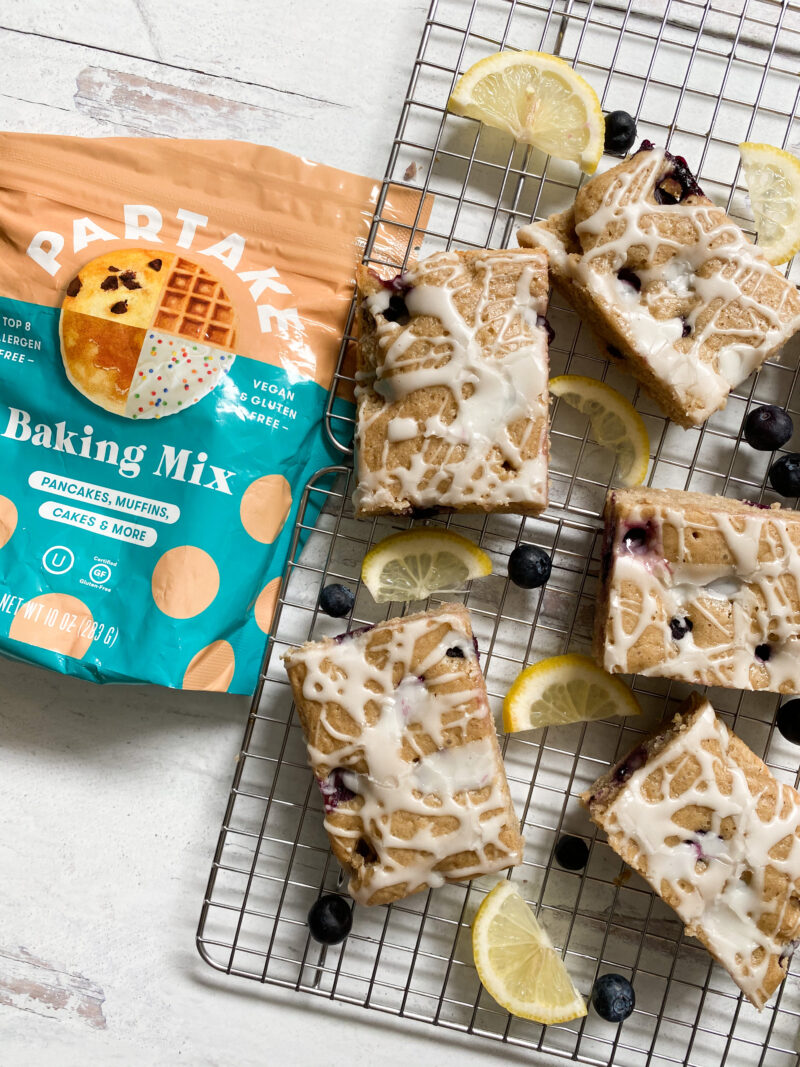 I have been a fan of Partake Foods for almost 5 years. I remember hearing about their products and how they were allergen-friendly and being so excited about it. I've been hooked since the moment I tried them! I swear I could live off of their Crunchy Chocolate Chip cookies. They also have a new Brownie Mix which is absolutely incredible.
The 5-in-1 Baking Mix is incredible because of how versatile it is. You can make cakes, breads, pancakes, waffles, etc. The back of the packaging offers instructions on exactly how to make them, which makes it so easy to follow. This would also make for a delicious pancake recipe!
I am really excited about this recipe because of how tasty it is. I love anything blueberry, and I love lemon pound cake. I thought the combination was delicious, especially with the glaze on top. This recipe screams Summer and comfort. Plus, it's extremely easy to make.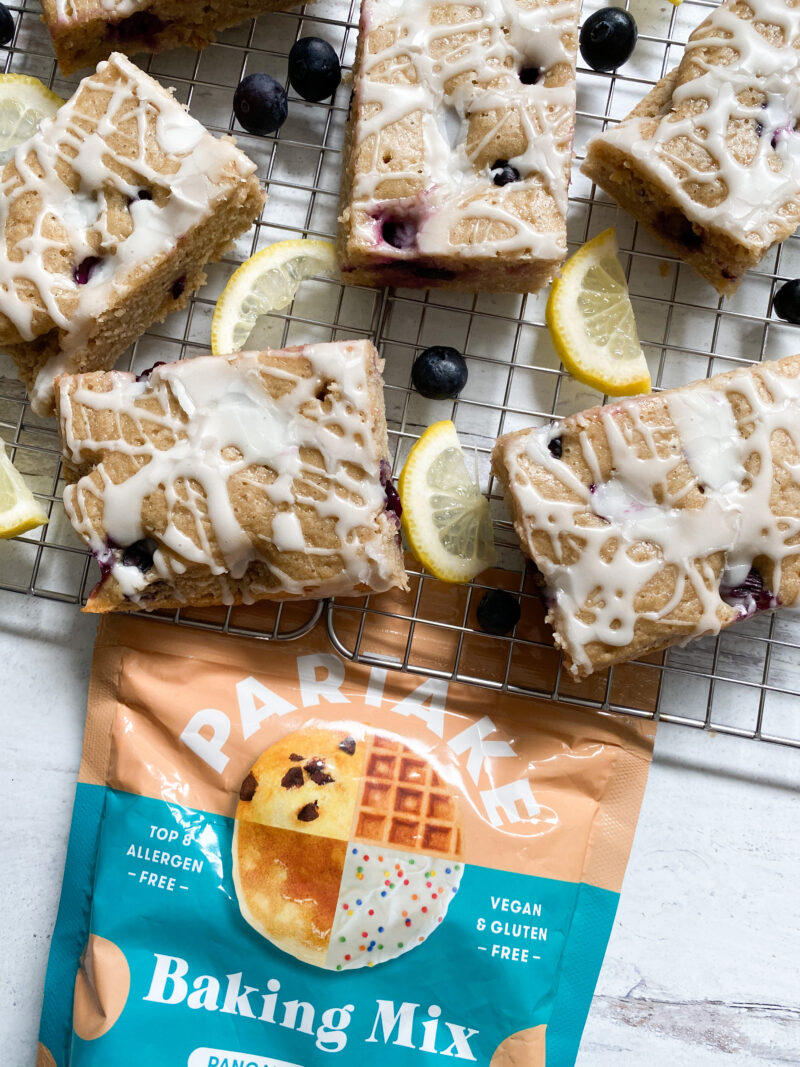 I hope that you enjoy this recipe! If you make any of my recipes don't forget to tag me on IG @plantbasedjane
To find Partake's products near you, click here
For additional recipes using the 5 in 1 Baking Mix, click here
Ingredients
1 Bag Partake Foods 5 in 1 Baking Mix (2-3/4 cup baking mix)
1 cup & 2 TBSP Water
1/3 cup neutral tasting oil
3/4 cup cane sugar
1 tablespoon vanilla extract
1 cup blueberries
Zest of 1 lemon
2 tablespoons lemon juice

For Glaze

1/2 cup confectioners sugar
2 tablespoons non-dairy milk
Instructions
Pre-heat your oven to 350 degrees.
In a bowl, combine mix with water, oil, cane sugar, and vanilla extract. Combine well.
Add in your lemon zest and juice.
Add to an oiled 8x8 baking dish. Top with blueberries.
Bake for 30-35 minutes, or until a toothpick inserted to the middle of the cake comes out clean.
Thank you to Partake Foods for sponsoring this blog post.