Jump to recipe
This is a super delicious and easy recipe for chocolate chip zucchini bread! Make ahead and have for quick breakfasts throughout the week or serve to family and friends! Also, learn more about the importance of flax! Made in partnership with Bob's Red Mill.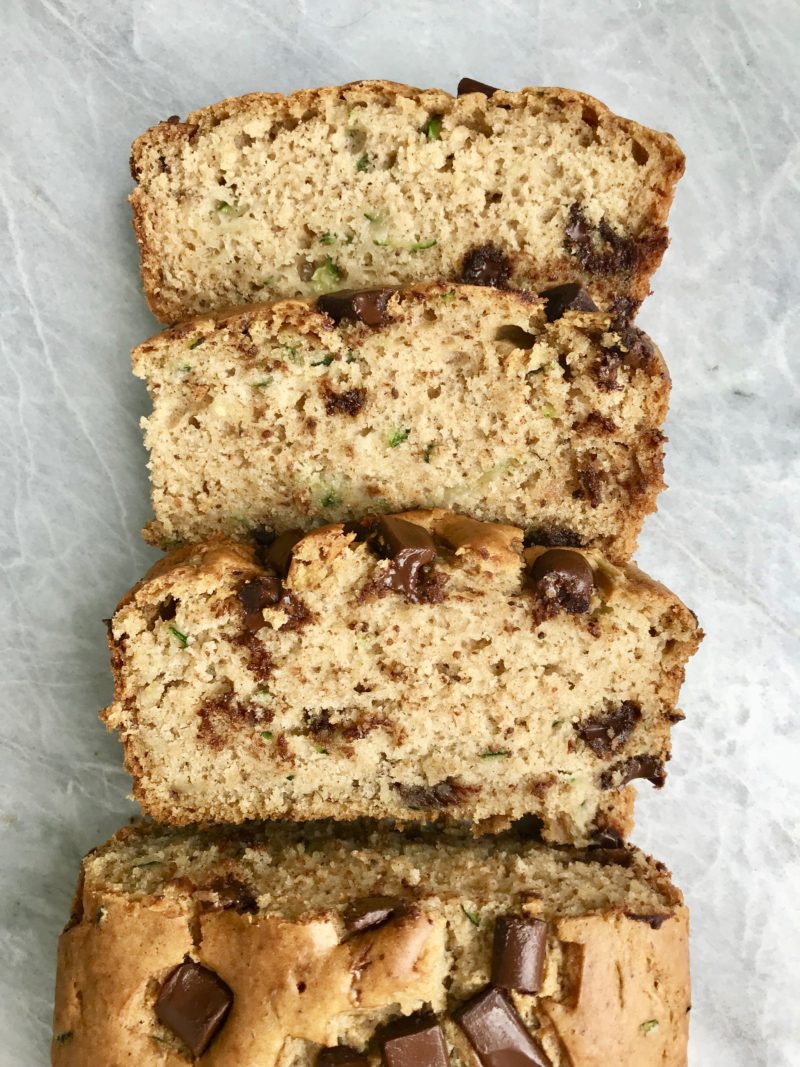 A few months back I made a recipe for banana bread and someone asked if I could make other loaf recipes because they're allergic to bananas. That has really stuck with me since then which is why I wanted to make something banana free!
I also made it a goal in 2018 to do more baking recipes for the blog. I actually love baking and discovering new recipes I can make. I always feel super accomplished when I make a baking recipe that I love.
Now for most baking recipes you need a binding agent. Since I'm vegan, and all my recipes are vegan, ground flaxseed is what I mainly use. Or better known as a "flax egg." I love the Bob's Red Mill ground flaxseed.
I lean on Bob's Red Mill for pretty much everything. I use their flours, grains, nutritional yeast, and a lot of their other products. They also have a large range of Gluten Free products too which are made in a separate facility to avoid cross contamination. Most of their products are Vegan which makes it a really easy source to go to.
Now, what is flaxseed? flaxseed is actually incredibly good for you. Now, I am not a nutritionist by any means but I do know that flaxseed is great for a vegan diet. It is loaded with Omega-3 which is a fatty acid our bodies do not naturally produce. it's very important to note that you shouldn't eat whole flaxseed because it's harder for our bodies to digest. I purchase ground flaxseed because of this but you can also buy whole flaxseed and grind it yourself.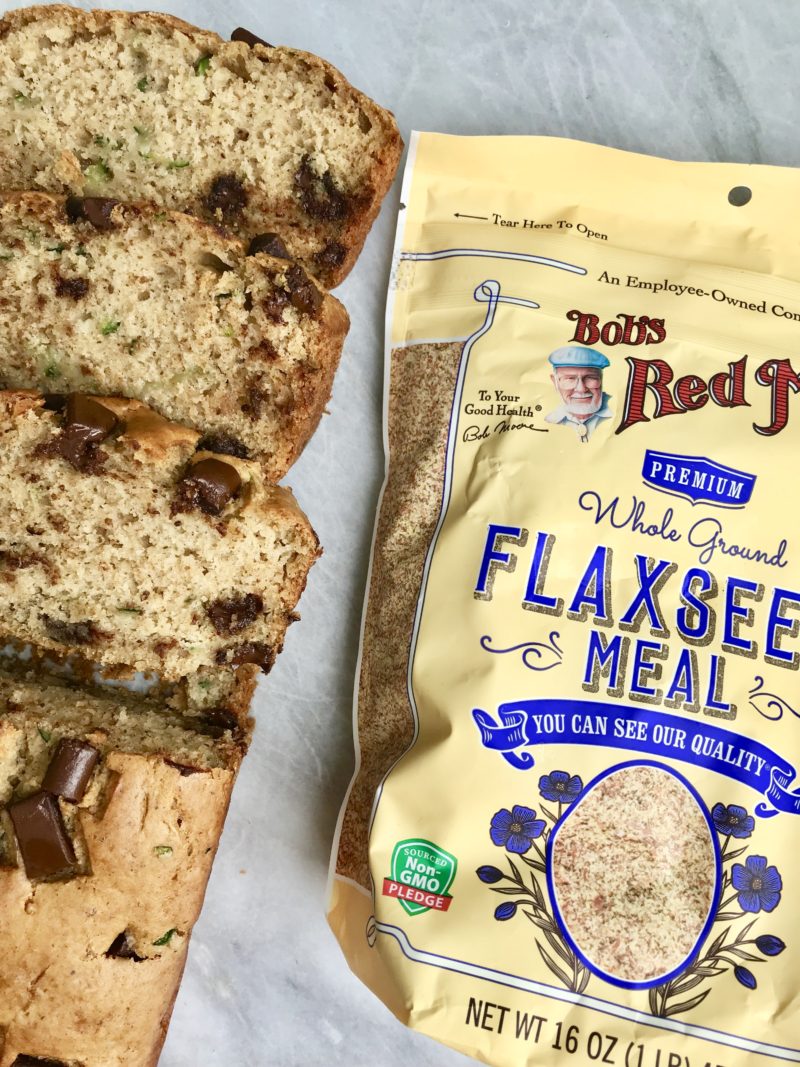 When ground flaxseed is mixed with some water, it becomes gelatinous which makes it great for an egg replacement. I make a flax seed by using 1 tablespoon of ground flax & 3 tablespoons of water. Combine it and let it sit for around 10-15 minutes. By then, the ground flax will absorb the water making it gelatinous and a great binder in vegan recipes.
Other ways to use ground flax? Add it to smoothies, oatmeal, salads, yogurt and other dishes.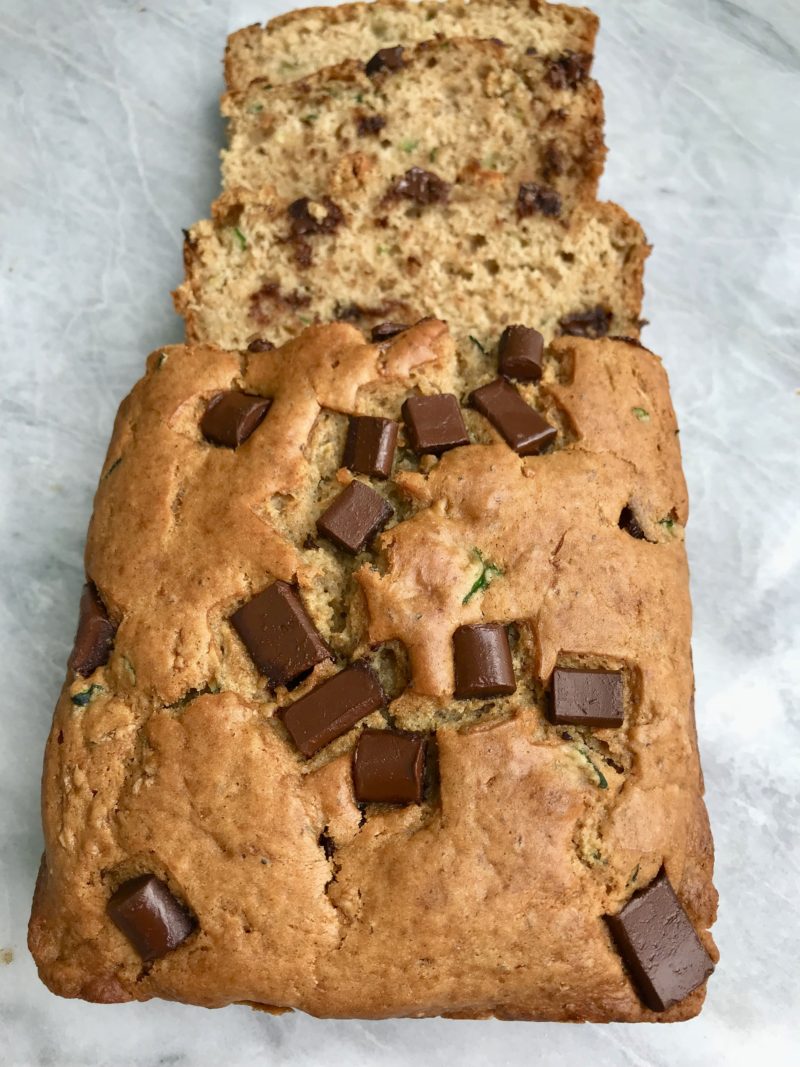 I hope that you enjoy this recipe! If you make any of my recipes, don't forget to tag me on Instagram @plantbasedjane.
Ingredients
1 tablespoon Bob's Red Mill Ground Flaxseed
3 tablespoons water
1 3/4 cup all purpose flour (I also use Bob's Red Mill)
2 tsp baking poweder
1 1/2 tsp cinnamon
1 tsp baking soda
1/2 tsp salt
2/3 cup unsweetened plant milk
1/3 cup melted coconut oil
2 tsp vanilla extract
1/3 cup maple syrup
1 cup grated zucchini
1/2 cup vegan chocolate chunks (or chips)
Instructions
Pre-Heat your oven to 350 degrees Fahrenheit.
Make your flaxseed egg. Combine 1 tablespoon ground flaxseed to 3 tablespoons water. Mix well and let sit for 10-15 minutes, or until gelatinized
Using a large box grater, grate your zucchini to fill out one cup. Then, using paper towels, make sure to release all the excess water from the zucchini. Place to the side.
Combine all your dry ingredients and mix well.
In a separate bowl, add in all of your wet ingredients (including flax egg)
Mix your wet with your dry and mix well. Add in your zucchini and mix until the zucchini is thoroughly combined.
Add in around half or your chocolate chunks but reserve the rest for topping.
Add to your well greased 9x5 loaf pan. Top with reserved chocolate chips.
Place in oven for 40-50 minutes, or until cooked through. I like to stick a toothpick through the middle. If it comes out clean, then it's ready!
Cool and enjoy!
Thank you to Bob's Red Mill for sponsoring this post. It means a lot to me to work with brands I love and support my blog!