Jump to recipe
It's day two of tofu week! Get ready for this extremely easy one pan recipe with tofu, potatoes and broccoli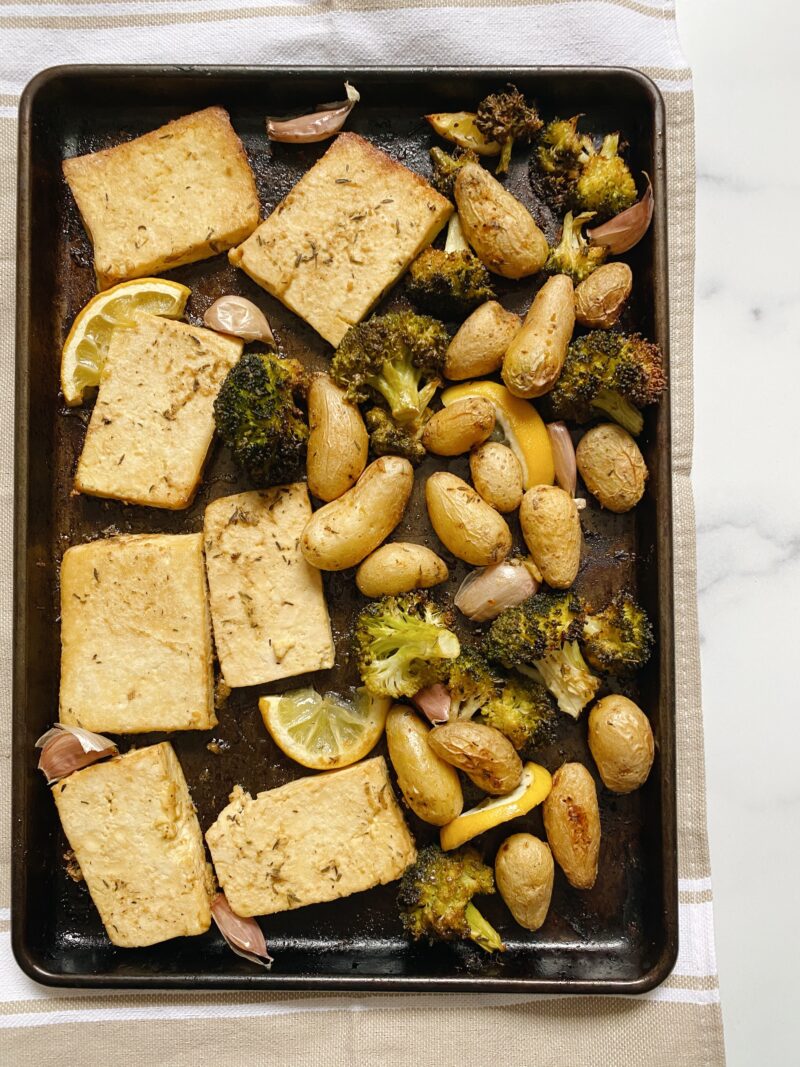 Happy tofu week day two! I hope that you liked the recipe that I posted yesterday for day one.
For today I wanted to do something extremely simple and perfect for dinner, even meal prep!
One pan meals are perfect for meal prepping. Make a big batch and have easy meals throughout the week that is packed with protein, carbs and vegetables.
The tofu in this recipe is baked in a delicious sauce accompanied by some yummy roasted potatoes and broccoli.
I love having sheet pan meals like this. You just dump everything on a baking sheet and throw in the oven. Makes for a much easier cleanup too!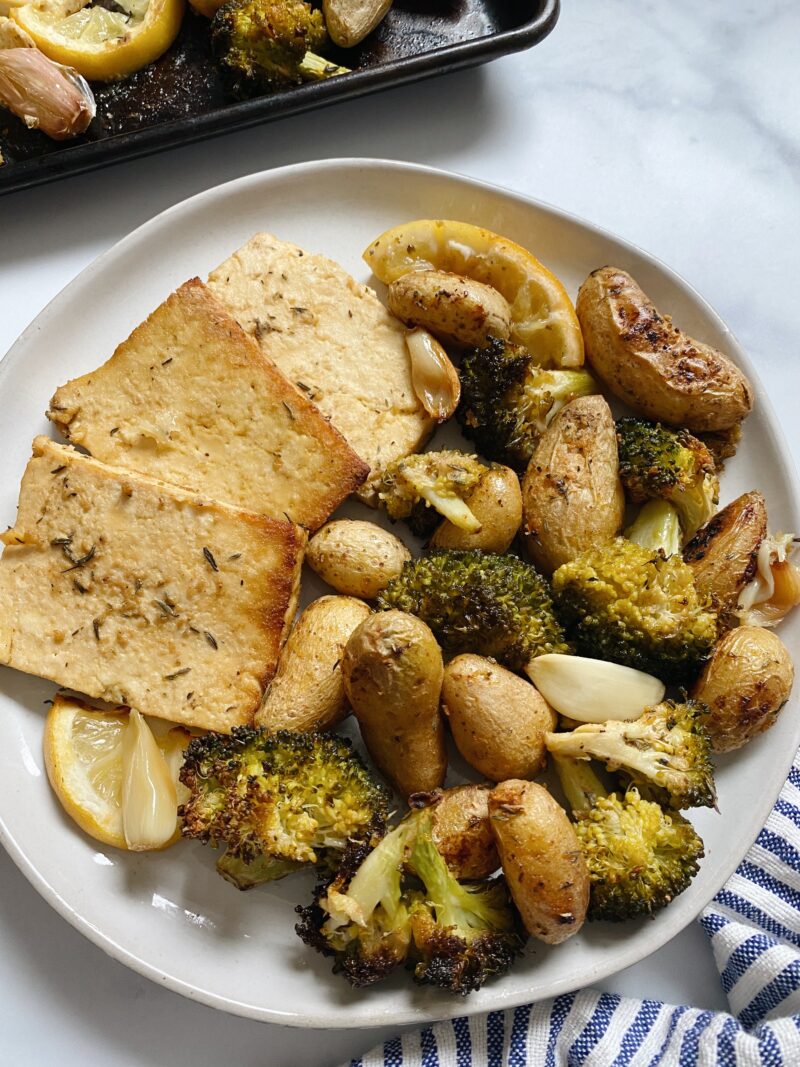 I had a pretty well thought out plan for this recipe. As I was about to put it in the oven I though, "you know what would make this better? Roasted garlic!" So I decided to throw in a bunch of unpeeled garlic cloves and let me tell you, it was PERFECT! Once it was done and cooled a little I just popped the cloves out of the peel and it added such a depth of flavor. Do not skip this step!
Also depending on the size of your baking pans, you may need two. My oven doesn't fit a super large baking pan so I needed two of my regular sized ones in order to cook everything.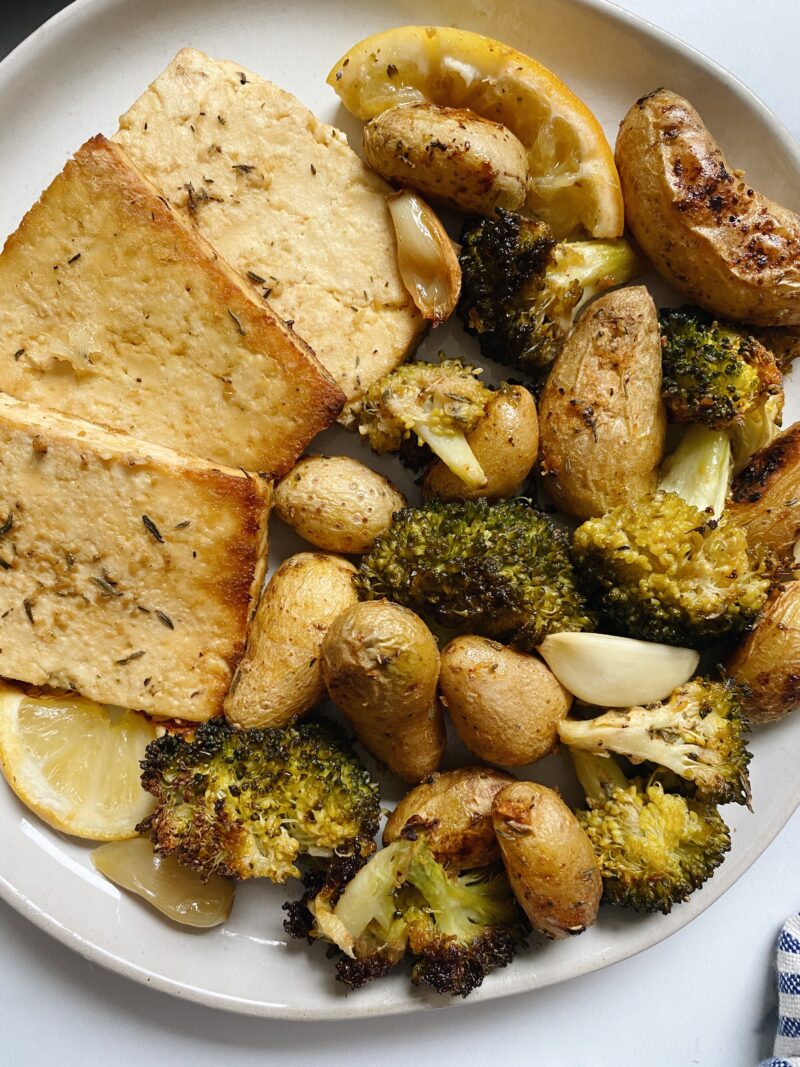 I hope that you enjoy this recipe! If you make any of my recipes, don't forget to tag me on your stories/posts on instagram @plantbasedjane
I hope that you are enjoying tofu week! We have three more recipes to go!
Sheet Pan Tofu, Potatoes & Broccoli

Ingredients
For the Tofu

1 16oz package of extra firm tofu
1/4 cup olive oil
2 tablespoons dijon mustard
1 tablespoon Worcestershire sauce (make sure it's vegan, I recommend Annie's)
1 tsp garlic powder
1 tsp onion powder
1 tsp dried thyme
1/2 lemon, juiced
1/4 tsp salt
1/4 tsp pepper

For the Potatoes and Broccoli

16 oz small potatoes (I love the teeny tiny potatoes from Trader Joe's)
1 head of broccoli cut into florets
2 tablespoons olive oil
1/2 tsp garlic powder
1/2 tsp onion powder
1/2 tsp dried thyme
1/2 lemon, juiced
1/4 tsp salt
1/4 tsp pepper
8-10 cloves of garlic, unpeeled
Instructions
Pre-heat oven to 400 degrees Fahrenheit.
Cut tofu into 1/2 inch slabs and press for 10-15 to remove any excess water. In a shallow bowl, combine the tofu marinade ingredients. Add tofu and carefully toss to combine. Let sit for another 10 minutes.
Meanwhile, prepare the potatoes and broccoli. Depending on the size of your potatoes you may need to cut them in half. Add them to a bowl and toss in the olive oil, lemon juice and spices.
In a large baking sheet (or two regular sized) add the tofu, broccoli, potatoes and unpeeled garlic cloves (cover the garlic cloves in oil too). Bake for 40 minutes flipping the tofu, potatoes and broccoli halfway.
Serve!