Jump to recipe
It's the third day of tofu week! Enjoy this recipe for delicious crispy tofu smothered in a creamy sun dried tomato sauce.
Happy tofu week day three! I hope that you are enjoying/gaining some inspiration from the past two recipes.
I have had so much fun brainstorming and creating all of these recipes. I plan on keeping up with this and making it a series.
Today we have such a delicious recipe! This tofu is coated in corn starch gets lightly fried to crispy perfection. Then it gets covered in this delicious and intense creamy sun-dried tomato sauce.
The sauce is actually very simple and you may already have all the ingredients on hand.
Have you checked out the other recipes from this week?
Click here for Tofu With Glass Noodles & Vegetables
Click here for Sheet Pan Tofu, Potatoes & Broccoli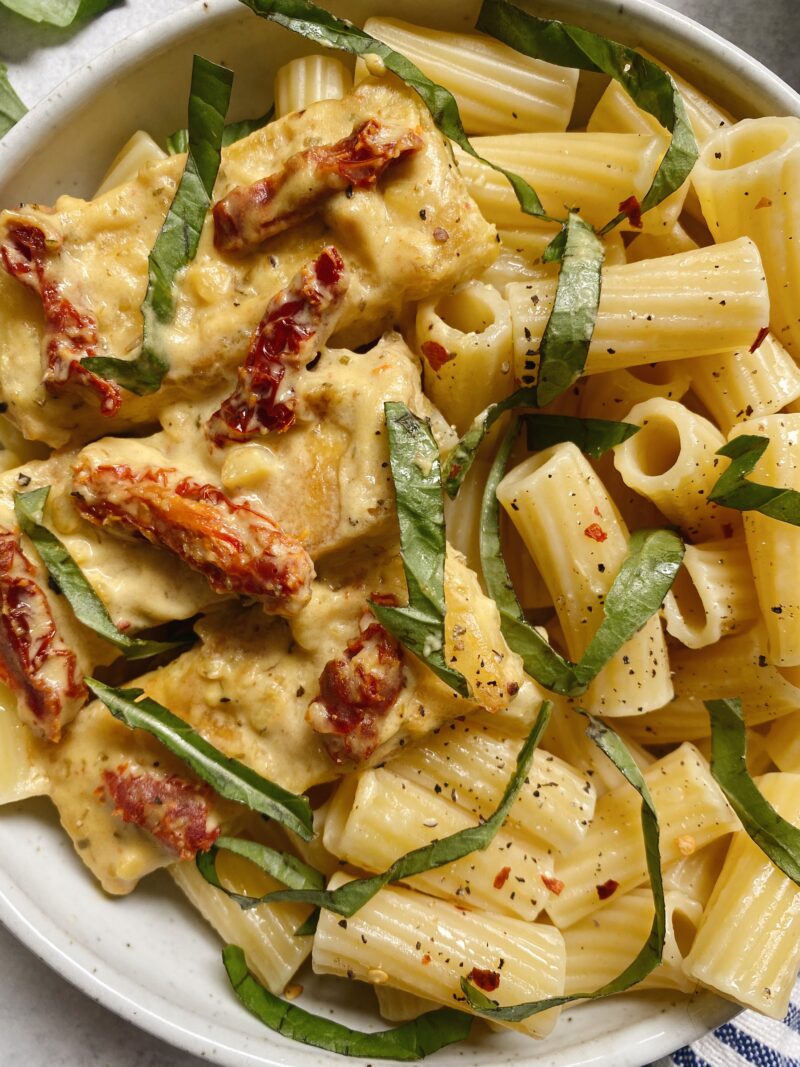 I hope that you enjoy this recipe! if you make any of my recipes, don't forget to tag me in posts/stories on IG @plantbasedjane
Creamy Sun-dried Tomato Tofu

Ingredients
Crispy Tofu

1 16oz package of super firm tofu
2 tablespoons corn starch
Neutral oil for frying, like avocado

Sauce

1 tablespoon olive oil
1 tablespoon vegan butter
5 cloves of garlic, minced
3/4 cup unsweetened non-dairy milk
2 tablespoons vegan cream cheese
2 tablespoons nutritional yeast
1/4 cup sun dried tomatoes (not packed in oil)
1/4 tsp salt
1/4 tsp pepper
Instructions
Drain and press your tofu for 10-15 minutes. I place my tofu between paper towels and top with books, pans, etc.
After 15 min, slice tofu in half width wise. Cut into strips and add to a large bag. Add in your corn starch and carefully shake the bag to get the tofu coated in the corn starch.
In a large saute pan on medium heat, add some oil. Fry tofu for 3-4 minutes on each side. Add to a plate lined with a paper towel.
In the same pan add your olive oil, butter and minced garlic. Cook for 30 seconds. Add in your milk, cream cheese and nutritional yeast. Allow for the cream cheese to melt and thicken up the sauce. Once nice and silky, add in your sun-dried tomatoes. Mix and let cook for an additional 30 seconds.
Add your tofu to the sauce and coat everything to combine.
Serve with pasta, rice, couscous, etc.