Jump to recipe
It is tofu week! 5 days of brand new tofu recipes. Let's start off the week with this delicious recipe that has tofu, glass noodles and vegetables.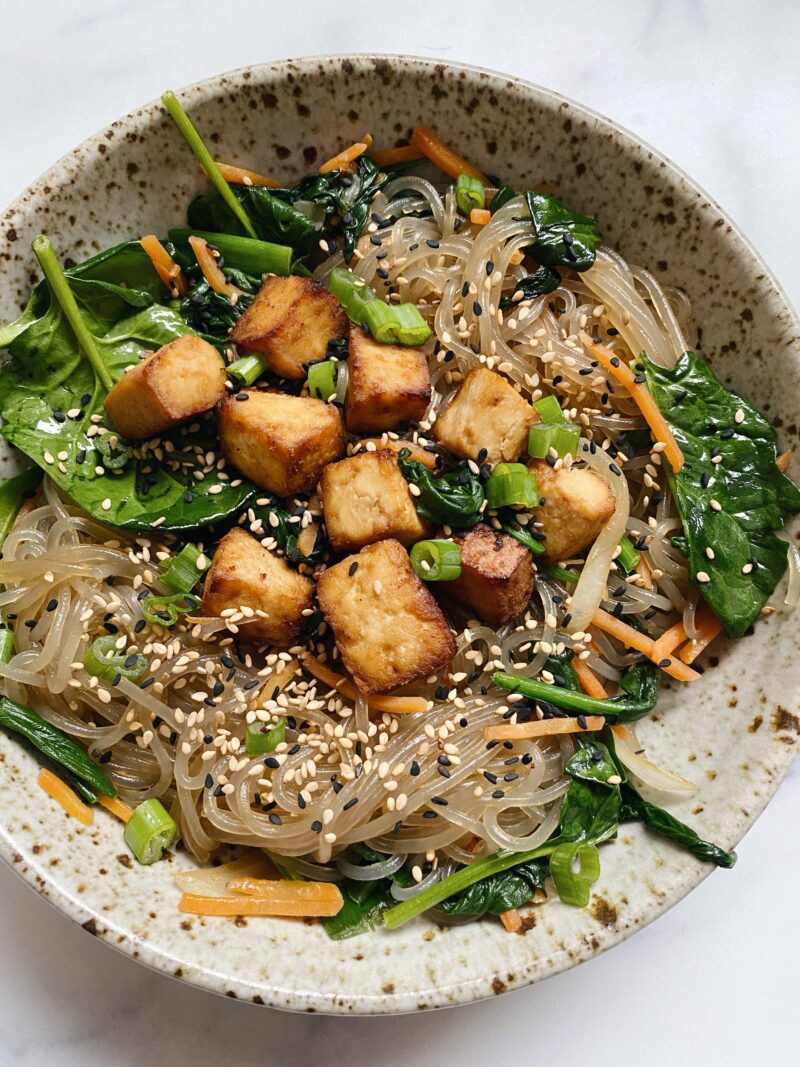 I am so excited about this week!
A couple of weeks ago I put up a poll on my instagram stories wondering if people were interested in seeing specials that last a week around 1-2 times a month featuring certain ingredients. After I got an overwhelming amount of "yes" votes I created a question box asking what ingredients you'd like to see featured. I got an overwhelming amount of tofu submissions so I thought that would be a great way to start off this new series!
I am not surprised by how many people wrote tofu as it can be quite an intimidating plant based protein option. When I first went vegan 6 years ago, I didn't eat tofu right away. I really got into tofu six or so months into my vegan journey.
Now I am obsessed with tofu. I eat it all the time and enjoy finding new ways to cook with it.
I am really hoping that this next week/5 brand new recipes will bring some inspiration into your kitchen! Whether you love tofu, want to love tofu, or never tried it I hope that these recipes can be some help!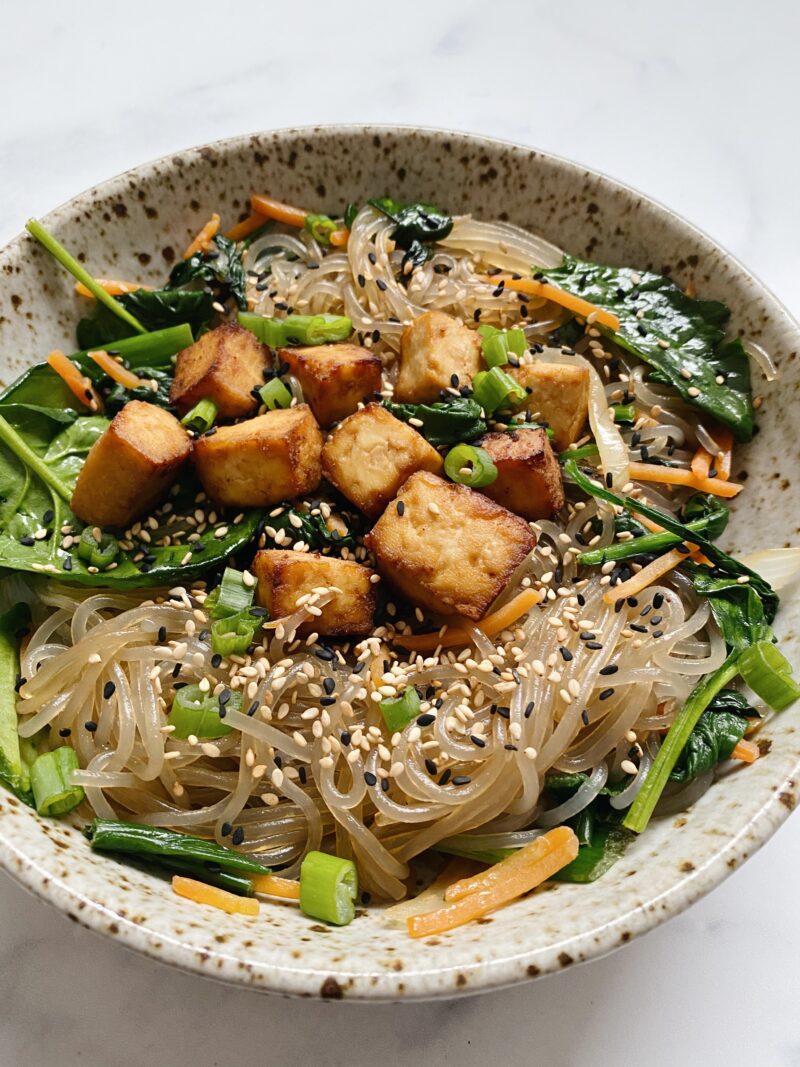 I love glass noodles. They are so delicious and easy to make. I also love the way that they look. I got mine from amazon. Click here for the link. You could use any noodles you want!
I recently had a delicious glass noodle dish from Spicy Moon in NYC and I knew I had to order some and make a recipe using them.
The tofu in this recipe is extremely basic but delicious. I just baked it with some soy sauce, maple syrup, etc. I love baking tofu because I find it gives some of the best change in texture.
Now the type of tofu that I like to use is normally vacuum sealed. If you get yours at Trader Joe's its the High Protein tofu that isn't resting in water. I like this because it's much firmer and you really don't have to press out so much water. If you cannot find tofu like this then extra/super firm tofu works fine too. You will need to press the water out for 15-20 minutes before marinating it.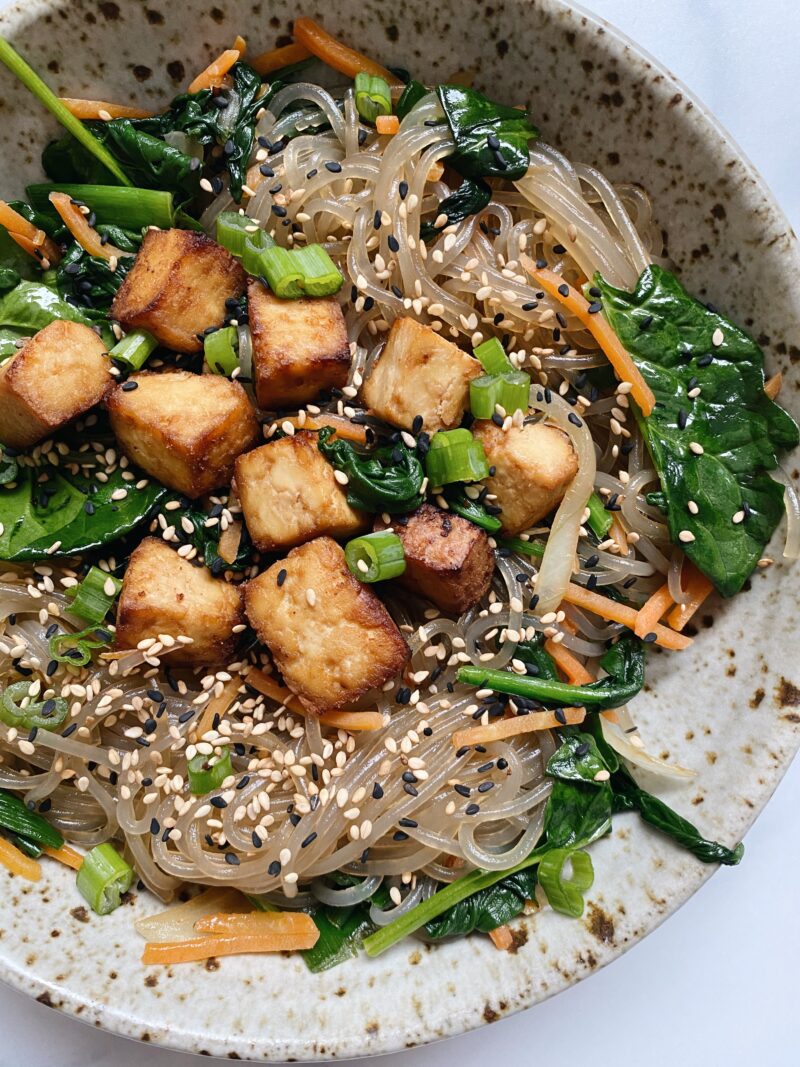 I hope that you enjoy this recipe! If you make any of my recipes don't forget to tag me in your posts/stories on IG @plantbasedjane
To purchase the glass noodles, click here.
Tofu With Glass Noodles & Vegetables

Ingredients
For The Tofu

1 15oz package extra firm tofu
1/4 cup soy sauce
1 tablespoon maple syrup
1 tablespoon toasted sesame oil
1 tablespoon rice vinegar
1/2 tsp garlic powder
1/2 tsp ground ginger

Noodles & Vegetables

1 10z package glass noodles (I linked the ones I purchased above)
1/2 cup yellow onion, sliced
1 cup shredded carrots
1/4 cup green onion
1 5oz bag spinach
1-2 cloves minced garlic
3 tablespoons soy sauce
1 tablespoon toasted sesame oil
Toasted sesame seeds for topping
Instructions
Press the tofu for 10-15 minutes if not in vacuum sealed packaging. I usually place the tofu in between paper towels and stack a bunch of cook books, pots/pans on top.
Meanwhile pre-heat the oven to 400 degrees Fahrenheit. Cut tofu into 1/2 inch cubes and place in a large bowl. In a smaller bowl combine the marinade ingredients. Pour the marinade over the tofu and let sit for a few minutes. Bake tofu on a baking sheet lined with parchment paper for around 25 minutes flipping halfway. As the tofu cooks, prep the other ingredients and cook glass noodles according to package instructions. Set aside.
In a large saute pan on medium heat, add a tablespoon of neutral oil. Add in the onion. Let cook for 4-5 minutes or until translucent. After 5 minutes, add in the carrots, green onion, spinach and minced garlic. Cook until the spinach has wilted.
After the spinach has wilted down, add in the cooked noodles and tofu as well as the soy sauce and sesame oil. Carefully toss everything to combine in the pan.
Serve with sesame seeds on top!