Jump to recipe
A delicious nut free/low fat version of Vegan Mac N Cheese.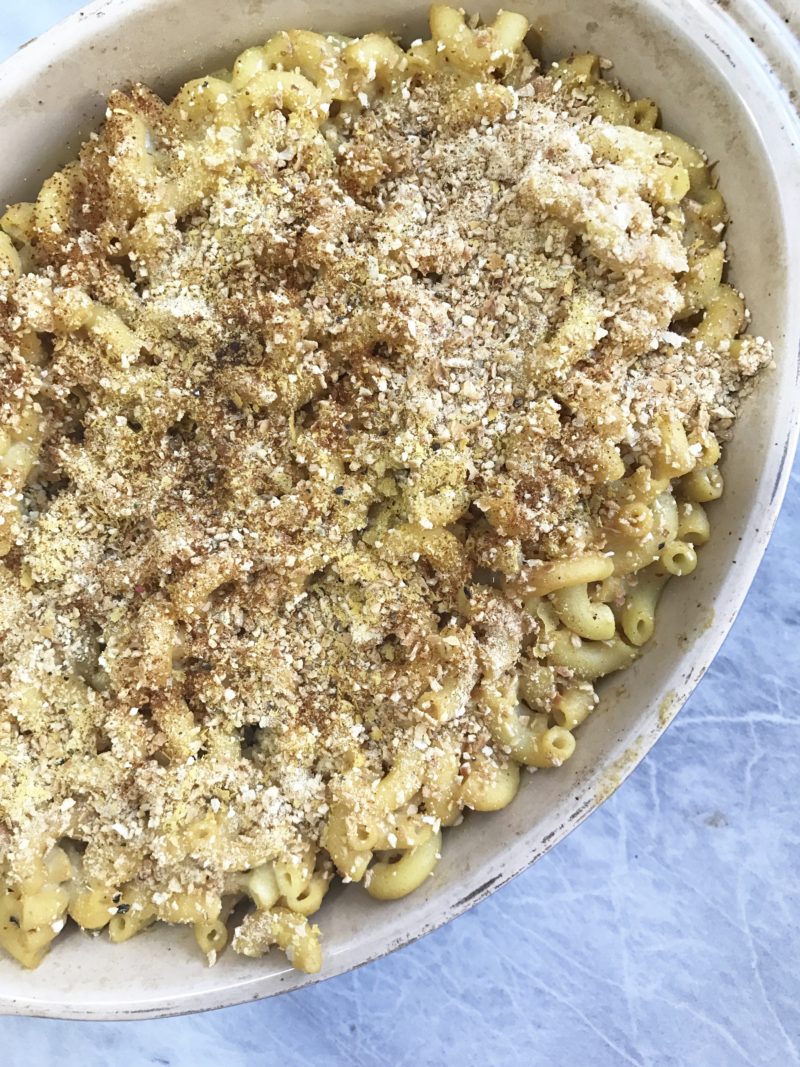 Are you guys reading the title thinking, how is this mac n cheese the easiest? Well, for multiple reasons:
No cashews to soak
No blender to wash
One pot only!
Under 10 ingredients.
Basic ingredients.
Probably the two reasons that stick out most to you is 2 &3. A lot of Vegan mac n cheese's require a blender to mix a cheese sauce or a second pot to create a cheese sauce using a roux.
I am happy to say that my recipe includes neither of those tools – we are getting down to the basics here.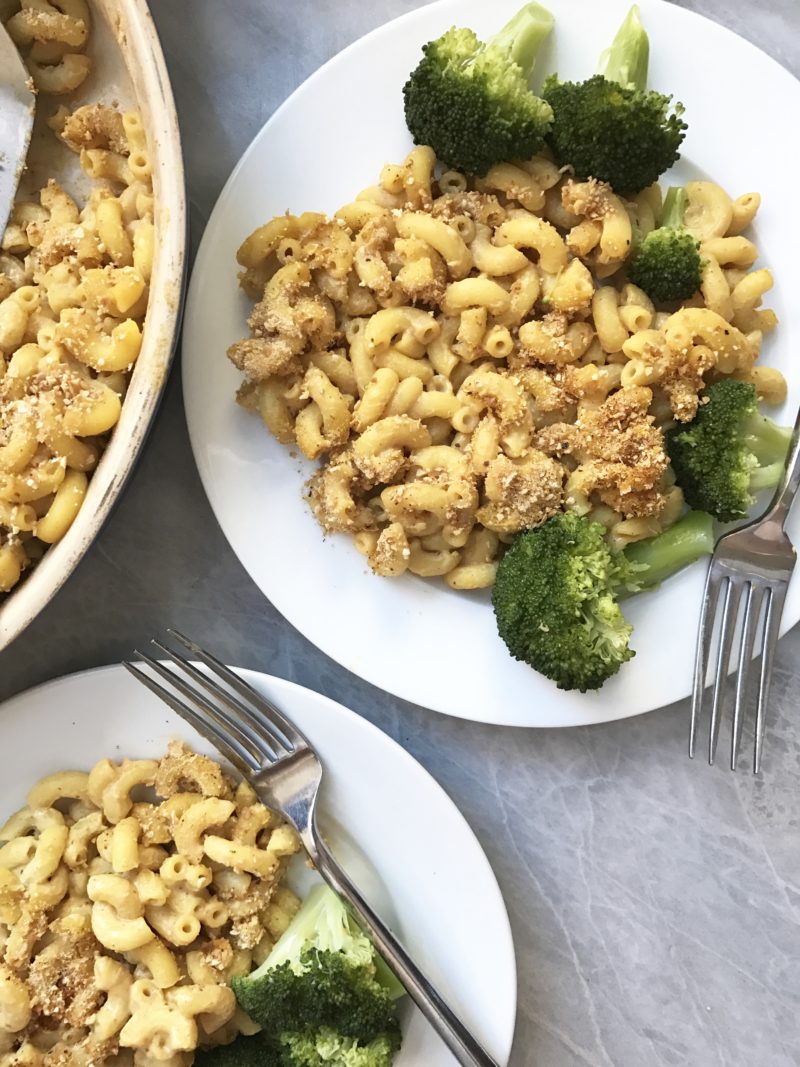 When I was coming up with how I could make an easy mac n cheese that didn't require Vegan cheese or blending ingredients, I was trying to think of what I could use. The standard mac n cheese that you see everywhere usually consists of the potato, carrot & onion base. While I know many people like that, to me it just tastes like you're pouring a thick soup over some pasta.
I then remembered that Non-Vegans like to put greek yogurt on everything to make it "healthier" but still provide that creamy flavor. That's when it hit me: unsweetened coconut yogurt.
Now are you thinking, "Doesn't that taste like coconut though?" Alone, it has a slight coconut aftertaste but since the yogurt is not sweetened then it really just tastes like plain yogurt. However, mixed with all the other ingredients you taste no coconut. Instead, you get this amazing cheese flavor with that slight tang from the yogurt. It is actually the best homemade Vegan mac n cheese I've ever had.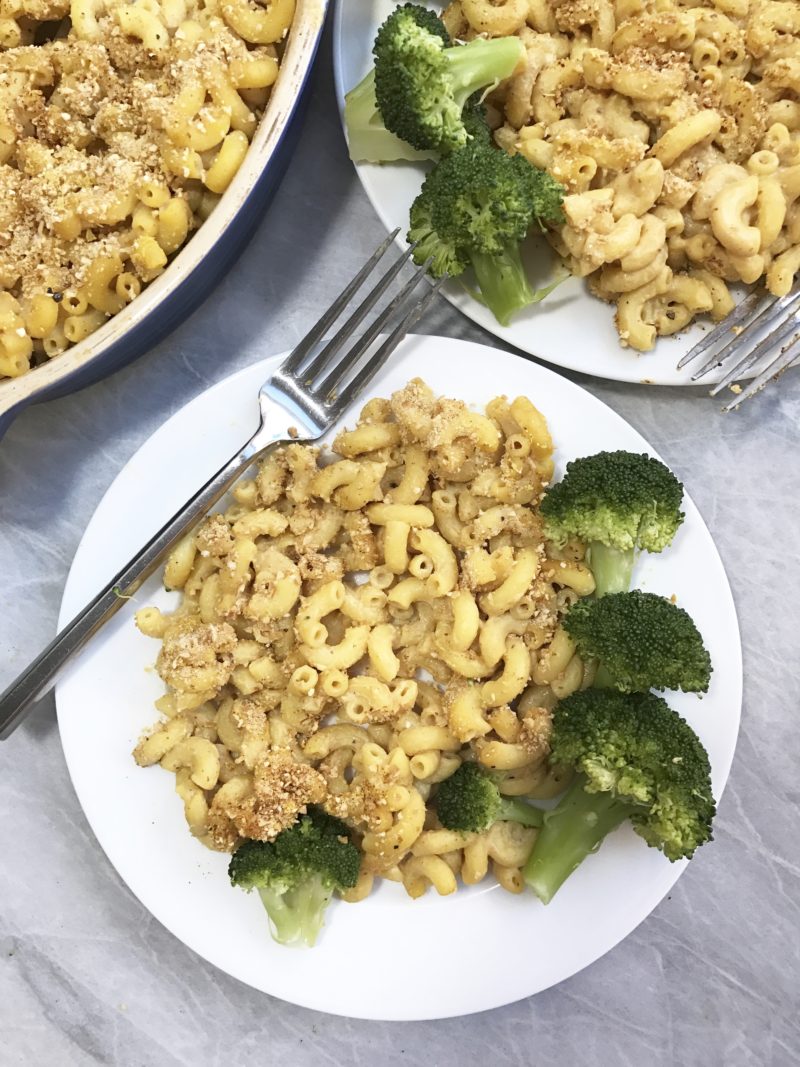 With one cup of coconut yogurt being only 7 grams of fat, this recipe is pretty low in fat. The main source of fat is coming from the coconut yogurt which provides that cheesy flavor without all the horrible chemicals in it.
Please try this recipe. You will certainly not regret it. I promise you.
Remember if you try any of my recipes, tag me on Instagram @plantbasedjane so I can see!
The Easiest Vegan Mac n Cheese

Ingredients
2 Cups Dry Elbow Pasta (Sub Gluten Free)
1 Cup Unsweetened Coconut Yogurt (It has to be unsweetened, I haven't tested with other yogurts)
1/2 Cup Nutritional Yeast
1 Tablespoon Soy Sauce (Sub Tamari if gluten free)
1 Teaspoon Mustard
1 Teaspoon Hot Sauce (Optional)
1/2 Tsp Pepper
1/2 Tsp Paprika
1/4 Cup Bread Crumbs (I used WatUSee Chickpea crumbs. They're basically panko but made entirely from chickpeas. Perfect if gluten free).
Instructions
Cook pasta according to pasta to package instructions. When done, drain and return to pot.
Add in all your ingredients to the pasta and mix to combine. Adjust hot sauce to preference!
Transfer to oven safe dish and pour on bread crumbs. Put in oven on high broil for 5-6 minutes or until bread crumbs are toasted. Keep a watchful eye since all ovens are different.