A Veganized & Delicious Version of the Taco Bell Mexican Pizza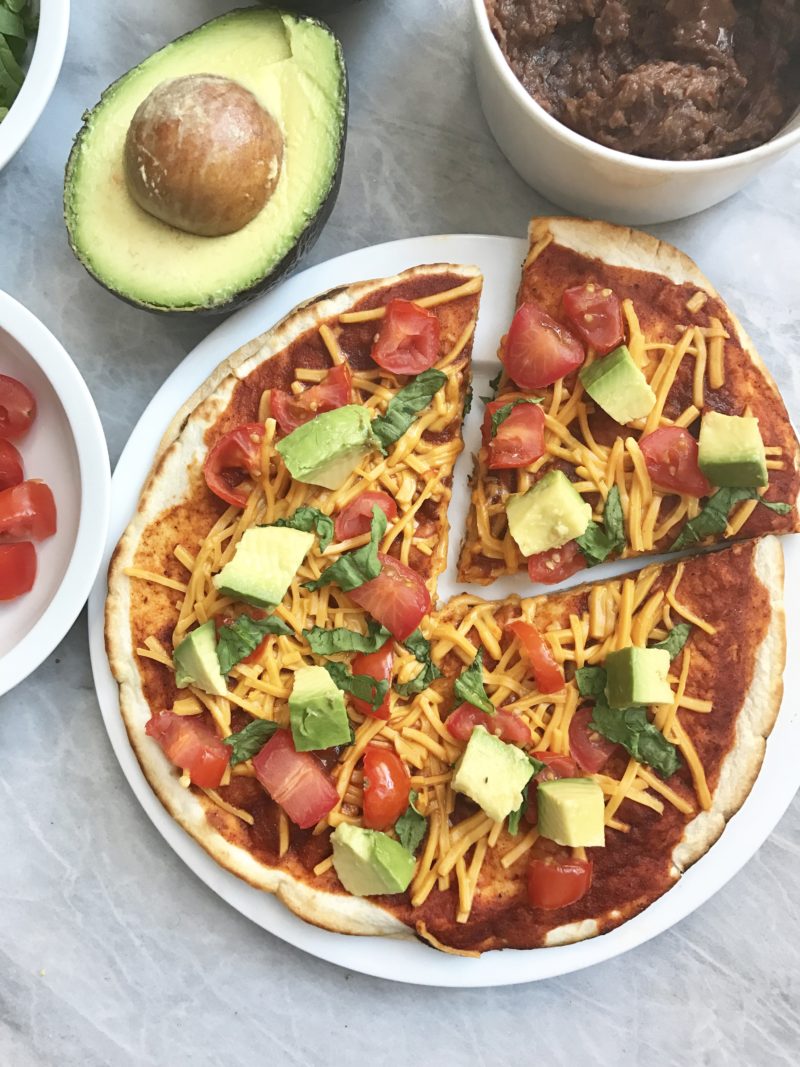 There's been a lot of controversy at Taco Bell because they have recently added butter to their rice. However, it has recently been released that starting this summer they will finally remove the butter and it will be Vegan again.
While the Mexican Pizza doesn't have rice in it, it can seem very discouraging when a place you heavily depended on for Vegan "fast food" seems not so trustworthy anymore.
The funny thing I only tried Taco Bell when I went Vegan. Then, I understood what everyone liked about it. It's delicious, easy, and really perfect if you're Vegan.
However, I want to start Veganizing all of these classics. So I decided to start with their Mexican Pizza.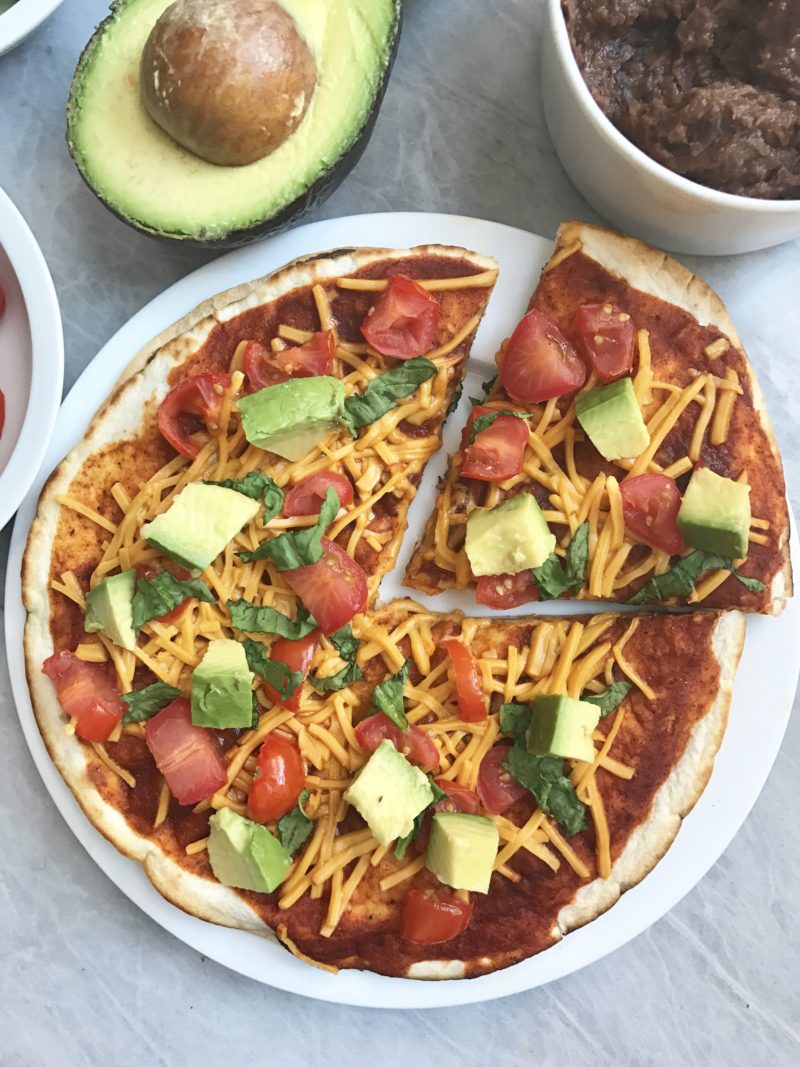 This recipe is really fun to make and actually quite easy. It's a fun spin on a pizza and is truly delicious.
Instead of Mexican "pizza sauce" I decided to go with some enchilada sauce. I found a vegan one in my grocery store for fairly cheap. It made for a really good sauce.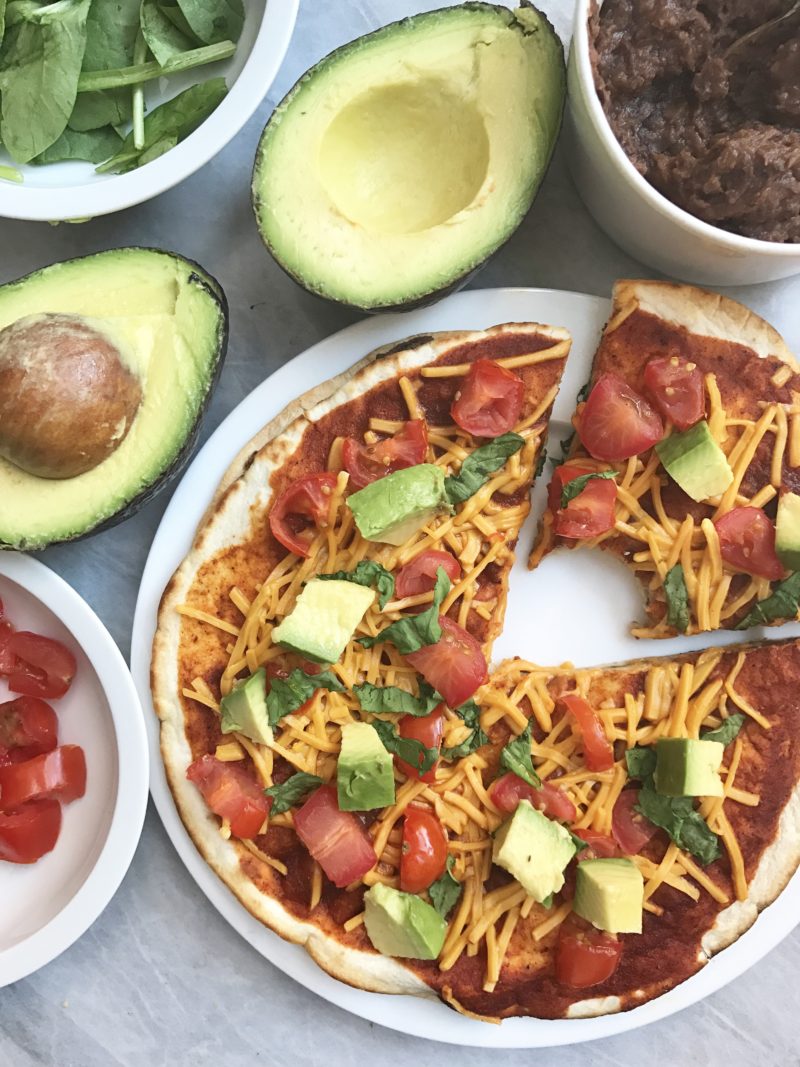 I hope you enjoy this yummy take on the Taco Bell Mexican Pizza!
Remember if you make any of my recipes, tag me on Instagram @plantbasedjane so I can see!
Copycat Taco Bell Mexican Pizza – VEGANIZED
Ingredients
4 Tortillas
1 Cup Refried Beans
1/2 Cup Enchilada Sauce
1/2 Cup Chopped Tomatoes
1/2 Cup Spinach
1 Cup Vegan Cheese
1/2 Avocado for topping
Instructions
Pre-heat your oven to 400 degrees Fahrenheit
Meanwhile, heat up a skillet with some spray oil. Heat your tortillas on both side so they become slightly crispy. Heat up your refried beans in the microwave and set aside.
When your tortillas are done, split your beans in half and spread evenly on two tortillas. Place the other tortillas on top of the two you have with refried beans and press to stick together. This will give you two pizza bases.
Divide up your enchilada sauce and pour 1/4 cup on each pizza. This will give you your sauce! Divide up the rest of the ingredients (except avocado) and top your pizzas.
Cook in oven for 10 minutes or until Vegan cheese is melted.
Top with avocado and serve!