Jump to recipe
A delicious and simple take on a Vegan "meat" pasta sauce.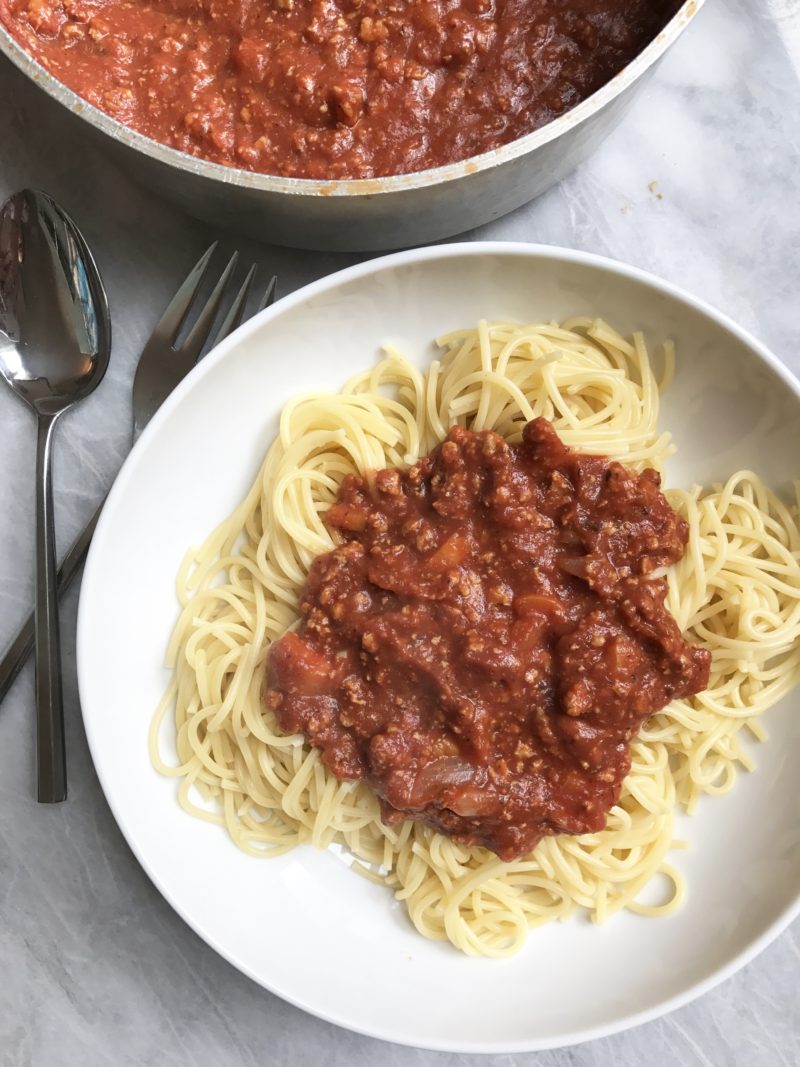 Starting this week off with a delicious and satisfying recipe for you guys…A lovely vegan "meat" sauce. It is honestly super easy to make but takes a little extra time. Homemade sauces are the best when they are simmering and just letting it do it's thang.
It's quite ironic because before I went Vegan I would never even touch something like this. I was so picky it was quite hysterical. However now that I know it's not meat, I could not care less. I literally have no worries. Nothing strange in this sauce, just pure goodness.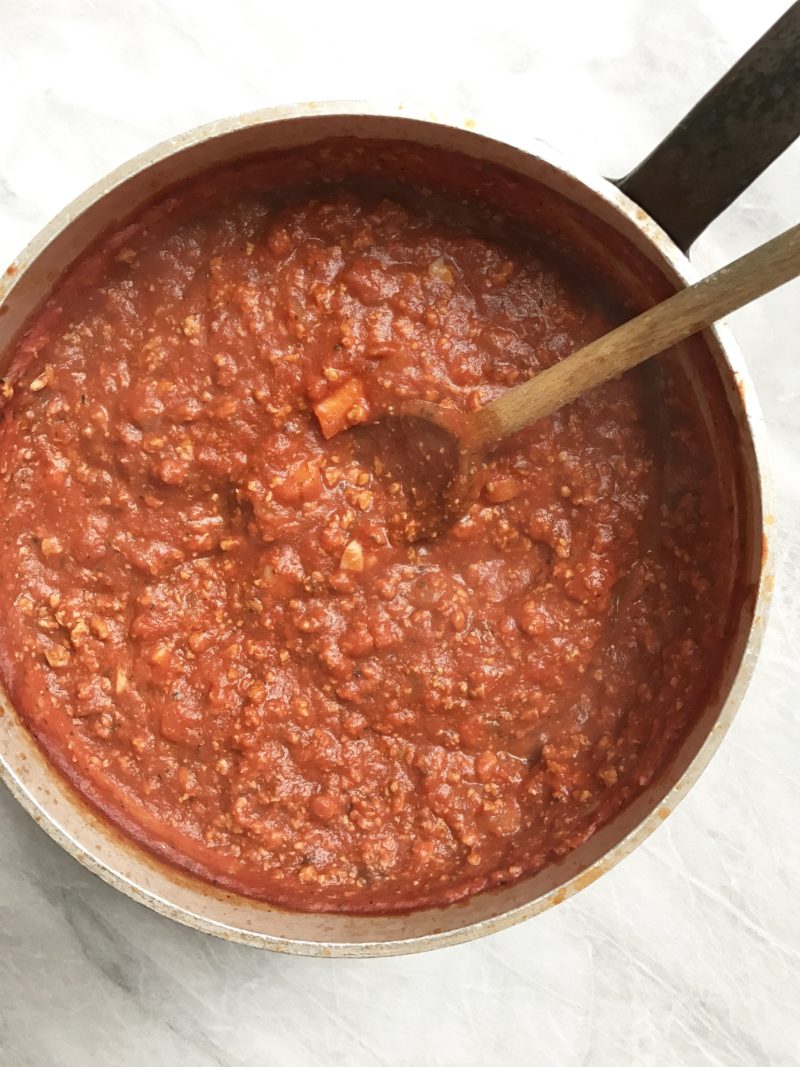 There are tons of the frozen "meat crumbles "sold in stores, but I just use the Beyond Meat one. It's delicious and really realistic. I have yet to try Gardein's, but I imagine it's delicious.
For some reason this just reminds me of the typical "Sunday Sauce." Crowd around with your friends/family, and dig into this incredible dish.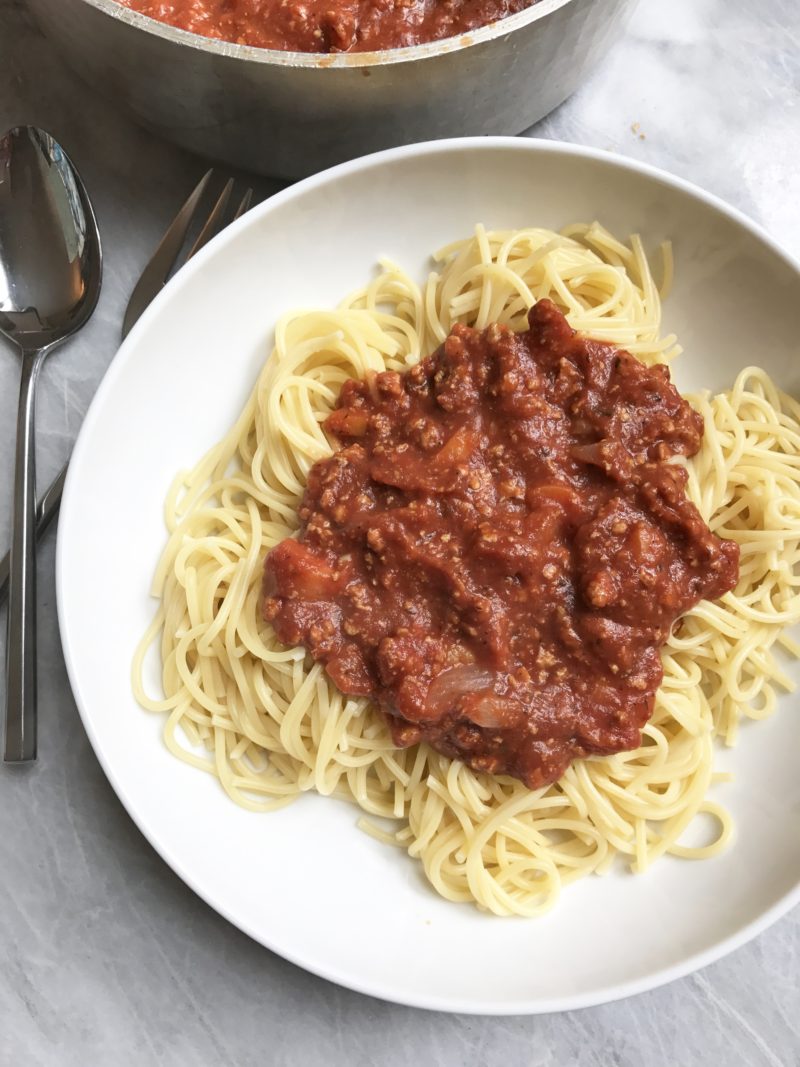 I hope you enjoy this recipe! If you ever make any of my recipes, tag me on Instagram @plantbasedjane so I can see!
Vegan "Meat" Sauce

Ingredients
1 Package of Spaghetti
1 Package of Vegan meat crumbles (I like the Beyond Meat Beefy Crumbles)
28oz Can Pureed Tomatoes (Also named Passata)
1 Small Onion
1 Cup Carrots
2 Garlic Cloves
1 Tablespoon Tomato Paste
1-2 Tsp Coconut Sugar
1 Tsp Italian Seasoning
1/2 Tsp Salt
1/2 Tsp Pepper
1/4 Tsp Red Pepper Flakes (Optional, for spice)
Instructions
Dice your onions and garlic, and chop your carrots. Set aside.
In a large sauce pan, heat with a little water and add in your onion and carrot. Let cook until onions are translucent and fragrant, around 5 minutes. Add in your garlic and let cook for another 5 minutes.
Add in your Vegan beef crumbles, tomato paste and optional red pepper flakes. Let cook for 5 minutes.
Add in your can of pureed tomatoes. Let cook on medium heat for around 5 minutes.Put on simmer and cover. Let cook for 40 minutes-1 Hour. The longer the better.
After around 40 minutes, bring a large pot of salted water to a boil and add your pasta. Cook until liking. Drain and set aside.
After you're done cooking your sauce, add in your salt, pepper, Italian seasonings and sugar. If you want the sauce to be a little sweeter, add more coconut sugar.
Once sauce is done, transfer pasta to sauce or add pasta to a serving dish and pour sauce over it. I like to pour some of the sauce over the pasta and serve. If people like more sauce, add the remaining to a bowl and let people serve themselves. I like a medium amount of sauce but some people may like a lot!
ENJOY!