Jump to recipe
Don't like Tofu? These sesame chickpeas will be perfect for you.

You guys probably think my chickpea obsession is ridiculous. I even think it's a tad silly. The love I have for chickpeas is pretty intense and it is no doubt my favorite legume. It's one of those beans that could be translated into almost any recipe. Chili's, Asian inspired recipes, as well as Indian recipes. Alone it has a very mild flavor which means it does well it a number of dishes. This one in particular, chickpeas do amazing in.
I know people don't love tofu, and I get that it can be annoying to constantly see different tofu variations. That's why I wanted to create this recipe. This is great for the person who doesn't like tofu but wants a protein in their asian flavored dishes.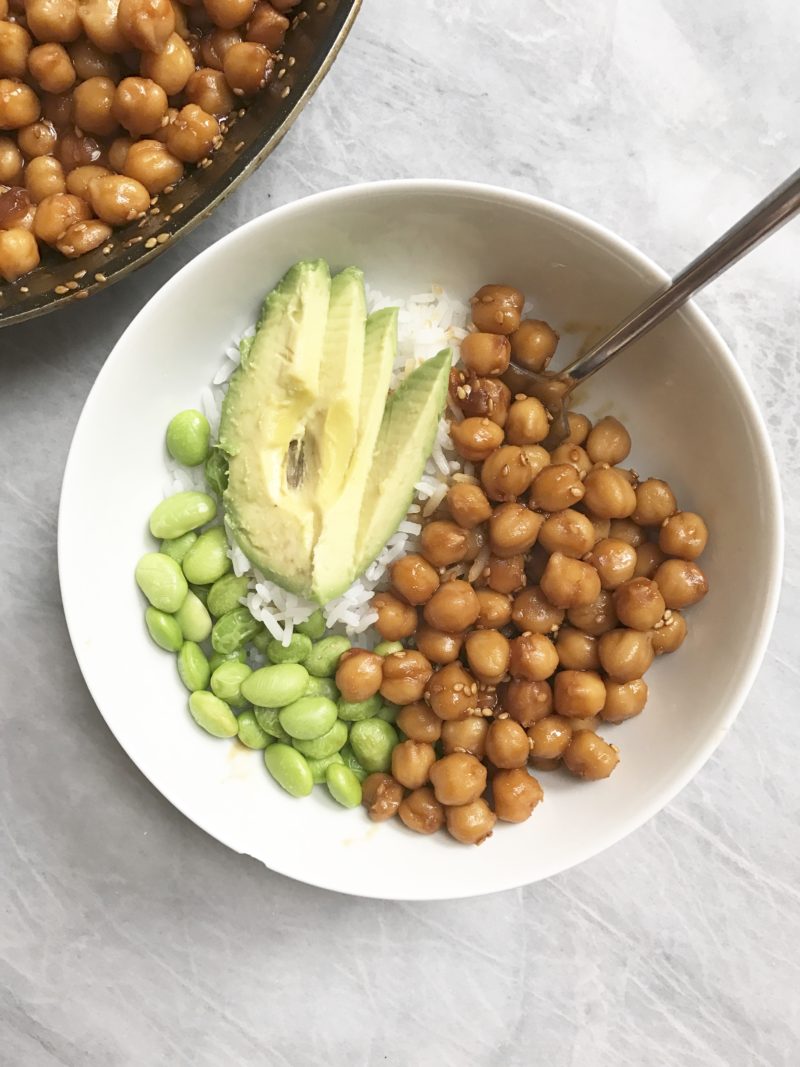 I particularly love these in rice bowls. The flavor from the chickpeas transfer evenly throughout the recipe so you always get a bite of the delicious sauce coated onto the chickpeas. It's an extremely easy recipe to make and lasts for a few days in the fridge.
If you ever make any of my recipes, don't forget to tag me on Instagram @plantbasedjane so I can see!
Sesame Chickpeas

Ingredients
1 15oz Can of Chickpeas
3 Tablespoons Soy Sauce (Tamari if Gluten Free)
1 Tablespoon Sesame Oil
1 Tablespoon Maple Syrup
1 Teaspoon Rice Vinegar
1 Teaspoon Sriracha
1/2 Teaspoon Garlic Powder
1/4 Teaspoon Ground Ginger
1/2 Teaspoon Cornstarch
Instructions
Wash & drain your chickpeas & combine all your sauce ingredients into a small bowl. Whisk well to avoid clumps from the corn starch.
Dry sauté your chickpeas on medium heat for 3-4 minutes.
After 4 minutes, add your sauce directly to the pan. Let cook for another 2-3 minutes or until thickened up.
Enjoy!