Jump to recipe
Spring is here! Enjoy this delicious and light pasta with asparagus in a white wine sauce. Made in partnership with Storica Armenian Wines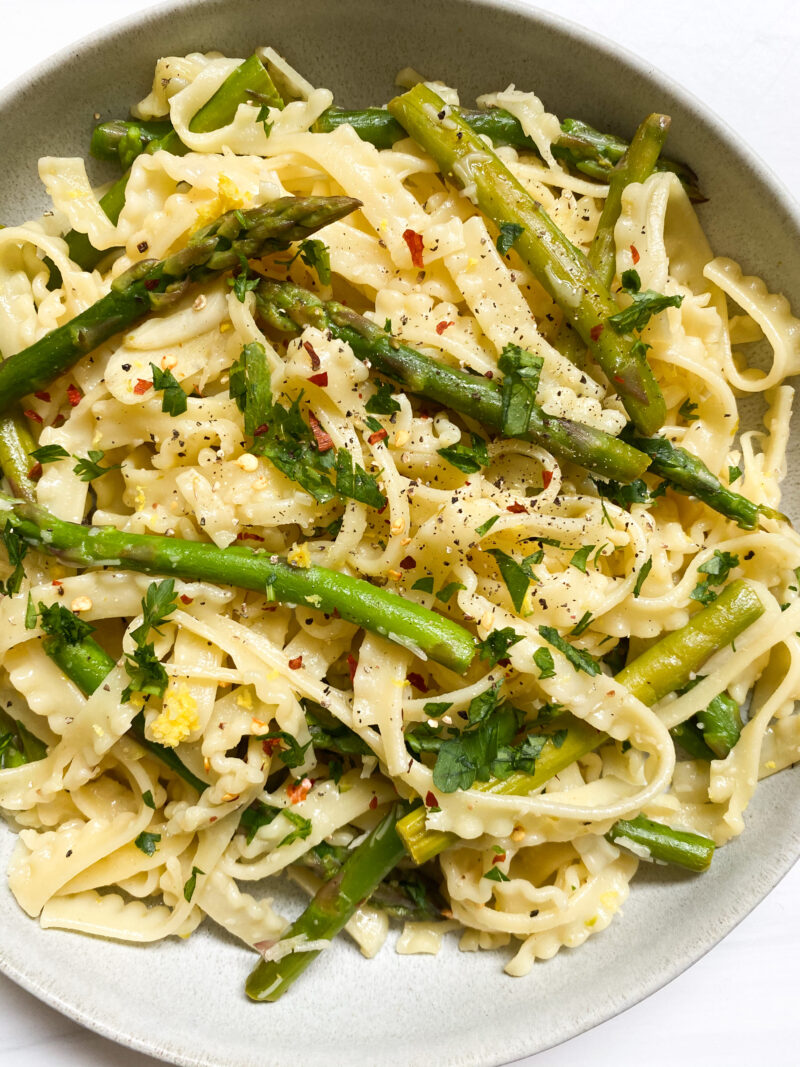 With the warmer months arriving, our selection of fresh local produce changes. I absolutely love spring & summer produce. One of my fav produce options is Asparagus.
I love asparagus roasted, sauted, grilled, etc.
I also love it in my pasta! This pasta is so fresh and light with a delicious white wine sauce featuring a delicious Voskehat Wine by Zulal.
Armenia is one of the most ancient countries in the world. It's also the country where wine production was born. Due to geopolitical conflict and politics, winemaking stopped in the country of Armenia. However, grape growing and production never truly disappeared and survived through the tougher times. Today, Armenia is back in the game of wine production.
I'm a big white wine drinker, especially in these warmer months, so I was very interested to learn about Armenian wine. Zulal means "pure" in Armenian and the brand Zulal aims to express the different characteristics of Armenia's indigenous grape varieties.
The great thing about this dish is that you can open the Voskehat , use some in the sauce, and chill the bottle to drink while eating this delicious pasta dish.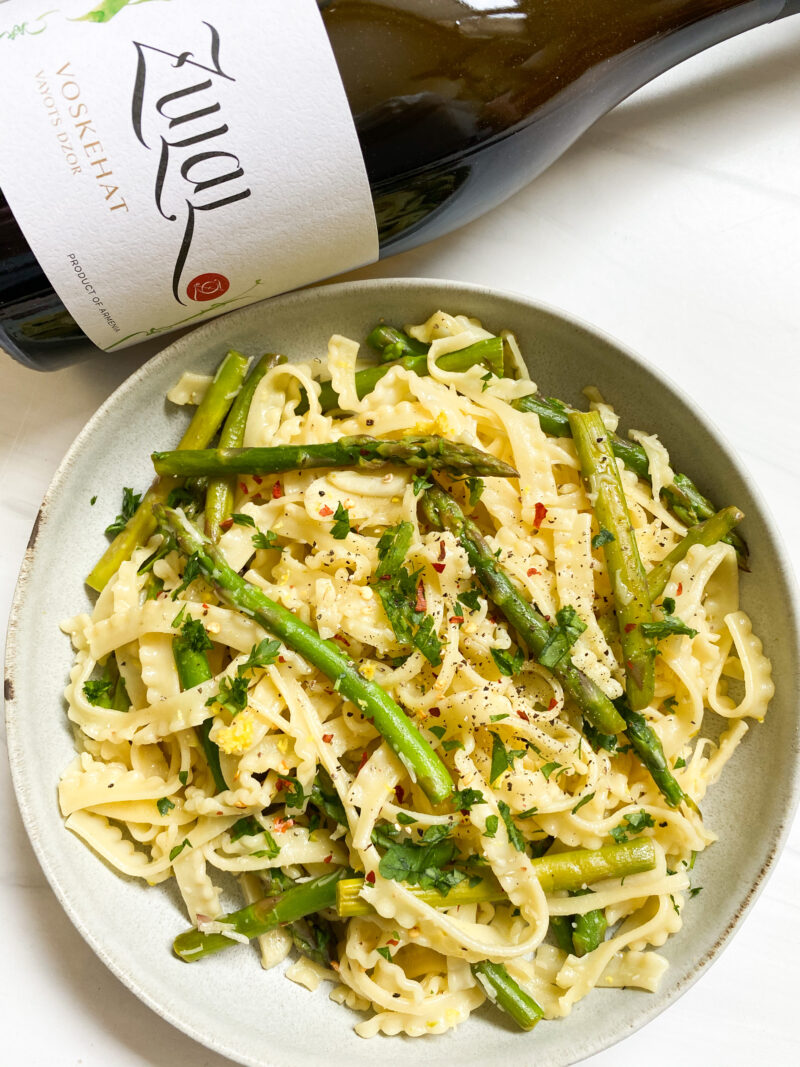 I was so excited when Storica Wines sent me some Armenian Wine. Storica Wines is an Armenian wine import company that provides access to a number of different Armenian Wine brands to the American Consumer. Zulal is one of the brands they import, and I was so happy to discover the Voskehat.
About Voskehat:
This a dry wine, which is specifically what you want when it comes to cooking savory dishes. Dry white wine's are also my favorite type to drink.
Nose: Apple, Pear, Flowers
Palate: Fuller bodies with delicate notes of pear and apple rounded out by a pleasant note of mountain herbs
Finish: Lingering notes of apple and pear alongside a hint of chamomile.
This wine pairs not only perfectly with this dish, but also some arugula salad with a simple dressing, or even some vegan chicken/fish/other yummy vegetables.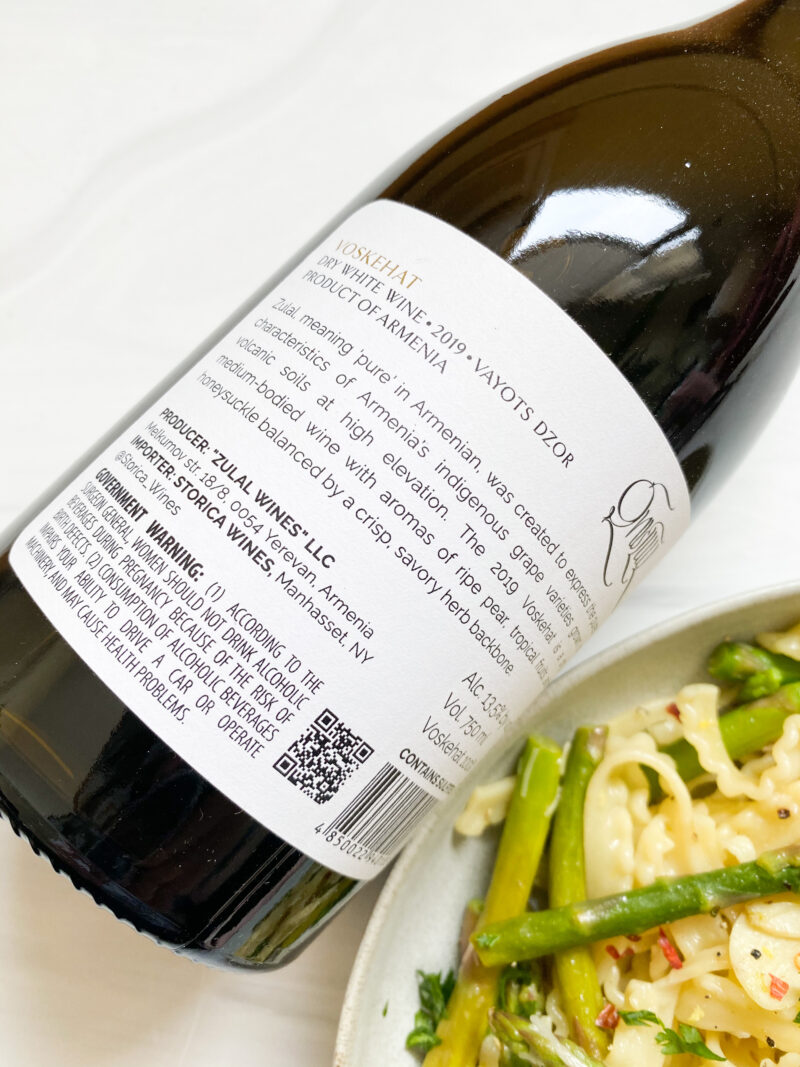 What do you need for this recipe?
Pasta shape of choice (I like a longer noodle in this dish)
Olive Oil
Garlic
Asparagus
Vegan Parm (Nutritional Yeast works, too)
Vegan butter
Lemon
Salt & Pepper to taste
Finish with red pepper flakes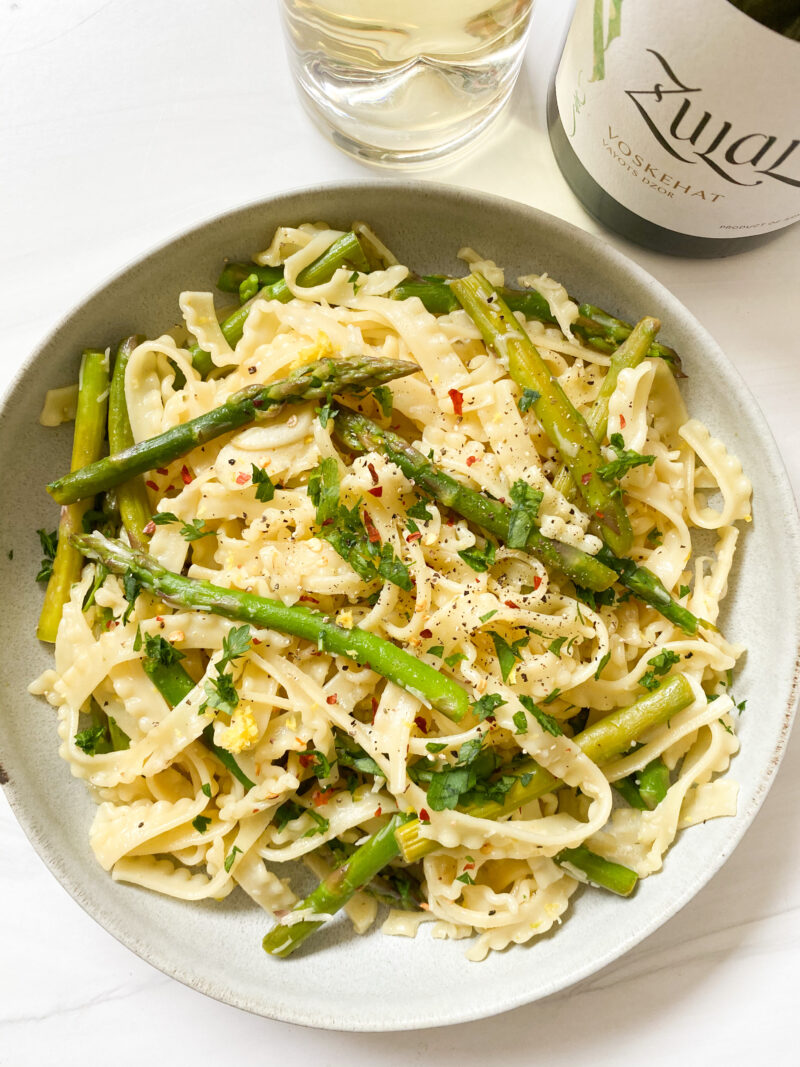 I hope that you enjoy this recipe! It is 100% going to be in my normal rotation.
Be sure to check out The Zulal Voskehat on Storica Wines.
Use code "JANE10" for 10% off your purchase!
If you make any of my recipes, don't forget to tag me in your photos/stories on IG @plantbasedjane
Spring Pasta W/ Asparagus

Ingredients
8oz pasta shape of choice
2 tablespoons olive oil
8oz asparagus
4 cloves of garlic, sliced thin
1/4 cup Zulal Voskehat Armenian Wine
1/4 cup vegan parmesan
1/2 lemon, zested
1/2 lemon, juiced
1 tablespoon vegan butter
Reserved pasta water
Salt & Pepper to taste
Red pepper flakes & parsley for topping (optional)
Instructions
Bring a pot of salted water to a boil. Cook pasta according to package instructions. Drain and save some starchy pasta water.
Wash and remove ends of asparagus. Cut asparagus in half.
In a saute pan, heat up some olive oil. Add in your sliced garlic and cook for 30 seconds-1 minute. Add your asparagus and cook for 2-3 minutes, stirring constantly. After 3 minutes, add in your Zulal Voskehat Wine. Let wine reduce by half and add in your lemon juice & zest.
Add in your cooked pasta and stir everything to combine. Add in your vegan parmesan and continue to stir. Slowly add in around 1/4-1/3 cup pasta water and allow sauce to thicken up. Salt & pepper to taste.
Serve with chopped parsley, red pepper flakes, and the rest of the chilled Voskehat on the side.