Jump to recipe
What makes this vegan fettuccine Alfredo the best? Adding a whole head of roasted garlic to the sauce! You must try this recipe.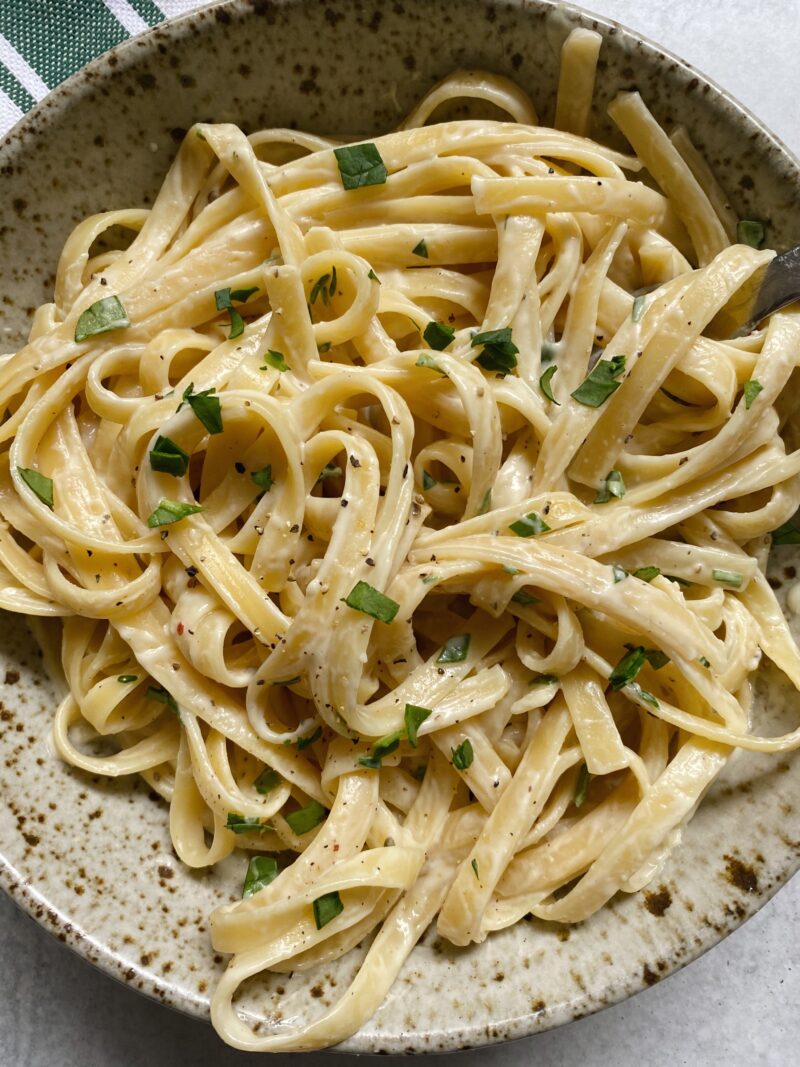 It's kind of ridiculous how easy this recipe is for how creamy and luxurious it tastes. Alfredo sauce was one of my favs when I was growing up. After going vegan I have tested different Alfredo sauce variations and this one is by far my favorite.
It is not only vegan but obviously nut free. There are zero cashews in this sauce! As someone who is allergic to nuts I get very frustrated when I see a lot of creamy recipes with cashews. Not only are they not friendly with the allergy community but also from what I can tell they're pretty expensive. I guarantee you likely have all of these ingredients on hand already. If you don't, I promise this recipe won't break the bank. I'm all about simple and accessibility.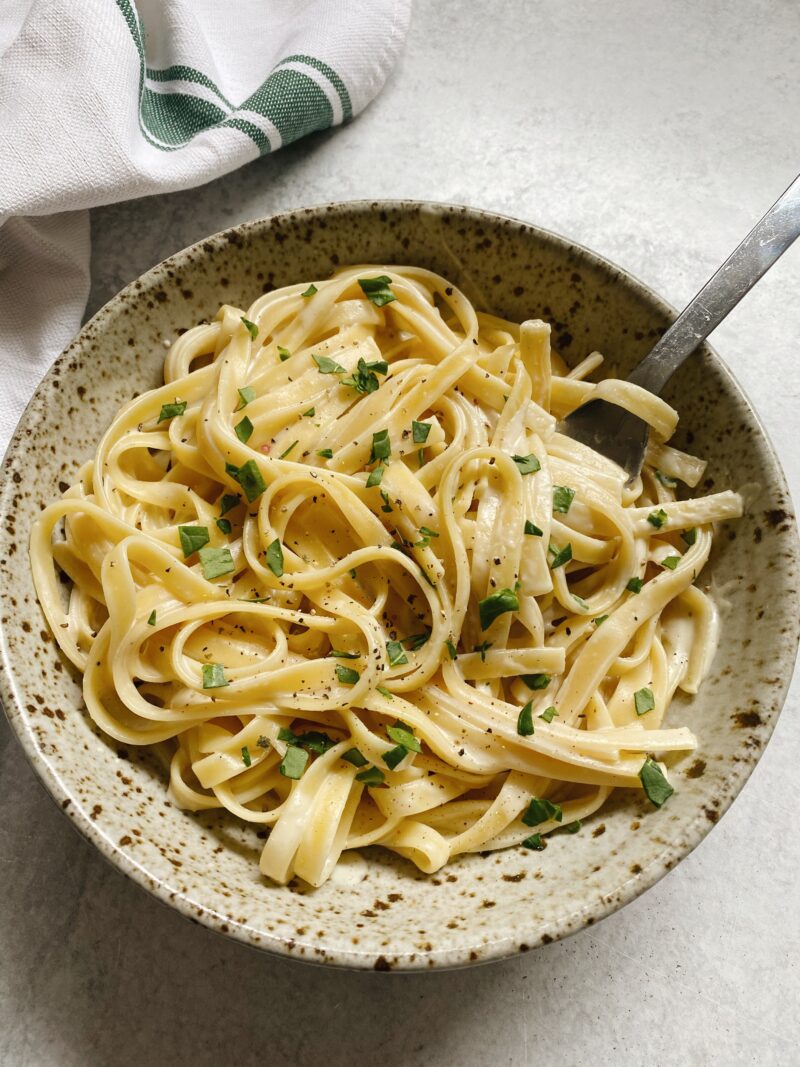 What do you need for this recipe?
Fettuccine
1 head of garlic
1/4 cup vegan cream cheese (I recommend tofutti)
1/2 cup unsweetened non-dairy milk (I used oatly)
Nutritional Yeast
Olive Oil
Salt & pepper
That is it! It is such a simple recipe but it is so flavorful and creamy. I can't wait for you to try it.
I hope you enjoy this recipe! If you make any of my recipes, don't forget to tag me in your stories/posts on IG so I can see @plantbasedjane
The Best Vegan Fettuccine Alfredo You'll Ever Eat

Ingredients
Roasted garlic

1 head of roasted garlic
1 tablespoon olive oil
1/4 tsp salt
8 oz fettuccine pasta
1/2 cup unsweetened non-dairy milk
1/4 cup vegan cream cheese
1 tablespoon nutritional yeast
1 1/2 tablespoon olive oil
1/4 salt
1/4 pepper
Instructions
Pre-heat your oven to 400 degrees Fahrenheit. Using a sharp knife, cut 1/4 to 1/2 inch off the top of the cloves. Cover with olive oil and a little salt. Wrap in some foil and bake for 30 minutes or until the cloves have softened.
Meanwhile, fill a large pot of salted water to a boil. Add fettuccine and cook until al dente. Set aside.
When the garlic is done, carefully remove the cloves from the head and add to a blender. Add in your milk, cream cheese, nutritional yeast, olive oil, salt & pepper. Blend until smooth.
Add your fettuccine back to the pot on low heat. Add in your sauce and mix until everything is warmed through.
Serve!