Jump to recipe
This cozy take on a vegan mushroom stroganoff only takes one pot and packs all the flavor!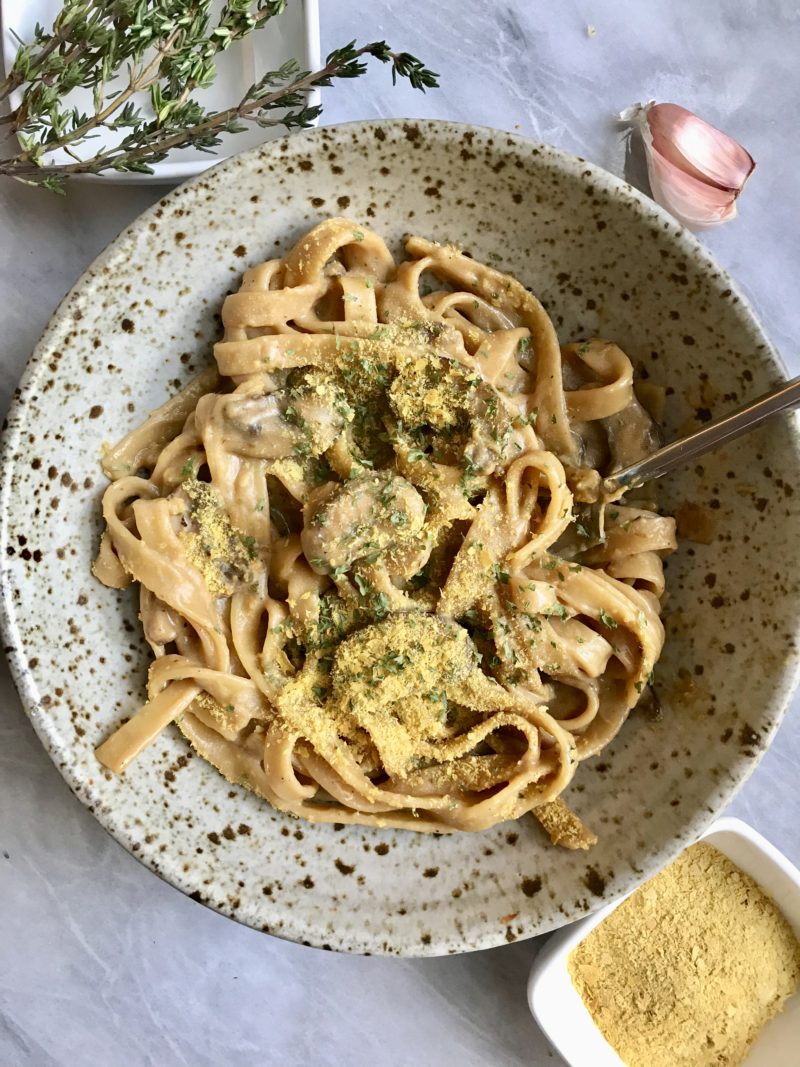 With December if full force, comes those cold nights where all we crave is something cold and cozy.
I used to love stroganoff before I went Vegan, and with the help of a request from my snapchat, I had to make this a reality!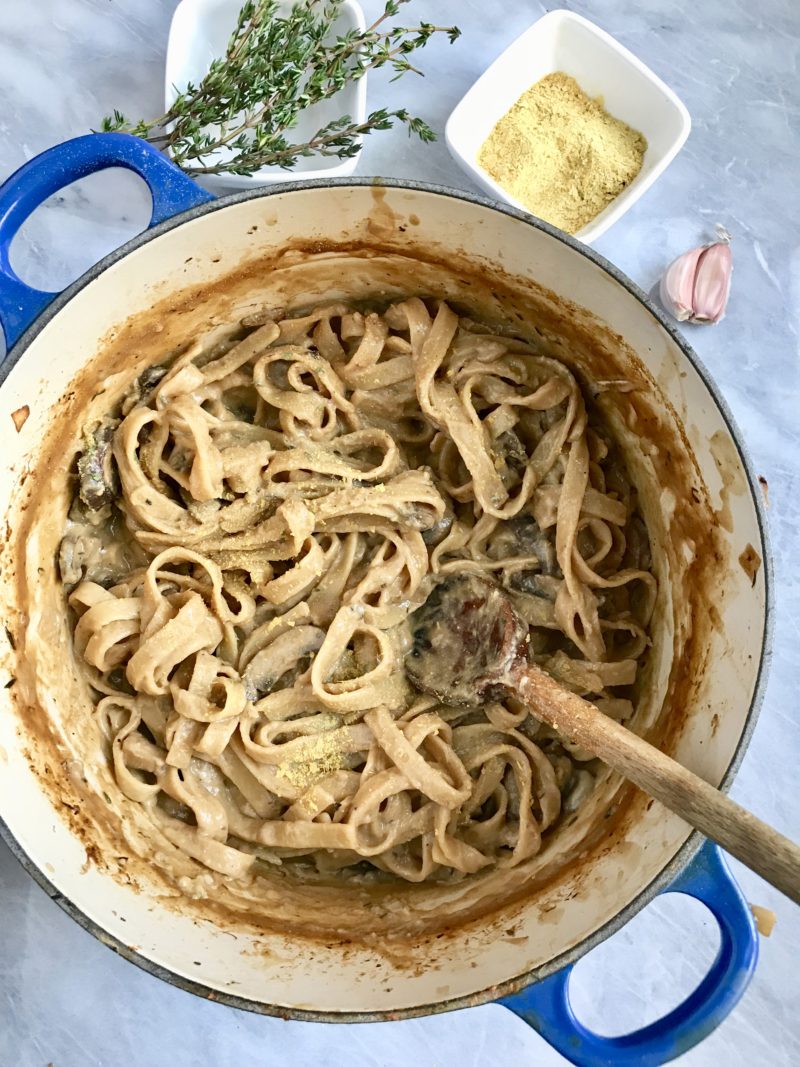 The great part about this recipe is that it is one pot meaning that it makes for a super easy clean up!
Traditionally stroganoff uses egg noodles, which are clearly not Vegan. I tried to find some Vegan pappardelle noodles but sadly could not find any.
I decided to go with some fettuccine because it is a wider noodle shape & it ended up working out perfectly in this recipe. You could use any shape you want!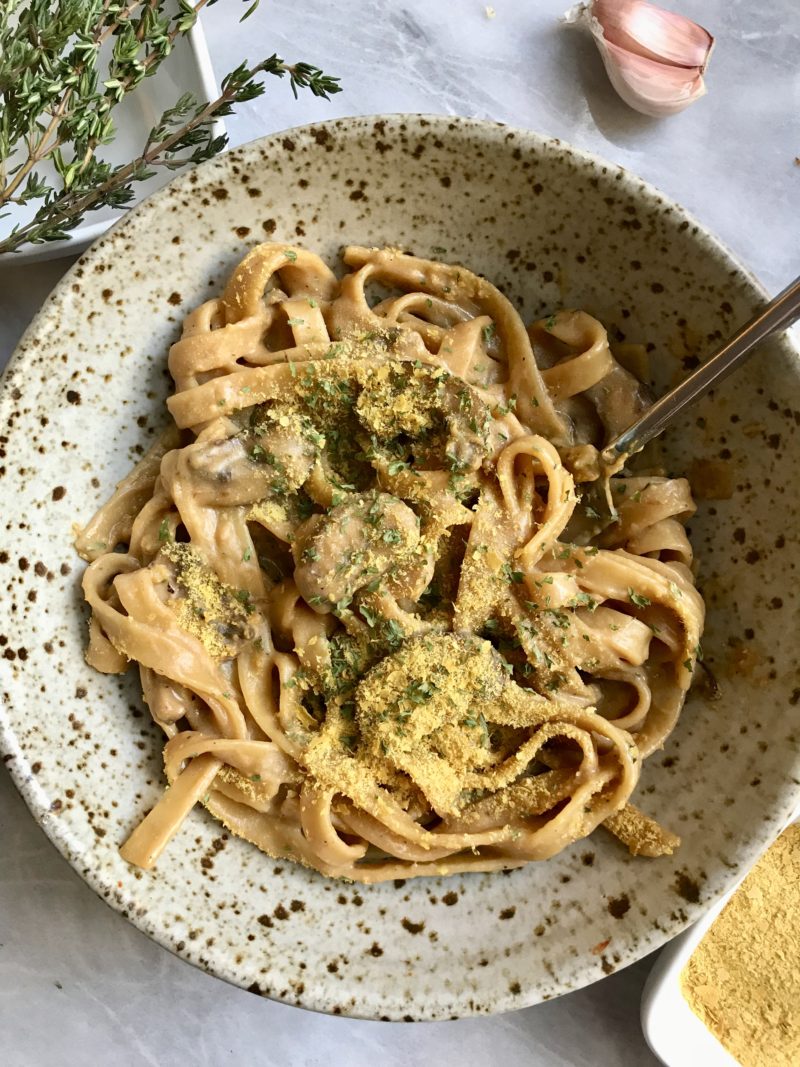 The ingredients to this dish are really simple, and in total this recipe only takes around 25 minutes to make! A great easy weeknight option with minimal clean up!
I hope that you enjoy this recipe! If you ever make any of my recipes, don't forget to tag me on Instagram @plantbasedjane so I can see!
One Pot Vegan Mushroom Stroganoff

Ingredients
1 tablespoon olive oil
1 medium onion
1 10oz container of mushrooms
2 cloves of garlic, crushed
2 tsp of fresh thyme, picked
3 tablespoons flour
3 1/2 cups vegetable stock
8 oz fettuccine
1/2 cup plant milk (I used coconut milk)
1/4 cup nutritional yeast
1/4 cup vegan cream cheese
salt & pepper to taste
Instructions
Begin by chopping up your onions and slice your mushrooms.
In a large pot (I used a dutch oven) heat up 1 tablespoon of olive oil and add in your onions. Cook for 5-6 minutes or until translucent. Add in your sliced mushrooms and let cook until mushrooms have released all their water.
Add in your garlic and thyme leaves and cook for another 30 seconds. Add in your flour and make stir to make sure that all of your veggies are evenly coated with flour.
Add in your vegetable broth and with a spoon stir and make sure that nothing is stuck to the bottom of the pan. Let vegetable broth come to a boil.
Once boiling add in your plant milk and pasta. evenly distribute your noodles stirring often to make sure that they do not stick together. Cook without a cover for 10 minutes. After your pasta is cooked, add in your vegan cream cheese,nnutritional yeast, salt & pepper. Mix to combine and serve!