Jump to recipe
Try these delicious and vegan pork dumplings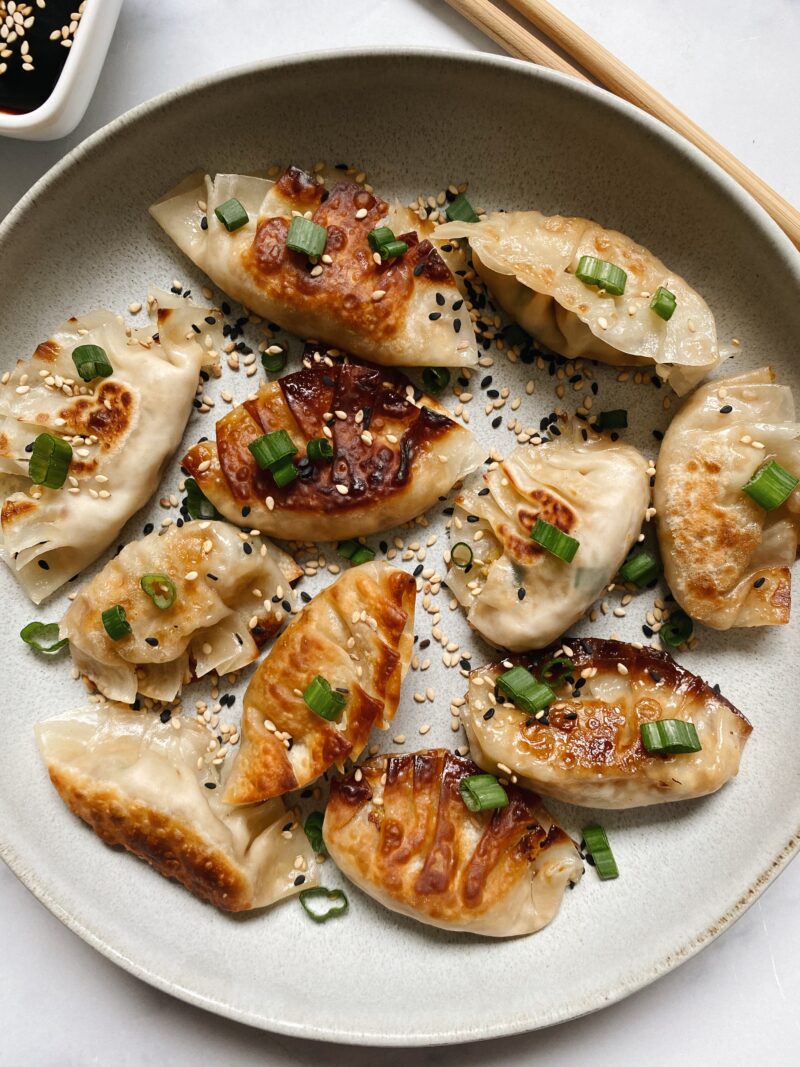 I could probably live off of dumplings. As a child I was the pickiest eater. Whenever we would order from our local Chinese restaurant, I would always get the vegetable dumplings. I still love them to this day.
I wanted to have some fun with these dumplings so I decided to try making a "pork" filling. It turned out amazing! I used tofu as my pork base and they just taste so delicious!
For this recipe I used pre-made dumpling wrappers. The brand I used is Nasoya, but you can use whatever brand you want. If you are interested in making your own dumpling wrappers, please refer to my vegetable dumpling recipe where I have the ingredients listed to make your own.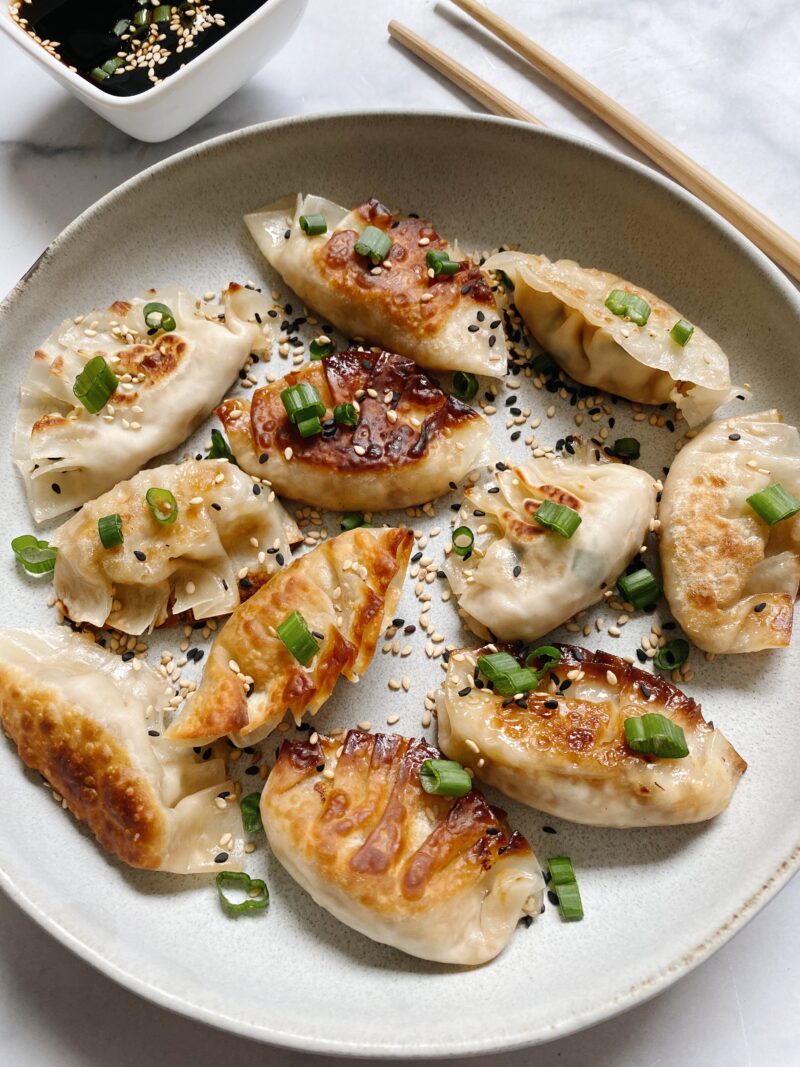 What do you need for this recipe?
Tofu – this is what our pork will be.
Green cabbage – this adds some freshness to the recipe as well as a nice veggie component.
Dumpling wrappers – I bought pre-made wrappers from Nasoya but click here if you want the recipe to make them yourself.
Soy sauce
Sesame oil
Ground ginger
Garlic powder
Green onions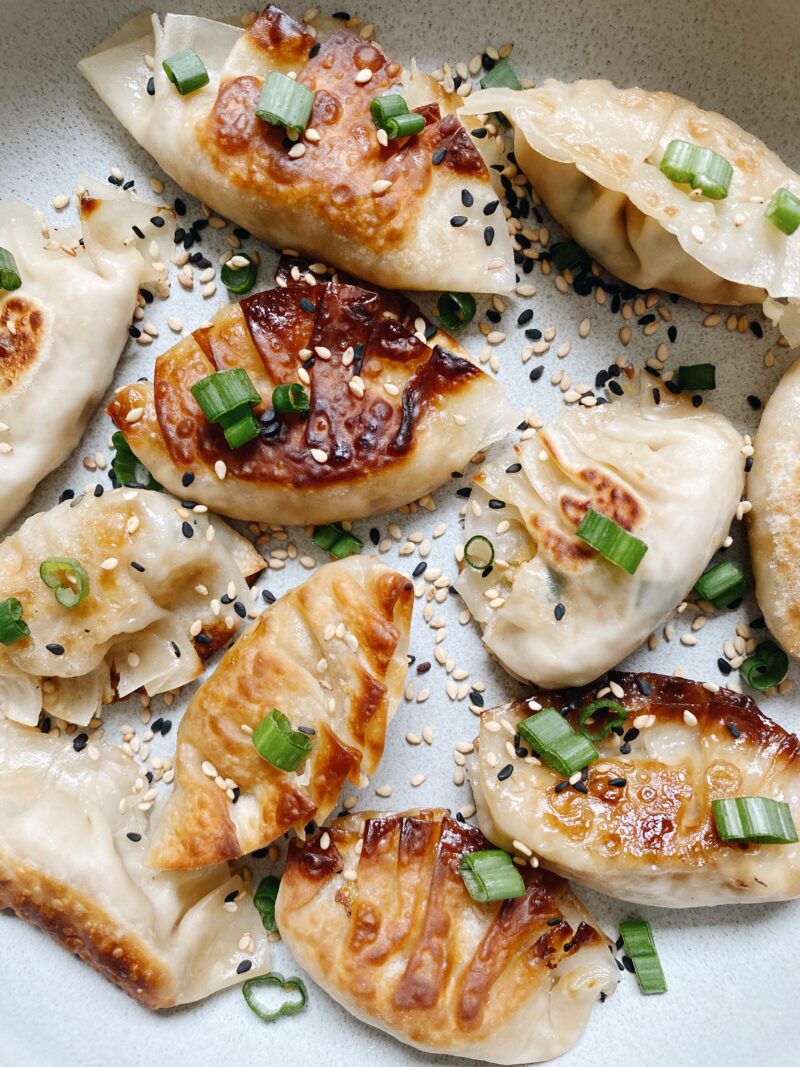 I hope that you enjoy this recipe! If you make any of my recipes, don't forget to tag me on IG @plantbasedjane in your posts and stories!
"Pork" Dumplings

Ingredients
8oz firm tofu
2 1/2 cups green cabbage
3 tablespoons soy sauce
4 green onions, sliced finely
1 tablespoon sesame oil
1/2 tsp ground ginger
1/2 tsp garlic powder
25-30 dumpling wrappers
Instructions
Using a food processor, ground up your tofu and cabbage & finely slice your green onions.
In a saute pan on medium heat, add in the sesame oil. Add in ground tofu, cabbage and green onions. Cook for 7-10 minutes stirring constantly, allowing for everything to cook down. After 10 minutes pour in the soy sauce, ginger and garlic powder. Taste and adjust seasoning(s) to your liking.
If using pre-made dumpling wrappers, follow package instructions on how to form your dumplings. If making your own, refer to my recipe for vegetable dumplings which I have linked above.
Serve with fresh green onions and sesame seeds on top.