Jump to recipe
New to tofu and want to know how to make it taste absolutely delicious? Try this simple and yummy baked tofu recipe.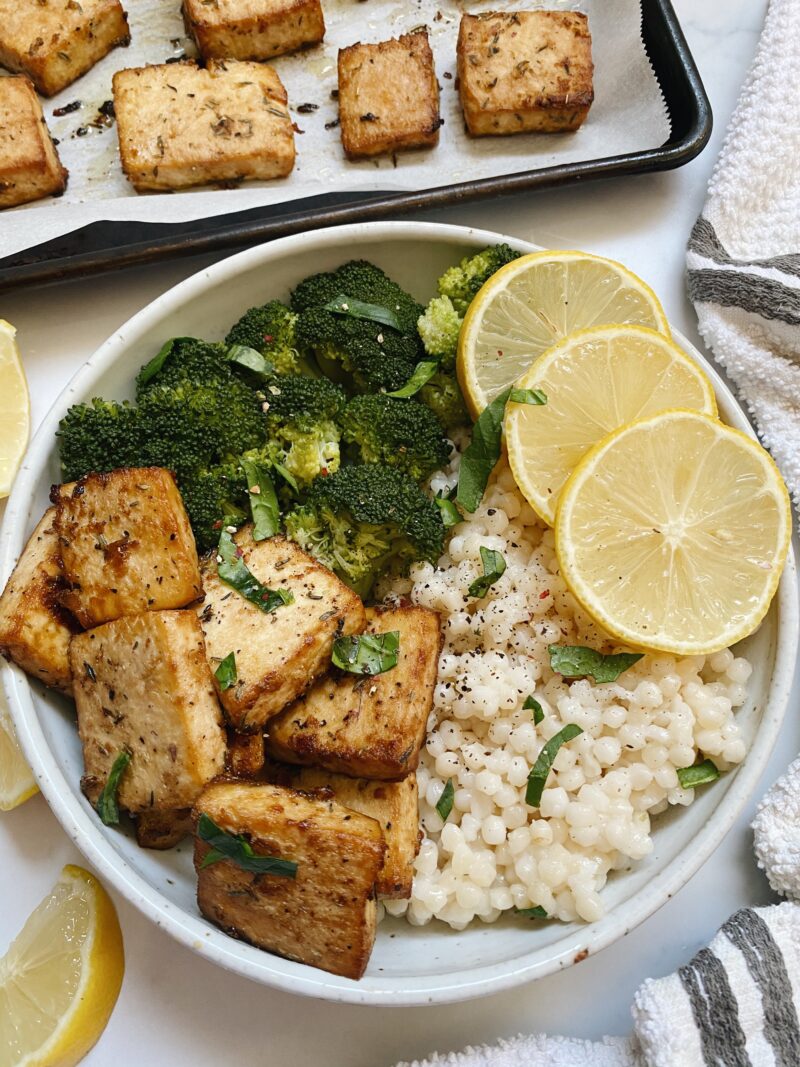 When I first went Vegan I was not interested in trying tofu. Prior to going Vegan I was a pretty picky eater so the concept of tofu was very foreign to me. Fast forward years later and I am in love with it.
I understand the reasoning for being hesitant to try tofu. It is not appealing to the eye and the beginning texture is a bit strange. However the great thing about tofu is its ability to soak up any seasoning/herbs and taste delicious.
You can cook tofu many ways but my favorite way to cook it is by baking it in the oven. I think it gives the best texture.
I have so many other delicious tofu recipes on my blog, one being my bang bang tofu.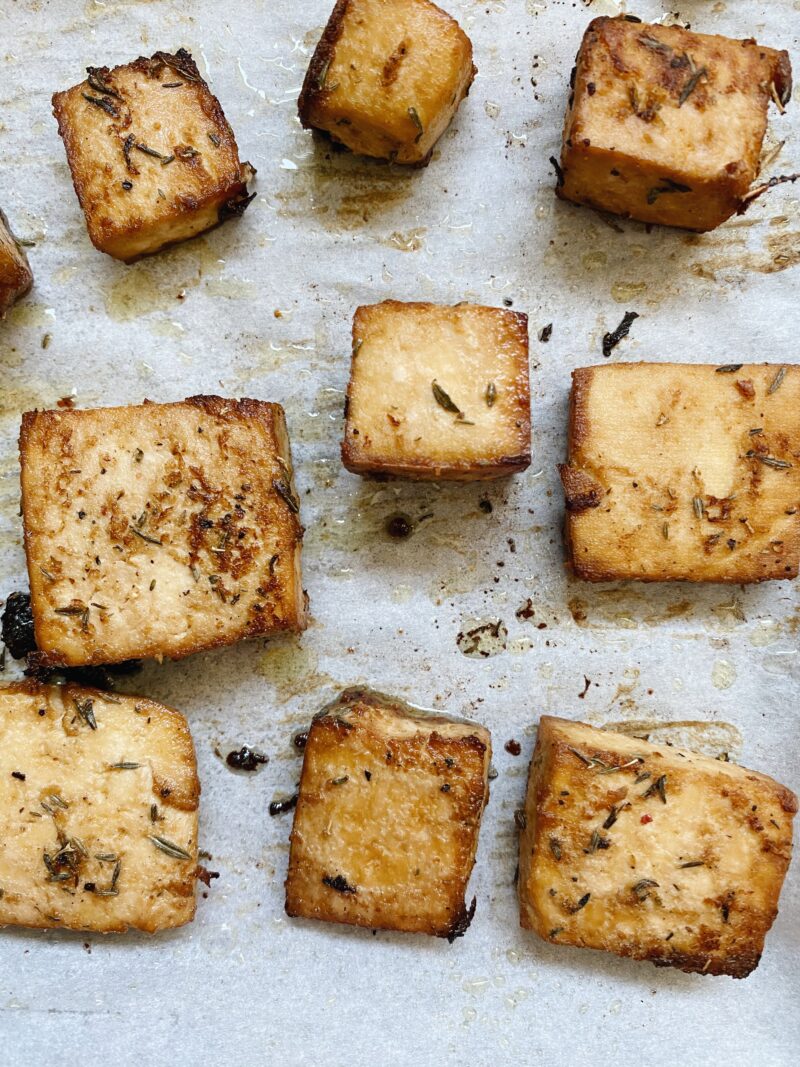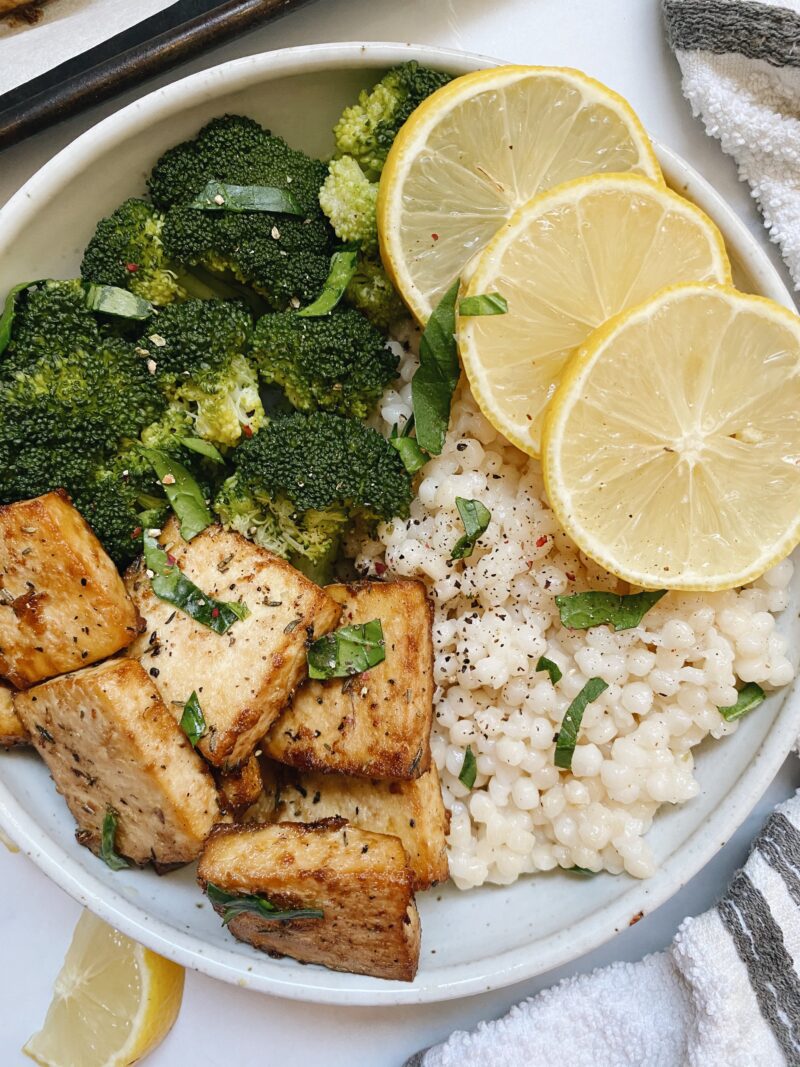 What do you need for this recipe?
Extra firm tofu. I highly recommend trying the High Protein Super Firm Tofu from Trader Joe's. It's not packed in a lot of water and has the best texture. Wildwood tofu also makes one similar.
Olive oil
Dijon Mustard
Soy Sauce
Garlic Powder
Onion Powder
Dried Thyme
Lemon Juice
Black Pepper
These are all ingredients that you likely already have on hand.
I hope that you enjoy this recipe! if you make any of my recipes, don't forget to tag me on IG in stories or posts @plantbasedjane
Delicious Baked Tofu

Ingredients
16oz tofu
3 tablespoons olive oil
2 tablespoons soy sauce
1 tablespoon dijon mustard
1 tsp garlic powder
1 tsp onion powder
1 tsp dried thyme
2 tablespoons lemon juice
1/4 tsp black pepper
Instructions
The first thing you need to do is press your tofu to release excess water. Place tofu between two paper towels (or use a tofu press if you have) and add a couple heavy objects on top. I recommend books, pans, etc. Let press for 30 minutes.
Once the tofu has released it's excess water, cut into 1/2 cubes or slabs. Add to a large bowl. In a smaller bowl, combine the rest of your ingredients to create your marinade. Pour the marinade over the tofu. Carefully coat the tofu in the marinade. Let sit for up to 15 minutes.
Meanwhile, pre-heat your oven to 400 degrees Fahrenheit.
Line a baking sheet with some parchment paper. Place tofu on parchment paper and cook for 15 minutes. After 15 minutes, flip and cook for an additional 10. Serve!