Jump to recipe
Try this incredibly delicious and easy creamy sausage pasta recipe!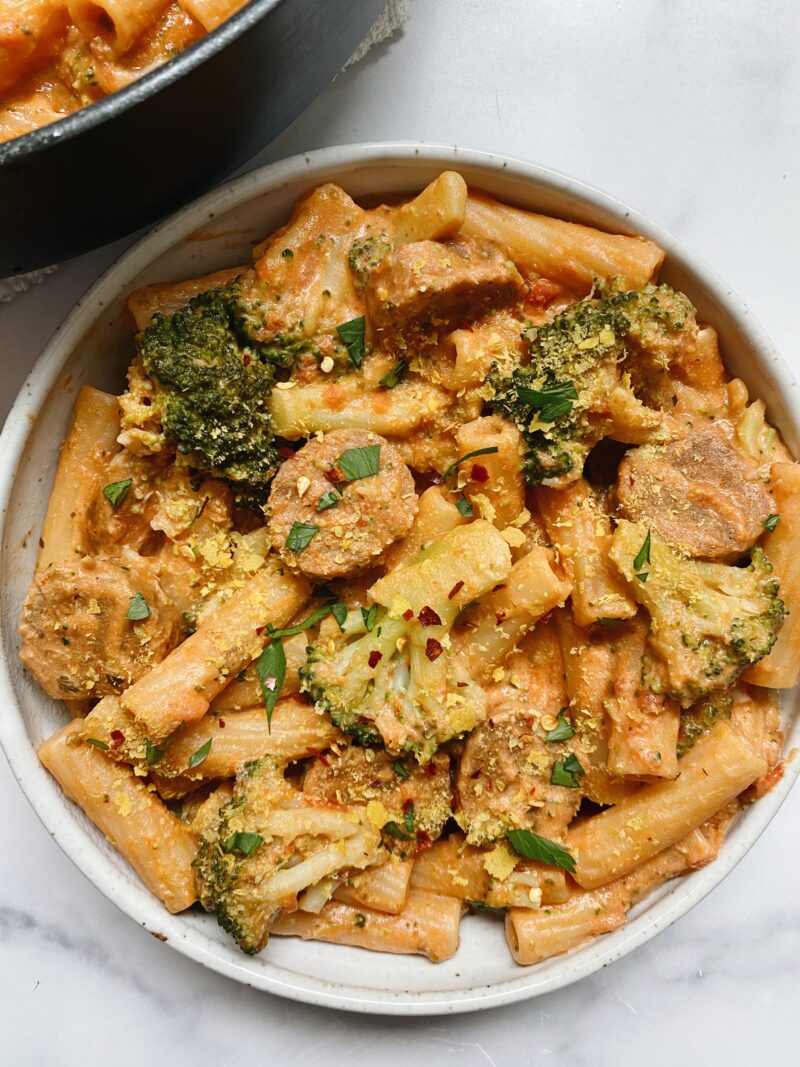 I love a good easy pasta recipe. One that requires limited ingredients and maybe a few pre-made shortcuts. This recipe is exactly that!
In the past recent months I have started eating a lot of beyond meat, Tofurky vegan sausages. I never ate pork before I went vegan so even after going vegan I wouldn't really gravitate towards the vegan options. However most recently I have been including them in more recipes and I love it! Such a great vegan protein option that doesn't take long to cook at all.
I really like the Italian sausage by Tofurky & The Hot/Sweet Italian from Beyond Meat. In this recipe I used Beyond.
I also wanted to add some sort of vegetable so I obviously included my favorite veggie of all time, broccoli.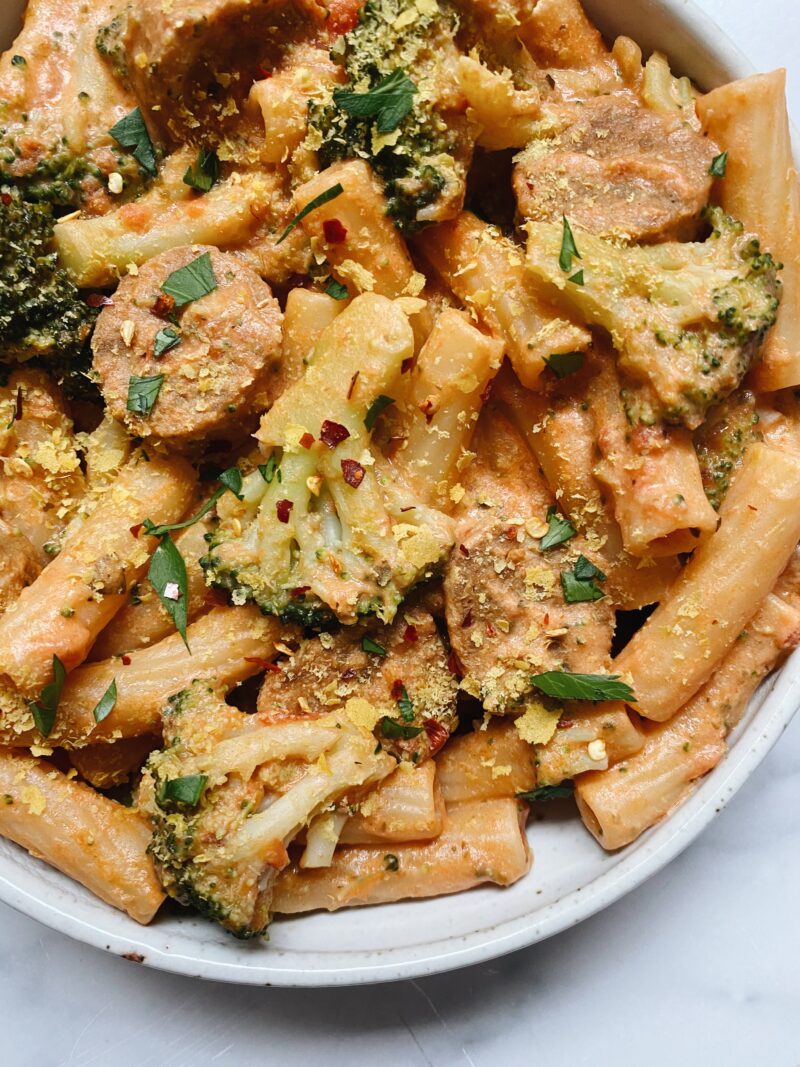 What do you need for this recipe?
Pasta shape of choice
Vegan Italian sausage
Broccoli
Pasta Sauce
Vegan Cream Cheese
That's it! How easy is this recipe?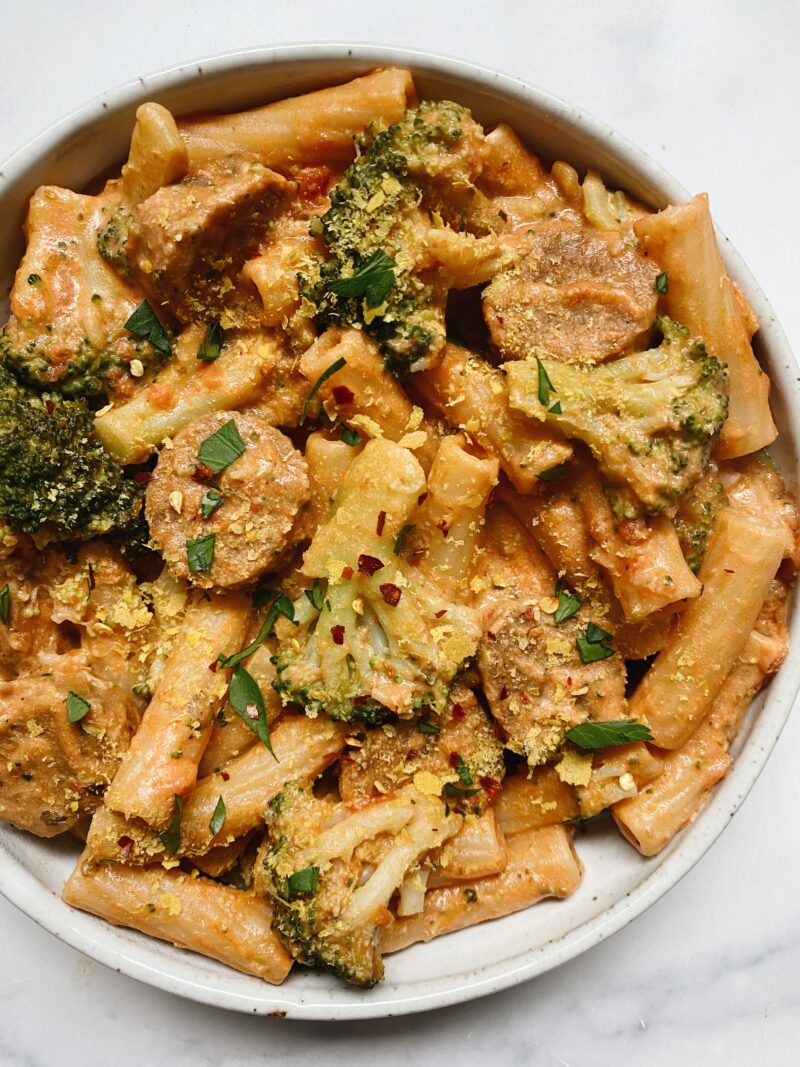 I hope that you enjoy this recipe! Remember if you make any of my recipes don't forget to tag me on IG in stories/posts @plantbasedjane
Creamy Sausage Pasta

Ingredients
8oz rigatoni
2 1/2 cups broccoli florets
4 Italian sausages (1 pack of beyond sausages)
1 1/2 cups pasta sauce of choice
1/2 cup vegan cream cheese
1/2 cup reserved pasta water
Instructions
Bring a large pot of salted water to a boil. Add in pasta and cook according to package instructions. In the last 5-6 minutes of the pasta cooking, add the broccoli to the boiling water allowing it to cook with the pasta. Drain and add pasta and broccoli back into the pot.
In a large saute pan cook your vegan sausages according to package instructions.
Add your sausage into the pot with the pasta and broccoli. Turn heat on medium-low, add in your pasta sauce and mix thoroughly. Once everything is coated in the sauce, add In the vegan cream cheese. Slowly add some pasta water to help break down the cream cheese and bring the sauce together. Season to taste with salt and pepper. Serve!