Jump to recipe
This tofu piccata dish will be a new weeknight favorite!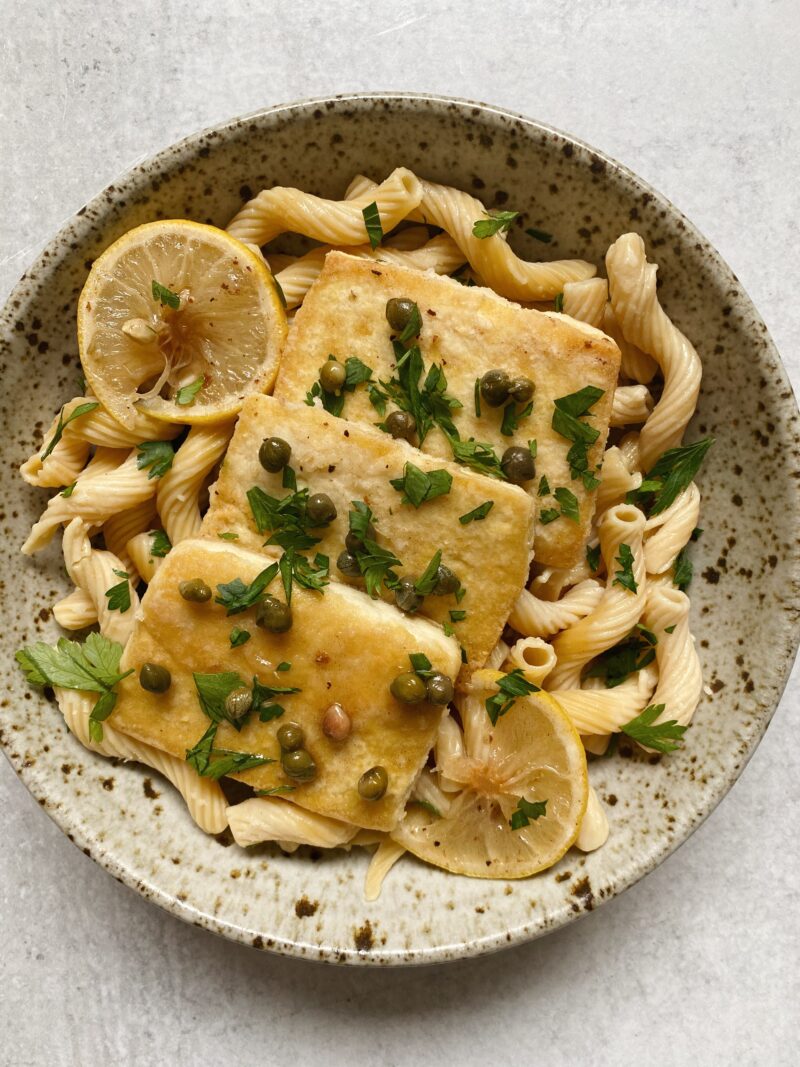 The first time I had anything Piccata was at my favorite restaurant ever Blossom On Columbus (NYC). They serve the most delicious seitan piccata with mashed potatoes and spinach. It is probably one of my favorite dishes ever and I always get it when I go there.
I wanted to create my own version using tofu and wow it is so good! Plus it's pretty easy to make too!
I photographed it served over pasta (which was delicious) but you can also have it with potatoes, salad, etc. It is a great protein dish that goes with so many different things!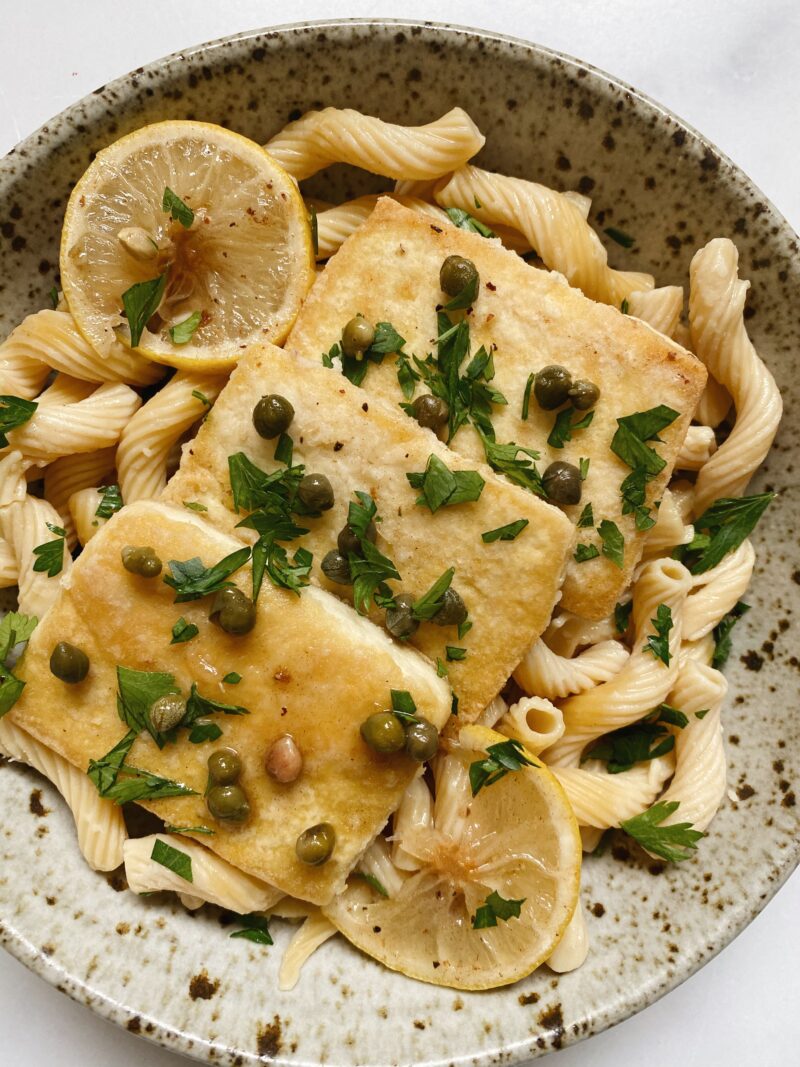 What do you need for this recipe?
Tofu – I recommend extra firm/high protein tofu. This is tofu that is not packed in so much water but instead vacuum sealed. Trader Joe's & Wildwood both make tofu like this.
Flour – Coating the tofu in flour and then pan frying it adds a nice crispy texture to the outside of the tofu.
Butter – for the sauce
Wine – Use a dry wine, that you would drink, like pinot grigio. Feel free to sub for vegetable broth if you would prefer not to use alcohol.
Lemon – Perfect for the sauce!
Capers – Essential for a true picatta sauce!
Neutral oil – Avocado oil is what I prefer
Salt & Pepper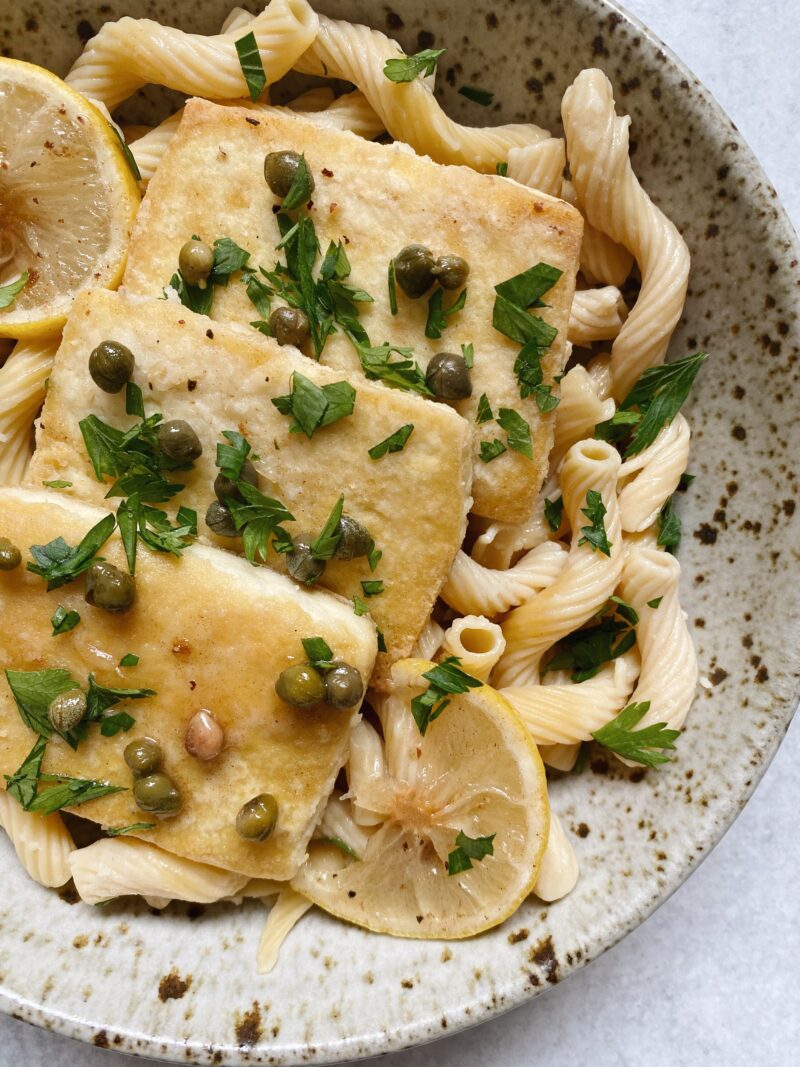 I hope that you enjoy this recipe! Remember, if you make any of my recipes, don't forget to tag me on IG in stories & posts @plantbasedjane
Tofu "Chicken" Piccata

Ingredients
1 16oz package extra firm tofu
1/3 cup flour
¼ tsp salt
¼ tsp pepper
1 tablespoon avocado oil
2 tablespoons of butter
¾ cup dry white wine, or sub vegetable both.
1 lemon, half juiced and the other half thinly sliced
1 ½ tablespoons capers, drained
Instructions
Drain and press your tofu for 30 minutes. Slice the tofu block in half and then cut in ½ inch slabs.
Add flour to a plate or shallow bowl along with salt and pepper. Dip the tofu in the flour on all side. Shake off any excess.
Add your avocado oil to a large sauté pan on medium heat. Add the tofu to the pan and cook on both sides for 2-3 minuets or until crispy. Place tofu on a plate lined with a paper towel. Set aside.
With the heat still on in the pan, add in the butter, wine, lemon juice & slices and capers. Scrape any of the brown bits on the bottom of the pan. Let cook for 5-6 minutes or until the wine has reduced by almost half. Season to taste with salt and pepper. Add back in your tofu and coat in the sauce.
Serve