Jump to recipe
Pancakes are one of the best breakfast foods out there. I decided to give it a fall twist by adding some pumpkin!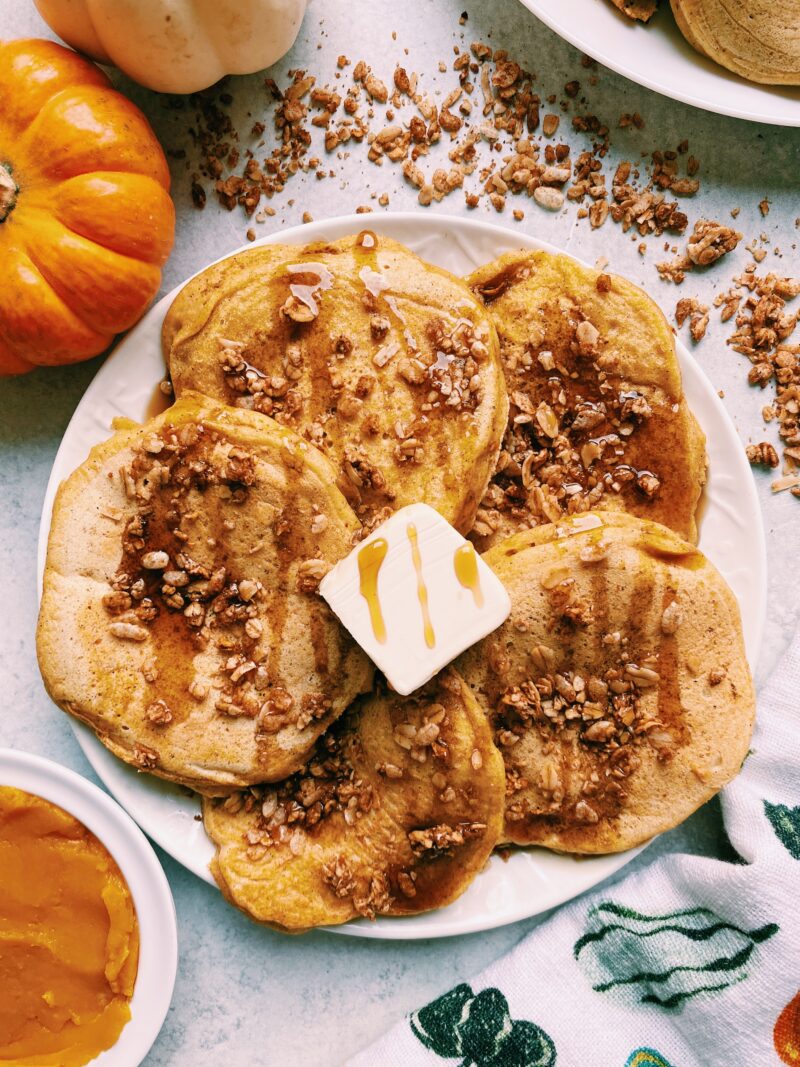 Who doesn't love pancakes? They're fluffy, delicious, and best served with A LOT of syrup on top!
I wanted to put a Fall twist on your traditional pancakes and add some pumpkin! I love Fall not just because of the weather, but also the fall themed eats. I absolutely love anything pumpkin spice (I guess you can call me basic) and I thought the addition of some pumpkin in pancakes would be perfect. Guess what? It is! I am so thrilled with how this recipe came out.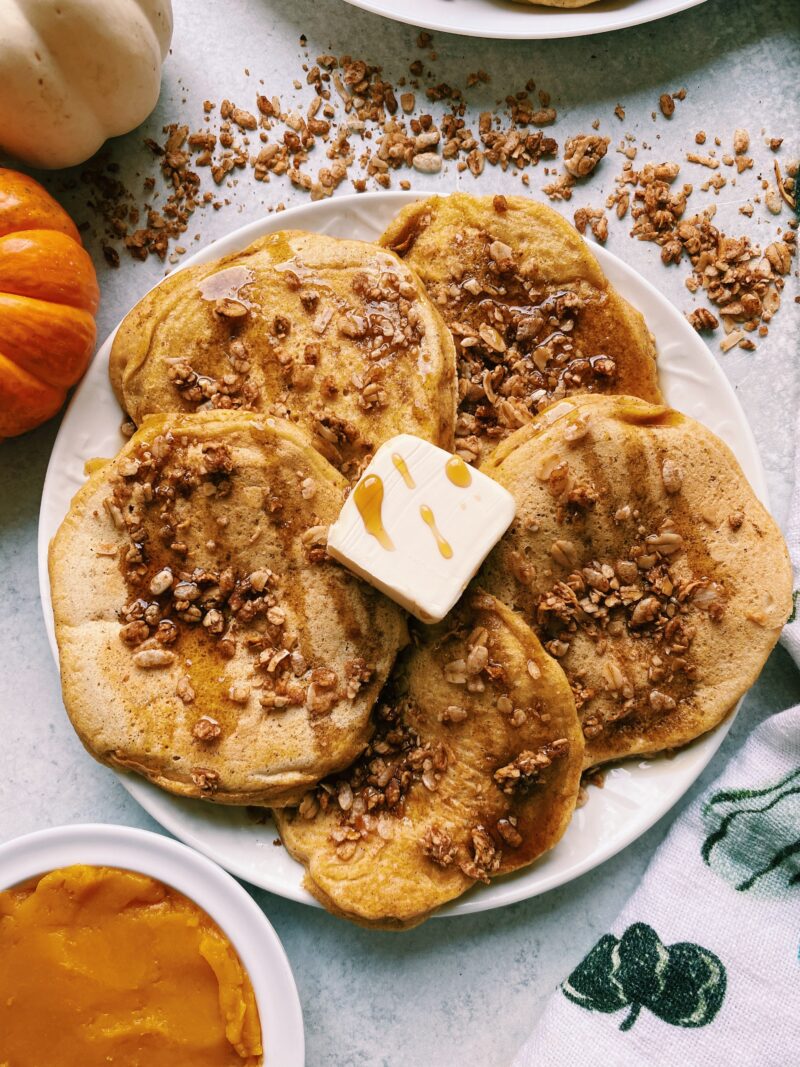 So what do you need for this recipe?
Pumpkin puree – not pumpkin pie filling. The only ingredient in the can should be pumpkin.
Unsweetened non-dairy milk. I like oat milk.
Lemon juice. This combined with the non-dairy milk with create a vegan buttermilk!
Maple syrup. This is how we sweeten the pancakes. This recipe is free of any refined sugars.
Vanilla extract
All purpose flour. I have not tested this recipe with any other flours. If you try it out, let me know in the comments how it came out!
Baking powder
Pumpkin pie spice
Salt
Less than 10 ingredients, and items that you may already have on hand.
I hope that you enjoy this recipe! If you make any of my recipes, don't forget to tag me on IG in stories or posts @plantbasedjane.
Pumpkin Pancakes

Ingredients
1 cup unsweetened plant milk
1 tablespoon lemon
2 tablespoons maple syrup
1/2 tsp vanilla extract
1/2 cup pumpkin puree
1 1/2 cup flour
1 tablespoon baking powder
2 teaspoons pumpkin pie spice
1/2 tsp salt
Instructions
In a mixing bowl, combine your non-dairy milk and lemon juice. Let sit for 10 minutes. This will create a vegan buttermilk.
After 10 minutes, add in your maple syrup, vanilla extract & pumpkin puree. Mix to combine.
In a separate bowl, combine all of your dry ingredients. Combine your dry with your wet and mix to combine.
On a griddle or pan on medium-low heat, add some oil or butter. Working with 1/4 measuring cup, add pancake batter to your pan. Allow for pancake to bubble and form on the sides before flipping and cook for an additional 1-2 minutes.
Serve! I topped mine with some granola and syrup.