Jump to recipe
Try this delicious pasta recipe with a fresh tomato sauce, sausage and spinach!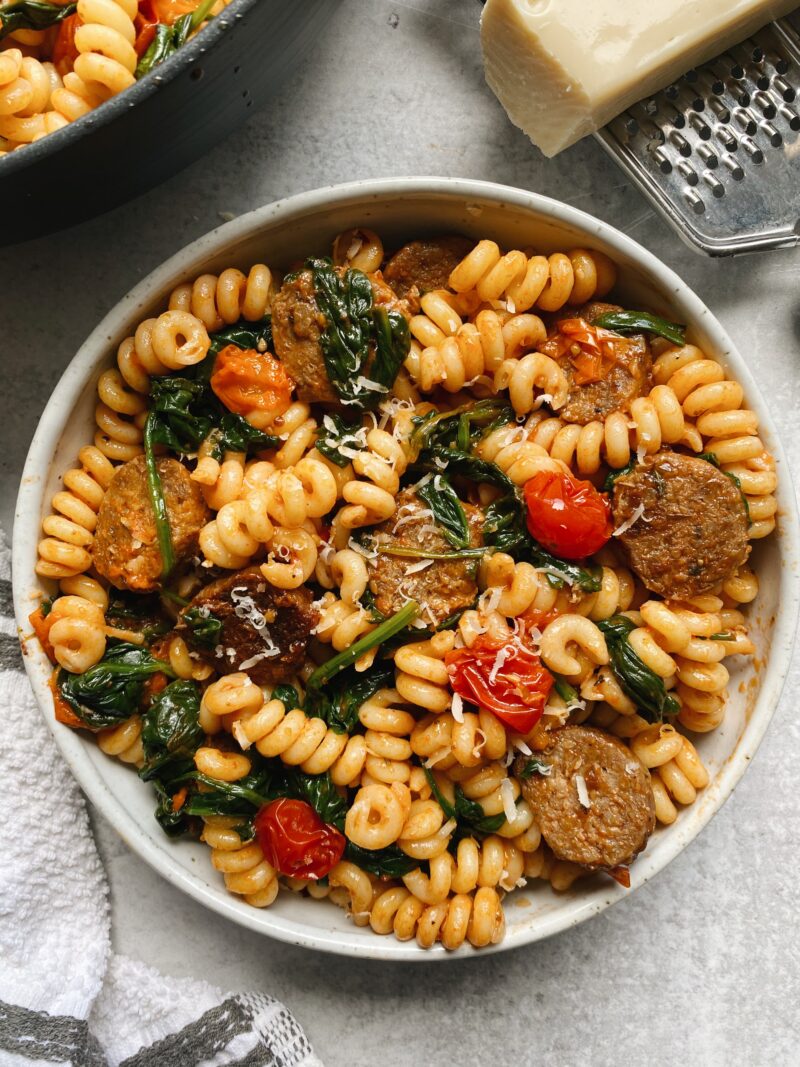 Is this my new favorite recipe? Possibly. It is so delicious and fresh.
I have really slept on vegan sausage for the past few years. Before I was Vegan, I never ate pork. I was never intrigued by it and stayed away. When I went vegan, and tried vegan sausages, It took me awhile to adjust to the taste. I went 20+ years without those flavors that it shocked me at first trying the vegan options.
Now I absolutely love vegan sausage! I've really enjoyed the Tofurky & Beyond Meat sausages the most.
The sauce in this recipe is what makes it for me. The combination of fresh cherry tomatoes, white wine, and garlic is so simple but so flavorful. I used a dry pinot grigio. Need to find out what wine is vegan? Check our barnivore.com (not sponsored just super helpful)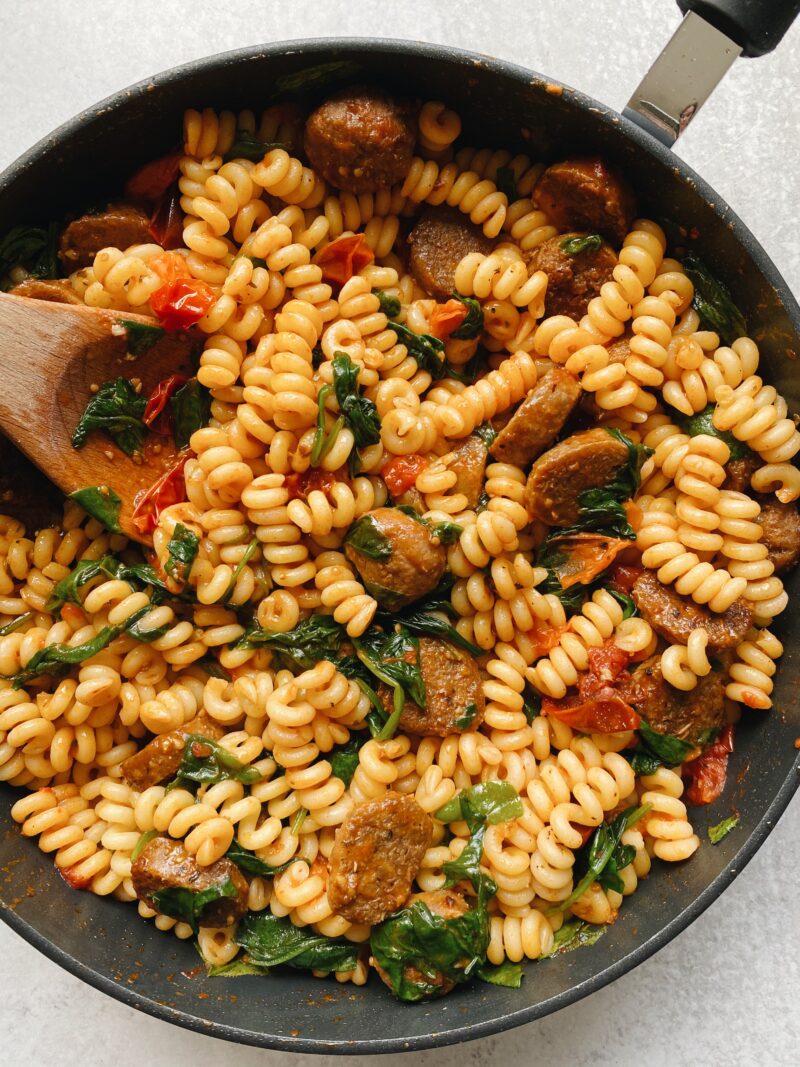 What do you need for this recipe?
pasta of choice – since I get a lot of questions on this shape, it's fusilli d bucati.
olive oil
cherry tomatoes – grape tomatoes work well too.
white wine – use a dry white wine like pinot grigio
tomato paste – brings that richness to the tomato sauce
garlic
vegan sausages
spinach
vegan butter – add at the end to help emulsify the sauce and bring another level of richness
red pepper flakes – brings that spicy element
I hope that you enjoy this recipe! If you make any of my recipes, don't forget to tag me on IG in stories or posts @plantbasedjane
Also, check out my new account, @traderjoesgoesvegan
Tomato & Sausage Pasta

Ingredients
8oz pasta
4 vegan Italian sausages, sliced (I used 1 package of beyond meat)
2 tablespoons olive oil
12oz cherry tomatoes (around 1.5 cups)
1/4 tsp salt
1/4 tsp pepper
1/4 tsp red pepper flakes
2 garlic cloves, minced
1/4 cup dry white wine
2 tablespoons tomato paste
5 oz spinach
1 tablespoon vegan butter
1/2 cup reserved pasta water
Instructions
Bring a large pot of salted water to a boil and cook your pasta according to package instructions. Drain and reserve 1/2 cup of cooking water. Slice your cherry tomatoes, mince your garlic and set aside.
Slice sausages and cook according to package instructions. Drain excess oil safety and wipe out the pan. Return the pan back to the heat.
With the same pan on medium heat, add your olive oil, cherry tomatoes, red pepper flakes, salt and pepper. Cook tomatoes for 3-5 minutes, smashing the tomatoes with the back of a wooden spoon once softened to release it's juices. Pour in the white wine and minced garlic. Let white wine reduce by half and add in the tomato paste. Mix everything, incorporating the tomato paste into the sauce. Add in your spinach and season with a bit more salt and pepper. Let spinach wilt down. Add in your cooked pasta and sausages. Mix to combine and gradually add in pasta water to thicken the sauce. Add in a tablespoon of butter and mix until melted.
Serve!