Jump to recipe
Enjoy this delicious and nut free vegan vodka sauce!
I can't believe it's taken me this long to create a vodka sauce recipe. I used to LOVE vodka sauce before going vegan. As someone allergic to nuts, all the recipes I've found on the internet have contained cashews. I knew I needed to make my own version which could be nut free and a bit more cost effective (as cashews can be expensive).
I used full fat coconut milk for this recipe. The key is to only use the hardened coconut in the can, and not use the leftover liquid. It surprisingly does not have a coconut flavor at all and really helps bring the creamy component to a traditional vodka sauce.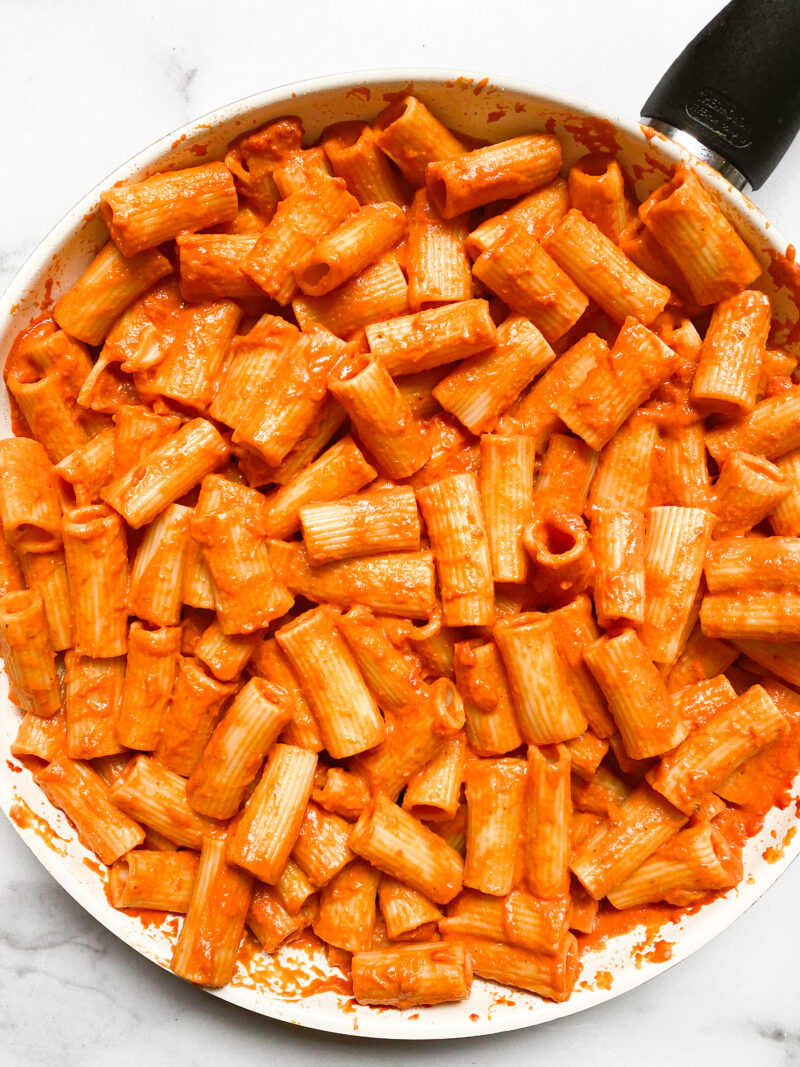 The day that I made this recipe my mom came over to visit for a little. If you didn't know, I am from NYC and moved to Hoboken, NJ in October of 2018. So my mom likes to come visit me a couple of times a month for a few hours.
I was really excited for her to come over because A. I missed her & B. She can taste test my vodka sauce! She isn't vegan but has always been super open to try new vegan dishes and go to allll the vegan restaurants with me.
So she tried it, and loved it! I made her a bowl and sent her a home with a container of it so her and my dad could enjoy it for dinner that night. It's always important, no matter the person, to approve of my vegan dishes. Getting non-vegan opinions is a plus! I've been Vegan for over 4 years and you can forget components to dishes you used to love, so getting the reassurance that you nailed it is a great feeling!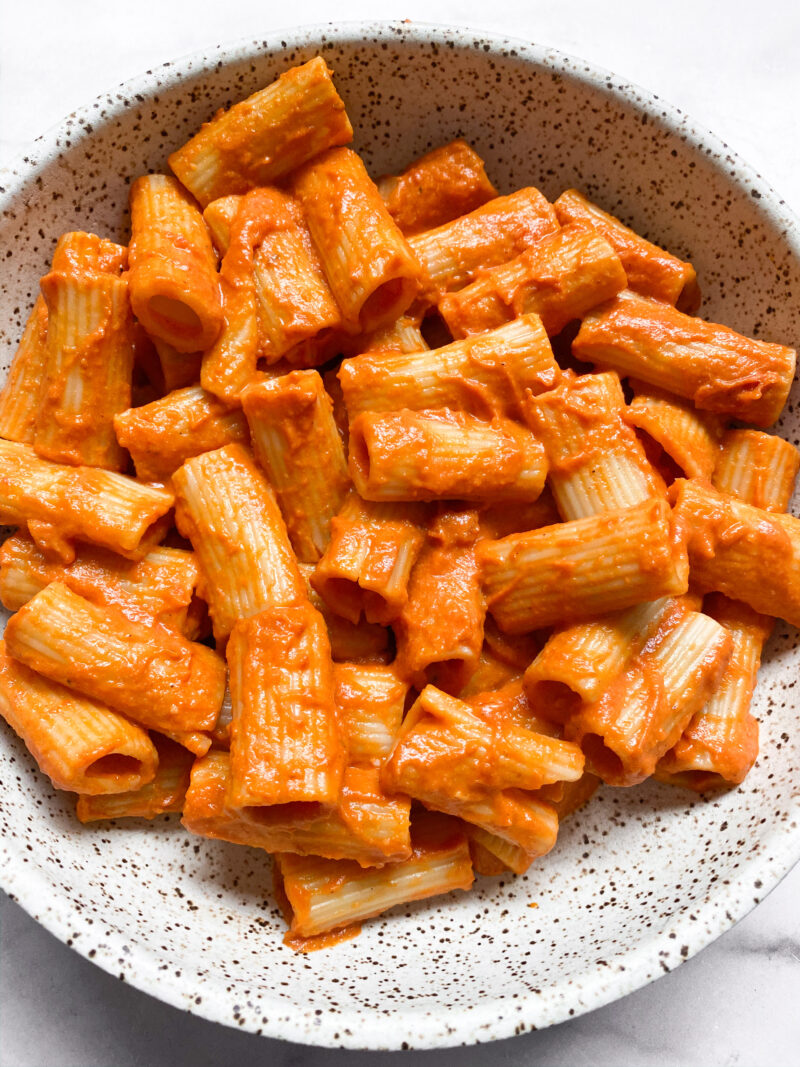 I hope that you enjoy this recipe! If you make any of my recipes, don't forget to tag me in the photo on IG @plantbasedjane
Vegan Vodka Sauce

Ingredients
16oz pasta of choice
1 tablespoon olive oil
1 small onion, diced
2 garlic cloves, minced
1/2 tsp dried oregano
1/4 tsp red pepper flakes
1/2 cup vodka
1 28oz can crushed tomatoes
1 15oz can full fat coconut milk (only use the cream)
1/4 cup nutritional yeast
Salt & pepper to taste
Instructions
Bring a large pot of salted water to a boil and cook pasta according to package instructions. Drain and set aside.
Using a blender, add your crushed tomatoes and blend until smooth.
In a large saute pan or pot on medium heat, add your olive oil. Add in your onion and cook for 5-6 minutes, or until translucent. Add in your garlic, oregano and red pepper flakes. Cook for 1-2 minutes. Pour vodka in carefully and cook until it has reduced by half.
Add in your tomatoes and reduce heat to a simmer. Keep it partially covered and let it cook for 25 minutes, stirring frequently. After 25 minutes, add in the cream from your canned coconut milk and nutritional yeast. Mix well until the coconut milk has mixed in with your sauce. Season to taste with salt and pepper.
Add pasta to the pot and mix to combine. Serve!