Jump to recipe
Make these delicious and spicy Kung Pao Chickpeas and enjoy with rice, noodles, etc. They're very easy to make and are perfect for those who don't like tofu/tempeh.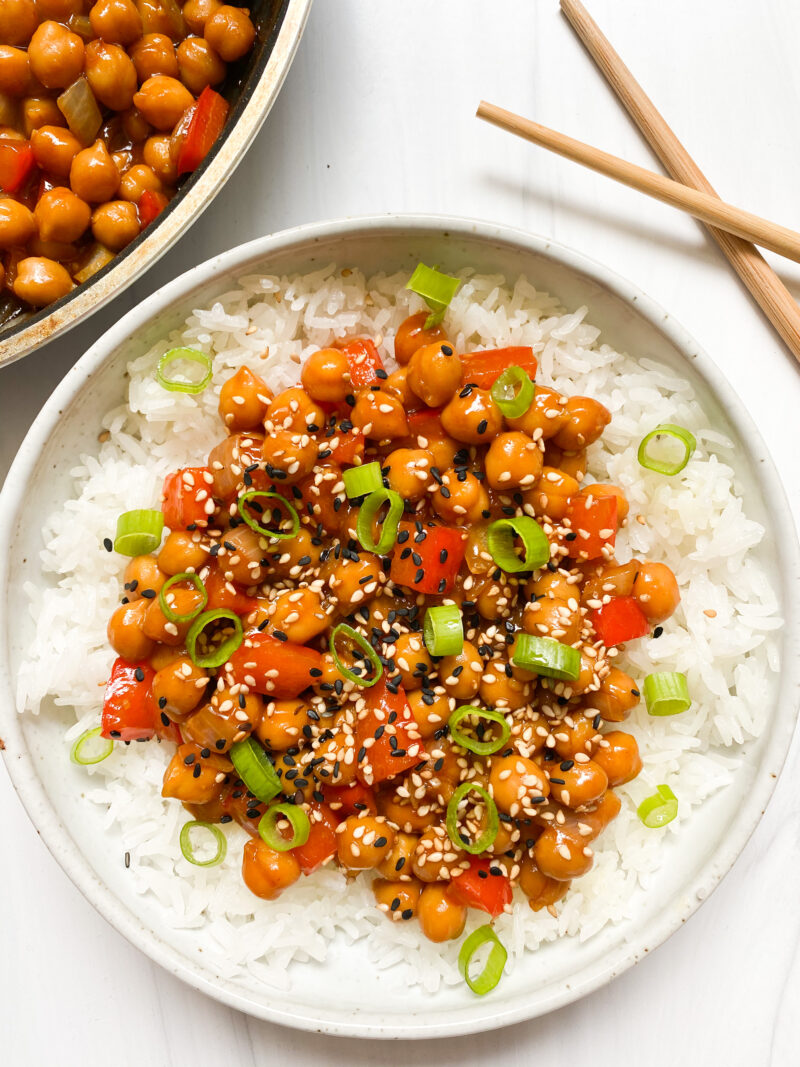 I find that chickpeas are one of the most versatile legumes out there. You can use them to make hummus, falafel, veggie burgers, sauces, etc.
Since it is the month of January as I'm writing this up, it also is Veganuary. I love Veganuary because it's a great way for people to try going Vegan for the month!
That being said, if people are going vegan and don't want tofu, this chickpea dish is great because it still has the protein and works just as well in this Asian inspired dish.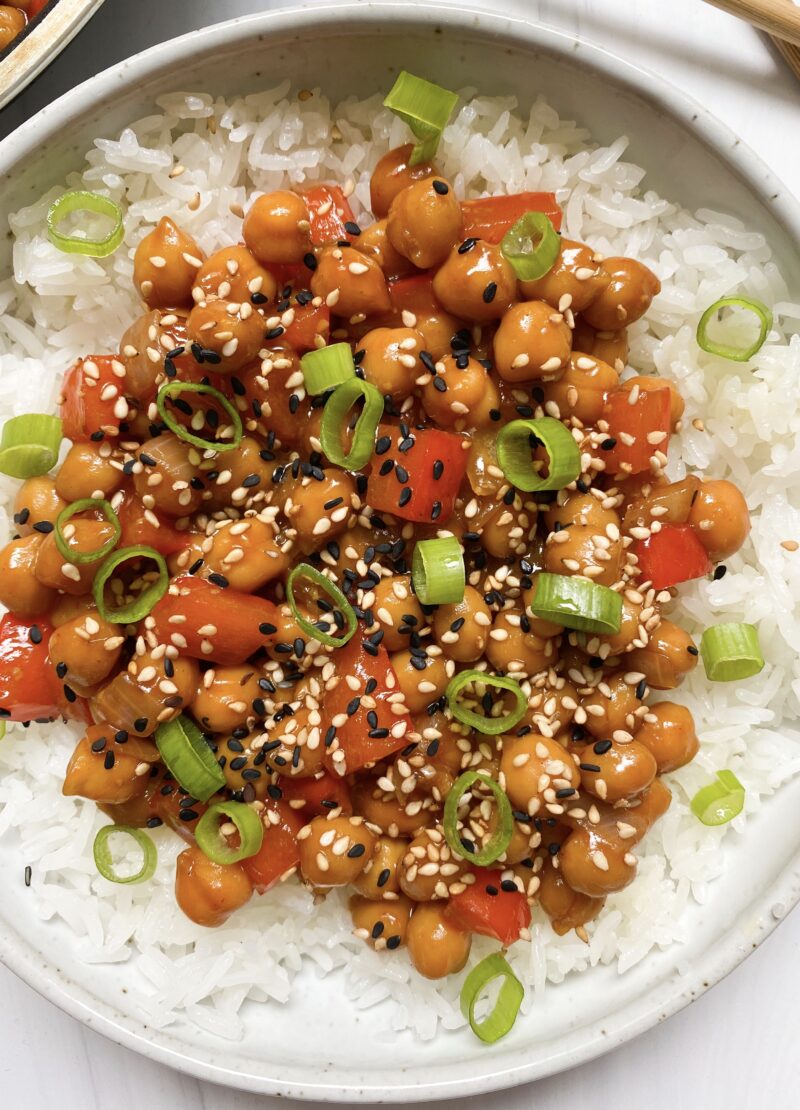 Chickpeas are also quite cheap so in all this dish doesn't cost much to make.
For photography reasons, I photographed this with some noodles. However, this would also be delicious with rice or even lettuce cups! It's totally up to you on how you want to serve these chickpeas.
So what will you need to make this delicious dish?
Chickpeas (Duh)
Red Bell Pepper
Onion
Garlic
Soy Sauce
Sriracha
Hoisin Sauce
Maple Syrup
Sesame Oil
Corn Starch
Pretty simple, huh? Not many ingredients but the flavor is packing!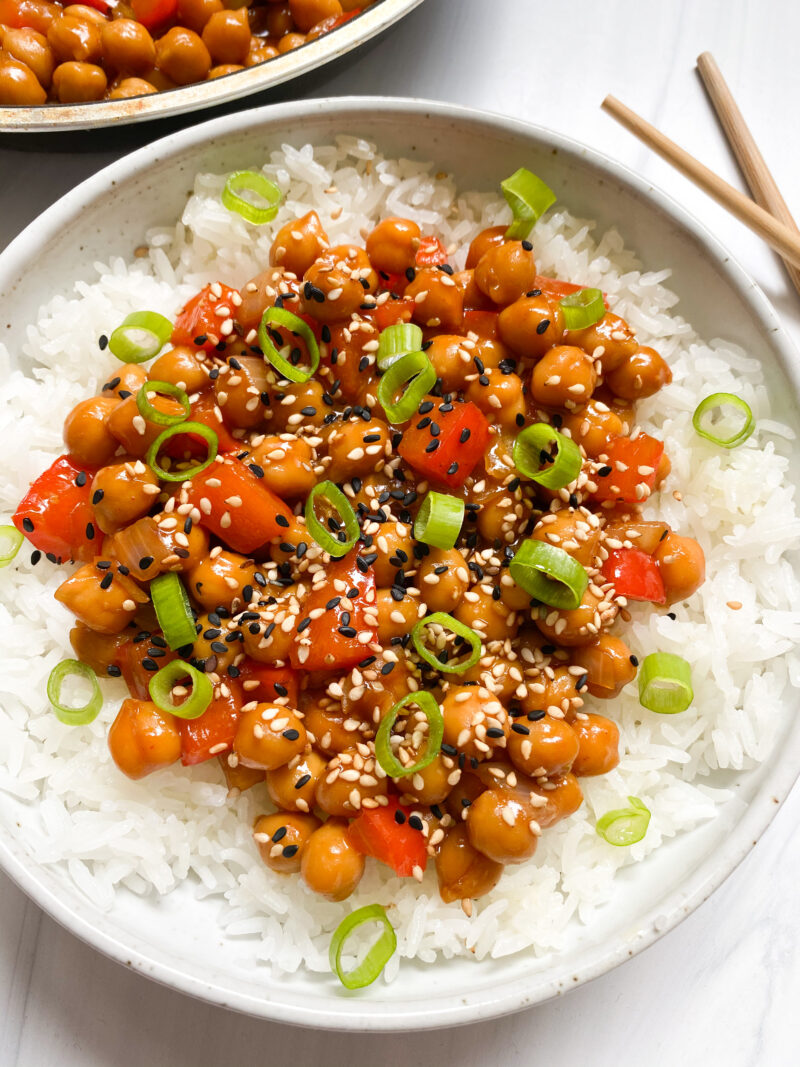 I hope that you enjoy this recipe! If you make any of my recipes, don't forget to tag me in the photo on IG @plantbasedjane
Kung Pao Chickpeas

Ingredients
1 15oz can chickpeas
1 red bell pepper, diced
1/2 medium onion, diced
2 garlic cloves, minced

For the sauce

2 1/2 tablespoons soy sauce
1 1/2 tablespoon sriracha
1 tablespoon hoisin sauce
1 tablespoon toasted sesame oil
1 tablespoon maple syrup
2 tablespoons water
1 1/2 tsp corn starch
Instructions
Begin by draining and washing chickpeas well. Set aside.
In a bowl, combine your sauce ingredients and mix well. Set aside.
In a sauté pan on medium heat, add a tablespoon of oil and allow for it to heat up.
Add in your peppers and onions with a little salt. Cook for 3-4 minutes or until the vegetables have become tender and the onions are translucent. Add your garlic and cook for another minute.
Add in your chickpeas and cook for 1-2 minutes, allowing for the chickpeas to heat up.
Add in your sauce mixture and cook for another 2-3 minutes or until the sauce has thickened up. Remove from heat and serve!