Jump to recipe
Enjoy this Veganized take on Butter Chicken. I use tofu instead and it's packed with flavor and is quite easy to make!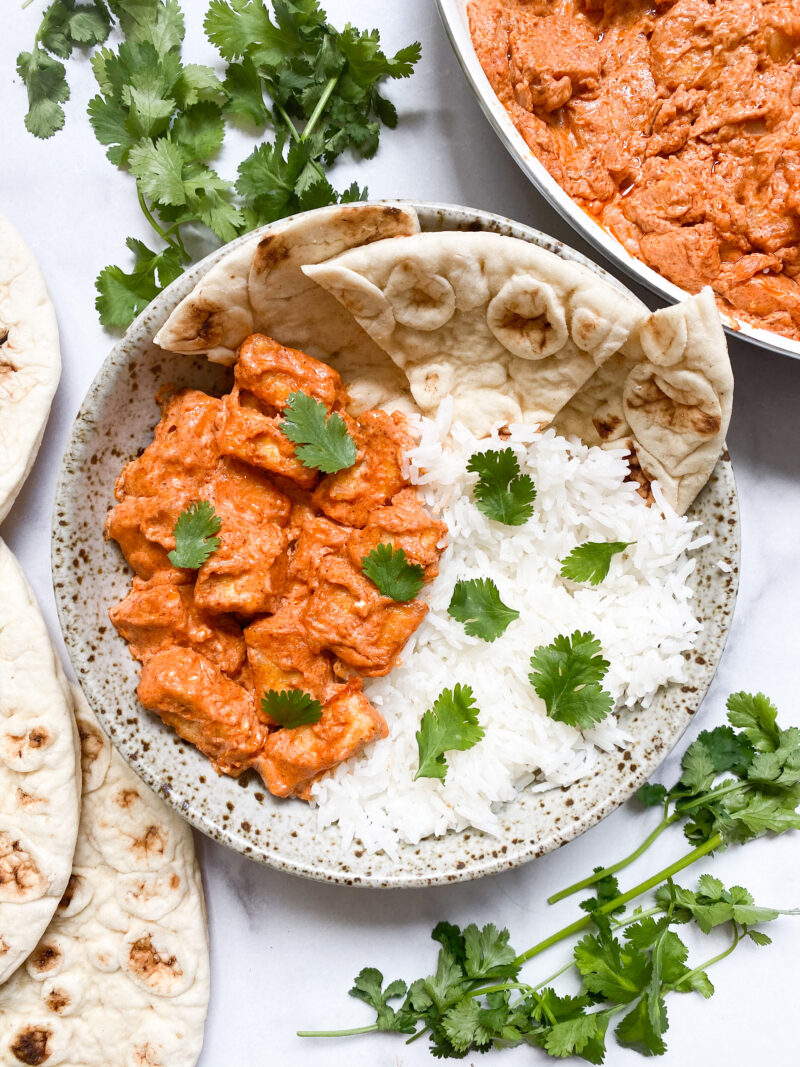 I absolutely love Indian food! It's one of my favorite cuisines that I definitely don't have enough of.
A very popular Indian dish is Butter Chicken. It obviously is not vegan for a number of reasons such as having:
Chicken
Butter
Heavy cream
So how did I veganize this recipe? I used:
Tofu
Vegan Butter
Vegan cream cheese
They're very easy and should be accessible replacements.
I don't order Indian much because while many places are vegetarian friendly (sometimes entirely vegetarian) not all items are vegan. So I wanted to create my own inspired butter "chicken" recipe.
This dish also isn't super spicy, but it does have a lot of great flavor from the Garam Masala.
What is Garam Masala?
Garam Masala is a mixture of different spices put into one. I bought my Garam Masala at Whole Foods. Do not think to skip this spice, it is vital in this recipe. It also just makes it taste delicious.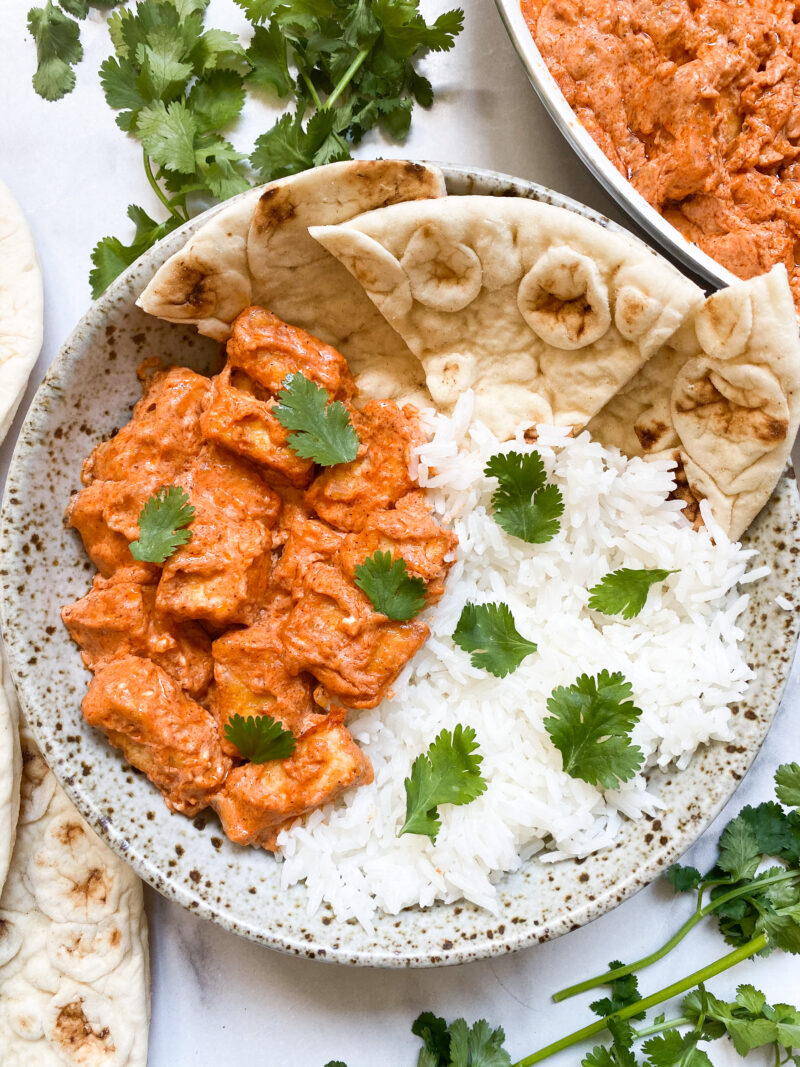 I guarantee you will be making this recipe often. It is extremely delicious and thankfully I had my mom over the day I made it and she loved it too! This 100% will now be a staple recipe that I make.
If you enjoy this recipe, don't forget to tag me in the photo on IG @plantbasedjane
Vegan Butter Chicken

Ingredients
For the tofu

16oz package of extra firm tofu
1/4 cup corn starch
2 tablespoons olive oil

For the sauce

1 tablespoon olive oil
1 small onion, diced
2 cloves garlic, minced
4 tablespoons vegan butter
1 tablespoon Garam Masala
1 tsp ground ginger
1/2 tsp ground chili powder
1/4 tsp salt
1/4 tsp pepper
1 cup tomato sauce (from a can)
1 cup vegan cream cheese
2 tablespoons tomato paste
1 tablespoon lemon juice
Instructions
Drain and press your tofu to eliminate any excess water. Cut into cubes and place in a bowl. Carefully pour over your corn starch and mix with a spoon to coat all the tofu pieces.
In a saute pan on medium heat, add your oil and allow to heat. Add in your tofu and let cook on all sides for 4-5 minutes, or until the tofu has crisped up. Remove from pan and add to a plate lined with a paper towel. Wipe out pan.
Heat the same pan back on medium heat with some olive oil and add in your onions. Let cook for 4-5 minutes, or until the onions are translucent. Add in your butter and allow for it to completely melt. Add in your garlic and cook for another minute.
Add in your garam masala, ground ginger, chili powder, salt and pepper. Mix everything around for 30 seconds. Add in your tomato sauce, tomato paste and vegan cream cheese. Allow for the cream cheese to melt down and mix in with the tomato sauce. Lower heat and let simmer for 10 minutes.
After 10 minutes, add in your tofu and allow for the tofu to be coated in the sauce. Finish with fresh lemon juice.
Serve!