Jump to recipe
Who doesn't love stuffed shells? Try this fun take with a pesto infused tofu ricotta.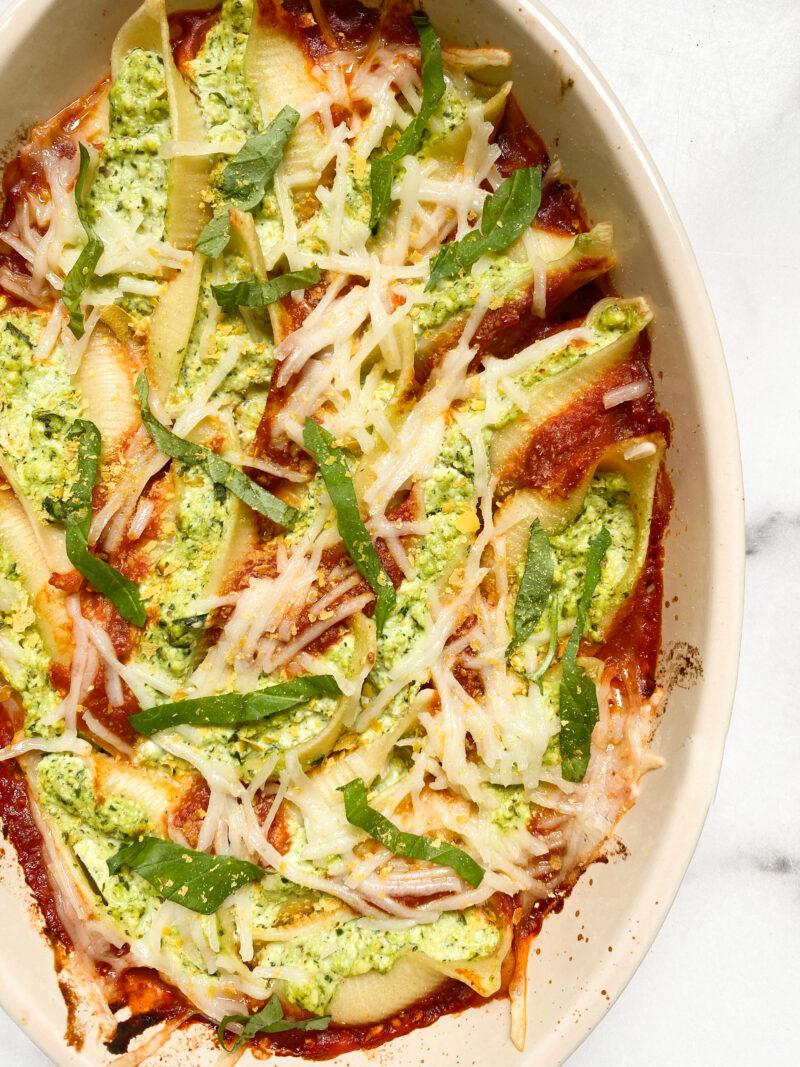 Stuffed shells are delicious! They are easy to make but can come out tasting like a lot of effort was put into them. Those are my favorite type of recipes.
I wanted to put a spin on your standard stuffed shells so I decided to mix in some nut free pesto! I really love the combination of pesto and tomato sauce so I wanted to find a way to tie the two together in a really delicious and fun recipe.
If you're new to veganism, and the idea of tofu ricotta is bizarre, I totally get it. However, it just works! Mixed with certain ingredients, you would never know that you were eating tofu. It has the cheesy and creamy flavors, tying in the two major components to ricotta cheese.
So what have I added to my vegan ricotta to make it cheezy?
Nutritional yeast
Vegan cream cheese
Vegan cream cheese can save cheezy inspired recipes in many ways. Particularly for this ricotta, it ups the creaminess and adds an additional cheezy flavor. I do not recommend skipping this step.
What ingredients do you need to make this?
Firm tofu. Firm tofu allows for the perfect texture. Medium tofu can work too, but also can be slightly watery. I wouldn't go for extra firm.
Vegan cream cheese. I like to use tofutti as it's nut free and is rather mellow in flavor while still being cheezy.
Nutritional yeast. The ultimate vegan staple! I love the Bob's Red Mill or TJs nutritional yeast.
Your traditional pesto ingredients. Basil, hemp seeds (to make nut free), garlic, olive oil, lemon juice.
Large Shell pasta!
Your favorite jarred pasta sauce.
Vegan cheese for baking (optional)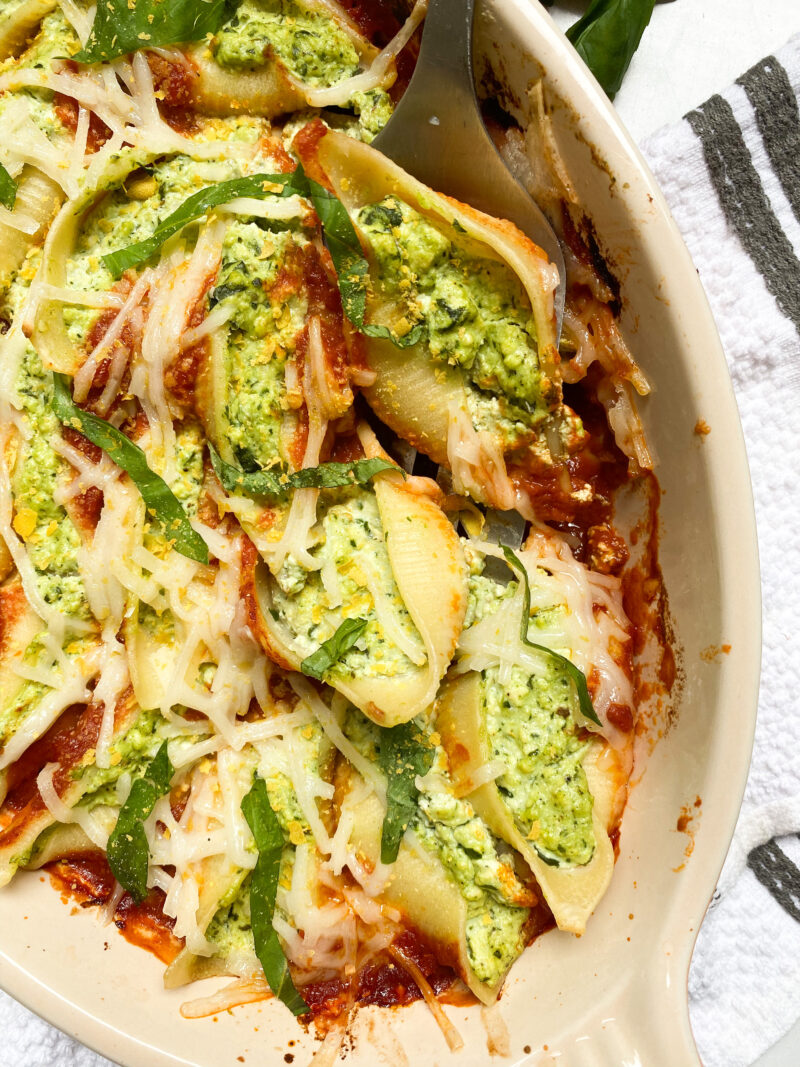 I hope that you enjoy this recipe! If you make any of my recipes, don't forget to tag me in the photo on IG or on stories @plantbasedjane!
Pesto "Ricotta" Stuffed Shells

Ingredients
18-20 large pasta shells
1 block firm tofu
1/4 cup vegan cream cheese
1 1/2 cup basil leaves
1/4 cup nutritional yeast
3 tablespoons olive oil
2 tablespoons hemp seeds
2 tablespoons lemon juice
2 cloves garlic
1/4 tsp salt
1/4 tsp pepper
1 1/2 cups jarred sauce of choice
1/2-1 cup vegan mozzarella shreds of choice
Instructions
Pre-heat oven to 425 degrees Fahrenheit.
Cook pasta according to package instructions but drain 2-3 minutes before recommended cooking time as they will be cooking in the oven.
Drain and press tofu. Add to a bowl and mash well with a potato masher or fork. Add in vegan cream cheese and combine everything together while continue to mash and break the tofu down.
Place your basil, olive oil, nutritional yeast, hemp seeds, garlic, lemon juice, salt and pepper in a food processor or high speed blender and blend until it has turned into a pesto sauce. Add water gradually if needed to break everything down.
Pour pesto directly onto the tofu and cream cheese mixture and continue to mix until the tofu has become the consistency of ricotta. Season to taste with salt and pepper.
Take a baking dish and pour one cup of sauce on the bottom while spreading evenly around.
Fill your shells with a tablespoon-or so of your tofu ricotta and carefully place in the baking dish. Pour remaining sauce on top with vegan cheese and cook for 20-25 minutes in the oven watching carefully.
Enjoy!