Jump to recipe
Enjoy the holidays with this delicious sausage & apple stuffing.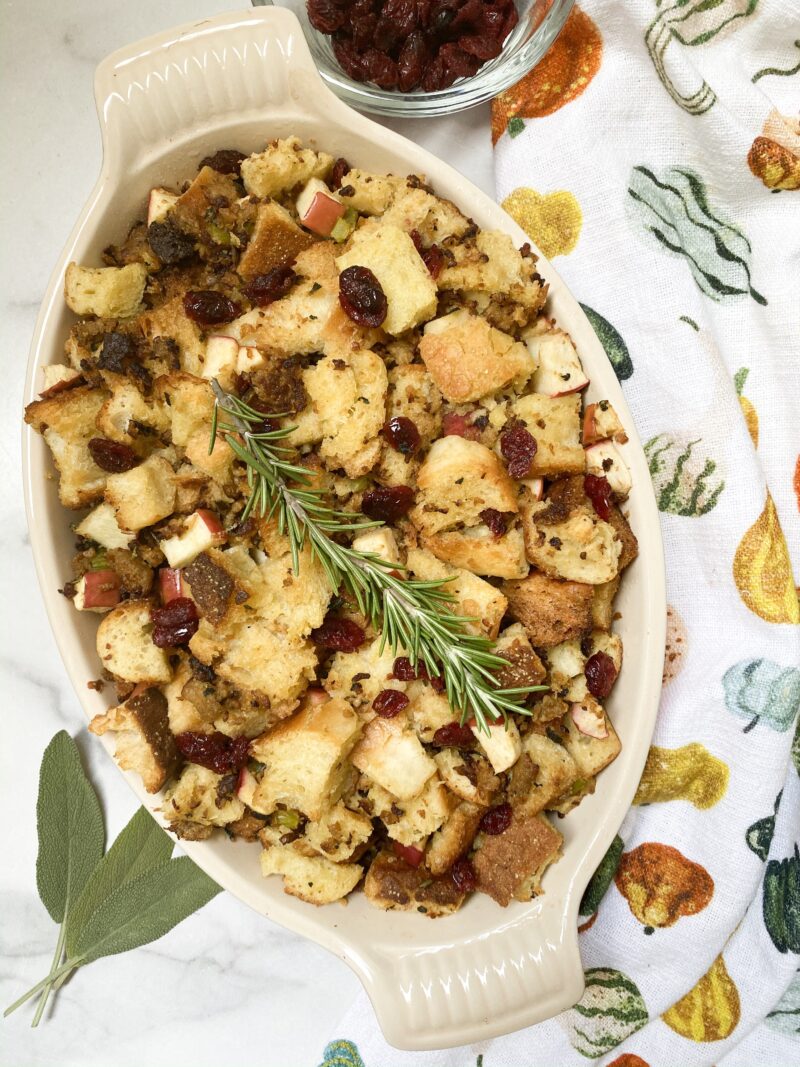 Thanksgiving is approaching (and soon after is Christmas), so I wanted to create this delicious holiday stuffing. This is the second stuffing recipe on my blog! My first one is from 2016 and is this delicious cornbread stuffing.
I used the Beyond Meat original sausage for this recipe, but you could use any vegan sausage that you like. The cooking process will be slightly different depending on the type (for instance, you can make ground sausage from the Beyond Meat one) but it will still be super delicious!
My thoughts on stuffing: I love it! As I have state in older blog posts, I was a very picky eater! So I didn't try stuffing until going into high school and ever since I have been in love! I love the different flavor combinations you can use for stuffing. I also love wild rice stuffing (hint, hint).
If sausage isn't your thing, then just omit it! It will still be a delicious stuffing. However, I do recommend giving the sausage flavor a try!
If you live in Hoboken, and want to make stuffing this Thanksgiving, you MUST buy your bread from Dom's Bakery on 5th and Grand. The bread is always amazing and they actually supply bread to most of the restaurants & other bakeries throughout Hoboken.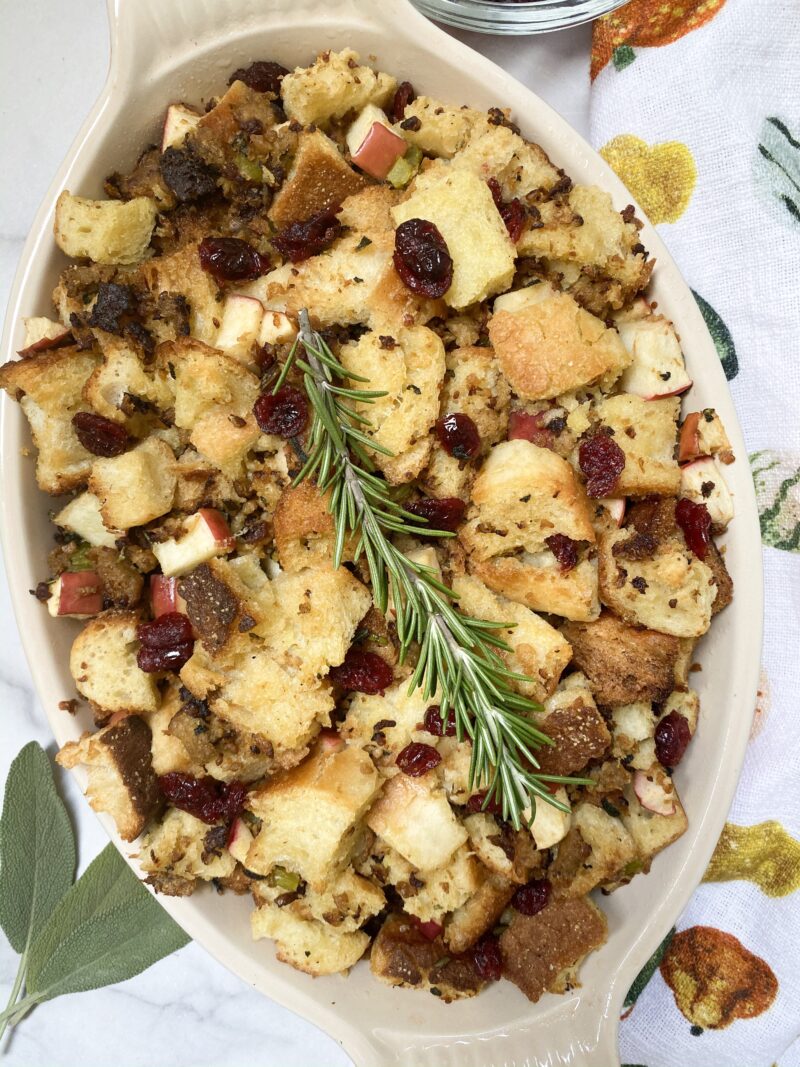 I hope that you enjoy this recipe! If you make any of my recipes, don't forget to tag me in the photo @plantbasedjane
Vegan Sausage & Apple Stuffing

Notes
*For the bread cubes, I recommend buying bread a day or two before and pre-cutting it into cubes and allowing it to dry out on the counter overnight. If you want to do it the same day, cube your bread and cook it in the oven at 350 degrees Fahrenheit for 20-25 minutes or until the bread is toasted and lightly browned.

Ingredients
2 tablespoons olive oil
1 onion, diced
2 celery stalks, diced
4 vegan sausages (I used one pack of the beyond meat original sausages)
2 tablespoons fresh sage, minced
2 teaspoons fresh rosemary, minced
1 large apple of choice, diced
1/2 cup dried cranberries
2 1/4 cups broth (I used vegan chicken broth, but vegetable is fine!)
6 cups of dry bread cubes*
Melted vegan butter
Instructions
Pre-heat your oven to 350 degrees Fahrenheit. Prep your vegetables and apple.
Using a non-stick skillet on medium heat, allow your olive oil to heat up. Add in your onions and celery and allow to cook for 3-5 minutes, or until the onions are translucent. Add in your sage and rosemary.
Add in your vegan sausage and, if using beyond meat, ground it up in the pan and allow for it to brown. Once your sausage has browned and cooked through, turn off the heat. Season to taste with salt and pepper.
In a large bowl combine your bread cubes, vegan sausage mix, apple, cranberries and broth. Mix carefully to combine, and add to a greased baking dish.
Optional: Add some melted butter to the top of the stuffing.
Cook covered for 25 minutes. After 25 minutes, remove the cover and allow to cook for 20 more minutes.
Serve!

Recipe adapted from: Number 2 Pencil