Jump to recipe
The holidays are upon us, so I wanted to create a super creamy and delicious vegan Mac n Cheese!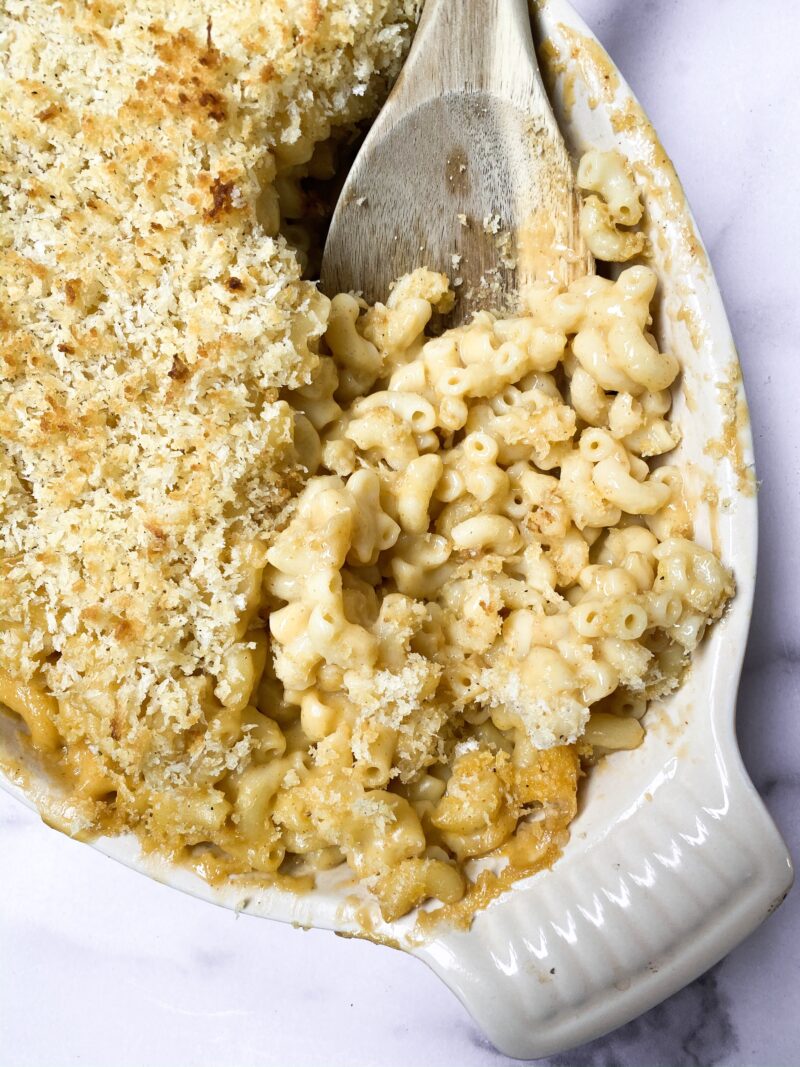 Happy November! I am so excited that the holidays are already in full force and I am SO ready to share some holiday themed recipes.
I wanted to start with this traditional Mac n Cheese recipe. I do have a few Mac n Cheese recipes on my blog, but they're themed a bit differently. I realized I never had one that involved a roux, béchamel and ultimately a delicious cheesy sauce.
Growing up, Mac N Cheese was not a side dish I had during Thanksgiving. It was more of mashed potatoes, stuffing, etc. However, I do know that Mac n Cheese is definitely a favorite in many households this time of year.
So I thought it would be the perfect time to bring out your traditional Mac n Cheese recipe.
Random story time: I was the pickiest eater as a kid. I only ate toast, pasta with butter, and McDonalds. I was SO picky that I even refused to eat Mac n Cheese. So I was maybe 7-8 when I was on an airplane and I got Mac n Cheese on my kids meal. My mom promised me I would like it and what do you know…I did.
Since going Vegan I really dig the boxed Mac n Cheese (Earth Balance RIP, Daiya, etc.). I never usually make it myself, so I was really excited to experiment with this recipe!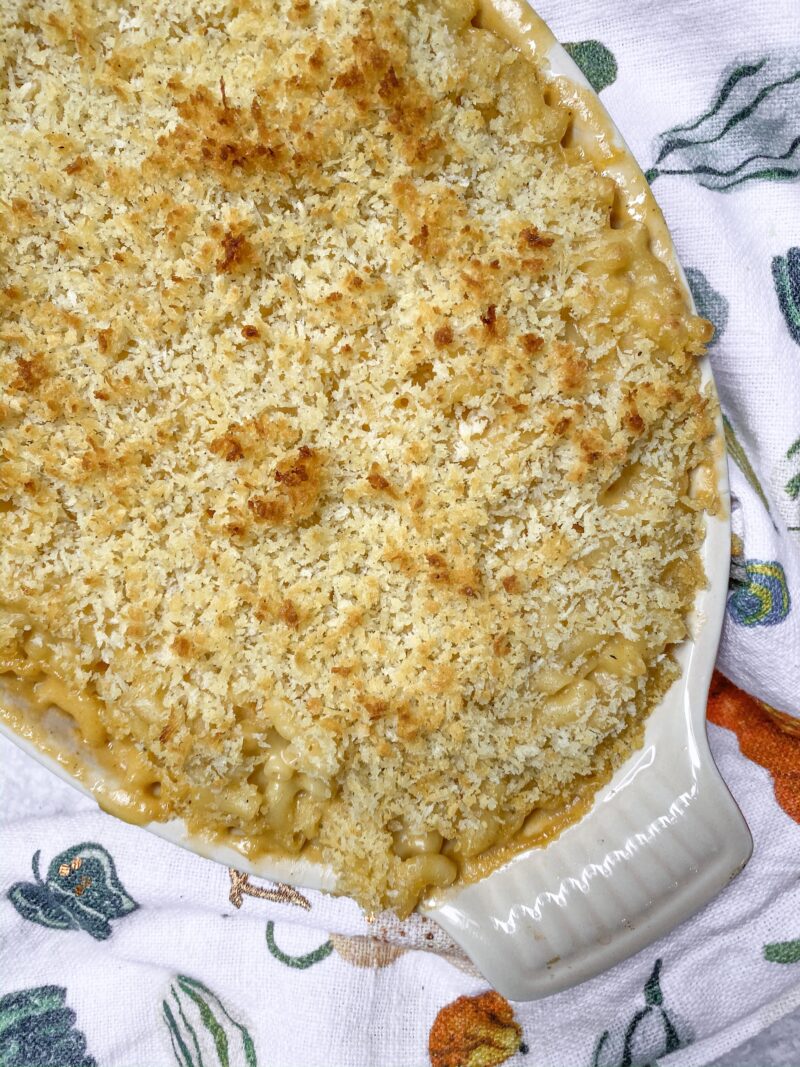 My favorite part of baked Mac n Cheese is the bread crumb topping! Not everyone digs a crunchy topping it, but I certainly do. I did a mix of panko, vegan parm, salt & pepper. You can totally skip this part and serve it straight from the pot, or bake it with some extra cheddar shreds on top. I just wanted to go all out for this recipe!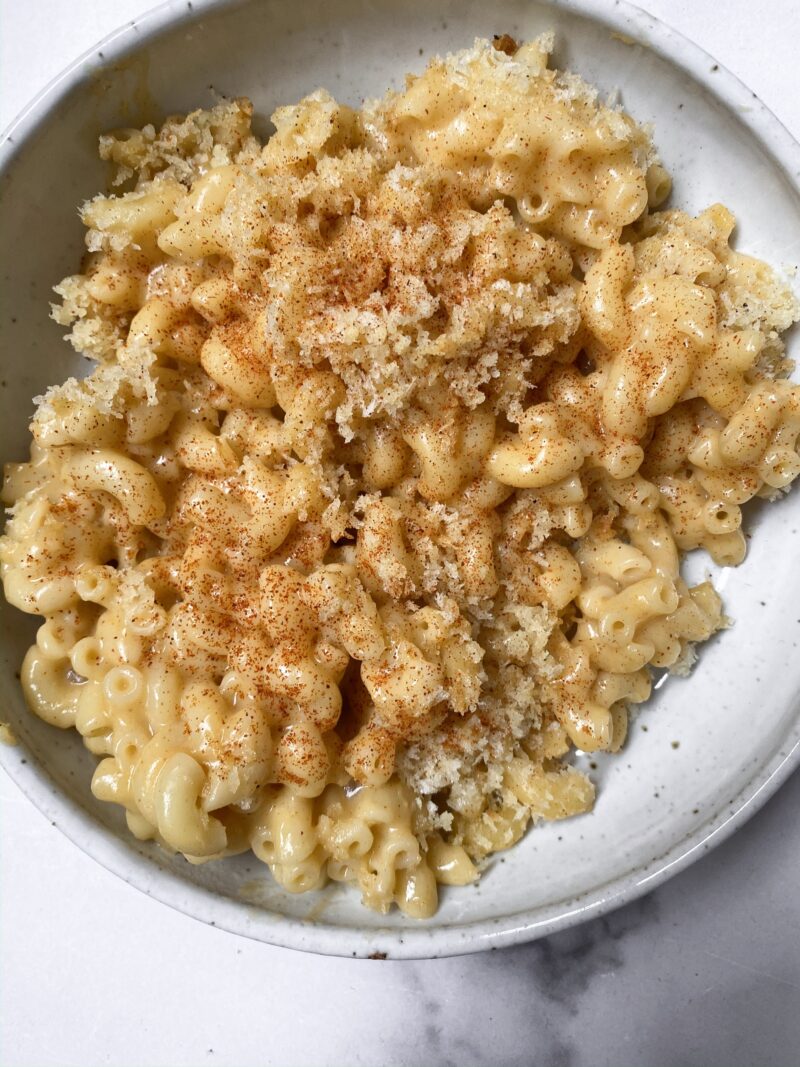 I hope that you enjoy this recipe! If you make any of my recipes, don't forget to tag me in the photo on IG @plantbasedjane
Traditional Vegan Mac n Cheese

Notes
*I use the Follow Your Heart brand. If you do not have access to vegan parmesan I would just sub with more cheddar or even mozzarella.

Ingredients
16 oz elbow noodles
1/3 cup vegan butter
1/3 cup flour
3 cups unsweetened plant milk (I used oat)
1 tsp paprika
2 tsp dijon mustard
2 tsp worcestershire sauce (traditional worcestershire sauce is NOT vegan so I recommend the Annie's brand that can be found in most stores. If not you can replace with soy sauce, though I have not tested it.)
2 1/2 cups vegan cheddar shreds
1/4 vegan parmesan*

Breadcrumb topping

1/2 cup panko breadcrumbs
2 tablespoons vegan parmesan
2 tablespoons olive oil
Instructions
Bring a large pot of salted water to a boil and cook your elbows according to package instructions. Drain and set aside.
In another large pot, on medium heat, melt your butter. Add in your flour and mix for a 1-2 minutes, allowing the flour to cook off and form a paste. Once your paste forms, gradually add in your milk while whisking everything together. After 5 or so minutes, it will thicken up and be able to coat the back of a spoon. Season with salt and pepper.
Add in your paprika, mustard, dijon, worcestershire sauce and cheeses. Whisk until everything has melted together. Taste for seasoning. Add in your pasta and coat the pasta with the cheese sauce. Transfer it to a baking dish.
To make your breadcrumb topping mix your breadcrumbs, parm and oil in a small dish.
Top your Mac n cheese with the breadcrumb topping. Add to a pre-heated oven on broil and watch CAREFULLY. Cook until the breadcrumbs are golden brown. 3-4 minutes (could be more depending on your oven but you must keep your eye on it so it doesn't burn).
Serve!