Welcoming Fall with this delicious pasta that includes Brussels Sprouts and Tempeh Bacon.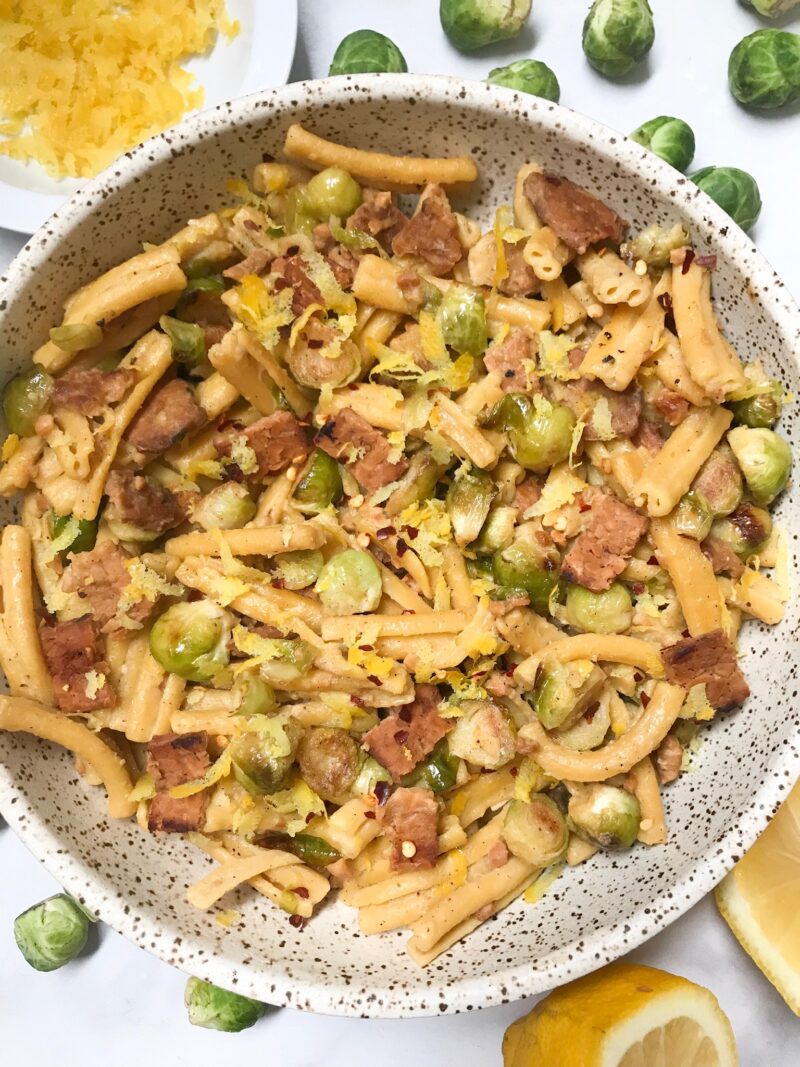 Happy October! Now that Fall weather is here (at least in Hoboken), I tend to find myself eating ALL the Brussels sprouts. I do occasionally eat Brussels sprouts outside of when they're in season (according to the internet that's from September to mid February) but there's something about eating them in the colder months that just feels very nostalgic to me. Maybe it's because I love to roast them and when it's 90 degrees out I don't find myself running to my oven to start roasting vegetables.
One way that I find my inspiration for creating recipes is just simply scrolling through Pinterest. I noticed there were a lot of "Brussels & Bacon" side dishes, as well as just a pasta recipes with Brussels Sprouts. So I decided to combine those two ideas together to create this yummy dish!
Usually I like to give myself some direction when creating recipes – like a concrete plan. This time, I just winged it without thinking. I have to say, this recipe is pretty freaking fantastic. The main components of this dish that reach out the most to me are obviously the brussels and bacon, but lemon juice/zest is also a strong ingredient in this dish. Not overpowering, but enough to bring a lot of depth to this pasta recipe.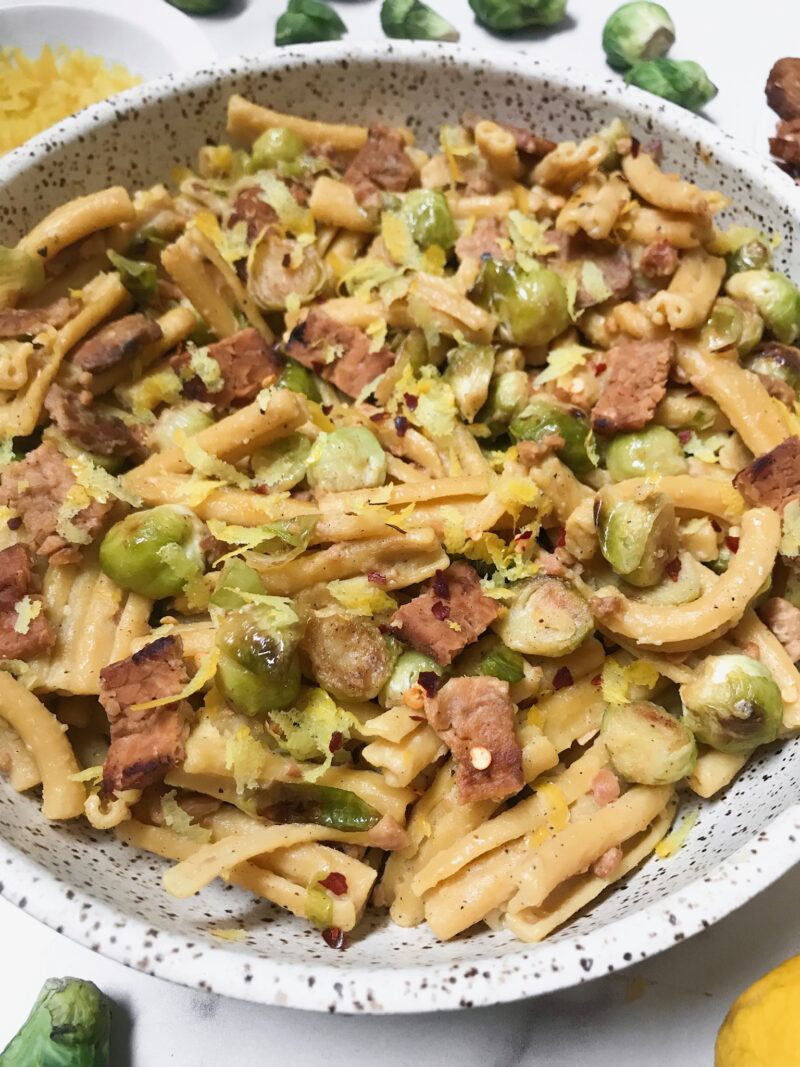 Let's talk vegan bacon. I used tempeh bacon for this recipe. You can make your own tempeh bacon, but I just like to buy the pre-marinated stuff. You can use any vegan bacon of your liking, but the amount of slices may vary as other vegan bacon can be bigger than the usual small slice of tempeh bacon.
I think before I went vegan I had bacon 3-4 times. I just never liked bacon. In general, I avoided pork. It wasn't a religion thing, but I just didn't have any interest in it. However once I went Vegan, I took a liking to vegan bacon. Specifically, tempeh bacon. That's probably just because I freaking love tempeh!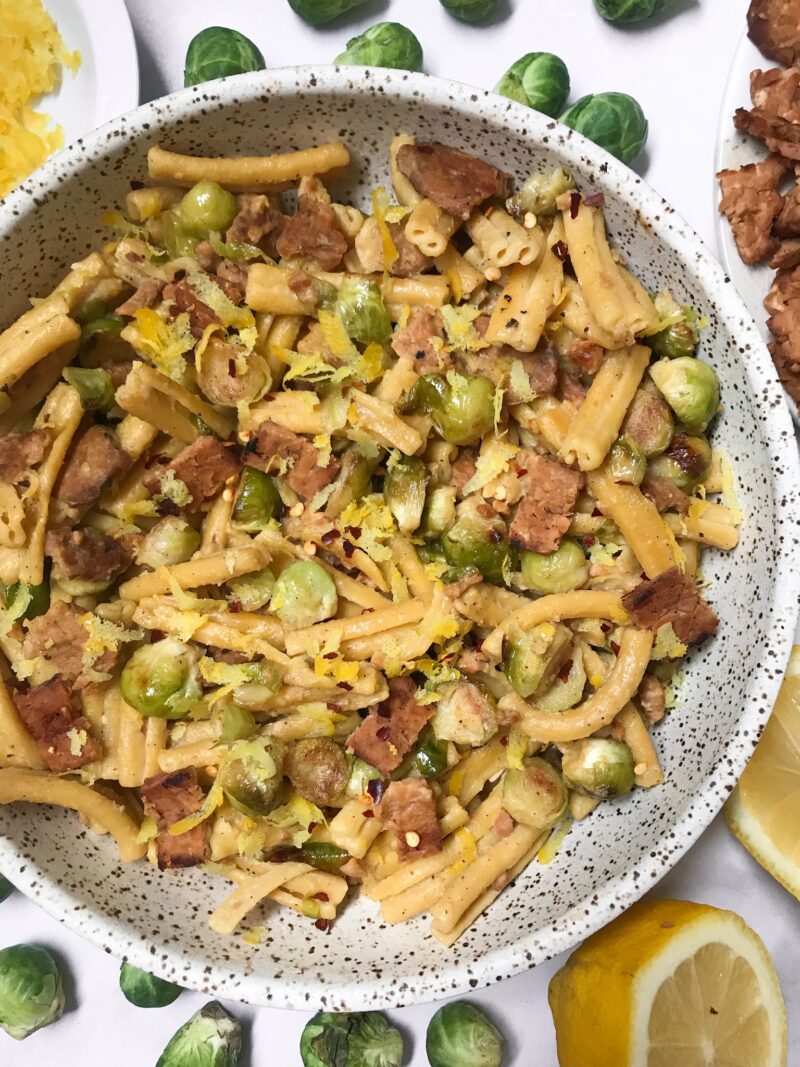 I hope that you enjoy this recipe! If you make any of my recipes, don't forget to tag me on Instagram @plantbasedjane
Brussels Sprouts & Vegan Bacon Pasta
Ingredients
2 cups uncooked pasta
1 tablespoon olive oil
1 1/2 cups brussels sprouts
1/4 tsp salt
1/4 tsp pepper
4 slices of tempeh bacon
1 tablespoon olive oil
1 tablespoon vegan butter
2 tsp minced garlic
2 tablespoons nutritional yeast
2 tablespoons lemon juice
1 tablespoon lemon zest
1/4 cup reserved starchy pasta water
1/4 tsp red pepper flakes
salt & pepper to taste
Instructions
Pre-heat your oven to 400 degrees Fahrenheit. Wash and halve your Brussels sprouts. Toss in olive oil, salt, & pepper. Cook for 20-30 minutes, or until the Brussels have softened and have slightly browned
Meanwhile, bring of pot of salted water to a boil and cook pasta according to pasta instructions. Reserve 1/4 cup pasta water.
On a saute pan using medium heat, cook your vegan bacon according to package instructions. remove from heat and allow to cool before cutting them into bite sized pieces.
In the same pan, melt your vegan butter and add olive oil on medium heat. Add in your minced garlic and let garlic cook for 30 seconds-1 minute. Add in your Brussels sprouts and cooked pasta and coat in the oil/butter garlic mix. Add in your nutritional yeast and mix to combine. Gradually add in your pasta water mixing everything around until everything has thickened up. Add in your lemon juice, zest, bacon, and salt & pepper to taste. Serve with some red pepper flakes on top!