Jump to recipe
This vegetable dumplings may be time consuming, but the outcome is totally worth it!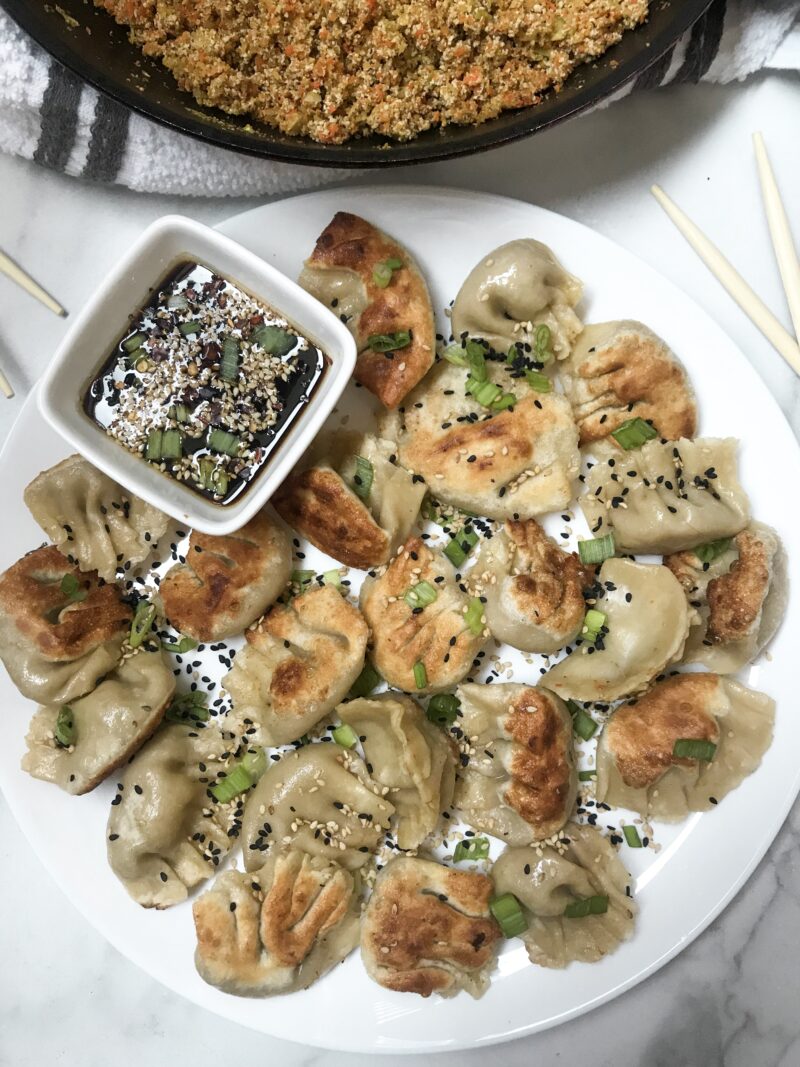 I've loved vegetable dumplings ever since I was a child. I was the pickiest eater, and dumplings were pretty much the only way you could get me to eat veggies.
I have such fond memories of ordering Chinese food with my parents and always getting steamed vegetable dumplings. Well in the past two weeks I have been craving dumplings like no other, so I decided to make them for fun. Once I posted about them, I got an overwhelming amount of comments asking for the recipe. So I am really excited to share it with you!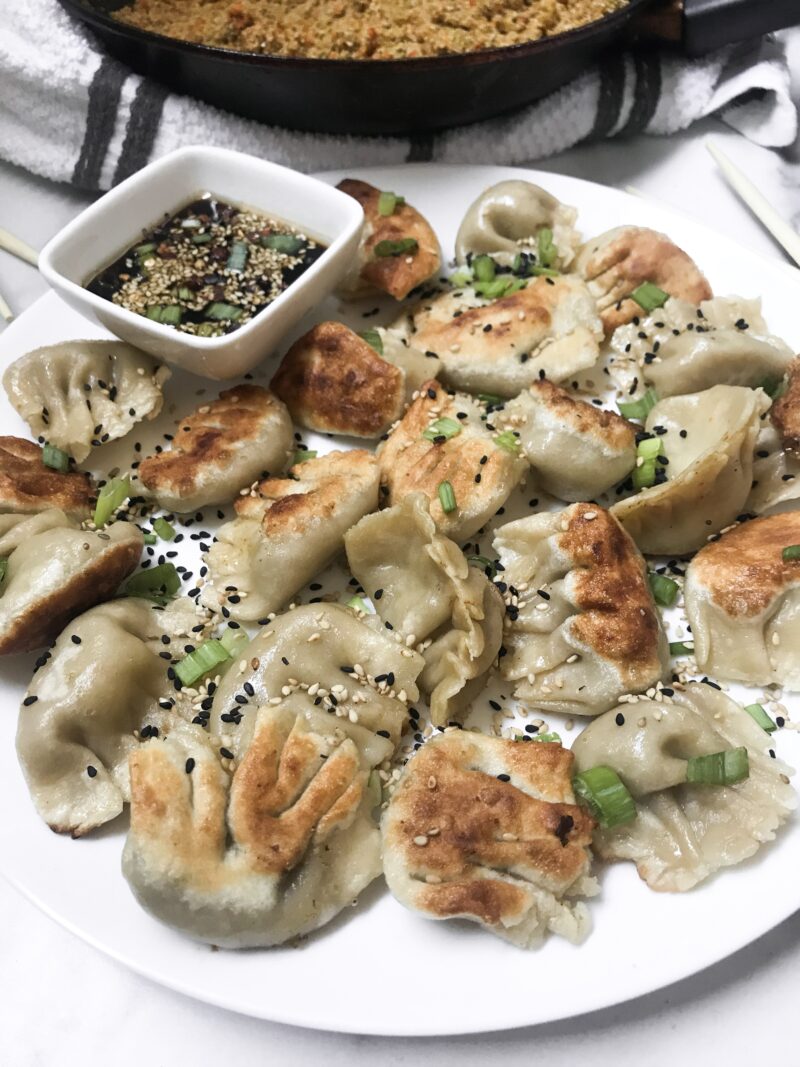 Now I am NO expert when it comes to making dumplings. I am not the best at forming their shapes and making them look perfect. I just like to have fun and see what happens.
You can also use pre-made dumpling wrappers to cut down the time but obviously make sure they are vegan.
You can also play around with the filling of the dumplings. I have a combination of tofu, cabbage, mushrooms, and carrots. If you don't like tofu you can omit it all together. I just find these all worked together perfectly.
After I steamed these babies I decided to lightly fry them in some avocado oil, but you can eat them fresh out of the steamer.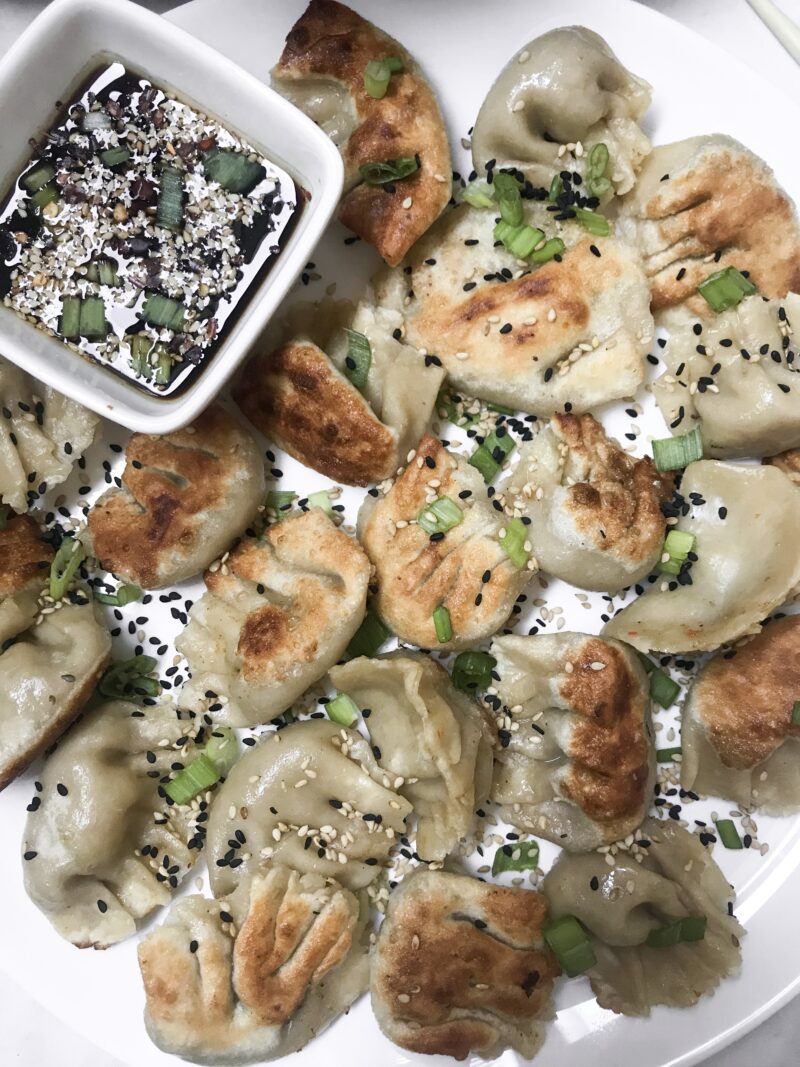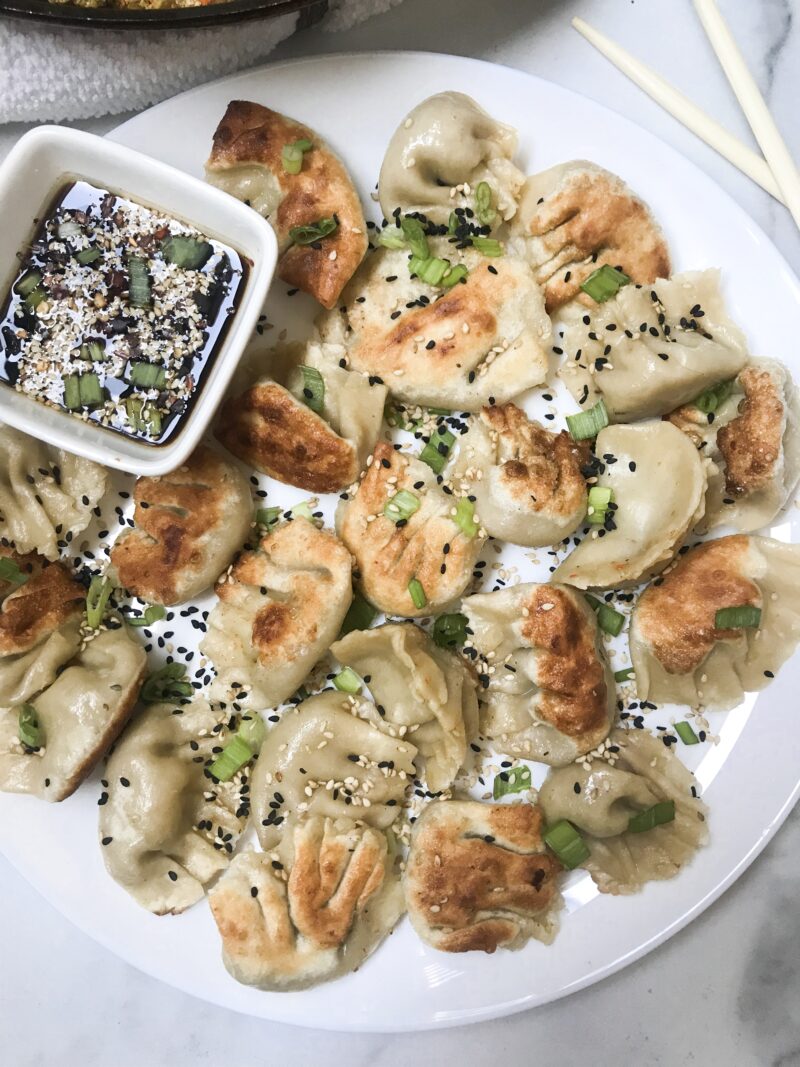 I hope that you enjoy this recipe! If you make any of my recipes, don't forget to tag me on Instagram @plantbasedjane
Vegetable Dumplings

Ingredients
Dumpling Wrappers

2 1/2 cups flour
3/4 cup boiling water
1/2 tsp salt

Filling

2 teaspoons sesame oil
1/4 block firm tofu
1 1/2 cups green cabbage
1 medium carrot
4-5 cremini mushrooms
2 tablespoons soy sauce
2 teaspoons minced garlic
1/2 tsp ground ginger
Instructions
Begin by making the dough. In a large bowl add in your flour and salt. Mix in boiling water and start to form a dough using a spoon as the water will make the dough very hot. Mix and knead dough in bowl until it cannot be mixed in the bowl any longer.
Once the dough can't be formed in the bowl any longer, flour your surface and transfer dough. Knead for ten minutes until it forms into a smooth ball. Cover your dough and let sit for 20-30 minutes.
As your dough sits, begin your filling. For this step, I combined everything in a food processor until it was rice like. If you do not own a food processor, cut your tofu and vegetables finely.
With a sauté pan on medium heat, pour in your sesame oil. Add in your vegetables and tofu. Let cook for 2-3 minutes and then add in your soy sauce, garlic and ground ginger and cook for 7-10 minutes or until the vegetables have softened. Set aside.
When ready, grab your dough and begin making the wrappers.

I slightly followed this step from Flavours of Asia Youtube channel and will have the video linked below

. Grab your ball of dough and using your thumb, create a hole in the middle of the dough (resembling a donut or bagel). Carefully keep pulling the dough until it becomes a large ring. Divide the ring into two pieces. They should now look like two thick longer logs. Roll out dough to form longer and thinner rolls and then divide those in half. Using a knife cut 10-12 pieces from each roll. Repeat with your second thick log. All together this recipe should form 35-45 dumpling wrappers.
With all the dough pieces looking like cubes, roll them into balls using your hands. Then using a rolling pin, form a flat circle. You can also lightly flour your surface, if needed.
Now it is time to stuff your dumplings! Add around 1/2 a tablespoon of the stuffing to the middle of the dumpling wrappers. Fold it together to create a half circle and fold the edge together in a zig zag pattern, pinching it together as you go until they have been completely sealed (you can get the idea of this by the way my dumplings are sealed).
Steam dumplings in a steamer for 10-15 minutes. Transfer steamed dumplings to a sauté pan with a little avocado oil. Fry for 1-2 minutes or until one side of the dumplings are golden brown. Place on a plate lined with a paper towel.
Serve! I like to top with sesame seeds and green onions and create a sauce with soy sauce, sesame oil, a little maple syrup and topped with more sesame seeds and red pepper flakes.
Dumpling tutorial: