Jump to recipe
As your guests wait for the main meal this Thanksgiving, start them off with these delicious Moroccan Tofu Salad Lettuce Cups. Made using the Hodo Chermoula Moroccan Tofu Cubes.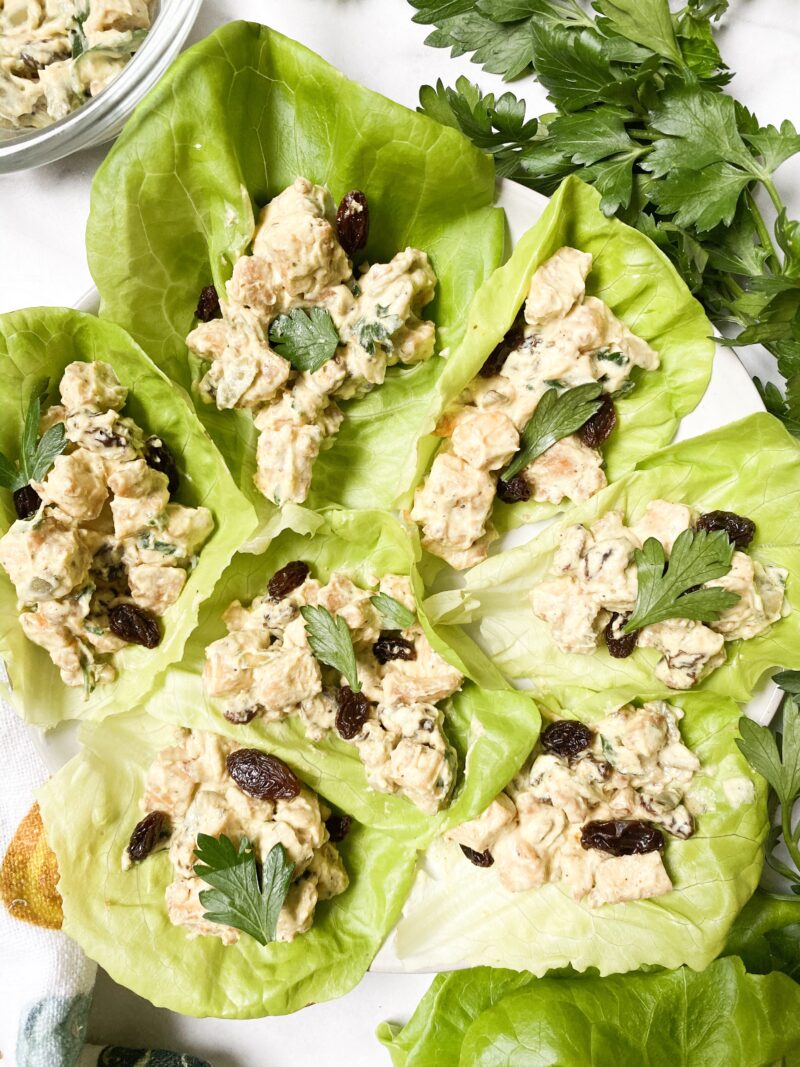 I am a huge fan of appetizers and hors d'oeuvres. They're great for parties and get togethers. They're also perfect to eat before your Thanksgiving meal. It makes the people who show up starving have a little something to snack on before your main meal. These lettuce cups are perfect because they're light, fresh and full of flavor. I used the Hodo Chermoula Moroccan Tofu Cubes for this recipe because they're already pre-marinated and cut into cubes which makes the cooking process incredibly easy. You can also prep these cubes the day before so these lettuce cups are even easier to prepare the day of.
I used other flavors in these lettuce cups such as turmeric and cumin, and different textures like raisins and pumpkin seeds. I used unsweetened coconut milk yogurt as the base but you can use vegan mayo or another type of unsweetened yogurt.
Hodo makes their tofu using artisan methods in Oakland, CA and is used in the kitchens of Michelin Chefs as well as discerning home chefs!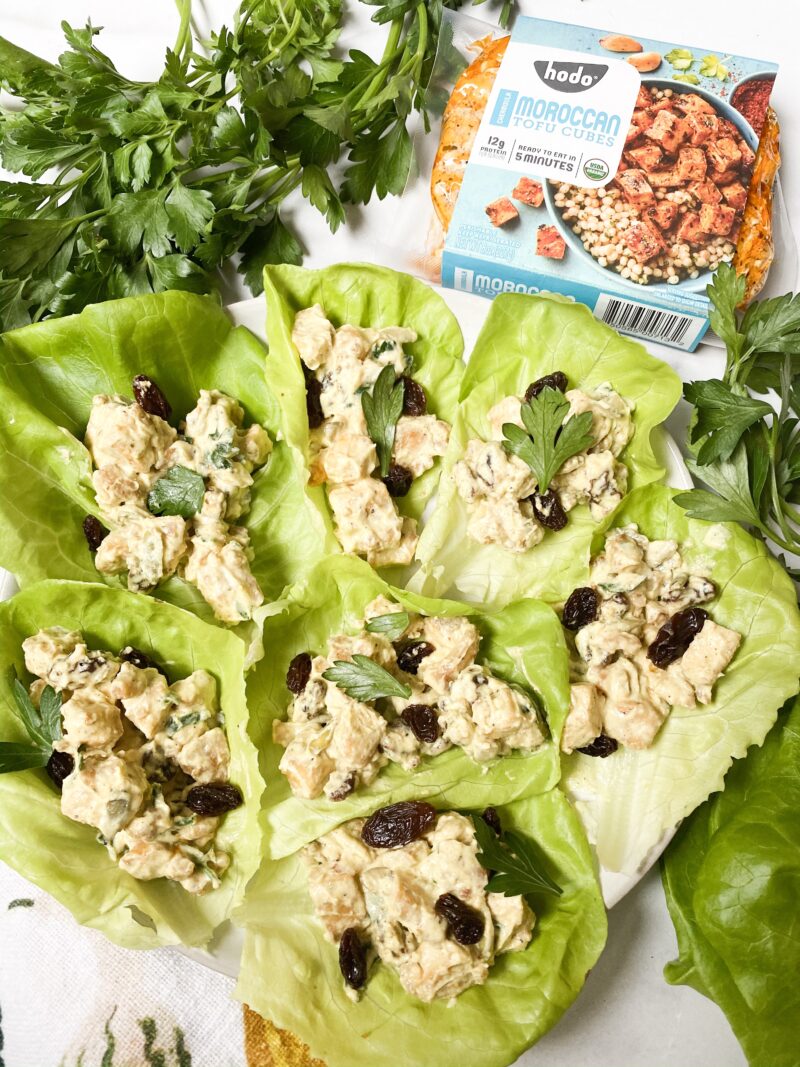 I hope that you enjoy this recipe! If you make any of my recipes, don't forget to tag me on Instagram @plantbasedjane
To find Hodo near you, click here.
If you're a Hoboken native, I find the Moroccan Cubes at Organic Basic Food on 2nd and Washington Street.
Moroccan Inspired Lettuce Cups

Ingredients
8 butterhead lettuce leaves
1 package Hodo Chermoula Moroccan Tofu Cubes
1 single serving container coconut milk yogurt (Mine was around 5 ounces)
¼ cup pumpkin seeds
¼ cup raisins
1 tablespoon parsley, roughly chopped
1 tablespoon tahini
2 teaspoons Dijon mustard
1 tsp ground turmeric
1 tsp cumin
1 tablespoon lemon juice
¼ tsp salt
¼ tsp pepper
Instructions
Heat a tablespoon of olive in a skillet on medium heat. Add in your tofu cubes and cook for 5 minutes, or all sides of the tofu have browned. Transfer to a plate and allow to cool.
In a bowl add in your yogurt, parsley, tahini, Dijon mustard, turmeric, cumin, lemon juice & salt and pepper. Combine everything together and taste/adjust seasoning to your liking.
Add in your tofu, pumpkin seeds and raisins and coat evenly with a spoon. Evenly transfer to your butterhead lettuce leaves and serve!
Thank you to Hodo for sponsoring this blog post. It means a lot to me to work with brand I love and support my blog