Jump to recipe
Want to make your Thanksgiving main full of flavor? These cauliflower steaks will be perfect for you and your guests! Then, top them with a ton of plant-based protein using Hodo Spicy Harissa Cubes.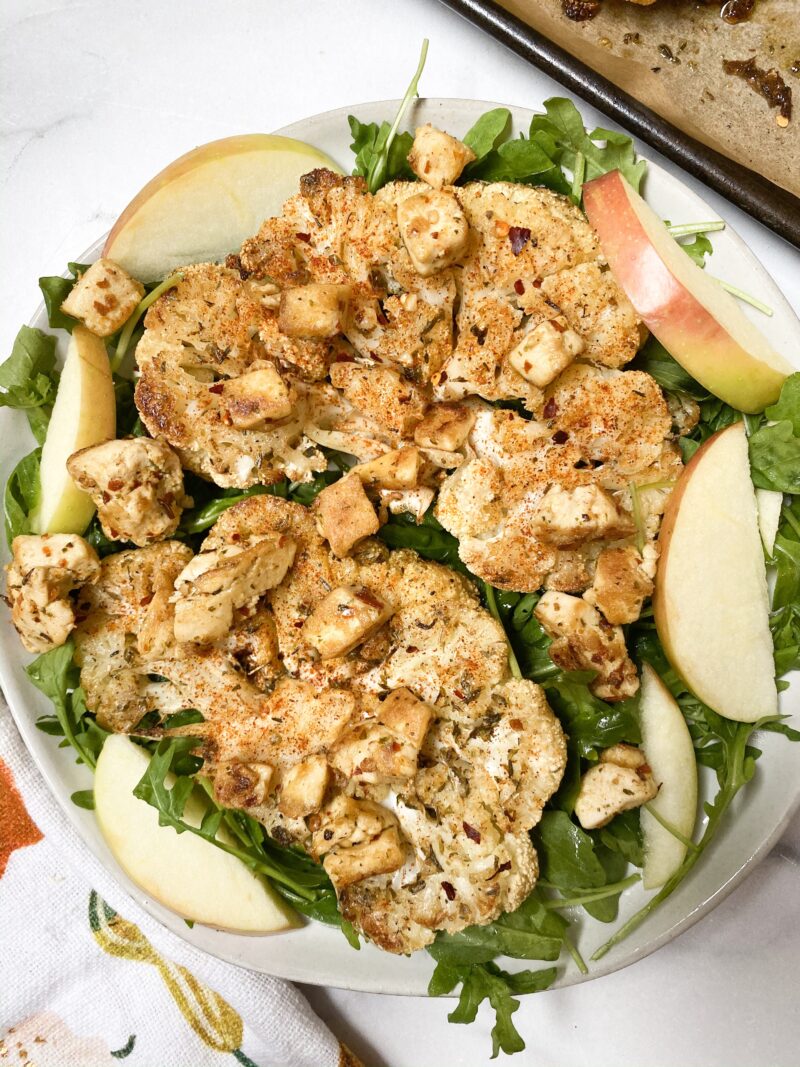 Not everyone loves to have mock meat at their Thanksgiving, and prefer to go down a more veggie -based main dish. I totally understand that and love the idea of having a veggie packed dinner. These cauliflower steaks will be the perfect addition to your Thanksgiving meal. To add some protein, top it with these incredible Spicy Harissa Tofu Cubes from Hodo. These cubes come pre-marinated to ensure a fast cooking time (5 minutes!) They're also fantastic for meal prepping/quick weeknight meals. Pictured above I served these cauli steaks over some greens, but you can serve it over whatever you'd like!
These cauliflower steaks are baked to perfection with a ton of spices slathered on each side. The addition of the tofu gives a great contrast between textures and flavor. You will absolutely love this recipe!
Hodo makes their tofu using artisan methods in Oakland, CA and is used by many Michelin Chefs, Farmers' Market vendors, & Chipotle amongst others!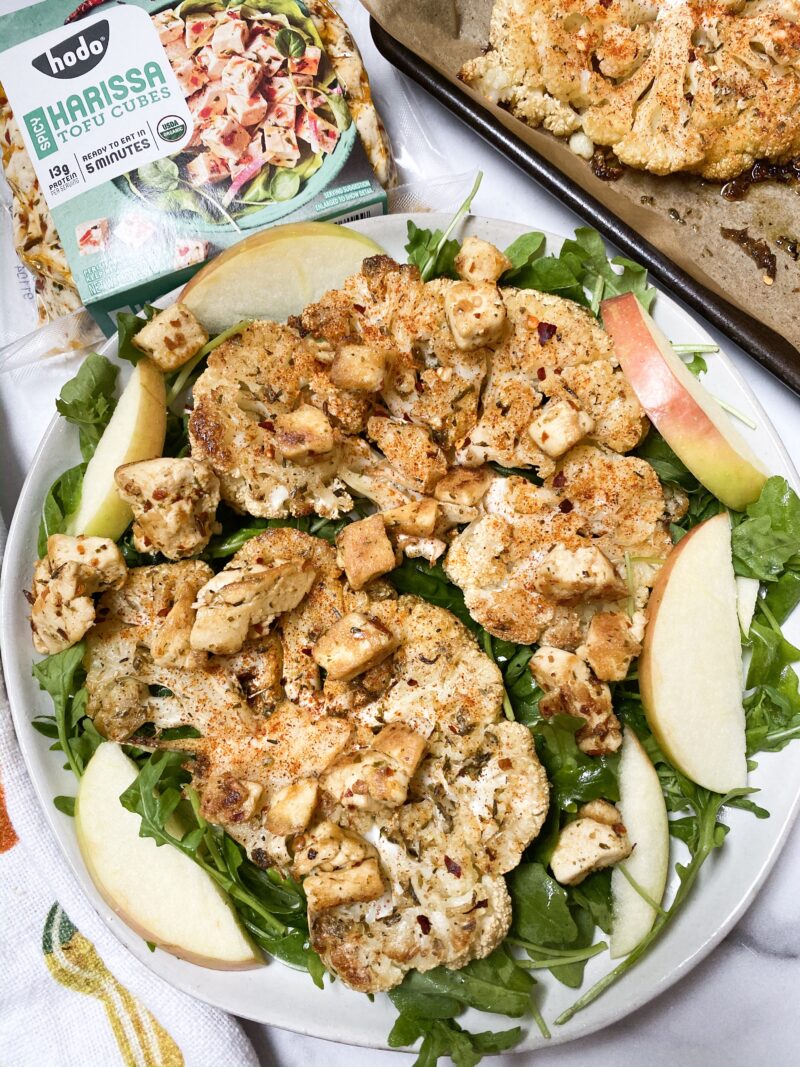 I hope that you enjoy this recipe! If you make any of my recipes, don't forget to tag me on Instagram @plantbasedjane
To find Hodo Soy near you, click here.
If you're a Hoboken native, I find the Harissa Cubes at Organic Basic Food on 2nd and Washington Street.
Cauliflower Steaks

Ingredients
1 package Hodo Soy Spicy Harissa Cubes
2 Heads of cauliflower

Marinade

5 tablespoons olive oil
1 teaspoon garlic powder
1 teaspoon dried thyme
1 teaspoon onion powder
1 teaspoon dried oregano
½ teaspoon salt
½ teaspoon paprika
¼ teaspoon red pepper flakes
¼ teaspoon pepper
Instructions
Pre-heat your oven to 400 degrees Fahrenheit. Cut your cauliflower steaks into 1-inch slabs. I recommend purchasing two cauliflower heads to get 4 "steaks" as sometimes the ends of cauliflower crumbles. Wash and pat your cauliflower dry.
Transfer to a baking sheet lined with parchment paper.
In a small bowl, mix your marinade ingredients. Brush or spoon both sides of cauliflower steaks with marinade. Cook for 40 minutes flipping halfway.
Meanwhile, cook your tofu cubes. Add a tablespoon of olive oil into a skillet on medium heat. Add in your cubes and cook for 5 minutes or until all the sides of the tofu have browned. Set aside.
Once your cauliflower steaks are done, transfer to a platter and sprinkle the top with the tofu cubes (optional: serve over some greens or grain of your liking).
Enjoy!
Thank you to Hodo for sponsoring this blog post. It means a lot to me to work with brand I love and support my blog