Jump to recipe
Gluten free or want to try something different this holiday season? You will love this wild rice stuffing with the addition of Hodo Barbecue Tofu Cubes.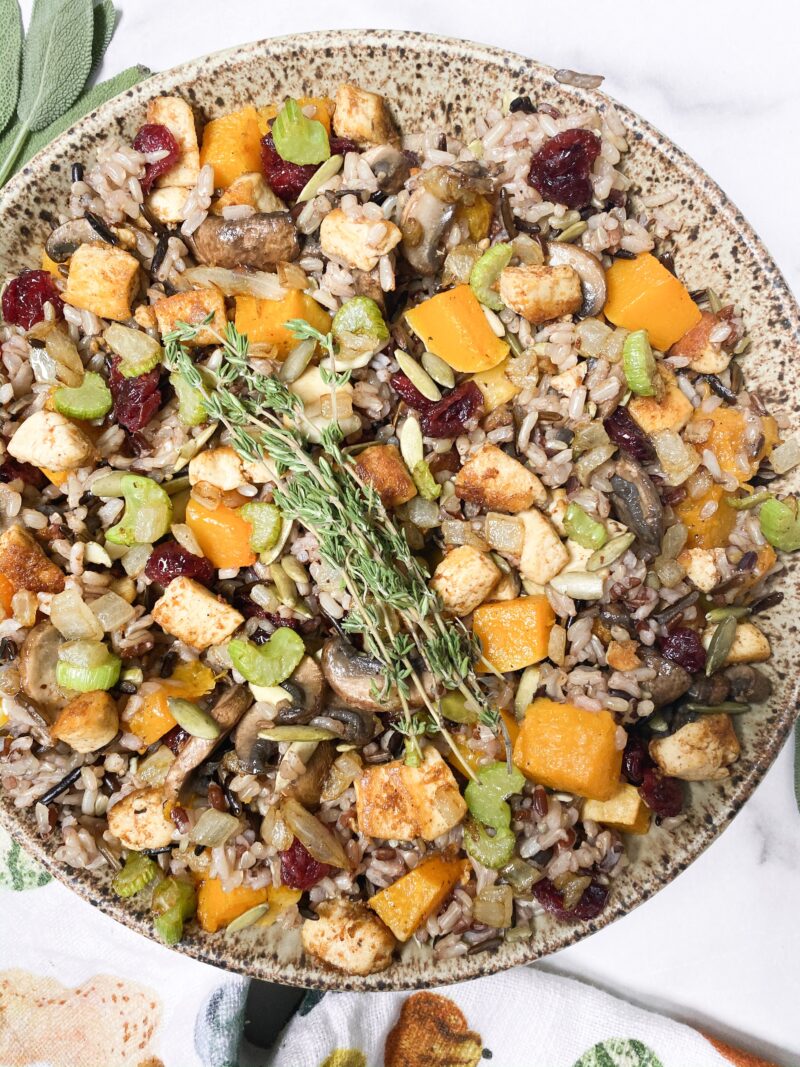 One of my favorite parts about Thanksgiving is stuffing! For the past few years, my family has made wild rice stuffing for the holidays. It's different from your traditional bread stuffing, but it's extremely tasty! To add some extra protein and fun flavor, I added the Hodo BBQ Tofu Cubes. These cubes come pre-marinated so you can skip the whole homemade marinade process and throw these in a skillet or in the oven! Side note: These are also really great for meal prepping or quick dinners. They're also great if you're new to tofu and want to try a delicious way to enjoy it without having to essentially cook it yourself. It comes pre-cubed with a delicious flavor that just requires a 5 minute cooking time. Perfect for Thanksgiving as you most likely are cooking a few other sides and main dishes!
We also have other Fall flavors in this recipe such as butternut squash and dried cranberries. Also, the addition of mushrooms make this dish super savory but allows a great contrast with the butternut squash and hint of BBQ flavors from the tofu.
Hodo makes their tofu using artisan methods in Oakland, CA and is a favorite in discerning home kitchens and Michelin star kitchens alike!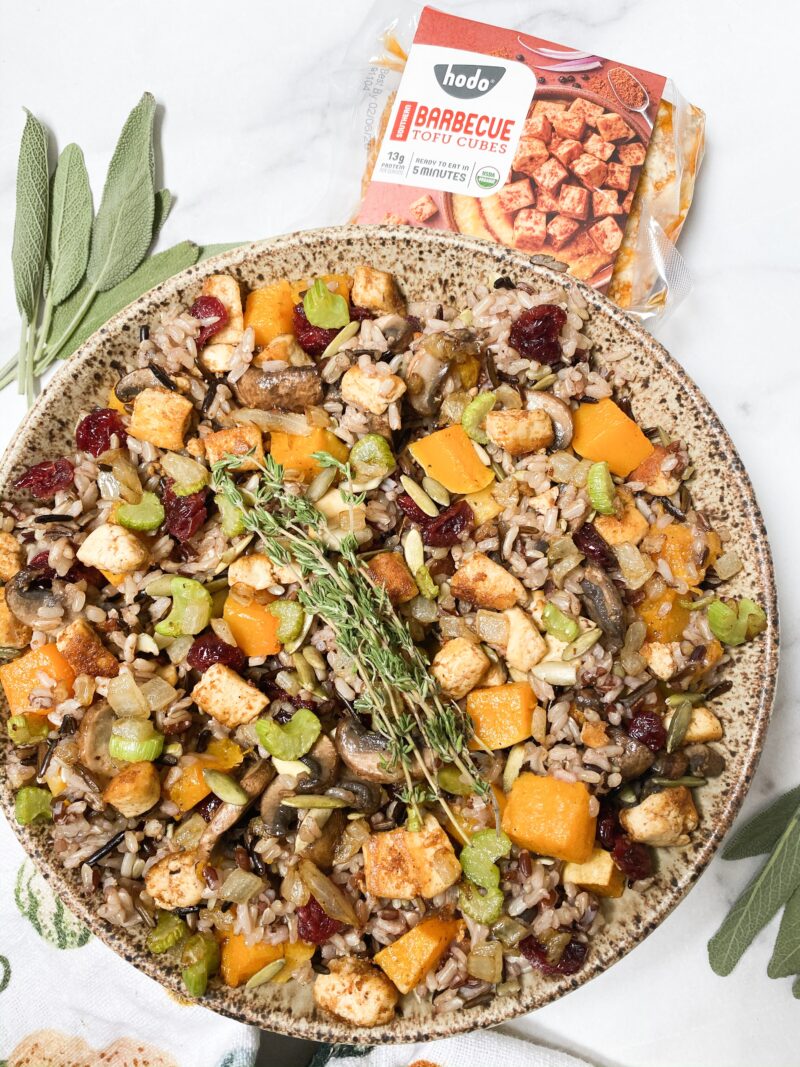 I hope that you enjoy this recipe! If you make any of my recipes, don't forget to tag me on Instagram @plantbasedjane
To find Hodo Soy near you, click here.
If you're a Hoboken native, I find the BBQ Cubes at Organic Basic Food on 2ndand Washington Street.
Wild Rice Stuffing

Ingredients
1 Package Hodo Soy Barbeque Tofu Cubes
1 ½ cups wild rice blend
2 ¼ cup vegetable broth (or water)
1 medium (approx. two cups) cubed butternut squash – peeled, seeds removed.
1 medium yellow onion, chopped
2 celery ribs, chopped
8oz mushrooms, thinly sliced
3 cloves minced garlic
2 teaspoons chopped fresh sage
2 teaspoons chopped fresh thyme
½ cup dried cranberries
½ cup pumpkin seeds
Instructions
Begin by making your rice. Bring your rice, broth and a pinch of salt to a boil. Once boiling, reduce to a simmer, cover and let cook for 40 minutes. Remove from heat and let sit for 10 minutes. Remove the lid and fluff the rice using a fork.
To cook your butternut squash, pre-heat your oven to 400 degrees Fahrenheit and drizzle the cubes with olive oil, salt and pepper. Cook for 40 minutes flipping halfway.
In a large skillet, add a tablespoon of olive oil on medium heat. Cook your onion and celery for 4-5 minutes, or until the onion is translucent. Add in your mushrooms, garlic and fresh herbs and cook for another 5 minutes. Transfer everything to a plate and wipe out your pan.
Add a little more oil and your BBQ tofu cubes. Cook for 5 minutes or until the sides of the tofu have browned.
When your rice is done cooking, add to a large bowl. Add in your butternut squash, vegetable mixture, BBQ tofu and dried cranberries. Mix everything together and season to taste if necessary. Transfer to a serving dish and enjoy!