Jump to recipe
Back to school season is here! Prep school lunches in advance with these fun and yummy plant-based mac n cheese cups!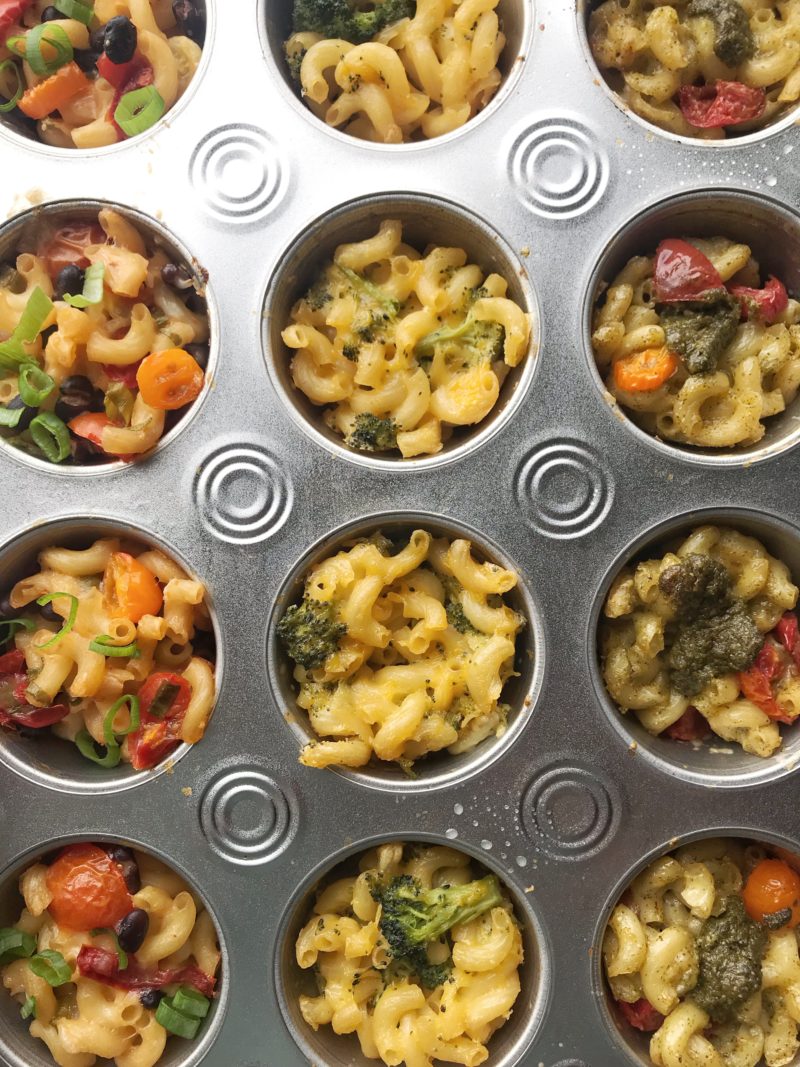 Whether your child is going back to school, you're going back to school OR you're in need for some delicious and fun work lunches, these mac n cheese cup are for you!
They are so easy to prep and I've included three different combinations all using my favorite dairy-free cheezes from Daiya Foods .
I have created the traditional broccoli cheddar, pesto, and taco inspired mac n cheese cups! These are perfect for meal prep to throw in your lunch box and be ready to go for the day!
All of these recipes are nut free meaning they are perfect to bring to either school or the workplace. Daiya Foods products are free from the top 8 allergens so they're perfect to make you feel safe as well as other's around you. Daiya Foods is also easily accessible as they can be found in over 25,000 stores nationwide. To find Daiya products near you, click here.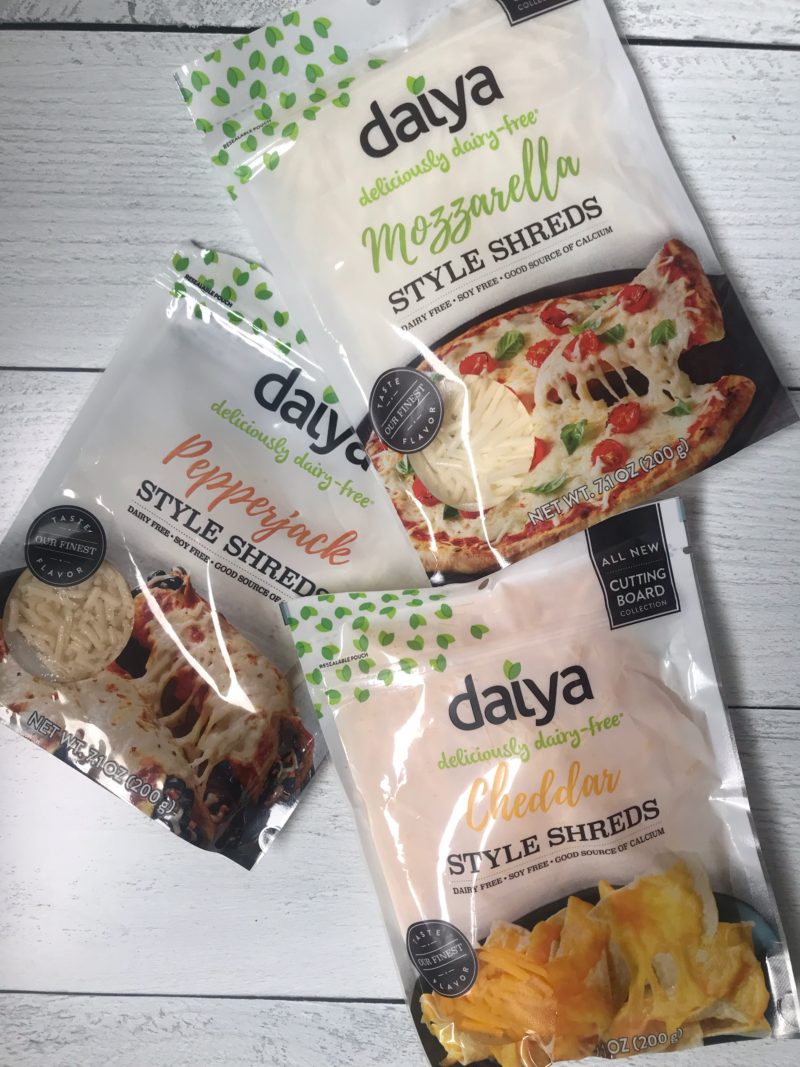 Each recipe showcases one of their dairy-free Cutting Board Collection Shreds including Cheddar, Mozzarella & Pepperjack.
The new Cutting Board Collection is a game changer! They are more dairy like in terms of taste and texture but have the same melting and stretch as the original shreds. It makes mac n cheese so creamy and delicious and easy to make with how perfectly they melt into the pasta.
Something I recently learned is that Daiya Foods is one of the founding members of The Plant Based Foods Association. It is comforting to know how much Daiya cares about ensuring we get the best Vegan products that are not only dairy free, but gluten and soy as well. It is important to acknowledge allergies, and as someone with allergies, I feel safe enjoying Daiya products.
Daiya Foods also cares about providing you with better-for-you comfort foods that are also delicious and that makes you feel good!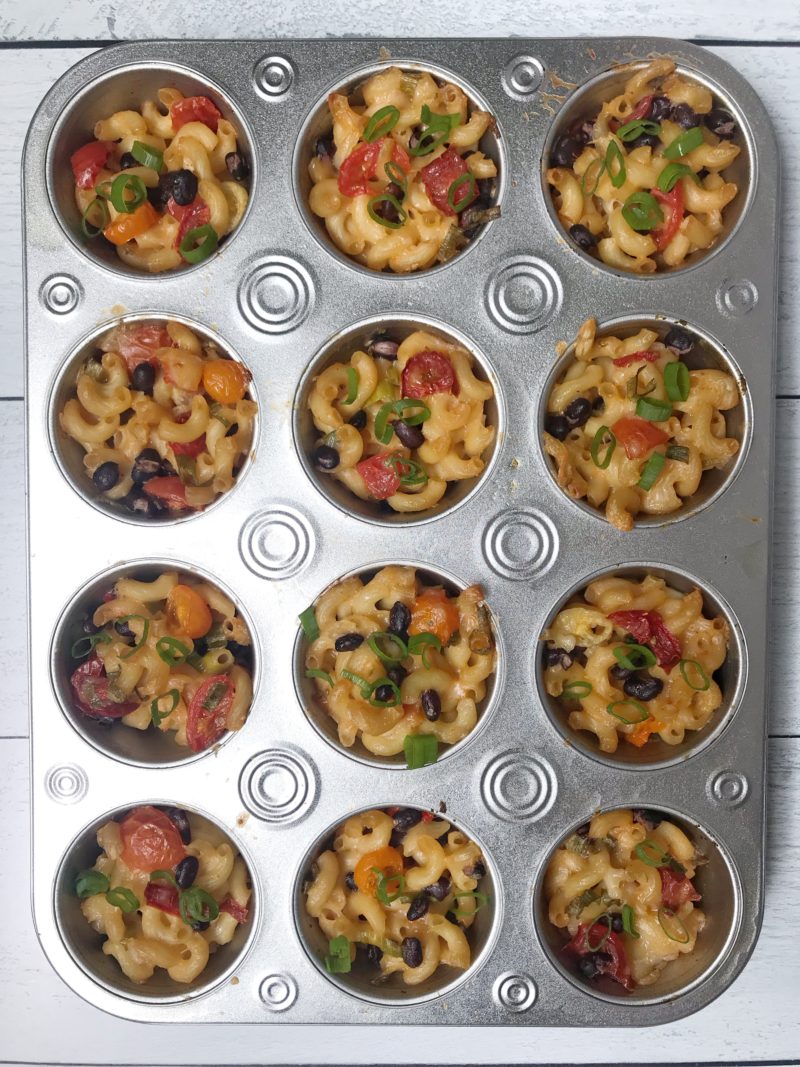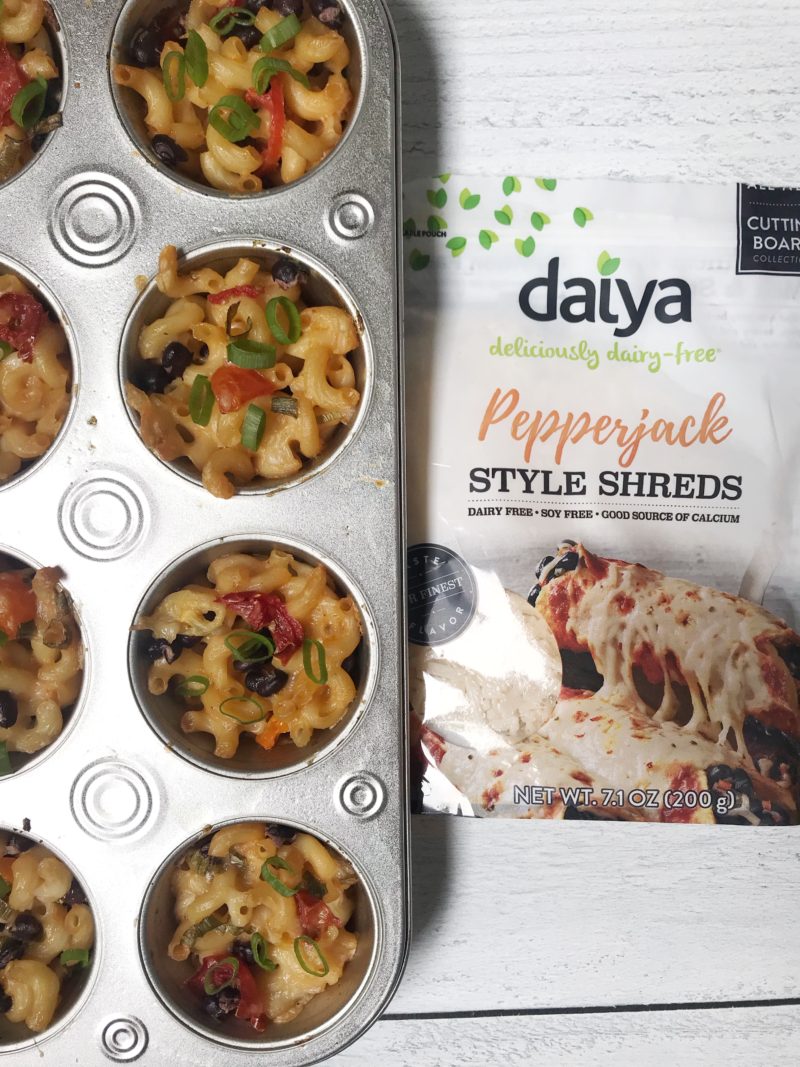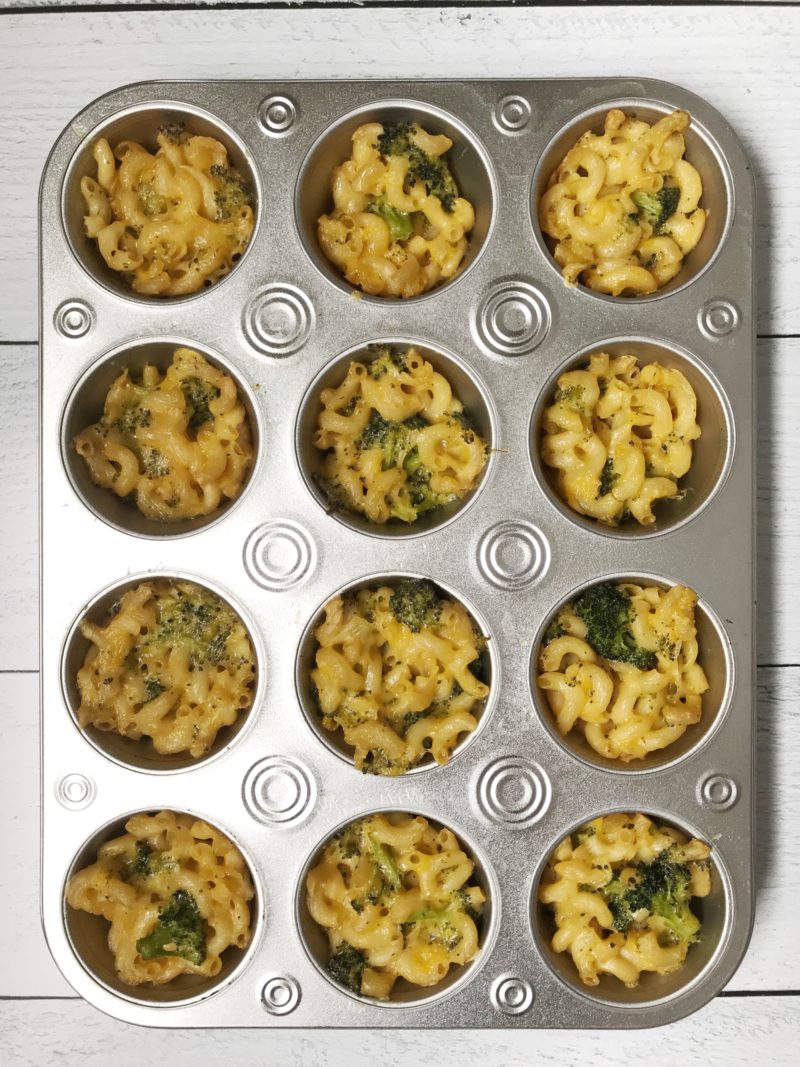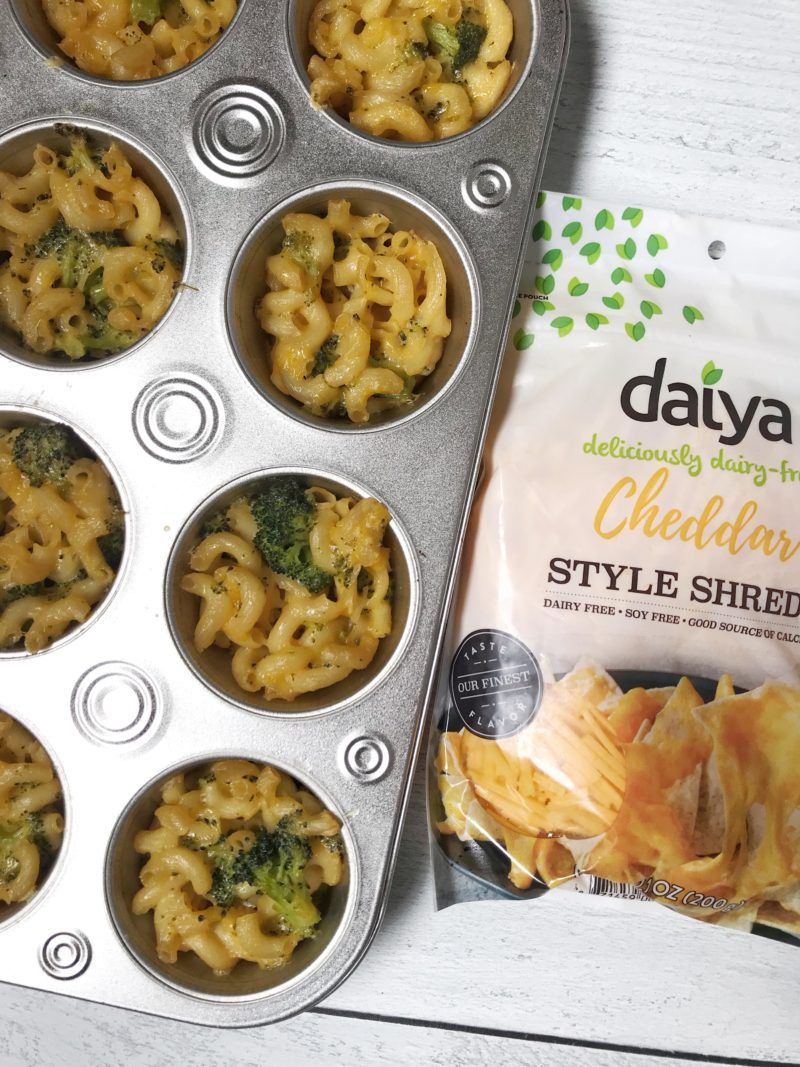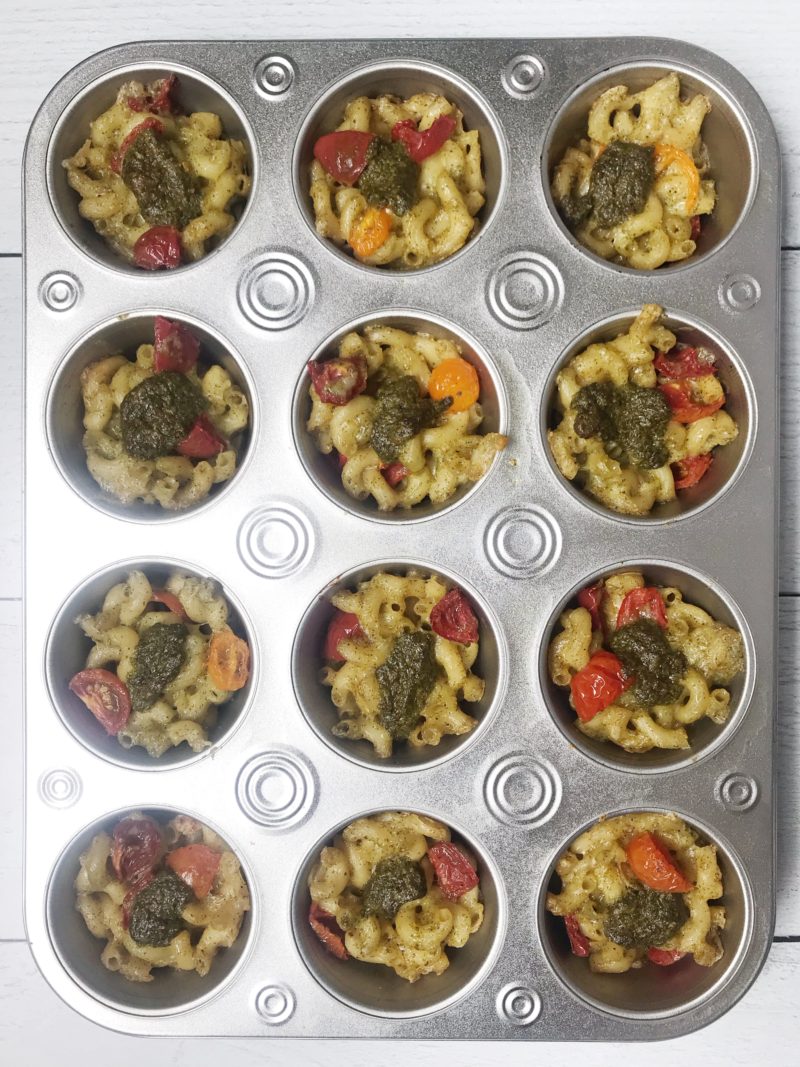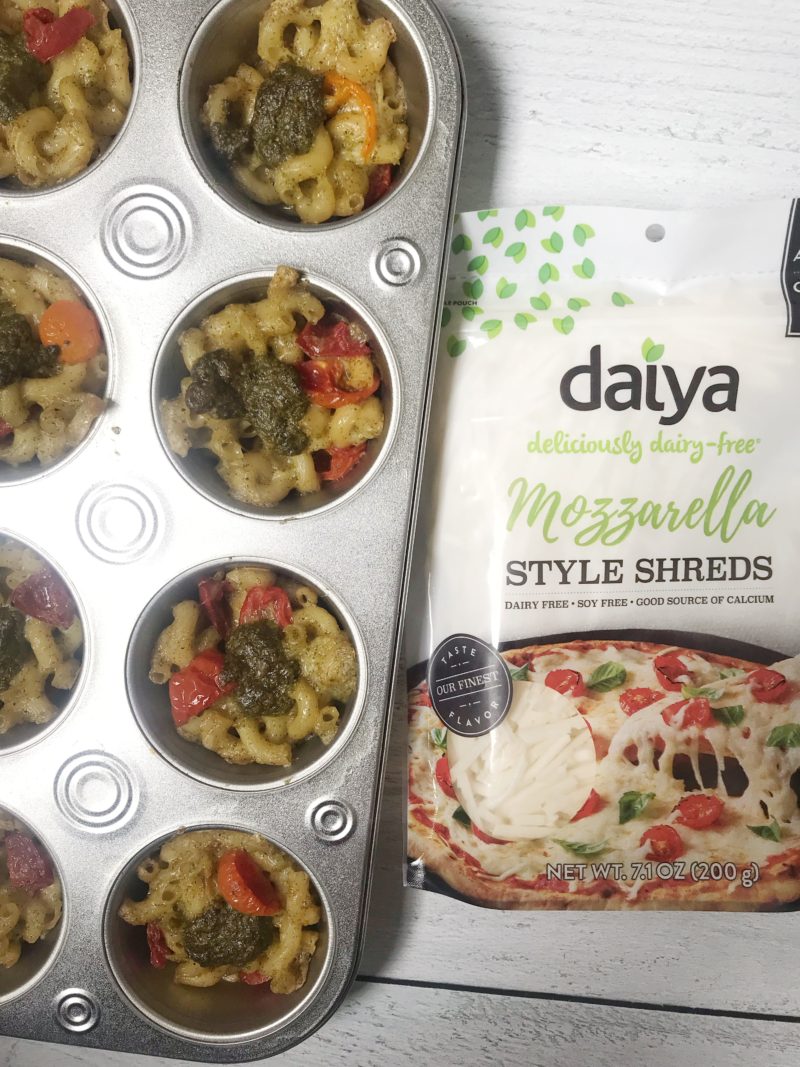 I hope that you enjoy these delicious mac n cheese cups!
If you make any of my recipes, don't forget to tag me in the photo on Instagram @plantbasedjane
To find Daiya products near you, click here.
Vegan Mac n Cheese Cups

Ingredients
Broccoli & Cheddar

1 1/2 cups elbows, uncooked
1 cup broccoli florets
1/4 cup unsweetened plant milk
2 tablespoons vegan butter
1 1/2 cup Daiya cheddar shreds
1 tablespoon dijon mustard
salt & pepper to taste

Tomato & Pesto

1 1/2 cups elbows, uncooked
1/4 cup unsweetened plant milk
2 tablespoons vegan butter
1 1/2 cup Daiya mozzarella shreds
1 tablespoon dijon mustard
1/4 cup pesto
1 cup cherry tomatoes, sliced
salt & pepper to taste

Taco Inspired

1 1/2 cups elbows, uncooked
1/4 cup unsweetened plant milk
2 tablespoons vegan butter
1 1/2 cup Daiya pepper jack shreds
2 tablespoons salsa
1 tablespoon dijon mustard
1 cup black beans
1/2 cup sliced cherry tomatoes
1/4 cup thinly sliced green onion
Instructions
Broccoli Cheddar

Pre-heat oven to 350 degrees Fahrenheit
Cook pasta according to package instructions and steam broccoli for 5 minutes.
Drain pasta and return back to the pot. Add in your milk and butter. Mix until the butter has melted. Gradually add in your cheese and mix until well incorporated. Add in your mustard, broccoli, salt & pepper and mix until everything until the cheese has melted. Spray your muffin tin with non-stick spray and evenly portion out the mac n cheese to fit all the muffin tin cups. Place in oven and cook for 25 minutes. Remove from oven and let sit for 15 minutes. After 15 minutes, carefully use a knife to remove from the muffin tin. Serve or place in an air tight container to serve the next day.

Tomato & Pesto

Pre-heat oven to 350 degrees Fahrenheit
Cook pasta according to package instructions and steam broccoli for 5 minutes.
Drain pasta and return back to the pot. Add in your milk and butter. Mix until the butter has melted.
Gradually, add in your mozzarella shreds and pesto and mix until the cheese has melted and the pesto has been evenly distributed throughout the pasta. Add in your mustard, salt & pepper. Then, add into your tomatoes. Spray your muffin tin with non-stick spray and evenly portion out the mac n cheese to fit all the muffin tin cups.

optional: place an additional dollop of pesto on top of each muffin tin cup

Place in oven and cook for 25 minutes. Remove from oven and let sit for 15 minutes. After 15 minutes, carefully use a knife to remove from the muffin tin. Serve or place in an air tight container to serve the next day.

Taco Inspired

Pre-heat oven to 350 degrees Fahrenheit
Cook pasta according to package instructions and steam broccoli for 5 minutes.
Drain pasta and return back to the pot. Add in your milk and butter. Mix until the butter has melted.
Gradually, add in your pepper jack shreds and mix until well combined. Add in your mustard, salsa, salt, pepper & green onion and mix to combine. Add in your black beans and tomatoes and continue to mix around.
Spray your muffin tin with non-stick spray and evenly portion out the mac n cheese to fit all the muffin tin cups. Place in oven and cook for 25 minutes. Remove from oven and let sit for 15 minutes. After 15 minutes, carefully use a knife to remove from the muffin tin. Serve or place in an air tight container to serve the next day.

Optional: once out of the oven top with fresh sliced green onion