Jump to recipe
Who doesn't love mashed potatoes, vegan chick'n and BBQ sauce? Combine all three and create this delicious dish with the addition of the Dr. Praeger's BBQ Chick'n Tenders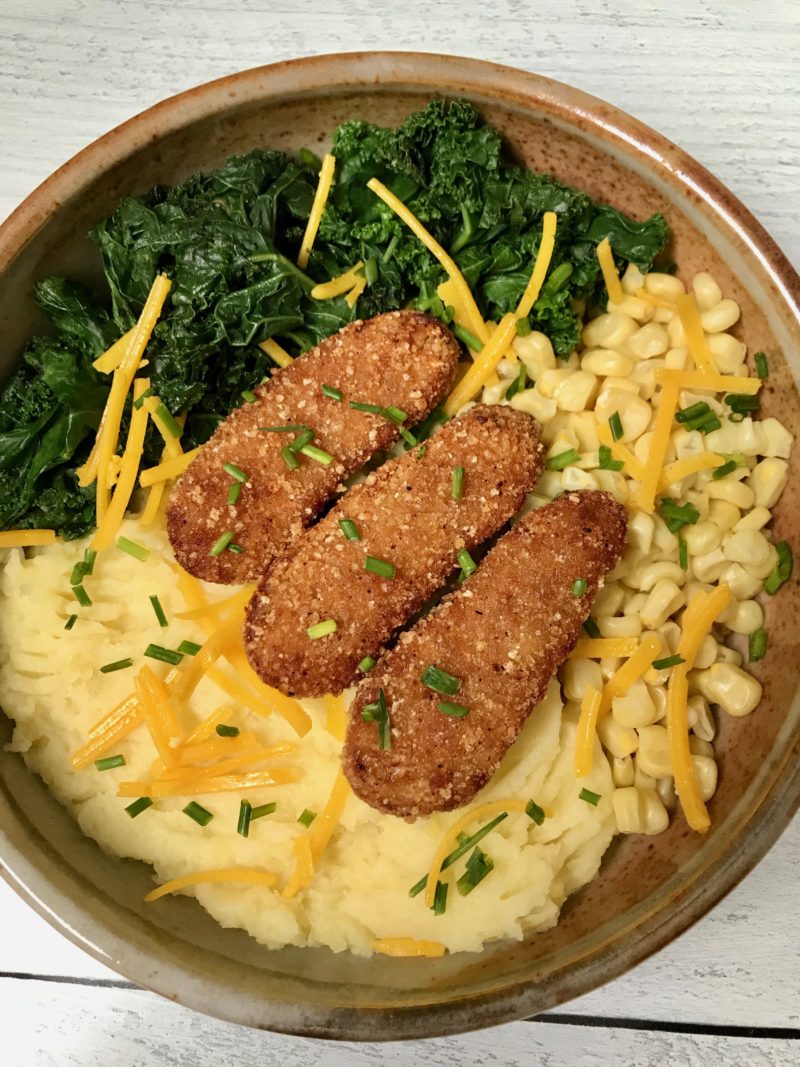 Vegan chick'n & mashed potatoes = a beautiful pairing! However let's ditch the traditional tenders and give them more flavor by including BBQ sauce into the mix. Dr. Praeger's Grandpa Mel's BBQ Chick'n Tenders will do just that!
These Chick'n Tenders are apart of Dr Praeger's Pure Plant Protein Line. All of the products in the Pure Plant Protein line are gluten free, soy free, made with avocado oil, and have hidden veggies! They obviously come packed in protein. Alone, one serving (three tenders) of the Grandpa Mel's BBQ Chick'n Tenders packs 14 grams of protein.
I have been using Dr. Praeger's products sine I was a little kid! I was the pickiest eater and the only way my mom could get me to eat veggies was by using their products! I've grown up eating their products and its amazing to see how much they've expanded (especially this AMAZING Pure Plant Protein line)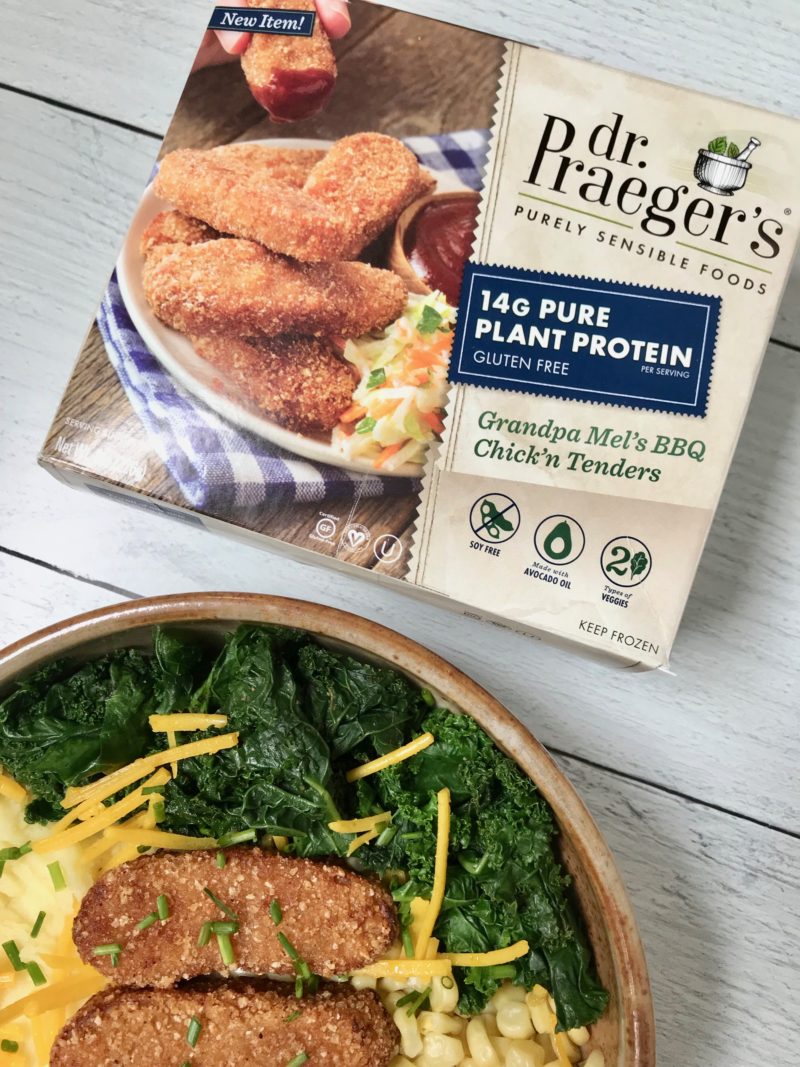 I also wanted to add some greens to the mix so I went with Kale! You can totally customize the greens to your liking and use spinach, collards, etc. I also love the addition of sweet corn and some vegan cheddar cheese!
The Grandpa Mel's BBQ Chick'n Tenders are SO crispy and have a lot of flavor. They taste like they have been smothered in BBQ sauce but they hold their shape and give the perfect crunch which is a great contrast between the mashed potatoes.
If you wanted to add a little sauce, do what I did and simply combine a little vegan mayo with BBQ sauce! You can dip the tenders in for that extra BBQ flavor or just straight up mix it into the bowl (either option is delicious)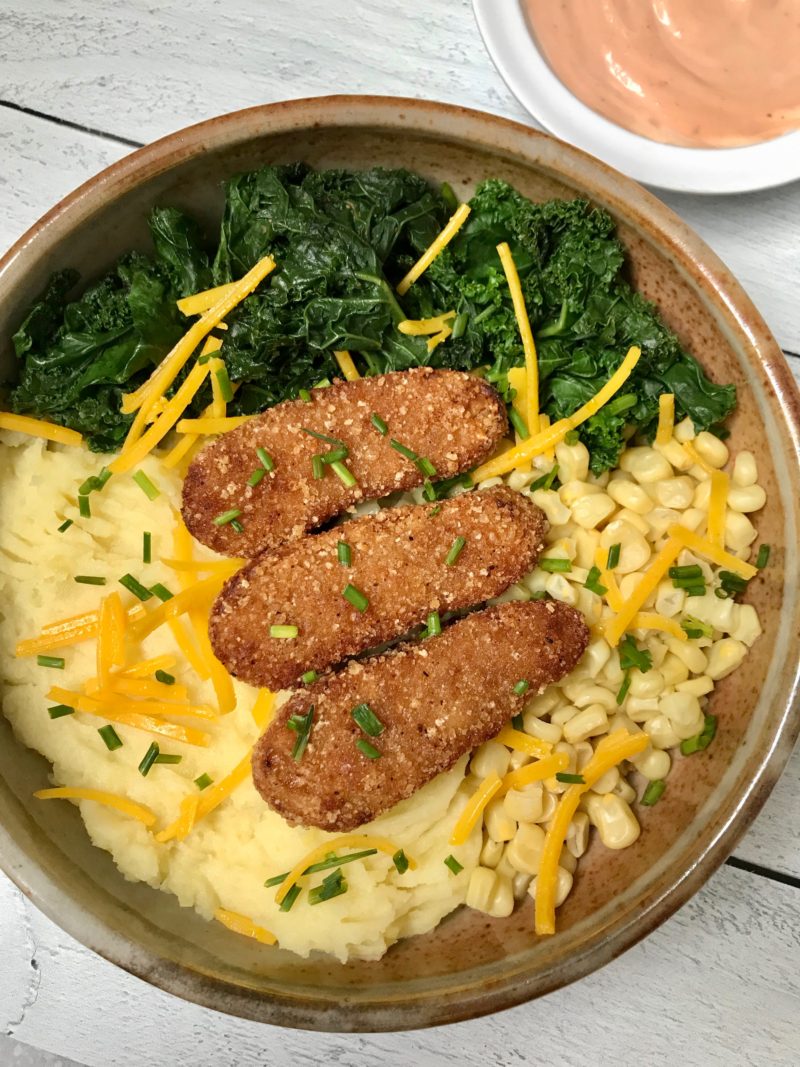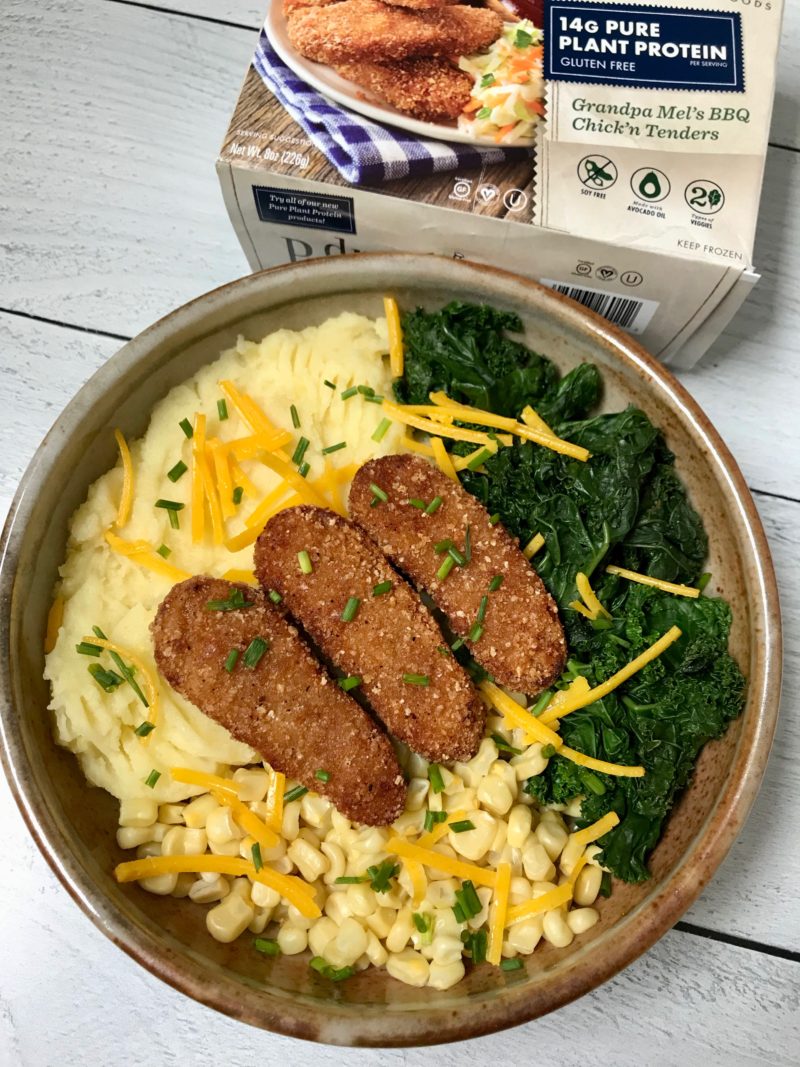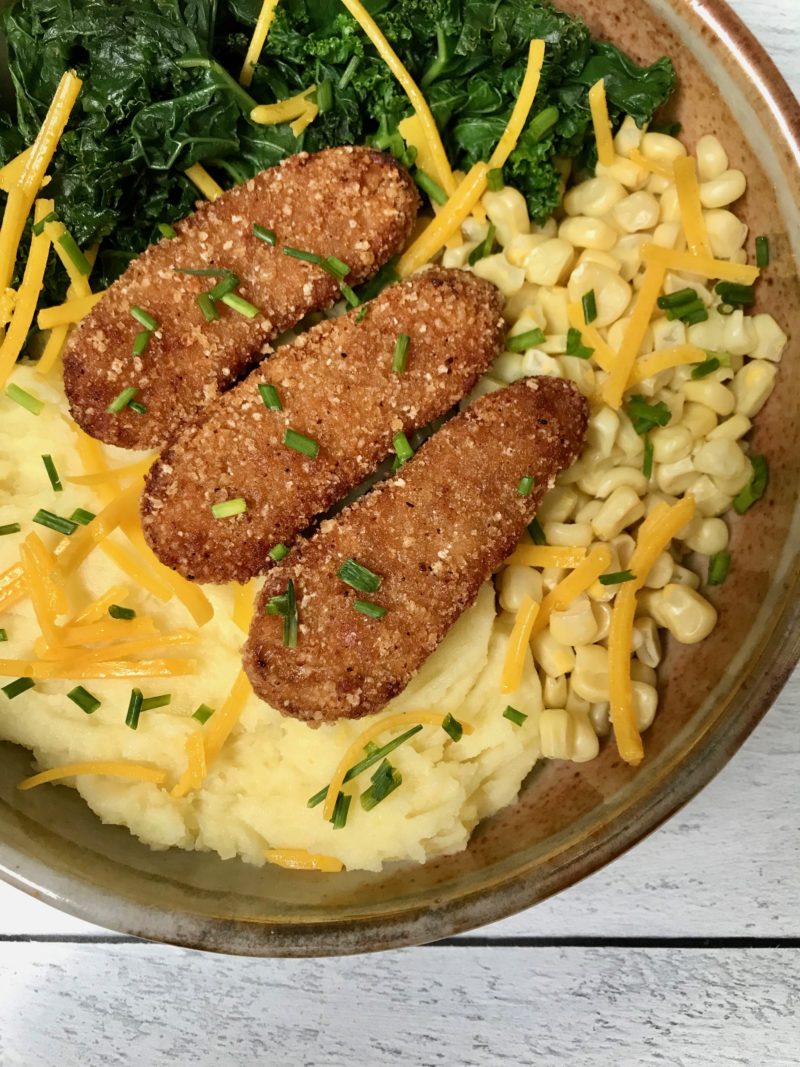 I hope that you enjoy this recipe!
If you make any of my recipes, don't forget to tag me in the photo on Instagram @plantbasedjane
To Find Dr. Praeger's products near you, click here.
BBQ Chick'n Mashed Potato Bowls

Ingredients
6 Dr. Praeger's Grandpa Mel's BBQ Chick'n Tenders

Mashed potatoes

3 medium/large potatoes (I prefer gold potatoes)
3 tablespoons vegan butter
1/4-1/3 cup unsweetened non-dairy milk
salt & pepper to taste

For corn

1 tablespoon butter
2/3 cup corn kernels
salt & pepper to taste

For kale

3 cups kale
2 cloves of garlic, minced
salt & pepper to taste
1/2 cup vegan cheddar cheese

BBQ Mayo Sauce

3 tablespoons vegan mayo
two tablespoons BBQ sauce
Instructions
Pre-heat your oven to 450 degrees Fahrenheit. Cook chick'n tenders for 14 minutes flipping halfway.
Meanwhile, peal and cut your potatoes into cubes. Combine them in a large pot filled with water. Bring the potatoes and water to a boil and let cook for 10 minutes or until the potatoes are fork tender.
While the potatoes are cooking, prepare your kale and corn. Defrost frozen corn (unless using from a can) and heat up in a pan. Season with salt, pepper and a little vegan butter. Cook until warmed through, set aside.
Heat a little olive oil in the pan and cook your kale with salt, pepper and garlic powder
Once your potatoes are done cooking return them to the pot and throw in your plant milk and butter. Mash with a potato masher until your desired consistency. Season to taste with salt and pepper.
Assemble your bowls and top with your Chik'n Tenders, vegan cheese & chives (optional). Serve with BBQ Mayo on the side.
Thank you to Dr. Praeger's for sponsoring this most. It means a lot to me to work with brands I love and support my blog.