Jump to recipe
A fun take on using chickpeas while grabbing inspiration from Asian flavors!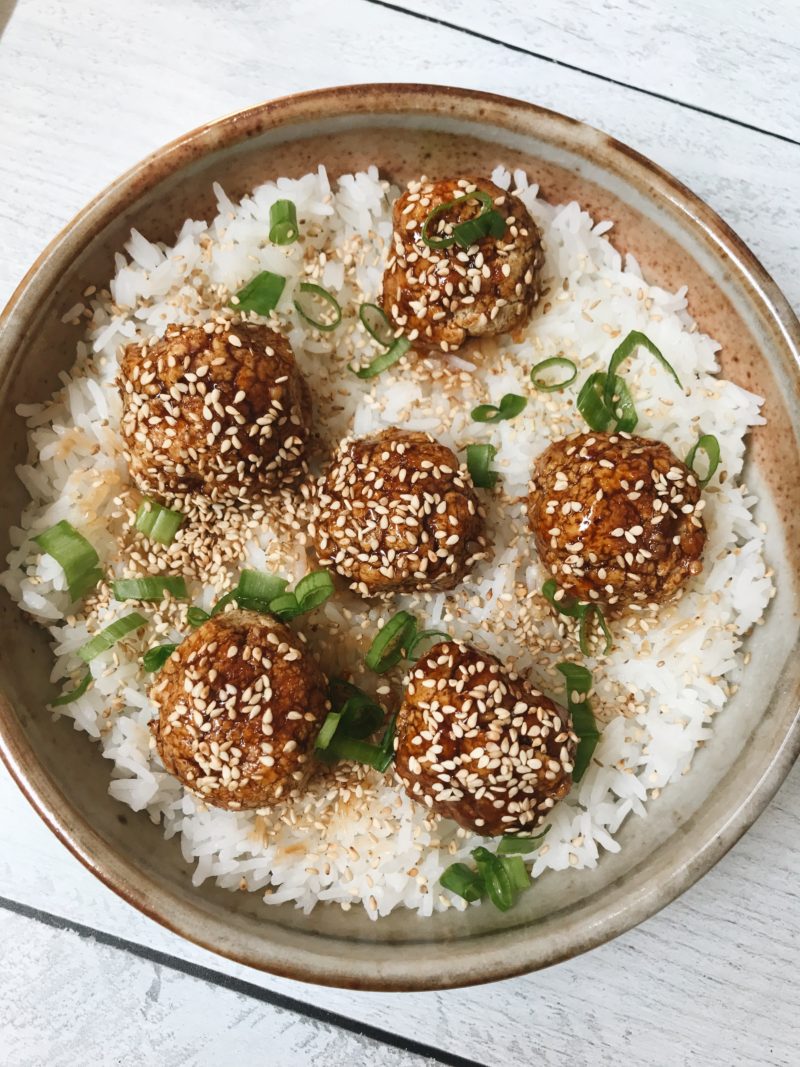 Wow it has been a hot minute since I've posted a recipe on my blog! To be honest, this Summer hasn't been the greatest for me. If you have noticed (or not, Instagrams algorithm is all over the place) I have been pretty absent from IG. This isn't normal for me. I used to post every day, twice a day…I was SO invested in this job. Although I must acknowledge, I am incredibly thankful to do what I love. I would always tell my parents that I will never work for anyone else, I only want to work for myself. They would shrug it off (while completely supporting my dreams) and I am over the moon it has come true.
Working for yourself can be pretty awesome. I have the opportunity to work from home and snuggle my dog whenever I may feel. However, it is easy to get caught up in the idea of being home all day. I do set boundaries. I don't sleep in, and I don't lounge around all day and do nothing (I would be lying if I didn't say I've had those days).
Also, I mainly work on social media. Social media can be so damaging. It is SO easy to compare yourself to others wonder "What am I doing wrong?" and constantly bringing yourself down. If anyone says they don't deal with these thoughts, they are 100% lying.
I've been spending a lot of my days (besides working) brainstorming. Brainstorming how I can change things up. I've always hated change, but I've accepted it needs to happen. My instagram and blog will not change much, I just want to be more invested and bang out more content for you guys. I get messages from people saying they've followed me since the beginning of my IG. My job is to make you guys stick around and actually enjoy what I post. So get ready for more of that.
Okay, moving on to the recipe!
I love chickpeas. I think that is pretty obvious. I have a few Asian inspired recipes using chickpeas, but I wanted to bring that to the next level: Chickpea meatballs!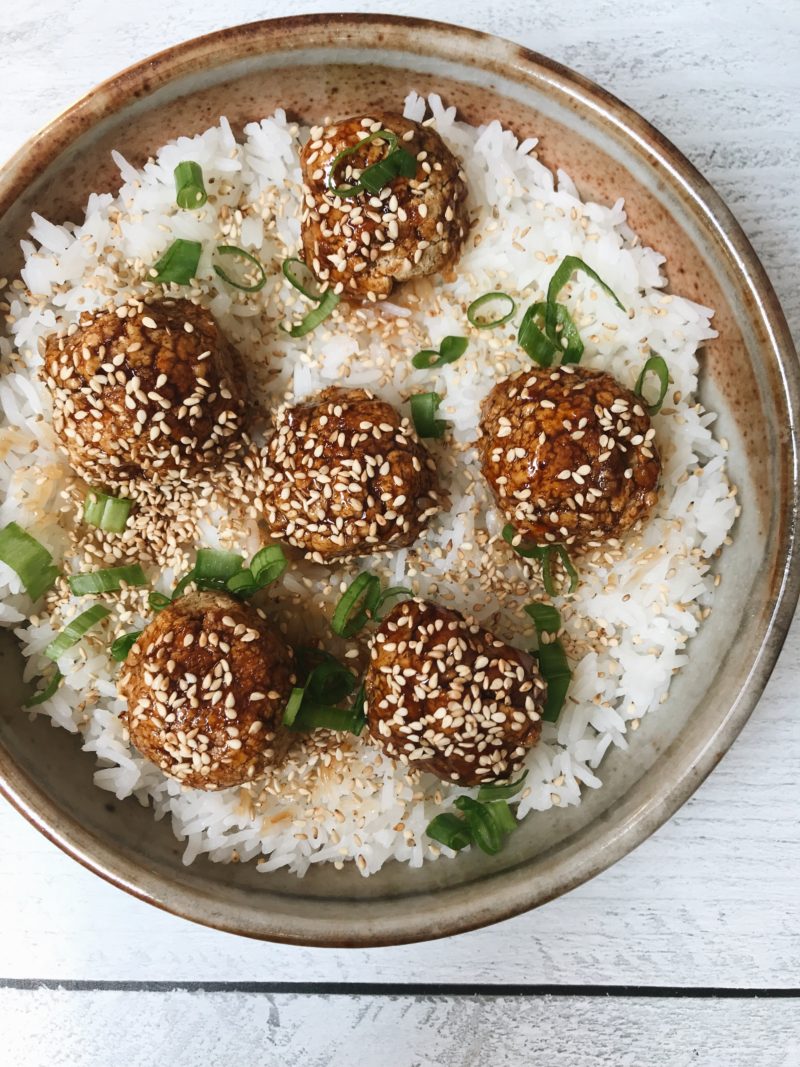 These chickpea meatballs are super easy to make (food processor recommended) and packed with flavor. They have a delicious maple sriracha glaze on top and are perfect to serve with rice and veggies!
However you can serve this up with some rice noodles, salad, etc. Anything works!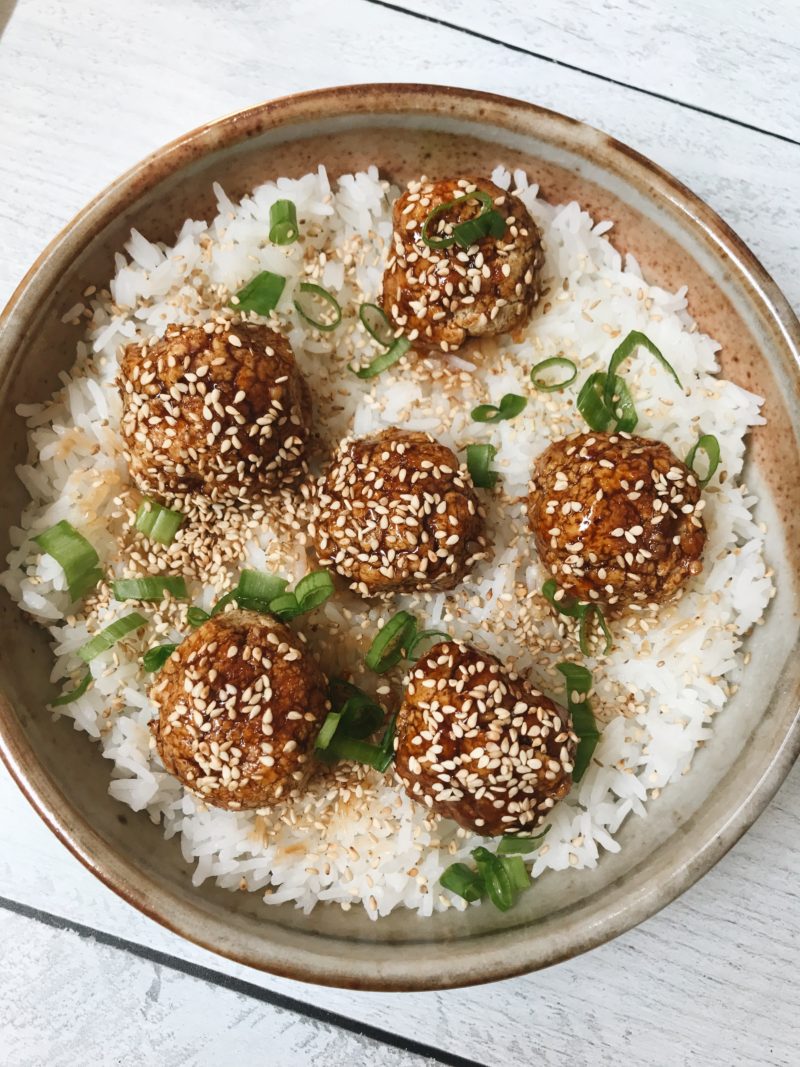 I hope that you enjoy this recipe! If you make any of my recipes, don't forget to tag me in the photo on Instagram @plantbasedjane
Asian Inspired Chickpea Meatballs

Ingredients
For the meatballs

1 15oz can of chickpeas
1 flax egg (1 tablespoon ground flax to 2 1/2 tablespoons water)
1/4 cup panko bread crumbs
1 teaspoon salt
1 teaspoon garlic powder
1/2 tsp pepper
1/2 tsp ground ginger
1/2 tsp onion powder

For the glaze

3 tablespoons maple syrup
2 tablespoons soy sauce
1 tsp sriracha
1 tsp sesame oil
1/2 tsp garlic powder
1/2 tsp onion powder
2 tsp corn starch
1 tablespoon water
Instructions
Pre-heat your oven to 400 degrees Fahrenheit. Combine your ground flax and water and let sit for up to 10 minutes.
Meanwhile, place your washed & drained chickpeas in a food processor and blend until the chickpeas become a paste consistency. Add in your flax egg, breadcrumbs and seasonings and mix until well combined.
Form small meatballs (should make 9 balls) and place on a baking sheet lined with parchment paper. Cook for 30 minutes flipping halfway.
In a small bowl, combine your corn starch and water. In another bowl, mix the remaining glaze ingredients. Add in your cornstarch slurry and mix well to combine.
In a small sauce pan, bring your sauce to a boil and mix until it thickens up.
Once the meatballs are done, place them in a bowl and pour the glaze over it. Mix carefully until all of the meatballs are coated in the glaze.
Serve!