Jump to recipe
Asian inspired tempeh lettuce cups! Takes less than 30 minutes to make and is Vegan & Nut Free!
Lettuce cups are something that I absolutely love! They're one of those recipes that allow you to be totally creative and add whatever you'd like!
I've been testing what my favorite combination is and I've finally found it. The key to this recipe is that it is very simple and doesn't require a ton of different ingredients. Sometimes less is more and in this recipe I find that the simple and limited ingredients is what makes this dish.
At first when I was contemplating the ingredients for this recipe and I was thinking of making it tofu based! However, I quickly realized that the texture of tempeh works much better! If you don't like tempeh, subbing with tofu will work! I just personally loved it more with tempeh.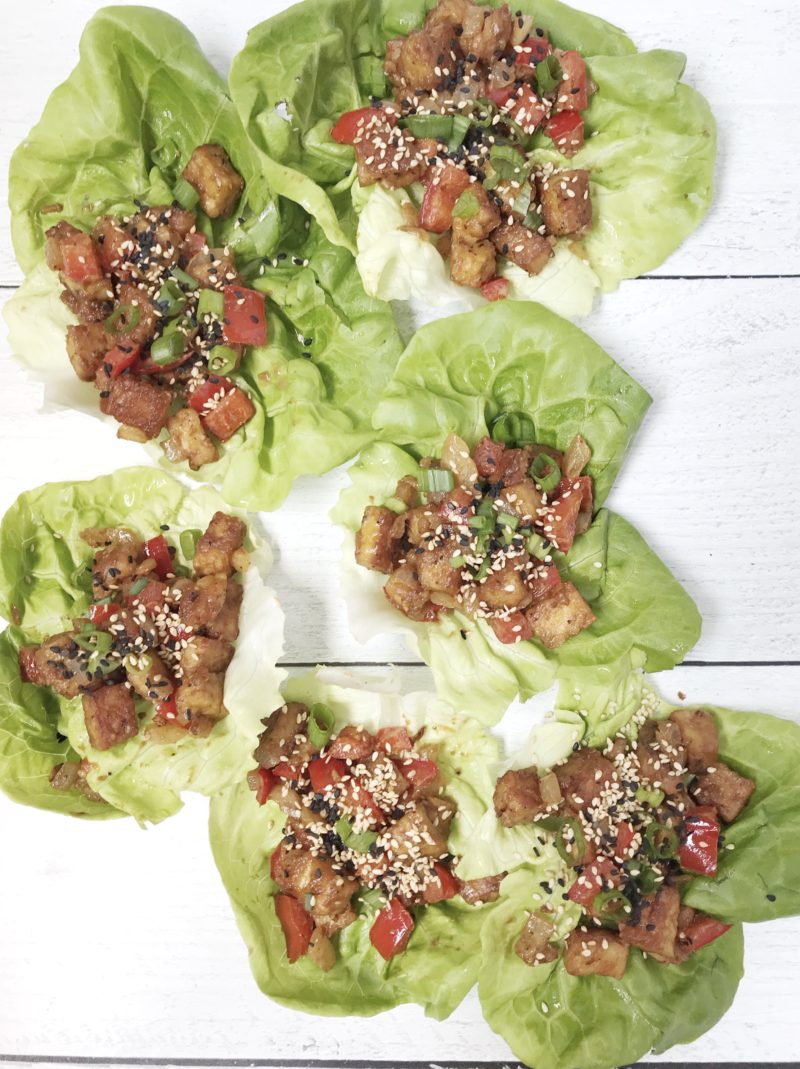 This is also a great recipe for summer (or anytime of the year when you're reading this blog post). It's just super refreshing and light…perfect for the warmer weather! However, this is great for lunch or appetizers if serving a crowd.
This could definitely work for meal prep too. I would just recommend keeping the filling mixture separately from the lettuce cups and once you're ready to eat it just combine the two!
If you wanted to make this more substantial then add a layer of rice before the topping!
In this recipe I use sunflower butter. If you don't have a nut allergy (or simply don't own sunflower butter) you could use any nut butter in this recipe. I mean, I imagine you can! I wouldn't completely know but I've noticed when I've replaced sunflower butter in recipes that call for nut butters it works fine (unless baking…then sometimes it'll turn the baked goods green!!!).
I hope that you enjoy this recipe! If you make any of my recipes, don't forget to tag me in the picture on instagram so I can see: @plantbasedjane
Ingredients
6-8 lettuce cups (in this recipe I used butterhead but you could also use romaine or iceberg)
1 8oz package of tempeh
1/2 red onion, diced
1/2 large white onion, diced
2 garlic cloves, minced

For the sauce

3 tablespoons soy sauce
1 tablespoon sesame oil
1 tablespoon sunflower butter
1 tablespoon maple syrup
1 teaspoon sriracha
1/4 tsp garlic powder
1/8 tsp powdered ginger

Optional Toppings

Green onions
White & Black sesame seeds
Instructions
Combine your sauce ingredients into a small bowl using a whisk and set aside.
Cut your tempeh into smaller bite sized cubes. In a sauté pan, heat some avocado oil. Add in your tempeh and cook for 3-5 minutes or until all sides have browned. Once tempeh has cooked, place in a bowl and set aside.
Add a little more oil into your pan and add your onions and peppers. Cook for 3-5 minutes or until the onions are translucent and the peppers have softened. Add your tempeh back into you pan as well as your minced garlic and cook for other 30 seconds, or up to a minute.
Add in your sauce and let thicken up with the veggies & tempeh.
Serve in your lettuce cups! Top with green onions and sesame seeds.