Jump to recipe
The weather is finally cooling down and Fall is coming! Cozy up with this vegan and nut free Pumpkin Alfredo.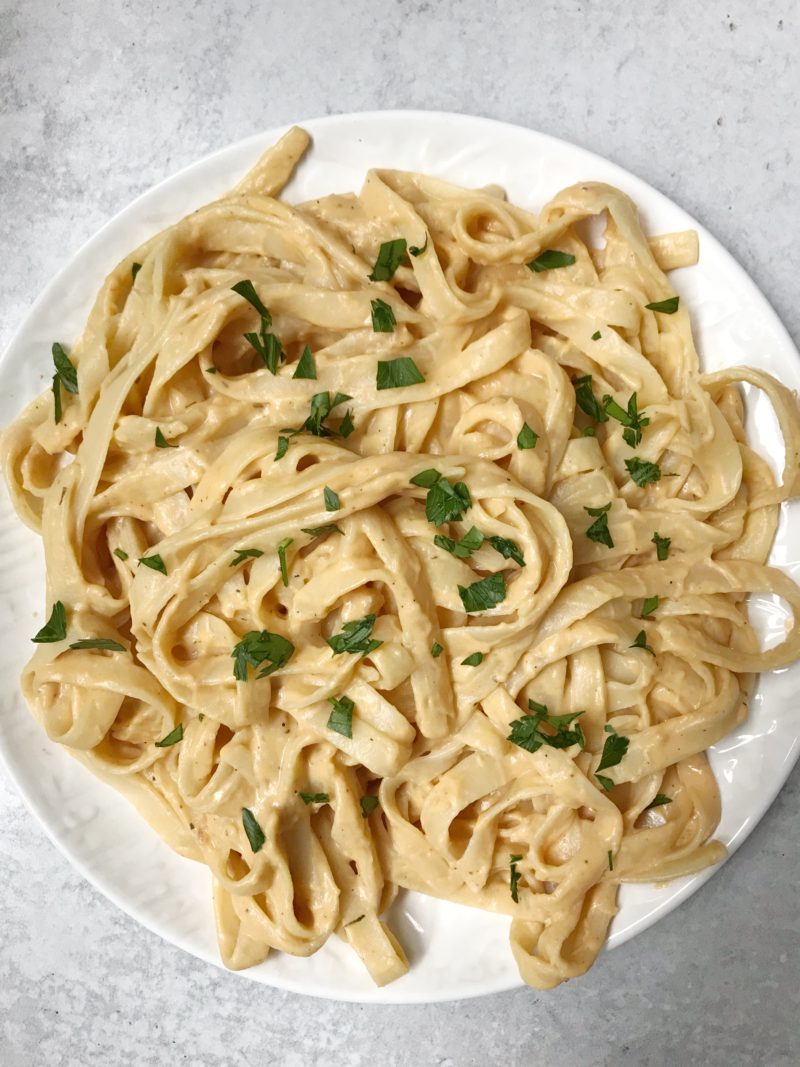 Fall is approaching with only means one thing = pumpkin recipes! And of course other Fall inspired dishes. I wanted to begin my Fall inspired recipes with a pasta recipe because…I love pasta. My traditional Cauliflower Alfredo sauce is super popular on my blog so I wanted to add a twist to it by making it with pumpkin!
A lot of the ingredients are similar while there are a few different items. There is no cauliflower in this dish. I mainly used pumpkin but the flavors of caramelized onions and garlic are still present in this dish.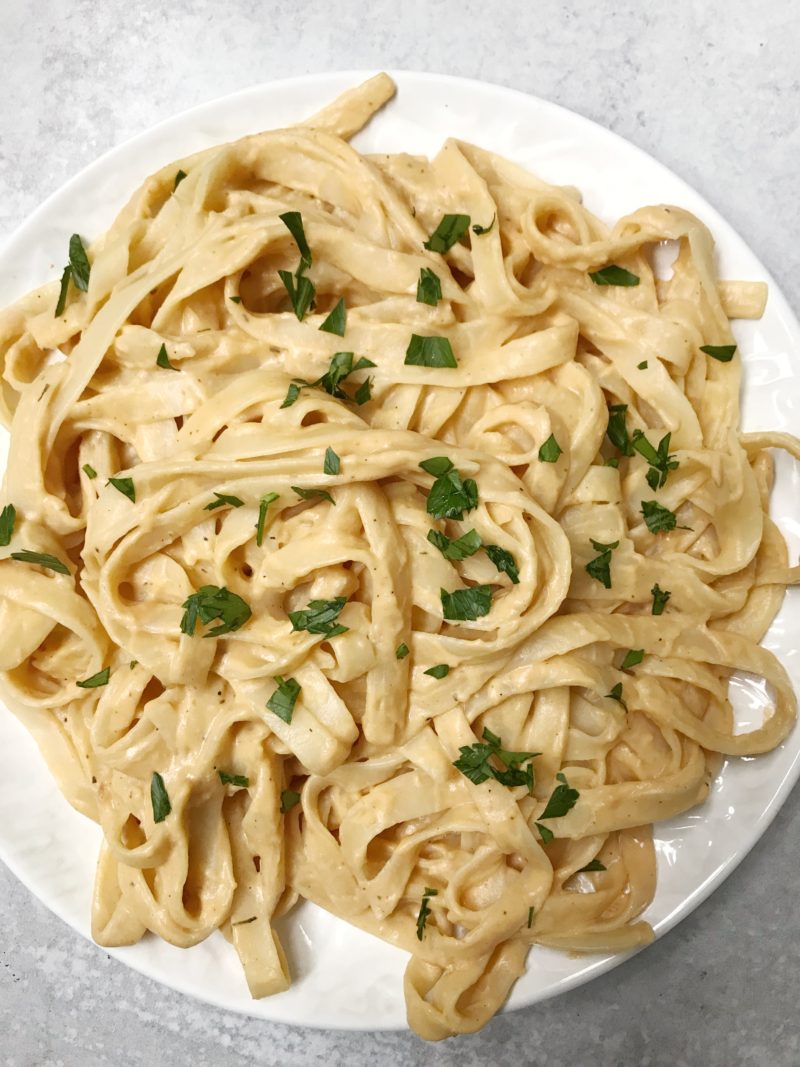 An important note to point out in this recipe is that I used canned pumpkin. You likely could roast up some pumpkin and puree it up to mimic canned pumpkin, however I have not tested it that way. Also, the only ingredient in the can should be Pumpkin. So make sure you don't accidentally purchase canned pumpkin pie filling. It will be…disgusting.
This recipe is a bit lengthier than my other recipes just because of the caramelized onion. It is super important to cook the onions and garlic low and slow to give it that yummy caramelized flavor. Once you've accomplished the caramelized onions, all you have to do is blend them with the remaining ingredients. That takes only a minute or so to do!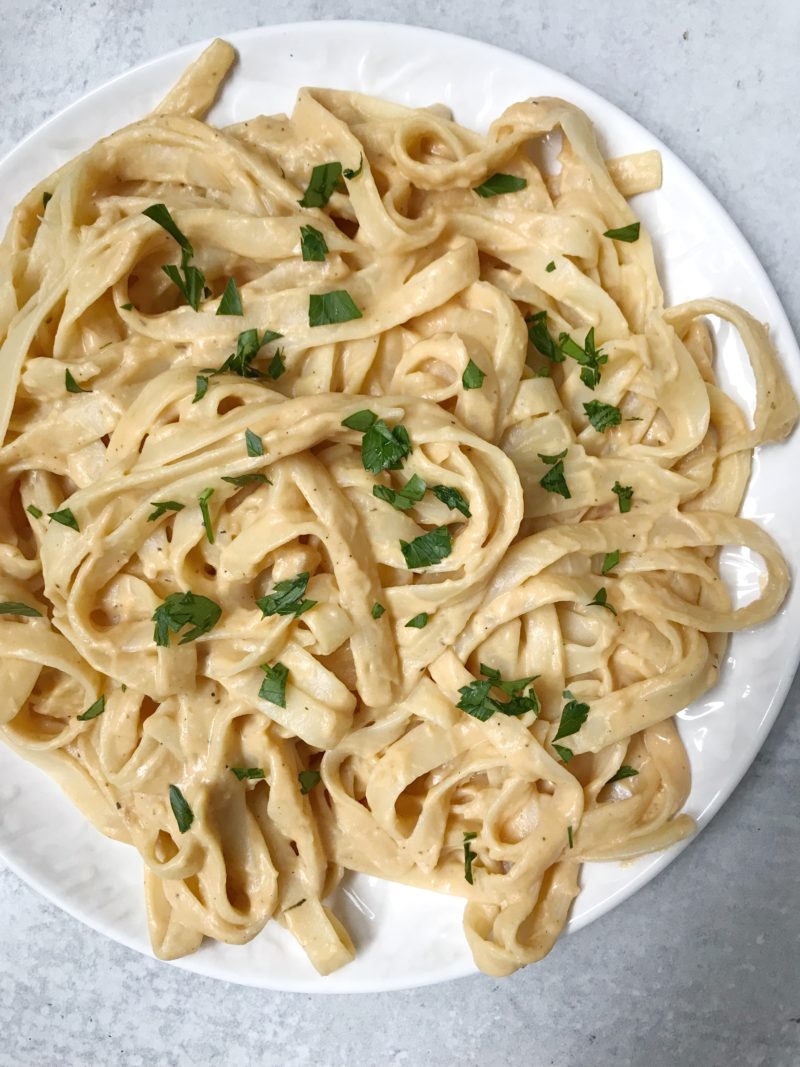 I hope that you enjoy this recipe. If you make any of my recipes, don't forget to tag me in the photo on Instagram @plantbasedjane
Pumpkin Alfredo *Nut Free, Vegan*

Ingredients
1 package fettuccine
2 tablespoons vegan butter
1 small onion, diced
3 gloves of garlic, roughly chopped
1 cup canned pumpkin
1/4 cup vegan cream cheese
1/4 cup nutritional yeast
1 1/4 cup unsweetened plant milk
1 tsp dried thyme
1 tsp salt
1/2 tsp pepper
Instructions
On a sauté pan using low- medium heat, melt your vegan butter. Add in your onion and cook for 20 minutes stirring frequently. After 20 minutes, add in your garlic and cook for another 2-3 minutes.
Using a blender or food processor, add in your cooked onions, garlic and remaining ingredients. Blend until well combined.
Add to pasta and mix until everything is combined. Serve!