Jump to recipe
This recipe is inspired by the very famous Halal street cart food in NYC! It is a staple for so many so I wanted to Veganize it so you can create it easily at home!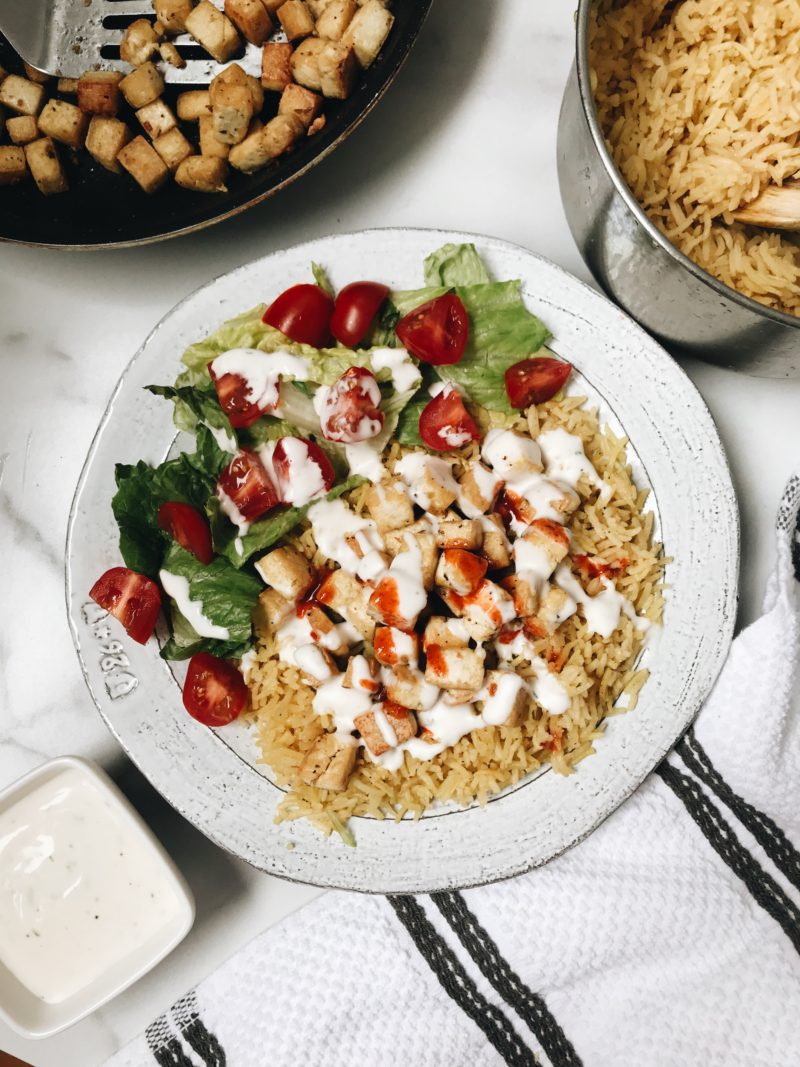 In New York City there are Halal street cart food everywhere! Even one on my block. They're a staple for tourists, lunch breaks or just a casual quick and delicious meal.
I used to get it a ton before going Vegan (mainly falafel because duh it's falafel). Served over the rice topped with the infamous white sauce & hot sauce, it was just such a great meal.
Now please note that this is recipe is inspired, I am not claiming to be an expert or no it all of this cuisine. This is just a fun recipe that tastes honestly amazing and I am so excited to share it with you guys.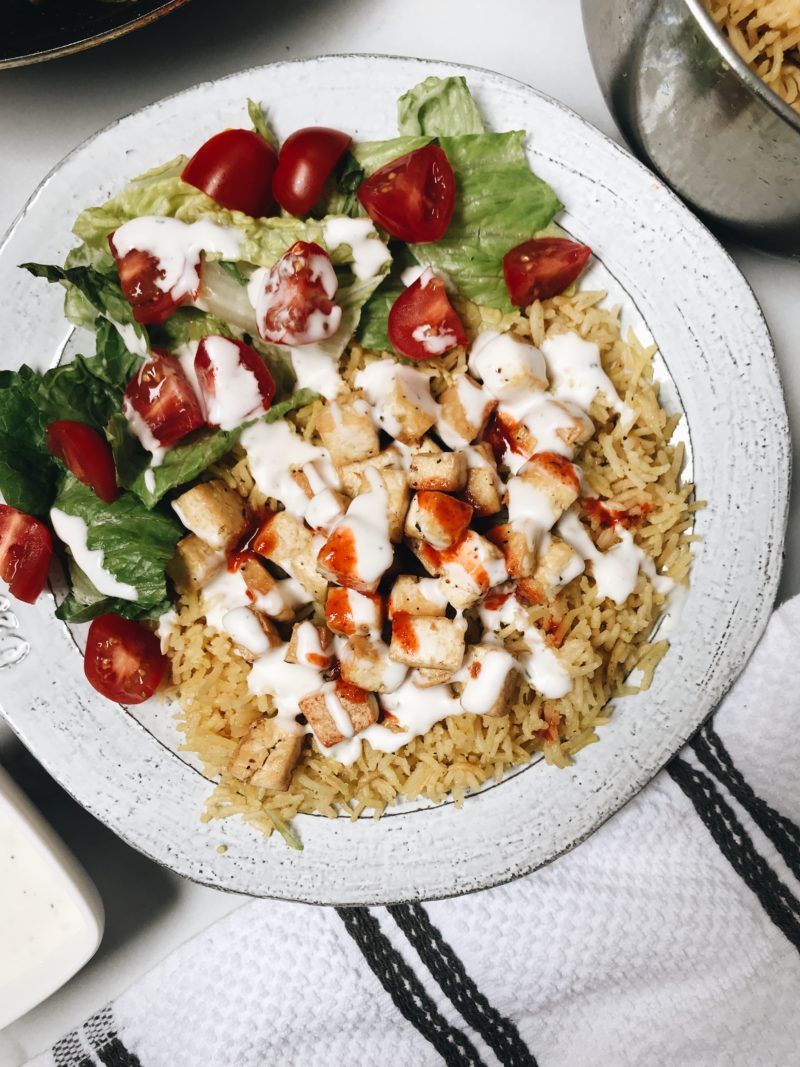 The white sauce I created for this recipe is a bit more ranch inspired but it still has so much flavor and makes this recipe fantastic. Sauce just ups the game!
I decided to use tofu for this recipe and I urge you to PLEASE get tofu that is vacuum sealed. It's the firmest you will get from tofu and works much better when sautéed. For this recipe I used the Trader Joe's High Protein Super Firm Tofu . This isn't sponsored but I'm telling you its the best. I also recommend the WildWood or Hodo Soy.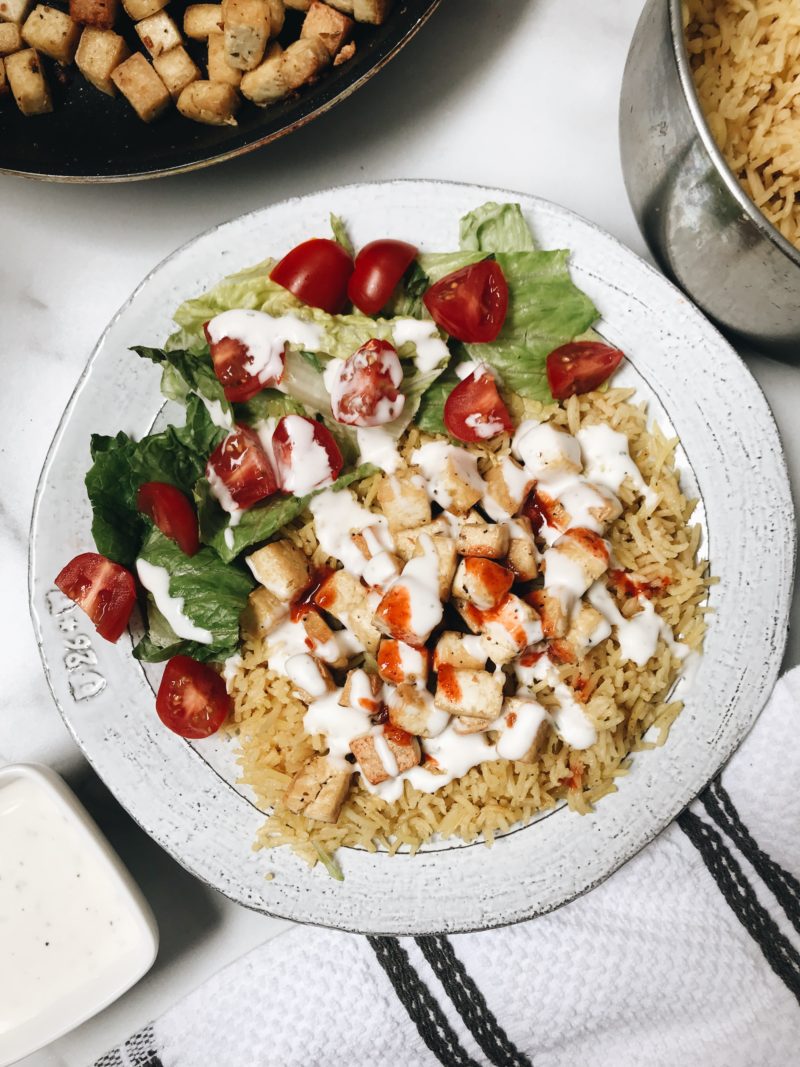 I hope that you enjoy this recipe! If you make any of my recipes, please tag me in the photo so I can see @plantbasedjane
Tofu Over Rice

Ingredients
For the Tofu

:
12 oz super firm tofu
2 tablespoons olive oil
1 tablespoon lemon juice
2 garlic cloves, crushed
1/2 tablespoon dried oregano
1/4 tsp dried coriander (if you don't have this spice it's fine to leave it out, it took me days to find it at multiple grocery stores)
1/2 tsp salt
1/2 tsp pepper

For the Rice

:
1 tablespoon vegan butter
1/4 tsp ground turmeric
1/8 tsp ground cumin
1 cup basmati rice
2 cups vegetable broth
salt & pepper to taste

For the sauce

:
1/2 cup vegan mayonnaise (I recommend Hellmann's Vegan Mayo)
1 tsp lemon juice
1/2 tablespoon white vinegar
1/4 tsp dried dill
1/4 tsp garlic powder
1/4 tsp onion powder
salt & pepper to taste

To Serve

4 cups romaine lettuce
2 cups cherry tomatoes, halved & quartered
Sriracha
Instructions
Rinse and drain your tofu, chop it into small cubes and add to a bowl. Add all the marinade ingredients and let it sit up to 20 minutes.
At this point, start your rice. Add 1 tablespoon vegan butter turmeric, cumin to a medium sized sauce pan and let cook for 1 minute or until the spices are fragrant. Add in your rice and let cook while mixing for 3 minutes to toast the rice. Add in your vegetable broth and let it come to a boil. Once boiling, turn the heat down to a simmer and cover pan. Let cook for 15 minutes then remove from heat and allow it to sit for another 15 minutes. Fluff rice and season with salt & pepper.
As the rice cooks create your white sauce and make your tofu. Combine all the white sauce ingredients and thin with hot water if needed.
Bring a medium sized sauté pan to medium heat with some oil. Add in your tofu and cook for 10 minutes. Let cook until all sides have browned. I liked using a spatula with this so I could easily flip the tofu and allow all sides to brown evenly.
Cut up your lettuce and tomatoes & serve! Pour white sauce over everything as well as your Sriracha.