Jump to recipe
A fun take on stuffed shells but with a Mexican inspired flare.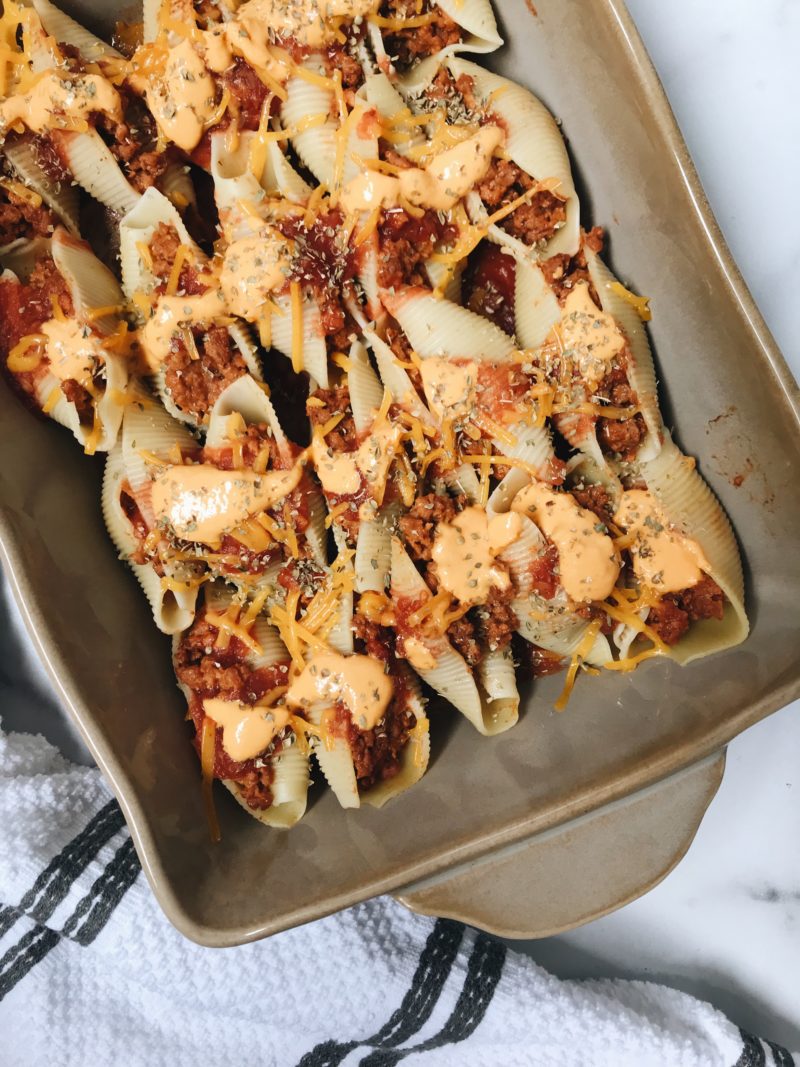 Happy May! With Cinco De Mayo around the corner I was inspired to make a recipe to celebrate this holiday!
Cinco De Mayo is (unfortunately) known as a day where people go out, drink margaritas and slur "Cinco De Drinko" – Which is just not okay but I'm not going to get into it today.
So what exactly is Cinco De Mayo? Well, let me break it down for you. It's an annual celebration observing and celebrating the Mexican army victory over the French Empire at the Battle of Puebla on May 5th, 1862. So It's not about drinking margaritas and getting wasted? No. Wild, right? *eyeroll*
So now that our little history lesson is over, let's get into this recipe!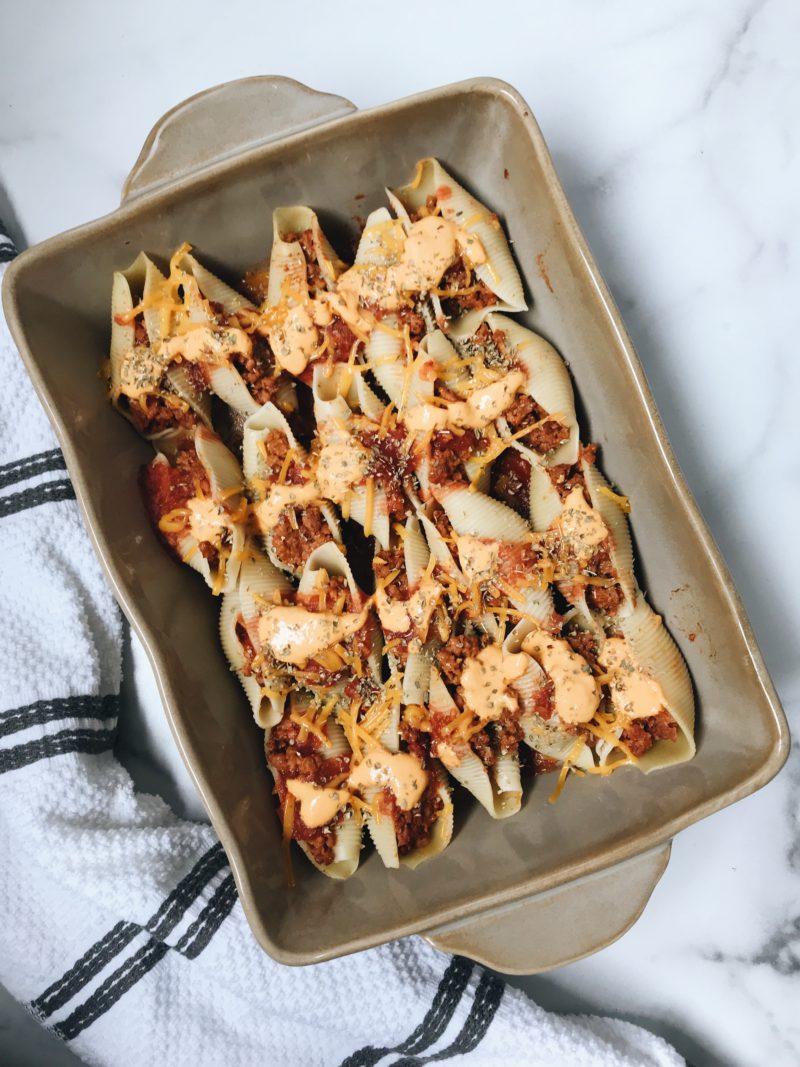 It's a bit obvious how much I love my pasta. If I can sneak pasta into any type of recipe, I'm doing it.
These "taco" stuffed shells are filled with creamy vegan beefy crumbles and salsa topped with vegan cheese, vegan queso & more salsa! You can obviously customize this recipe to your liking. You can use beans instead of beefy crumbles, or even add in some veggies. It's totally up to you! I just wanted to keep this recipe basic.
It's incredibly easy to make and it's great for any day. You can even use this as a luxury meal prep or serve to a crowd.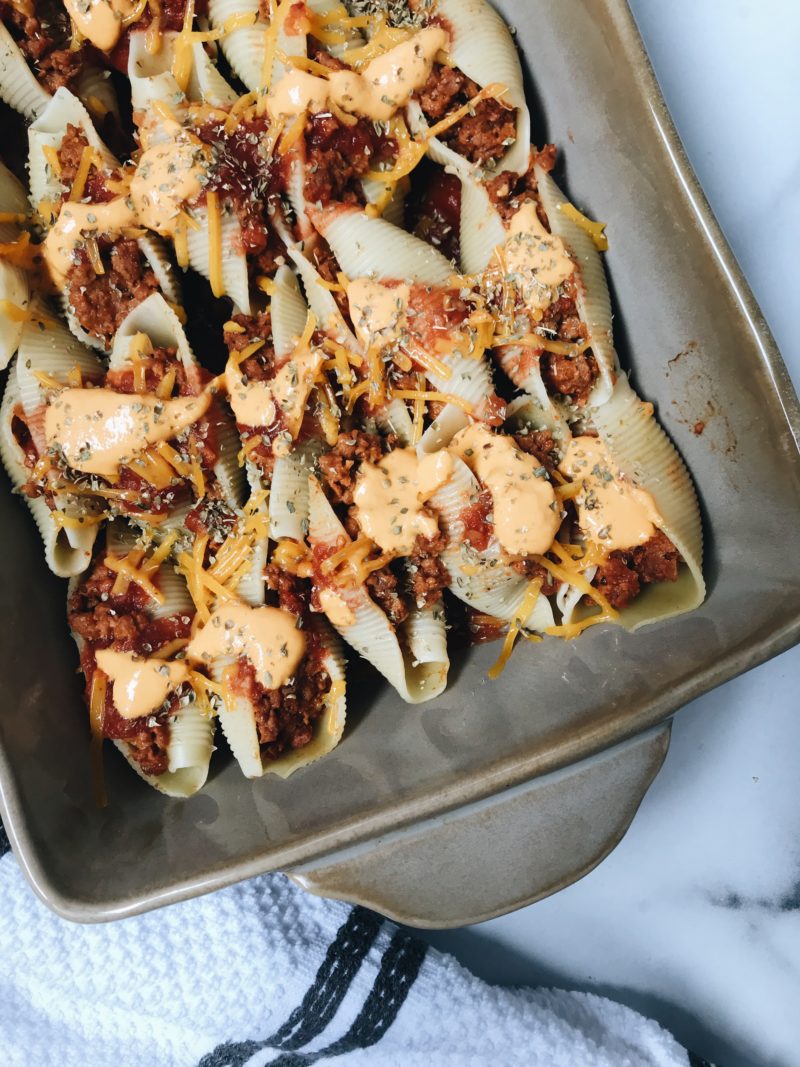 I hope that you enjoy this recipe! If you make any of my recipes, don't forget to tag me in the picture on Instagram @plantbasedjane
Taco Stuffed Shells

Ingredients
1 12oz box of jumbo shells
1 package vegan beefy crumbles (I used Gardein)
1 package taco seasoning (I like Trader Joe's)
1/4 cup vegan cream cheese
1 1/2 cups salsa
1 cup vegan cheese
Vegan Queso for topping (I like @Zubiatescocina - use code "SNACKEATZUBI" for 30% off their site - code is non affiliate)
Instructions
Pre-heat your oven to 350 degrees Fahrenheit & cook your shells according to package instructions.
In a large saute pan on medium heat, add a couple of tablespoons of oil. Add in your beefy crumbles and begin to cook down, 4-5 minutes. Stir in your taco seasoning, 1/4 cup of your vegan cheese, vegan cream cheese & 1 cup of your salsa. Cook down and incorporate everything until the beefy crumbles are done cooking, 5-7 minutes.
In a large baking dish place 1-2 tablespoons of your salsa onto the bottom of the pan. Fill each shell with 1-1 1/2 tablespoon of the beefy crumble mix and continue until all the shells are filled. Top with the remaining salsa and cheese.
Bake the shells covered with foil for 15 minutes. Remove and dollop with your favorite vegan queso (optional)