Jump to recipe
These frozen sunflower butter salted caramel cheezecake bites are allergen friendly and super easy to make!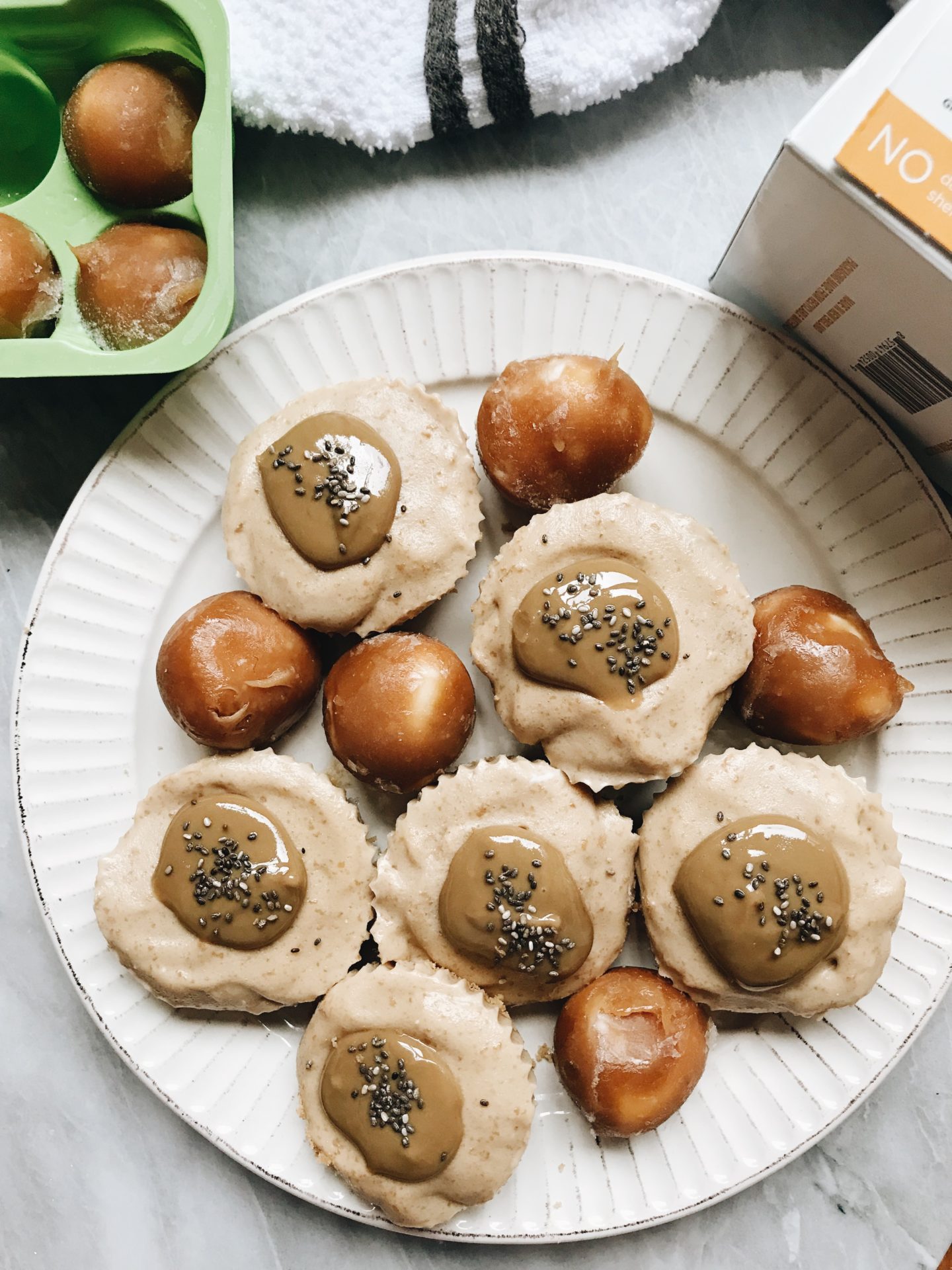 I've always been interested in creating my own take on vegan "Cheesecake" – I just was never really sure on where to start! There are allergy friendly cheesecake options on the market, and easy to find recipes on the web, but a lot of the time the recipes have the one thing I can't eat: nuts. If you've been following me for awhile, then you'd know I am allergic to peanuts/tree-nuts. I always get a lot of questions like, "is it hard being Vegan and being allergic to nuts?" The answer: of course. I don't want to lie or try to act like it isn't a big deal because the truth is that it can be difficult at times. You know when you go to the grocery store and double/triple check the ingredients of a product hoping it would be "accidentally vegan?" Well, try doing that two times – one for ethical reasons and the other for the potential risk of death (dark? well it's true). So I always get super excited to find products that are free from both.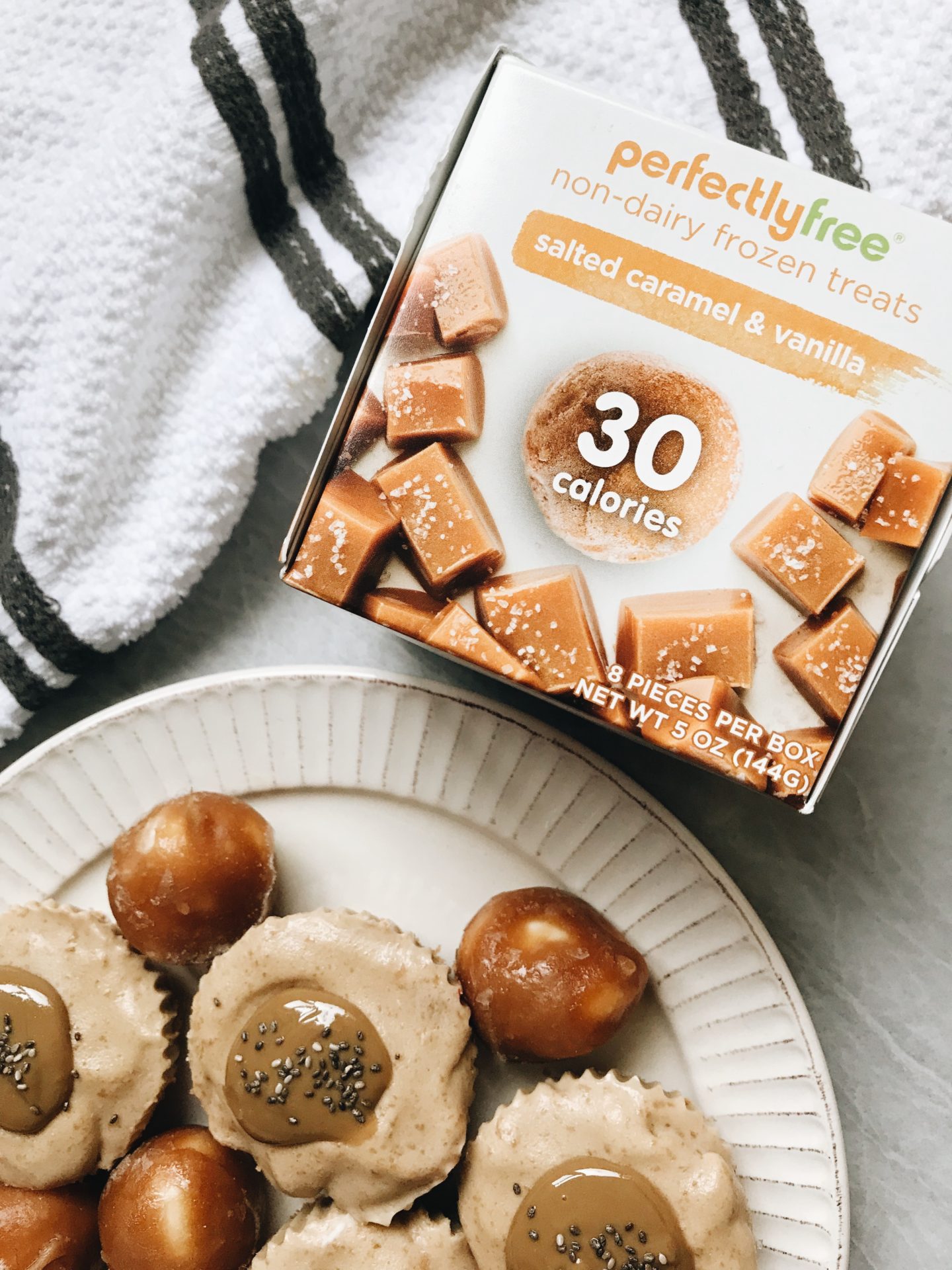 Over a year ago I was walking through my average grocery store, which is probably the least vegan friendly type of place. I usually don't bother to check out the ice cream section because usually I know they wouldn't have any options to cater to me. However, on this day I wasn't at the grocery store on a mission so I just decided look. That is when I saw Perfectly Free. I got ridiculously excited and added the Cocoa and Vanilla Frozen Bites to my cart. I've been loving their products ever since.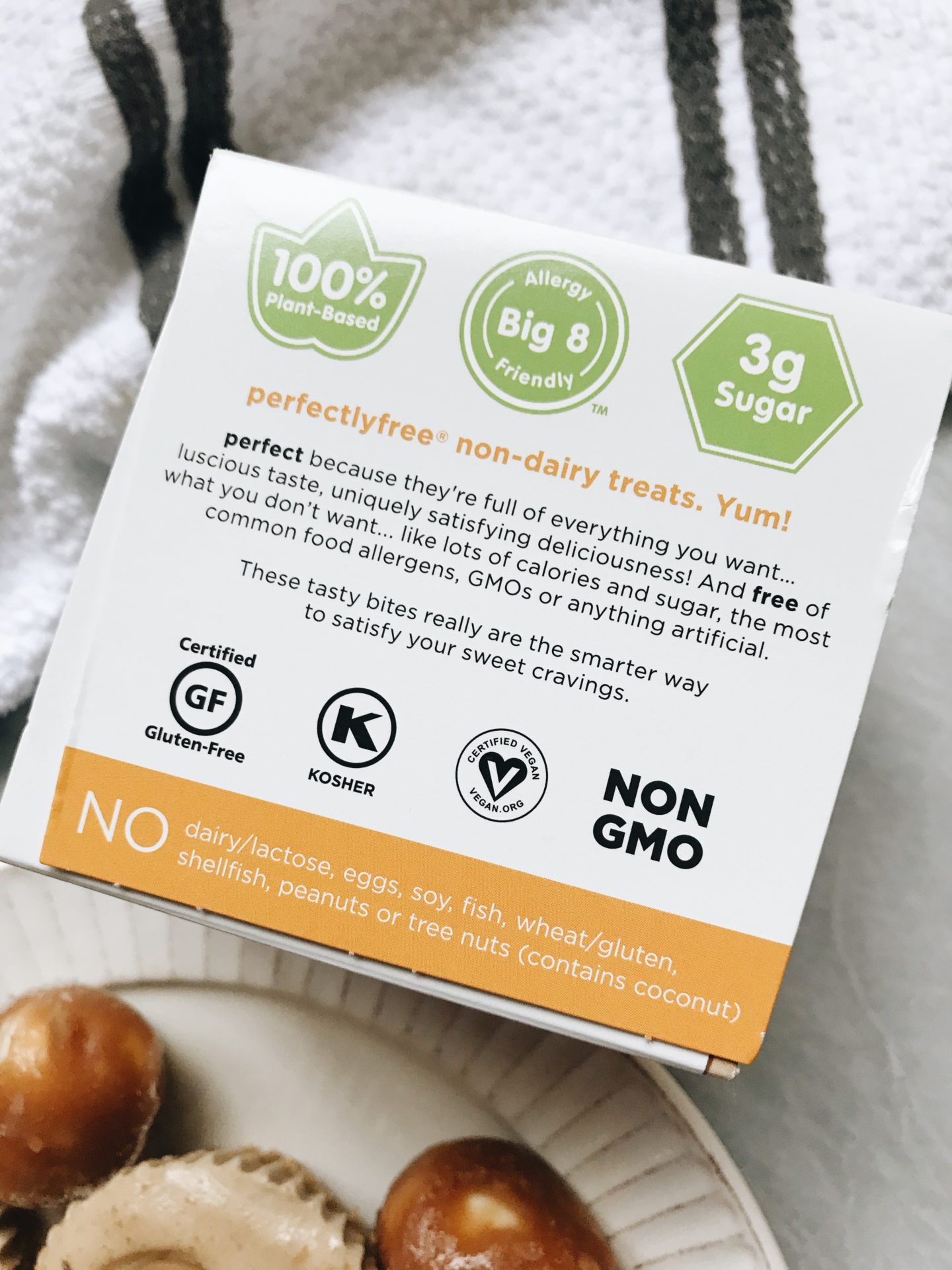 The Perfectly Free Bites are 100% plant based by using a coconut cream. They are Big 8 Allergen friendly (dairy, eggs, soy, fish, wheat/gluten, shellfish, peanuts or tree nuts) and low in sugar. They're Non-GMO and are also made in a dedicated free-from facility. These are the facts that really caught my eye in the grocery store that one day, and are really important to me. A lot of products are free from nuts on the market, but that doesn't mean they're created in a dedicated free-from facility. In general, people react to the things they're allergic to differently. I have never reacted from nuts being around me, but simply when I eat them. If there is a product that is nut free but made on the same equipment as a product containing nuts, it can be very harmful to many. Or, even if the product isn't made on the same equipment but nearby a product containing nuts that can still trigger someone's allergy. That's the main reason why I get so excited about brands who create their products in a free-from facility.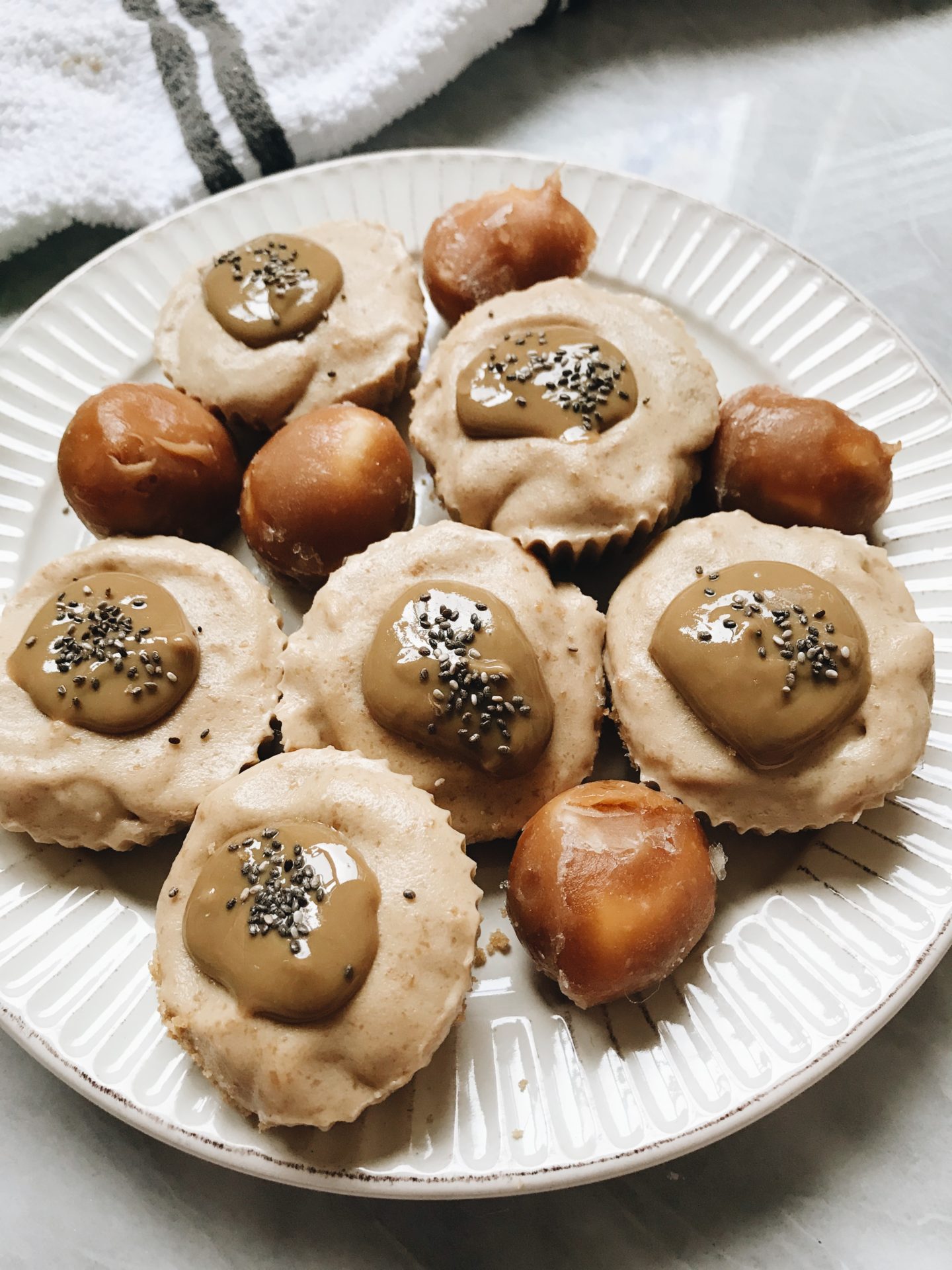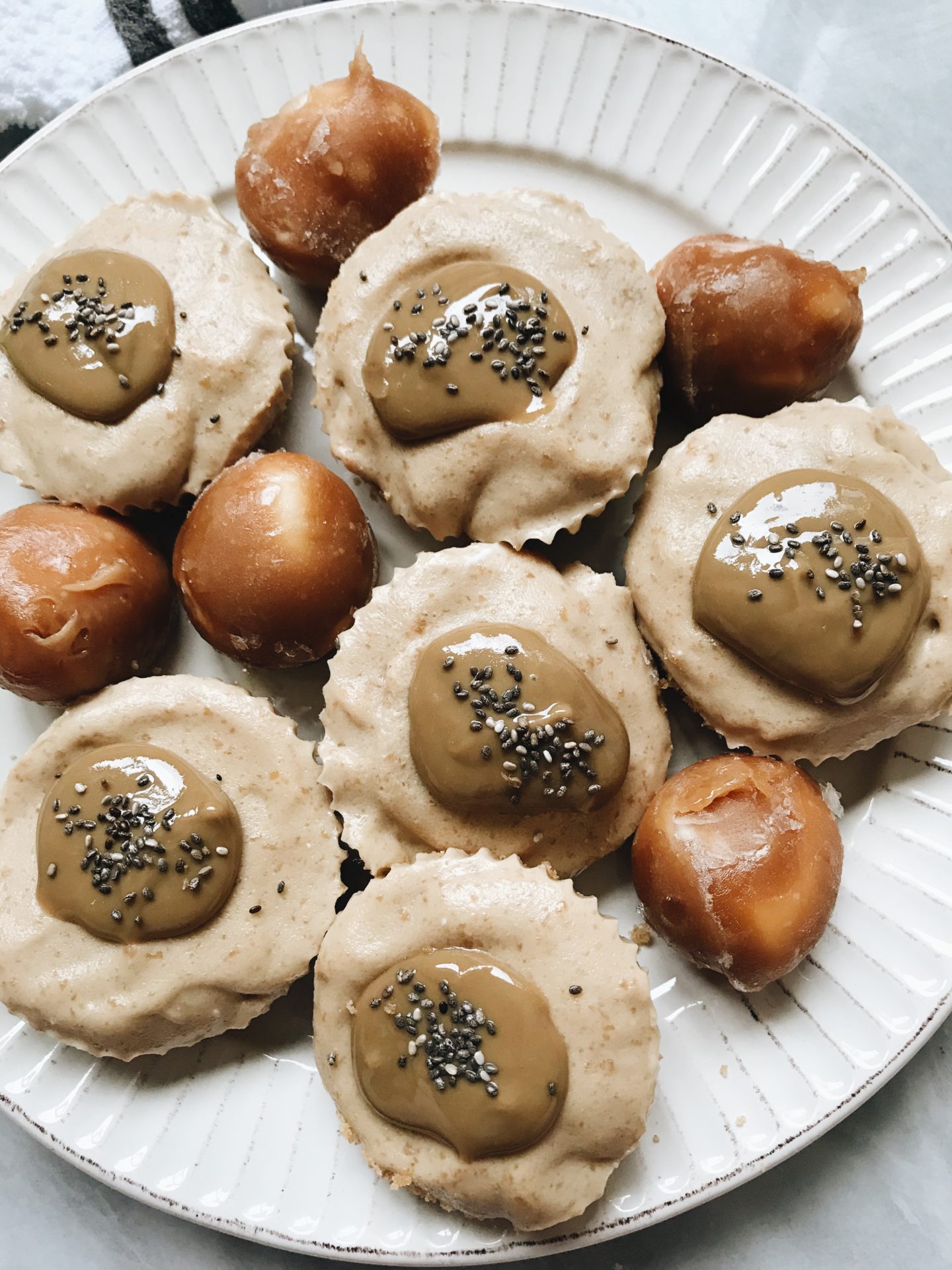 These "cheesecake" bites have a fun twist as I added some sunflower butter to the mix as well as a nice dollop on top. Press in some chia seeds for some added texture/Omega 3s and you're good to go! They have a cookie crust giving them that reminiscent texture of cheesecake and gives a nice contrast to the frozen bite texture.
I hope that you enjoy this recipe! If you make any of my recipes, don't forget to tag me on Instagram @plantbasedjane.
Find Perfectly Free products near you: https://www.perfectlyfree.com/find-us/
Order Perfectly Free Online: https://shop.perfectlyfree.com/collections/frozen-bites
Sunflower Butter Salted Caramel Cheesecake Bites

Processed with VSCO with a6 preset

Ingredients
1 Pack (8 Pieces) Salted Caramel & Vanilla Frozen Bites.
6-7 cookies (this is up to you, I used a sweet potato based cookie but snickerdoodles work, too).
1 tablespoon melted coconut oil
2 tablespoons vegan cream cheese
2 tablespoons plant milk (I used oat)
1 tablespoon sunflower butter
Instructions
Begin by blending or adding your cookies to a food processor. Start blending and slowly add in your coconut oil. This will help the crust stick together.
Once blended very finely, add to a bowl. Add your frozen bites to your blender with your vegan cream cheese, plant milk & sunflower butter. Blend until everything comes together in a consistent ice cream "batter."
Using a cupcake tray, line 6 molds with muffin liners (I used silicone liners). Evenly add in your cookie crust to the bottom of the liners and press down hard to create an even crust. Then, evenly divide up your ice cream mixture on top of the cookie crusts. Place in the freezer for 2 hours.
After 2 hours, add a dollop of your sunflower butter and sprinkle a few chia seeds on top. Serve!
Thank you to Perfectly Free for sponsoring this post. It means a lot to me to work with brands I love and support my blog!