Jump to recipe
A fun take on Cauliflower, this delicious crispy lemon cauliflower will definitely be hitting the spot.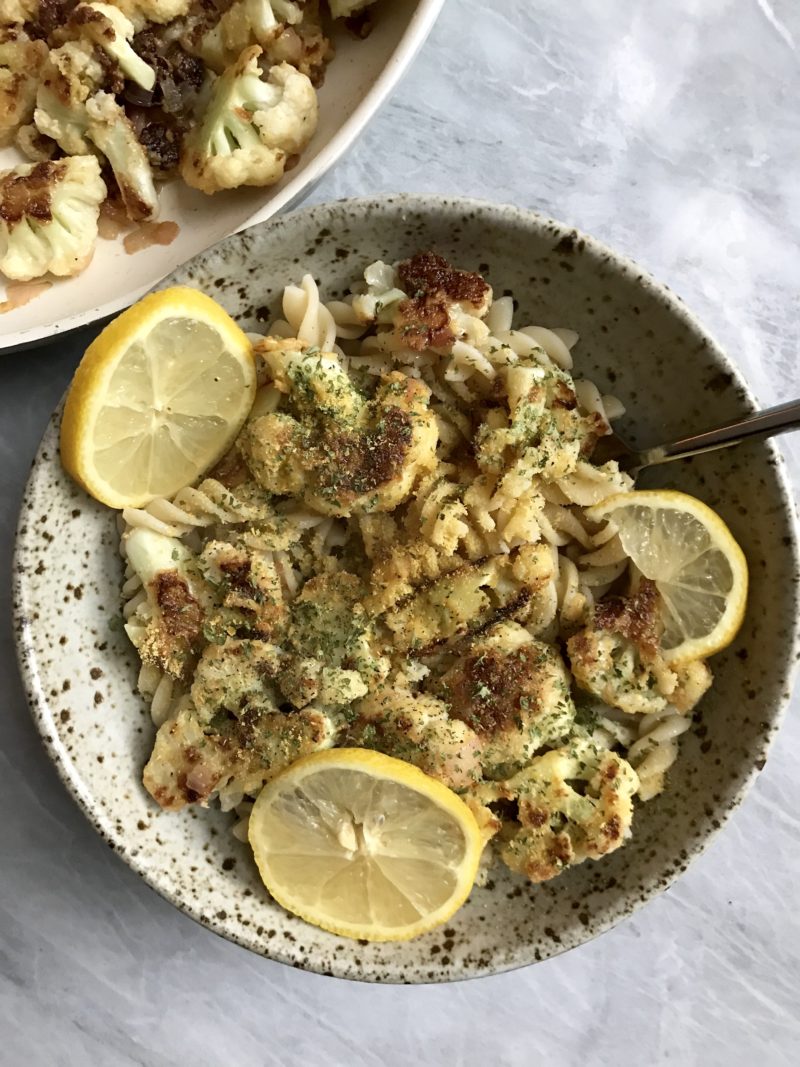 If you recently checked out my homemade seitan recipe, I show how to make seitan as well as my favorite way to use it once it's cooked. It's in a delicious lemon sauce that is so addicting and full of flavor. I wanted to take that recipe and translate it into something else, when cauliflower popped into my mind! Cauliflower is such a versatile veggie and I think it works perfectly in this recipe.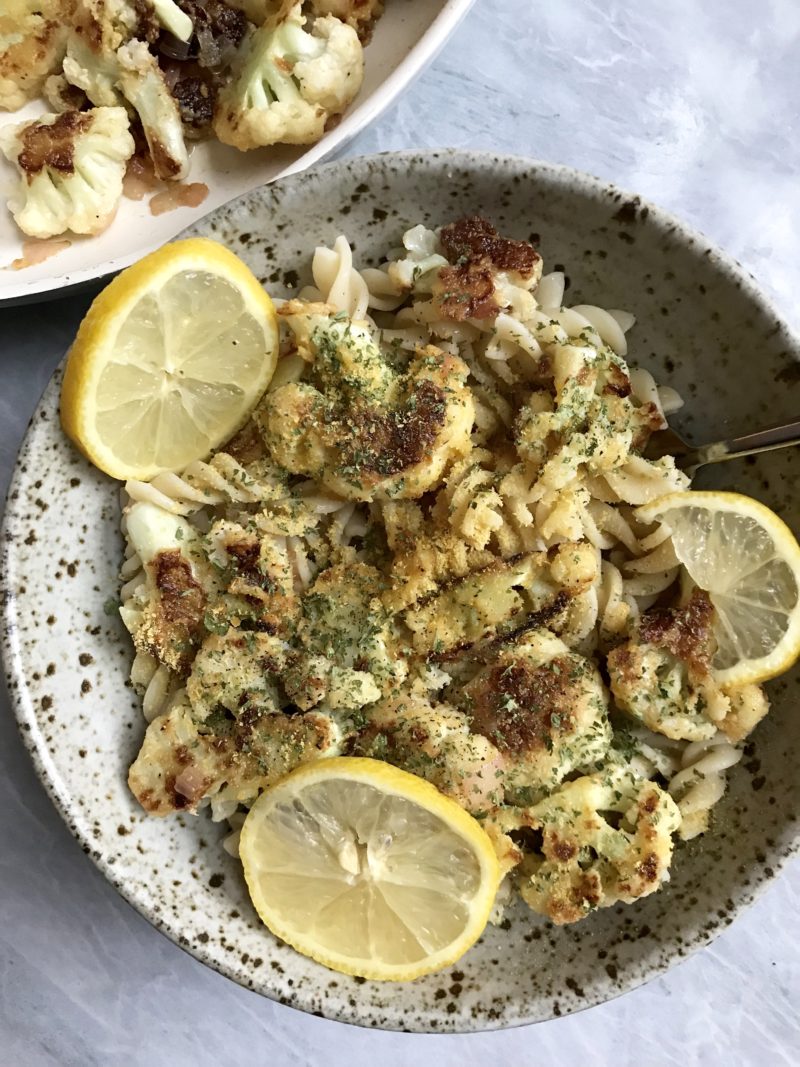 The key to making this perfect is to make sure your cauliflower isn't cut into large florets but rather sliced thin to keep it flat so it is easier to cook evenly on both sides.
What makes this sauce so rich is that it's a lemony "butter" sauce. You can use any vegan butter you want but I personally love Earth Balance.
You can serve this cauliflower with anything! I personally love it over pasta but also like it with roasted veggies & potatoes!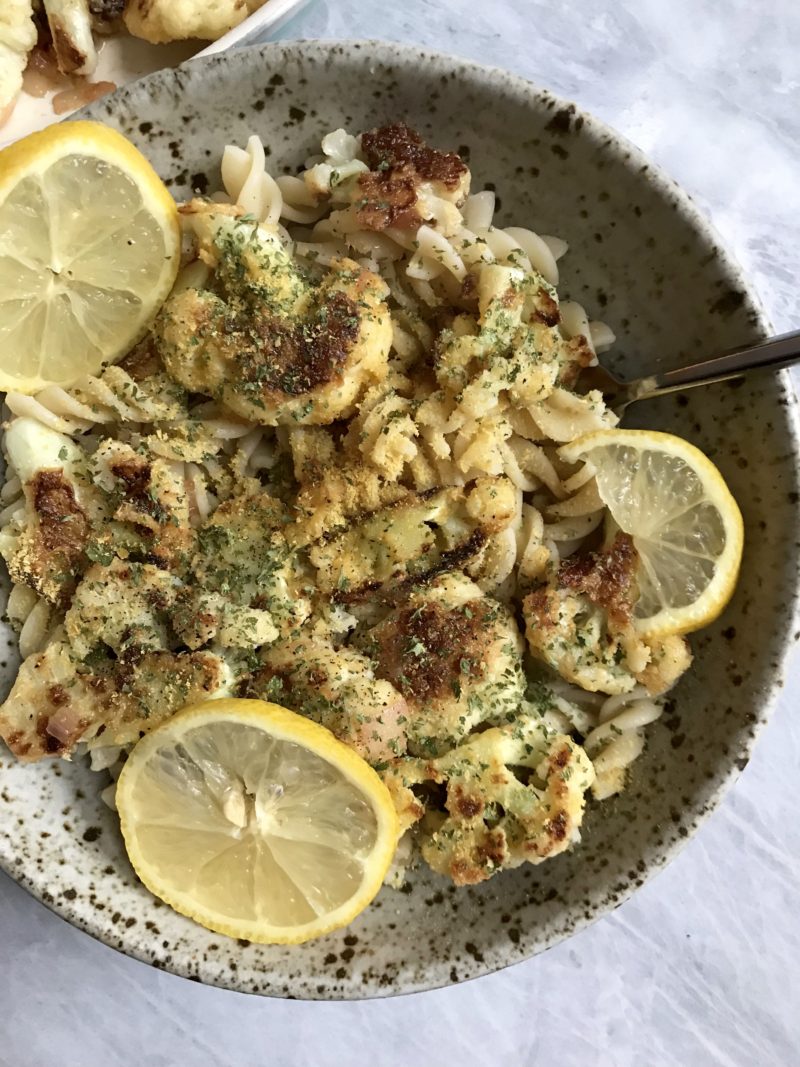 I hope that you enjoy this recipe! If you make any of my recipes, don't forget to tag me on Instagram @plantbasedjane.
Crispy Lemon Cauliflower

Ingredients
2 1/2 cups cauliflower florets
1/2 cup flour (sub gluten free if needed)
1/4 tsp salt
1/4 tsp pepper
2 tablespoons olive oil
3 tablespoons vegan butter
1/2 shallot, minced
1/4 cup vegetable broth
1/2 lemon
salt & pepper to taste
Instructions
Wash your cauliflower and remove the outer leaves. Trim the stem so it's level with the bottom of the cauliflower. Set down on cutting board and slice the cauliflower down the middle. Continue to make parallel cuts and once done carefully remove the florets. That is what will give you your flat florets. Add the cauliflower to a bowl and cover with your 3/4 cup flour & salt, pepper. Toss with a spoon and set aside.
Add your 1-2 tablespoons of olive oil to a large sauté pan on medium heat. Add your cauliflower and let cook for 4-5 minutes, flip and cook an additional 4-5 minutes. Make sure it doesn't burn!
When cauliflower is done cooking, remove from the pan and place on a plate lined with paper towels. Turn your heat down to low and add your vegan butter to a pan as well as your shallots and let cook for 5 minutes. Add in your vegetable broth and lemon juice and raise the heat back to medium. Let everything come to a simmer and let sauce reduce by half. Once sauce is reduced add your cauliflower and coat with the sauce. Let cook for 1-2 more minutes and serve.