Jump to recipe
Explode your taste buds with this super delicious and incredibly easy Vegan & nut free roasted red pepper pesto sauce. Made in partnership with Bob's Red Mill.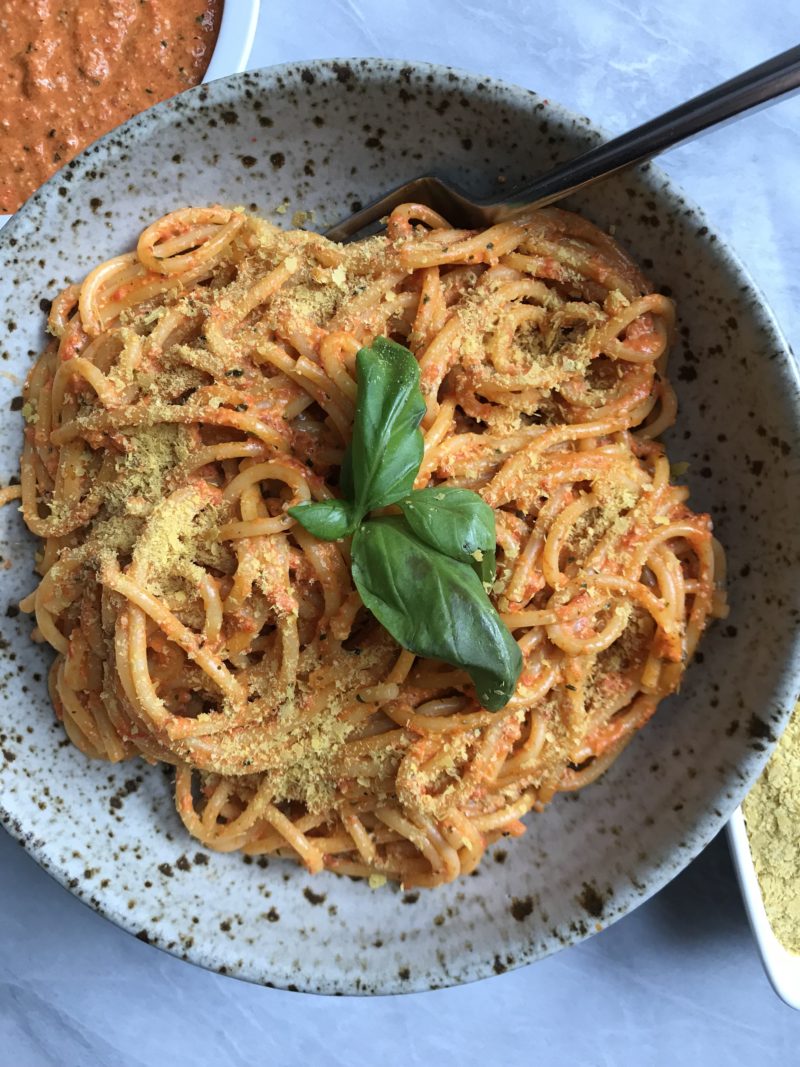 I love pesto so much! I also love new ways of making it that are creative & taste amazing, but are also simple to make.
A traditional pesto has parmesan cheese in it, which is clearly not Vegan. That is when you swap out that cheese for nutritional yeast!
Lately I have been getting a few questions about what are the benefits of nutritional yeast, what is it, and what brand do you buy?
It's really important for me to answer these questions because nutritional yeast is vital for vegans. First, let's start out with my favorite brand for nutritional yeast. I have been Vegan for over 2 years which means I have had experience with trying out different brands, but without a doubt I absolutely love the Bob's Red Mill Nutritional Yeast . Their Nutritional Yeast packs 6 grams of plant based protein per serving (WHAT!) and the packaging is really accessible and realistic. It's also gluten free. I love Bob's Red Mill for their oats, flours, coconut sugar, etc. All of their products are vegetarian (with many being vegan) meaning that checking labels on their products are super easy and you always know they will be reliable.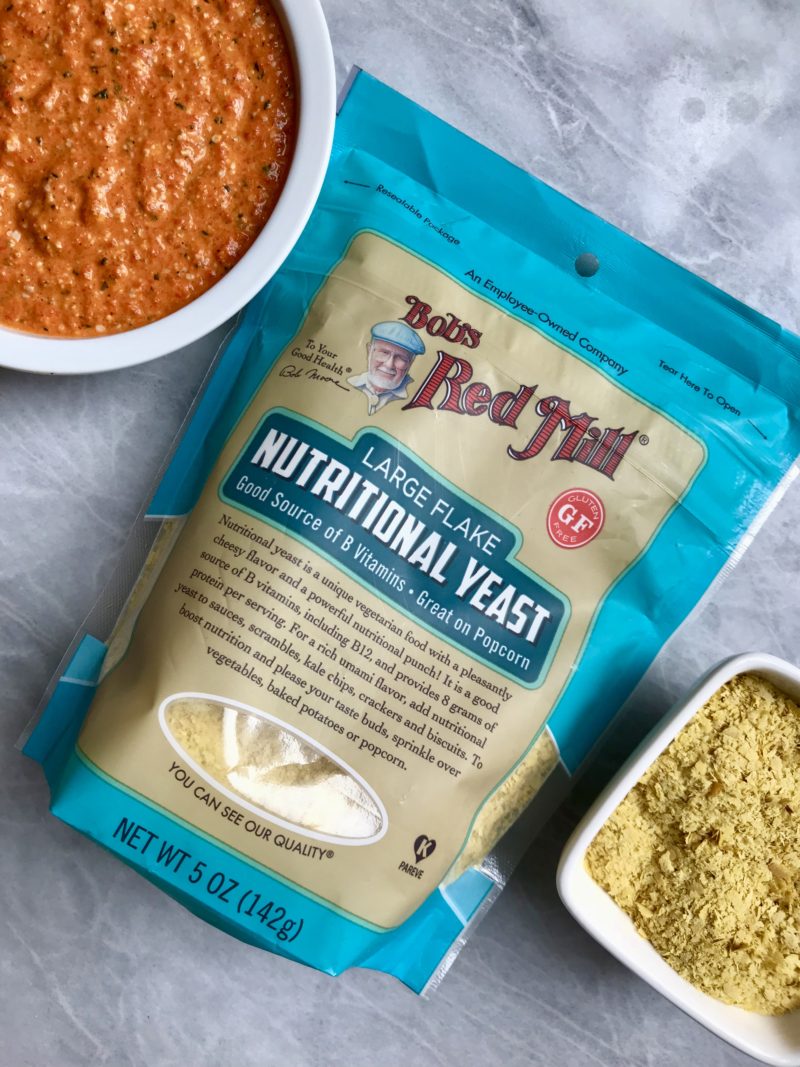 The nutritional yeast is whats going to make your pesto have that cheesy/nutty flavor that you would find in parmesan.
OKAY, so let's move onto why nutritional yeast is so important for us Vegans.
While it doesn't have the most appetizing name (which is why I call it nooch), it is packed with so many benefits. Nutritional yeast is deactivated yeast (it is completely different than your baking yeast), and is sold in the form of flakes or a yellow powder. It has a significant source of b complex vitamins, which is something that us Vegans cannot find in a natural plant source. It is also a complete protein and has no fat meaning that the more you load it on, the more plant based protein you are getting into your body.
Now, I keep saying b complex vitamins and b12 vitamins. If you aren't sure why your body needs this vitamin, let me tell you why! A deficiency in b12 can lead to anemia and nervous system damage. If you want to know your b12 levels, getting a blood test done could be very beneficial. That is why I ALWAYS consume nooch on the daily.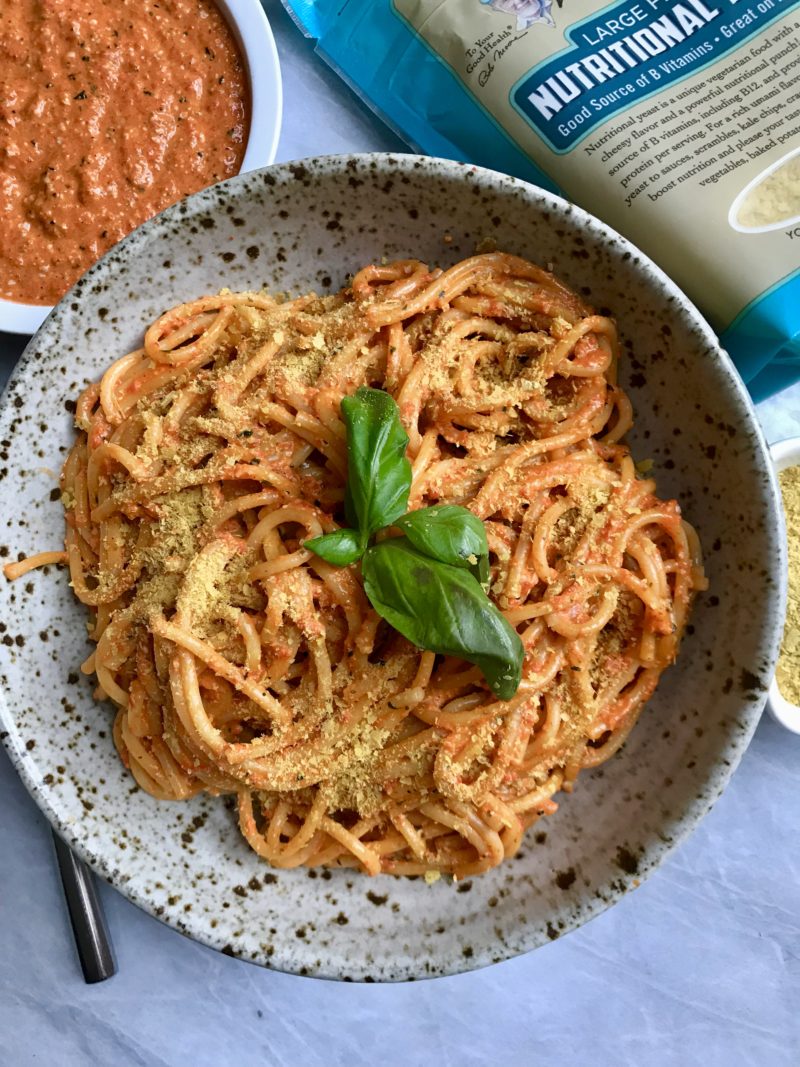 You can also put nutritional yeast on popcorn, avocado toast, rice, vegetables…the possibilities are endless and I cannot stress enough the importance of getting b12 into your diet. Nutritional yeast is one of the best ways to do so!
If you would like for me to do more recipes that include nutritional yeast, let me know! I would be happy to do so.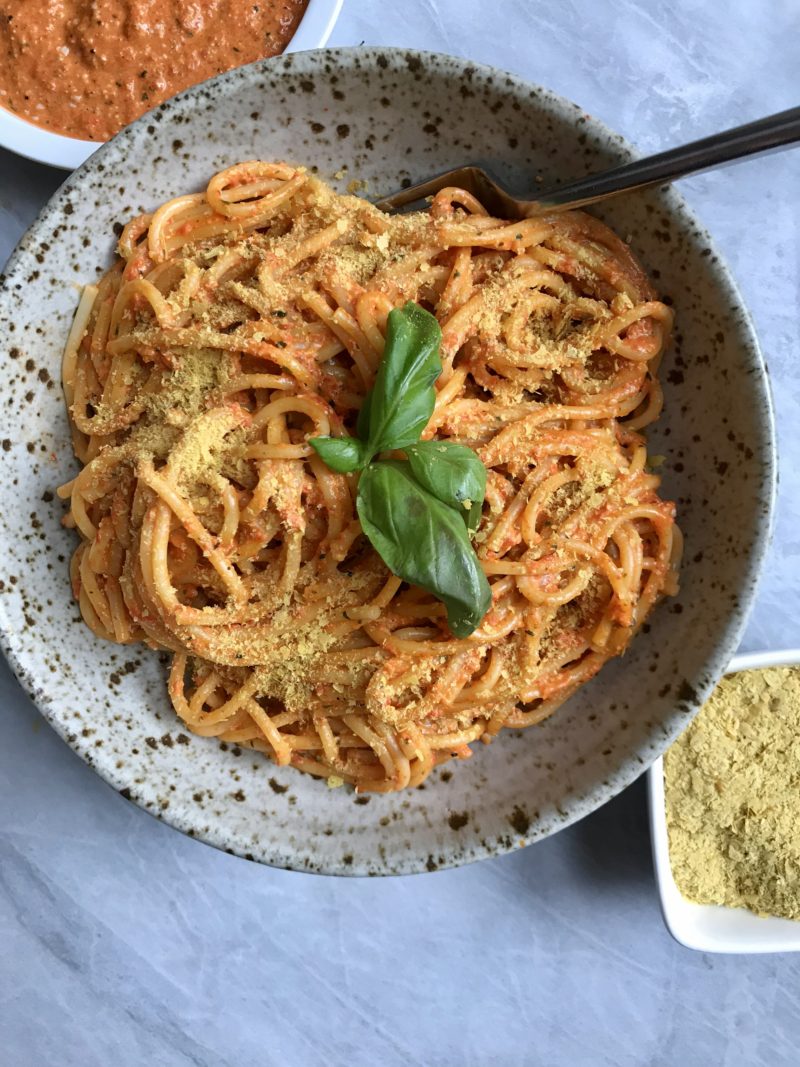 I hope that you enjoy this recipe!
If you make any of my recipes, don't forget to tag me on Instagram so I can see!
Roasted Red Pepper Pesto Sauce

Ingredients
1 16 oz. Jar Roasted Red Peppers
1/4 cup fresh basil leaves
2 peeled garlic cloves
1/2 cup Bob's Red Mill Nutritional Yeast
1/2 cup hemp seeds
1/4 cup olive oil
1/4 - 1/2 tsp salt (depends on your preference)
1/4 tsp pepper
16 oz spaghetti (or pasta of choice)
Instructions
Bring a large pot of salted water to a boil. Cook pasta according to instructions.
Add all of your pesto ingredients into a food processor or high speed blender. Blend until smooth.
Once pasta is done, drain and bring back to the pot. Pour pesto on top of pasta and mix to combine.
Serve with extra nutritional yeast & fresh basil leaves.
Thank you to Bob's Red Mill for sponsoring this post. It means a lot to work with brands I love and support my blog!