Super easy and delicious stuffed peppers with the secret ingredient of veggie burgers. Made in partnership with Dr. Praeger's.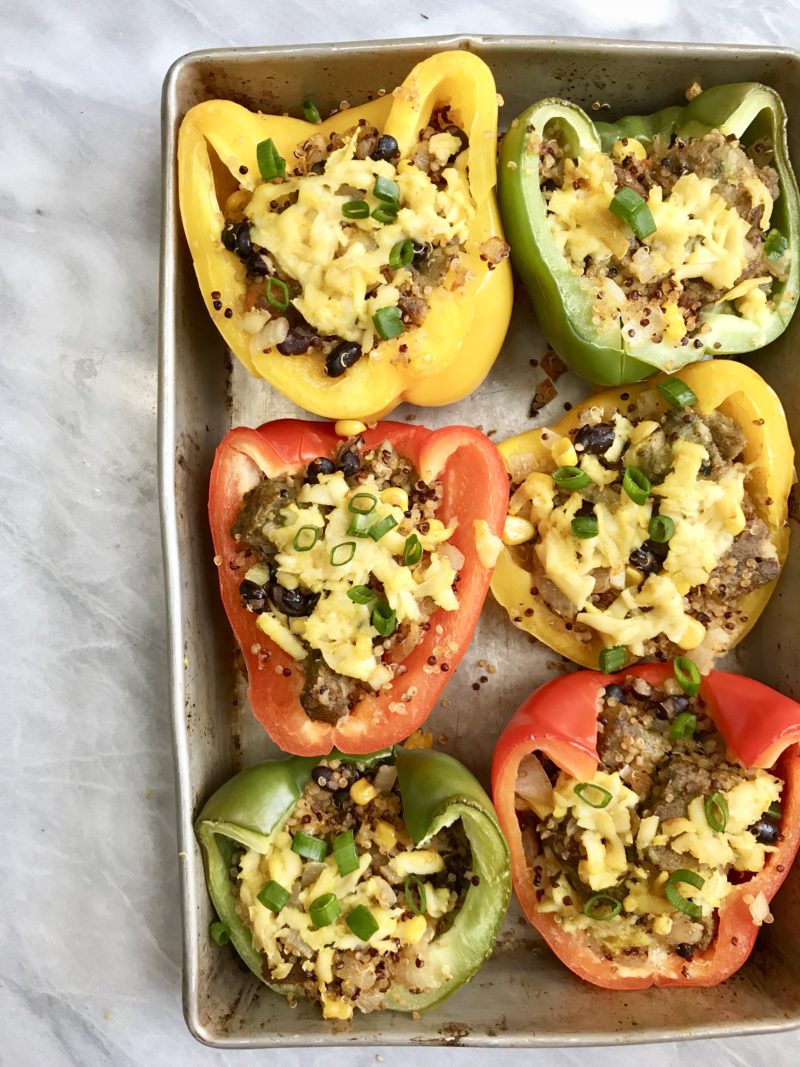 I have been wanting to post a stuffed peppers recipe for a long time! It has always been on my list but I never got around to it…until now!
I love the idea of stuffed peppers. It's just a bunch of yummy ingredients stuffed inside a pepper and baked! Nothing gets better than that.
Usually stuffed peppers have ground meat or other non-vegan ingredients. These stuffed peppers have the secret ingredient of Dr. Praeger's Heirloom Bean Veggie Burgers. These add SO much flavor and extra protein from all the beans packed inside.
I've been using Dr. Praegers products ever since I was a kid. All of their veggie burgers are Vegan as well as their hash browns & brussels sprouts cake. I think the Heirloom Veggie Burgers work perfectly in this recipe because they are packed with beans, lentils, mushrooms and other wholesome ingredients.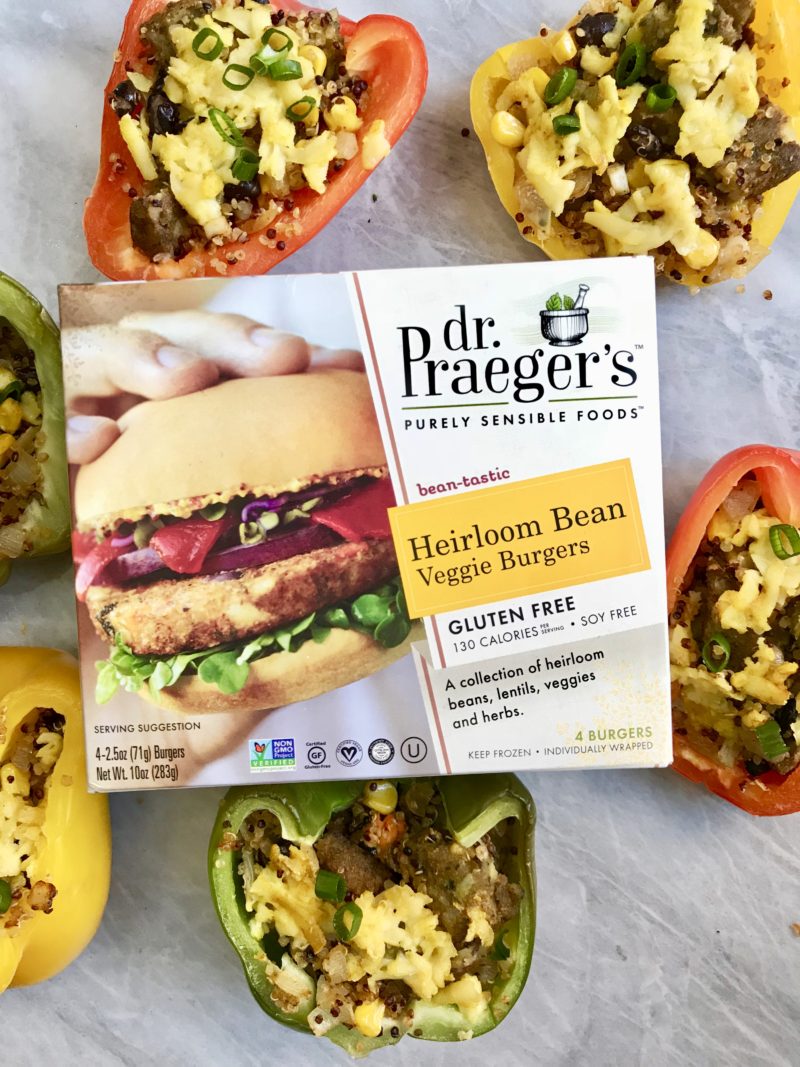 These stuffed peppers are also packed with quinoa, corn, onions & extra black beans for added flavor! I topped mine with some yummy vegan cheese but you can omit that from the recipe. It's all about preference.
These are such an easy week night meal using ingredients you likely have on hand already.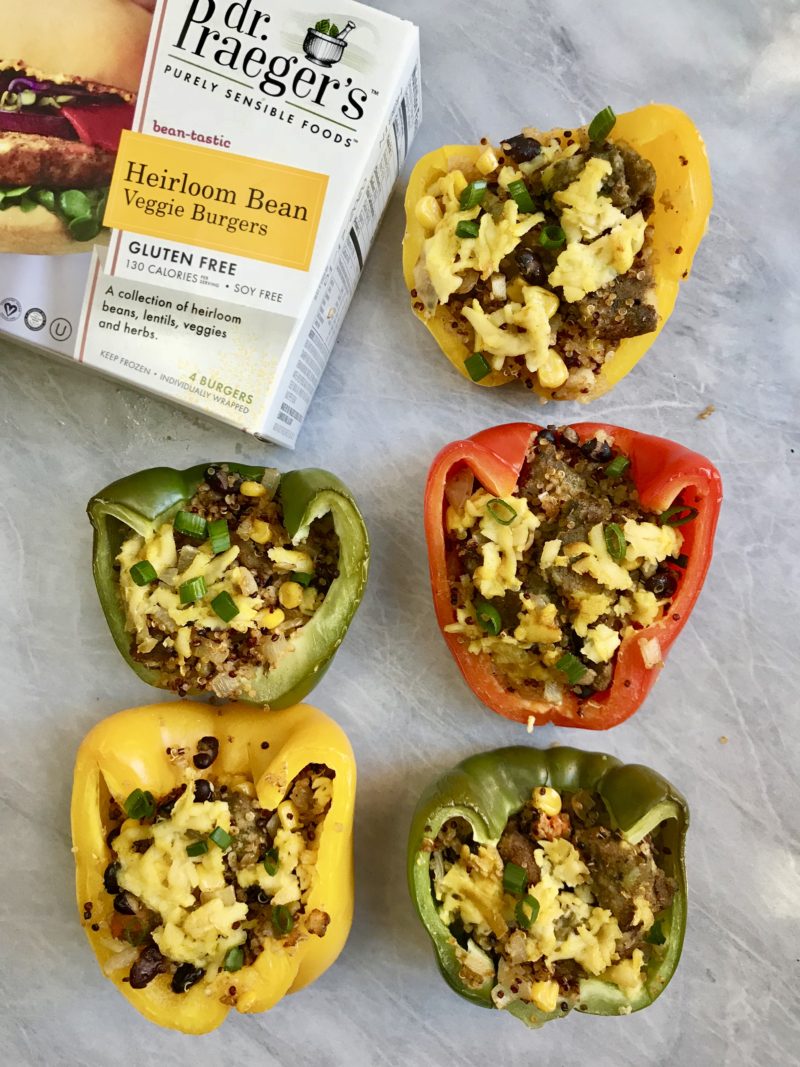 These stuffed peppers are also filled with delicious spices such as oregano and chili powder. The Dr. Praegers veggie burgers add so much additional flavor as well as texture to the meal!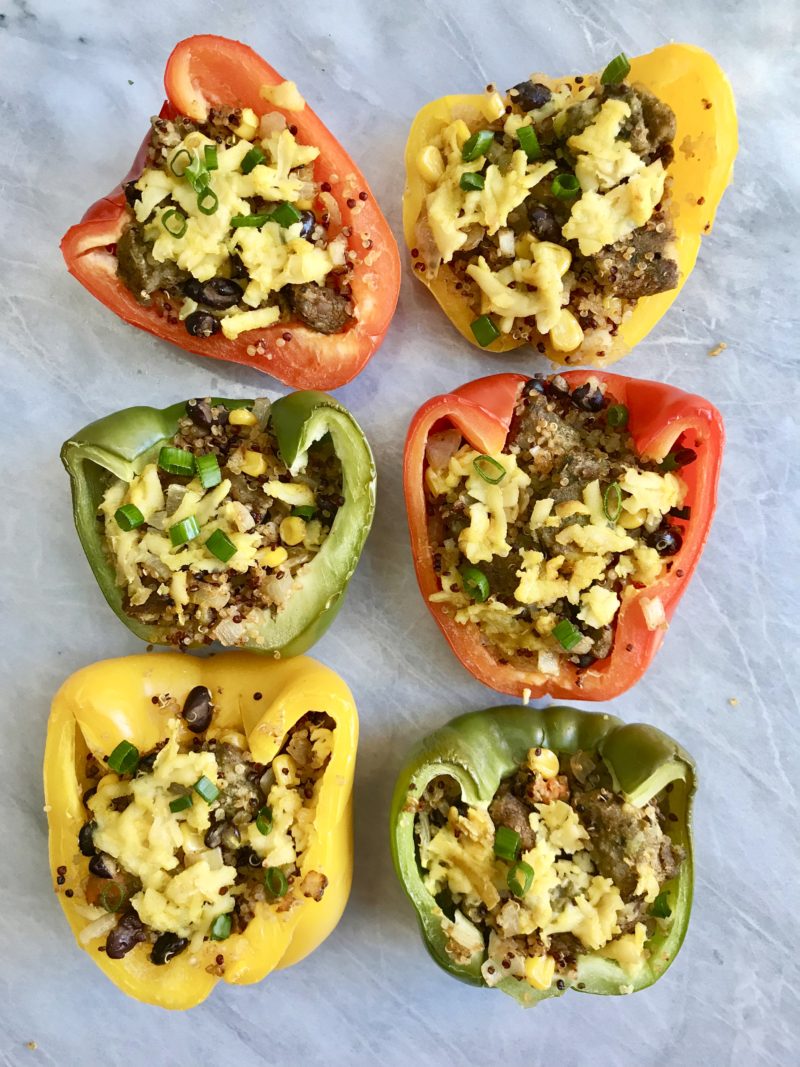 I hope that you enjoy this recipe! If you make any of my recipes, don't forget to tag me @plantbasedjane on Instagram so I can see!
Stuffed Peppers

Ingredients
3 Dr. Praeger's Heirloom Bean Veggie Burgers
3 bell peppers
1 cup cooked quinoa
1/2 onion, chopped
2 garlic cloves, minced
1/4 cup black beans
1/4 corn
1/2 tsp chili powder
1/2 tsp oregano
1/4 tsp salt
1/4 tsp pepper
1/3 cup vegan cheese (optional)
Instructions
Begin by cooking your veggie burgers. Pre-heat your oven to 450 degrees fahrenheit. Once heated, add your veggie burgers to an non-greased baking sheet. Cook for 7 minutes, flip and cook for an additional 5 minutes. Remove from oven and let cool down - bring temperature down to 350 degrees Fahrenheit.
Wash and cut your peppers in half. Remove the seeds and white strands carefully. Set aside.
Heat some oil in a large sauté pan and add in your onion. Cook until translucent and add in your 2 garlic cloves. Cook for 30 seconds and add in your corn and black beans. Cook for an additional minute then add in your cooked quinoa. Cook for 3 minutes and meanwhile chop up your veggie burgers into bite sized pieces. Mix to combine and add your spices. Take off heat.
Place your peppers into a baking tin and place ingredients evenly throughout the peppers. Add your vegan cheese and cover baking tin with tinfoil. Let cook for 35-40 minutes or until the peppers are tender. Serve!

Thank you to Dr. Praeger's for sponsoring this post. It means a lot to work with brands I love and support my blog!