Jump to recipe
This super easy baked version of Eggplant Parmesan is full with flavor without sacrificing that crispy texture. Made in partnership with Jar Goods.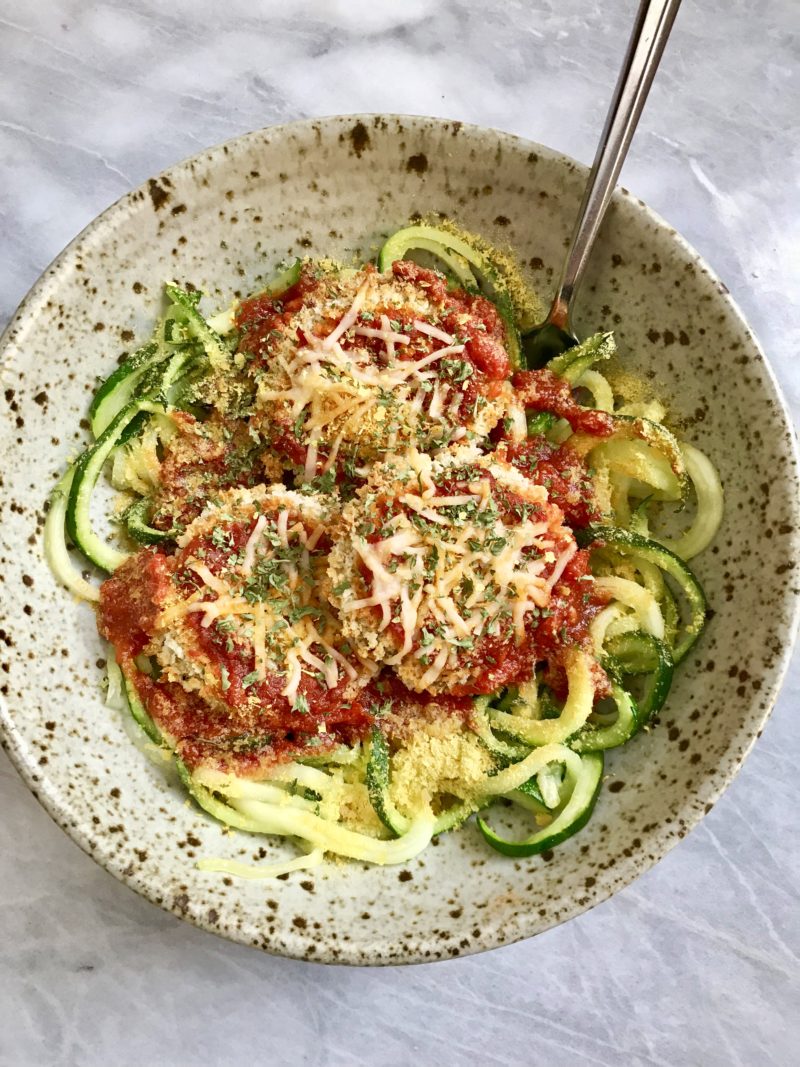 Eggplant parmesan is my guilty pleasure. It is one of my favorite dishes to make when I am craving something decadent and comforting.
However, to me personally, I think frying at home is a huge mess. Oil can get splattered everywhere, there are way too many dishes to clean up, and it can be quite dangerous if you accidentally get splashed with ridiculously hot oil.
Also, eggplant parmesan requires a delicious sauce! That is why I always use Jar Goods. It is by far the BEST sauce that I have ever found. I haven't used a different sauce since because I cannot get enough. This recipe includes their classic sauce but they also have a Classic Spicy and Vodka (Their current Vodka isn't vegan but GUESS WHAT? They're coming out with a Vegan vodka soon!).
I actually found Jar Goods when I was strolling the isles at the store one day. I really dislike chunky sauces and I literally examine every bottle to make sure it's more of a smoother sauce. After coming across Jar Gods and examining, I got even happier to see that they labeled their sauce as Vegan. That saves so much time but also makes me happy that brands appreciate and acknowledge Vegansim. Ever since, I've been in a love affair!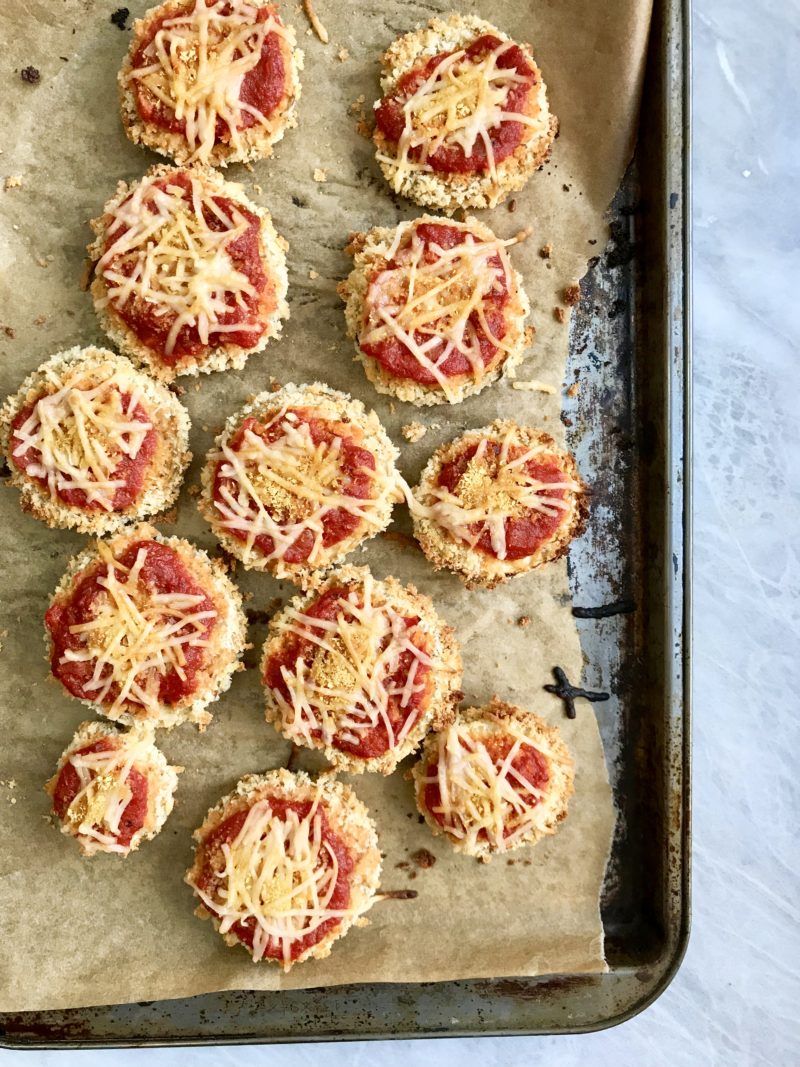 If you've seen my bang bang tofu recipe, this recipe has the same cooking method. I use a batter of flour and water mixture as well as panko breadcrumbs (mixed in with italian seasonings). This makes the base of the recipe oil free and fry free. They bake up so incredibly crispy and just before they're done you add your Jar Goods & vegan cheese and let it broil for 3-4 minutes (or until the cheese is melted). It also helps get the edges of the eggplant much crispier giving it such great texture.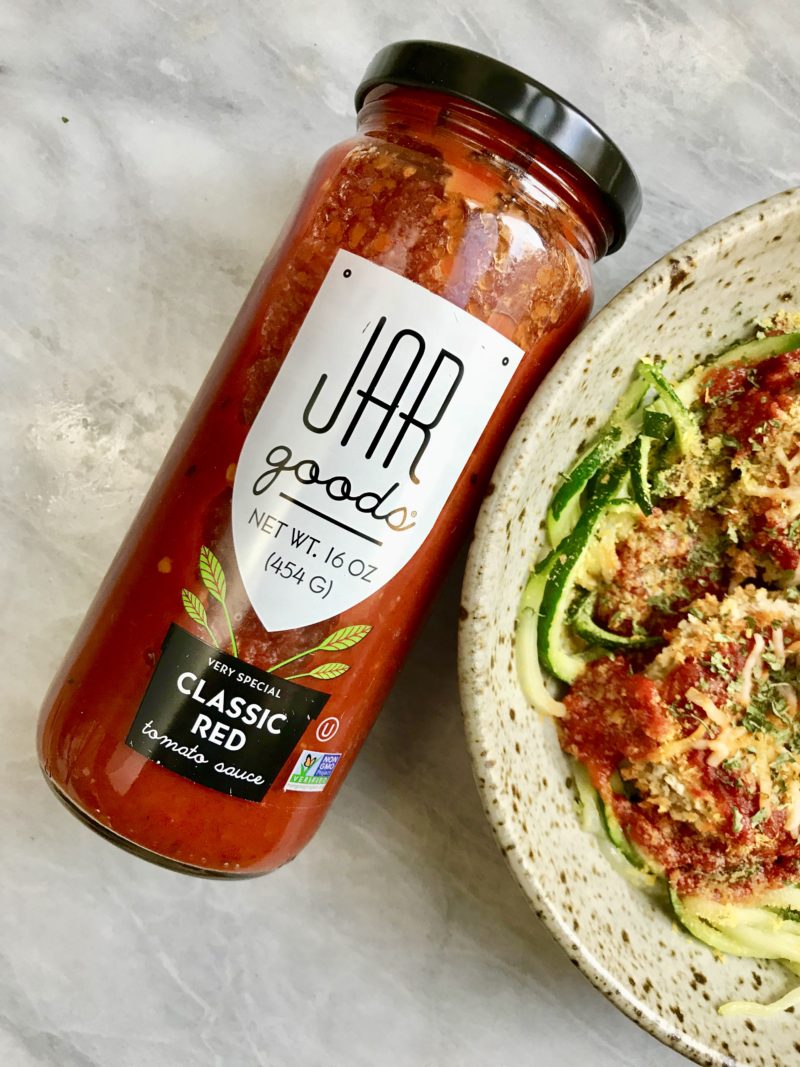 you can obviously pair this dish with pasta but I love the look of zoodles and how it adds even more veggies to the dish!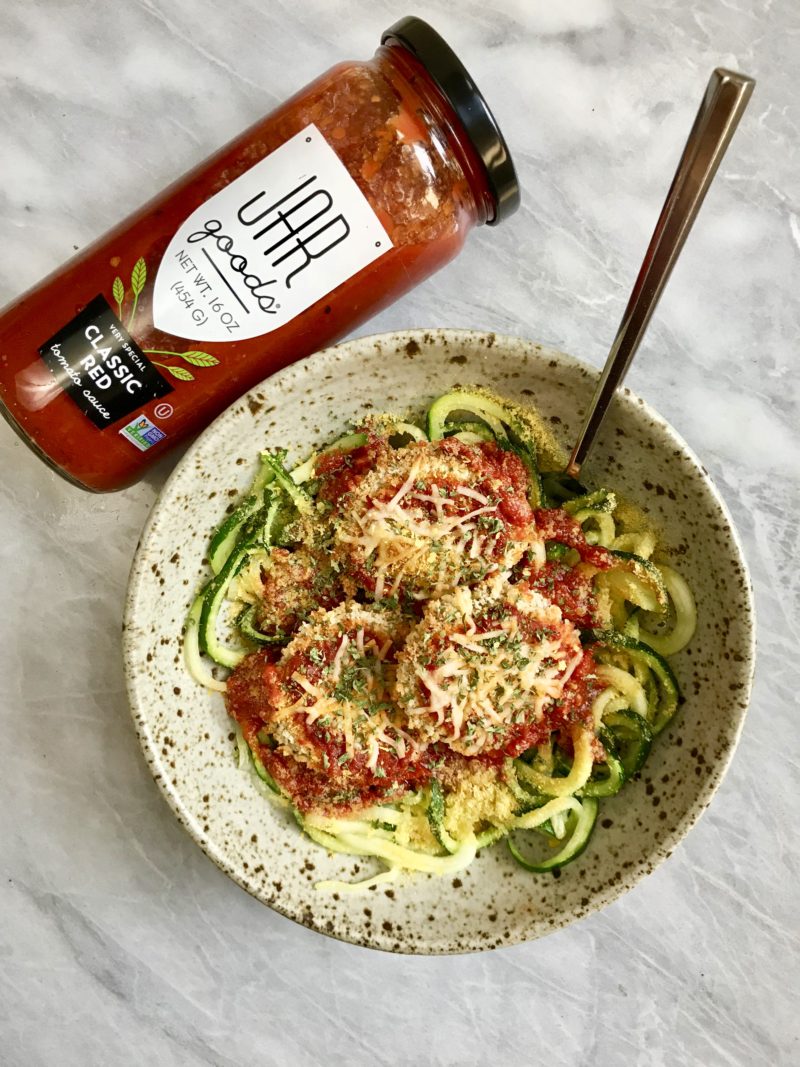 I hope that you enjoy this recipe! If you make my recipes, don't forget to tag me on Instagram @plantbasedjane.
Baked Eggplant Parmesan

Ingredients
1 large eggplant
1 cup flour
1 cup water
2/3 cup panko bread crumbs
1 tsp dried basil
1 tsp garlic powder
1 tsp oregano
1 cup Jar Goods Classic Sauce
1/2 cup vegan parmesan cheese
Instructions
Wash and peel your eggplant (optional). Cut your eggplant into discs (around 1/2 inch thick) and place on a sheet of paper towels. Salt your eggplant and let sit for 20 minutes. After 20 minutes, using fresh paper towels, pat the excess water and salt off your eggplants.
Pre-heat your oven to 400 degrees Fahrenheit.
in a bowl, combine your water and flour. You don't want the mixture to be too thick, but think enough to stick to the eggplant. If it seems too thick, add water gradually.
In another bowl, add your panko & dried seasonings. Carefully dip each slice into your water & flour mixture then into the panko. Put each eggplant on a baking sheet lined parchment paper. Repeat until all your eggplant is coated. place in the oven for 20 minutes, flipping halfway.
After 20 minutes, take out your eggplant and switch your oven to broil. Carefully distribute your Jar Goods sauce onto every eggplant disc and then your vegan parmesan. Place back in the oven for 3-4 minutes, or until the vegan cheese is melted. Make sure to watch so your eggplant doesn't burn.
Serve over pasta or veggie noodles!

Thank you to Jar Goods for sponsoring this post. It means a lot to me to work with brands I love and support my blog!