Weeknight dinners just got more fun with these stuffed sweet potatoes with kale, chickpeas, Dr. Praeger's Sweet Heat Beet Veggie Burgers and a luscious tahini drizzle.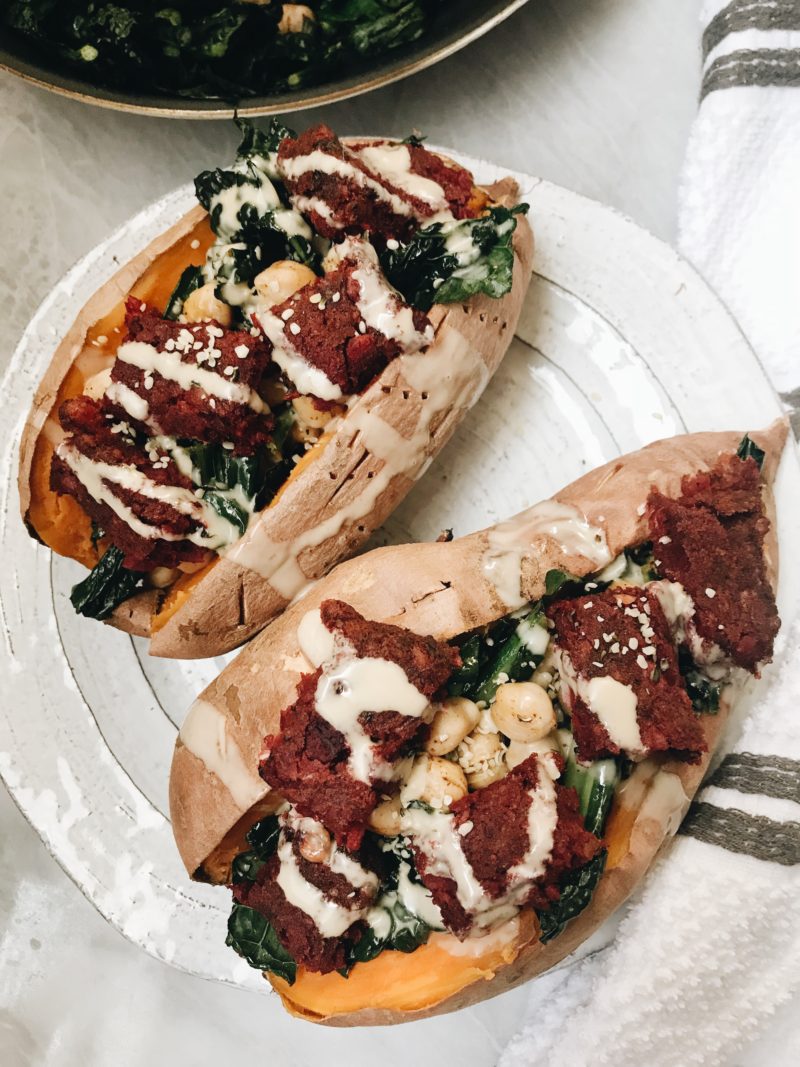 I've been on a stuffed sweet potato kick for dinner lately. They are really easy to create plus the possibilities on what to stuff them with are endless.
I do like using some type of vegan protein when it comes to stuffing my sweet potatoes, whether its' a bean or tempeh/tempeh. However lately for my protein, I've been all about these Dr. Praeger's Sweet Heat Beet Veggie Burgers. These veggie burgers pack 19 GRAMS of protein! These are apart of Dr. Praeger's new Pure Plant Protein line. I've said a few times, that these products are probably my favorite vegan products of 2019. Not only did they release 2 new veggie burgers, but also vegan chicken & sausages. I find myself often eating their new Gametime Buffalo Chick'n Tenders. They're actually amazing.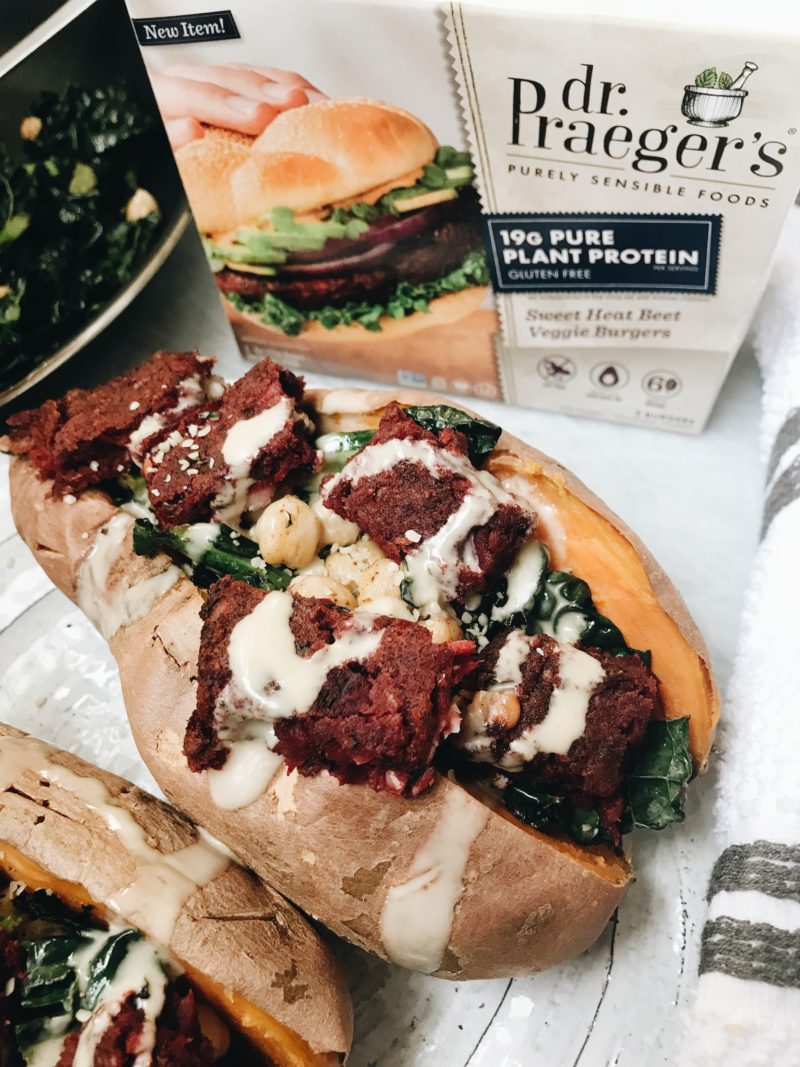 All the products in their Pure Plant Protein line (including these delicious burgers) are made with avocado oil. These Sweet Heat Beet Veggie Burgers contain beans like pinto beans, kidney beans, and other great sources of plant protein (no soy ingredients). The fourth ingredient in these veggie burgers is BBQ sauce giving them an amazing sweet and smoky flavor.
I grew up eating Dr. Praeger's. This was before I even knew a thing about Veganism. My mom would just always purchase the California Veggie Burgers and they just became a staple in my life. Once I went Vegan and I learned about reading labels/what I could eat, I didn't even realize I was enjoying a Vegan product for the majority of my life. Since then, Dr. Praeger's has expanded their products and have become even more of a greater staple in my freezer.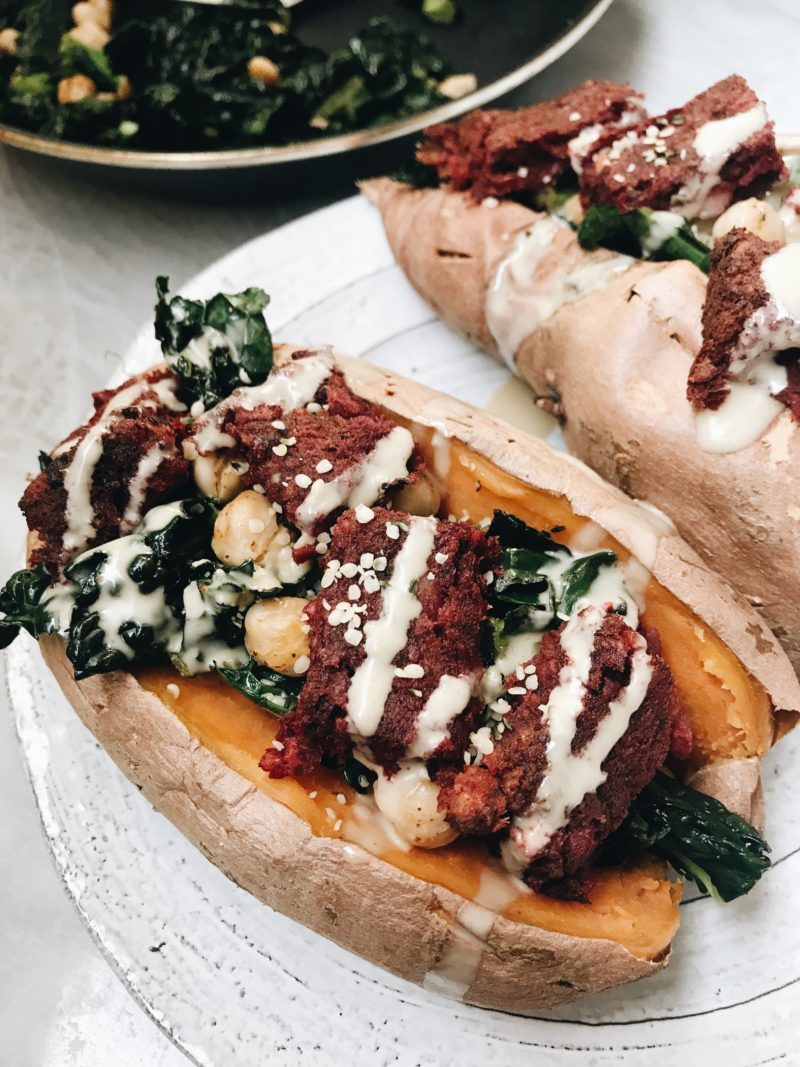 Since I am overly obsessed with chickpeas, I knew that they had to be included in this recipe. I also used some dino kale (I prefer over curly kale) and a delicious tahini drizzle. I just straight up poured it from the bottle but if you don't like the taste alone add some salt, pepper & garlic powder. However I noticed if you actually find a good quality tahini it doesn't have that extreme flavor that other's may have.
This recipe, though takes time to make, comes out amazing. The sweet potato takes up the majority of this cooking process however it's an extremely easy clean up.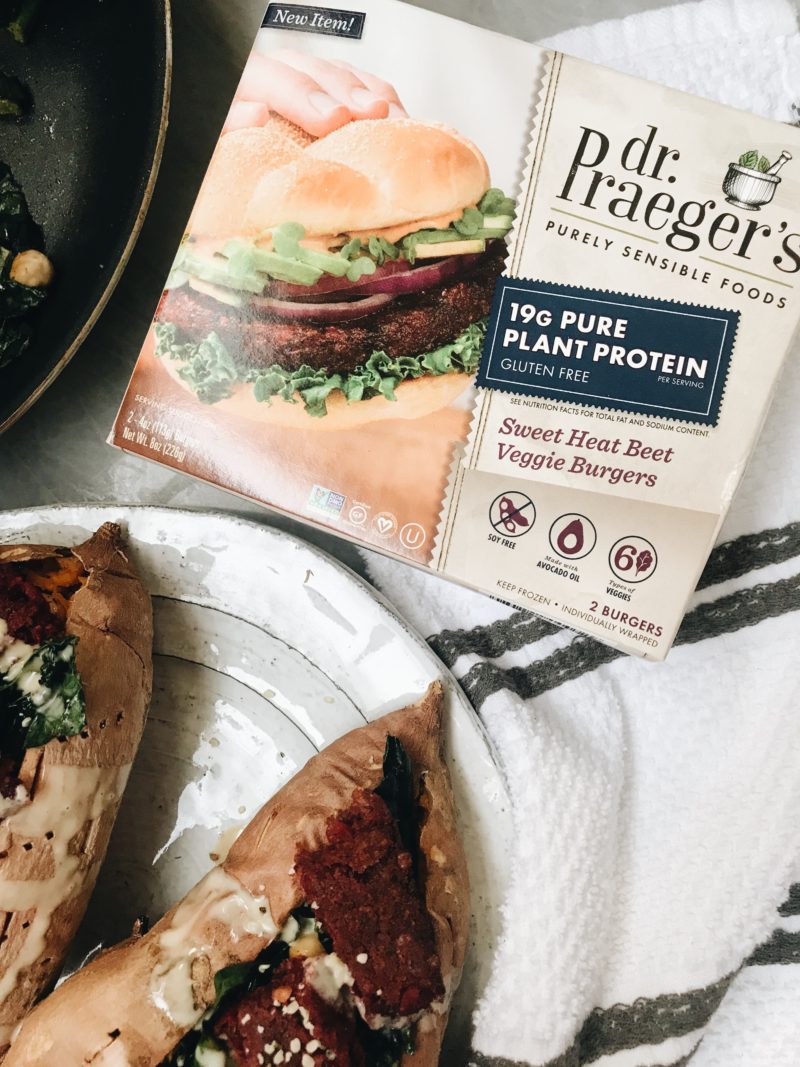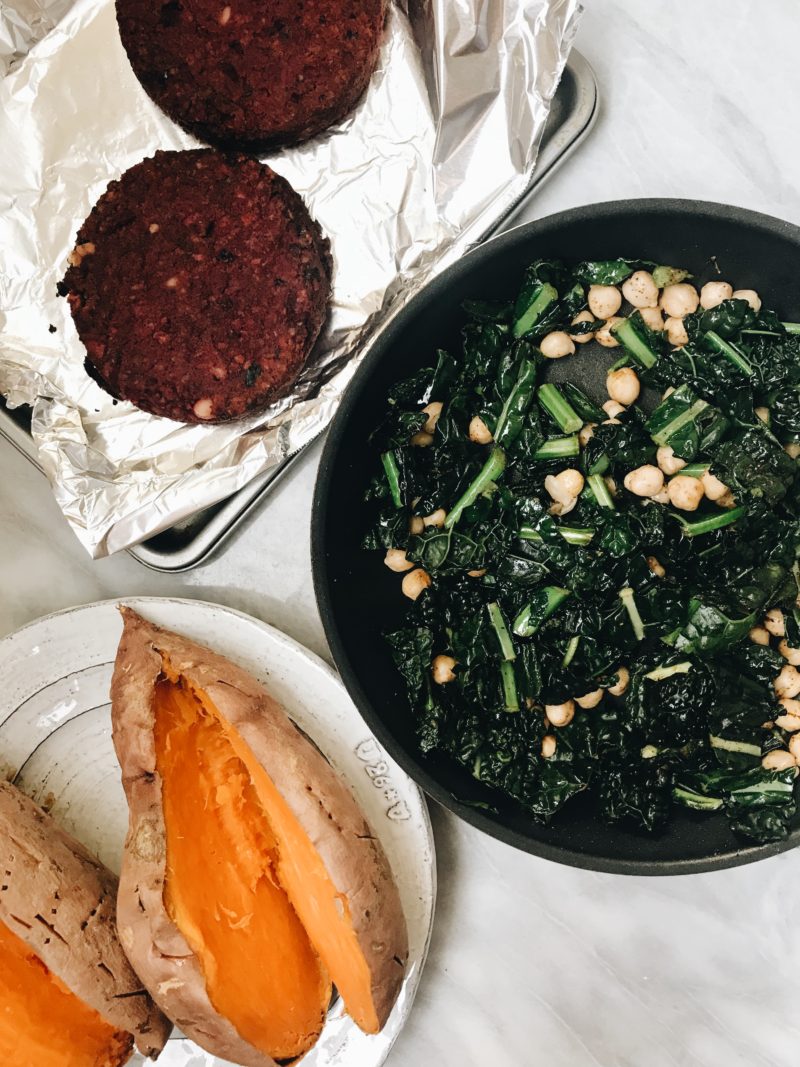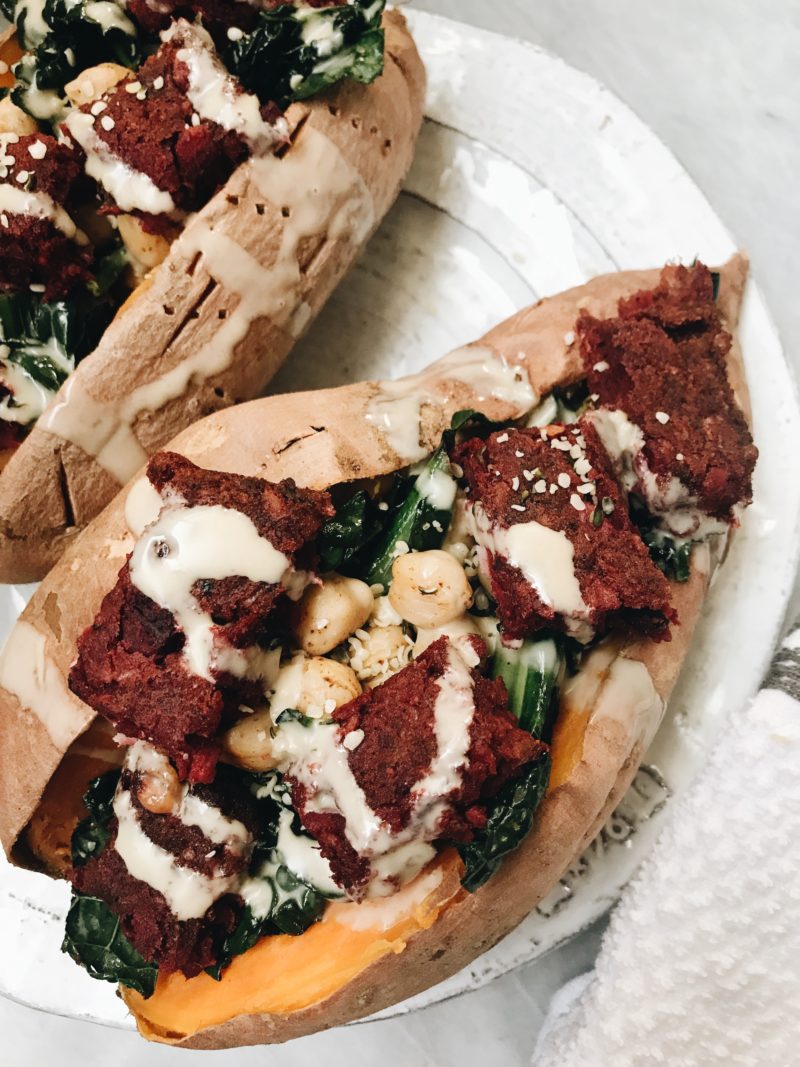 I hope that you enjoy this recipe! If you make any of my recipes don't forget to tag me on Instagram @plantbasedjane.
Stuffed Sweet Potatoes

Ingredients
2 medium sweet potatoes
1 box (two burgers) Sweet Heat Beet Veggie Burgers
1 tablespoon olive oil
1 1/2 cups dinosaur kale
1 cup chickpeas
1/2 tsp chili powder
1/4 tsp garlic powder
1/4 tsp salt
1/4 tsp pepper
2 tablespoons tahini
Instructions
Begin by pre-heating your oven to 400 degrees Fahrenheit.
Rinse and scrub your potatoes well at pat dry. Poke holes with a knife/fork throughout the sweet potatoes to allow steam to escape (don't skip this step).
Place potatoes directly on oven rack with a baking sheet on the lower shelf in case there are any drippings. Allow to cook for up to one hour or until your sweet potatoes are tender to the touch. Cooking times vary on the size of the potato.
When your sweet potatoes are done cooking, place on a plate. Raise your oven temp to 450 and place your veggie burgers on a baking sheet and allow to cook for 14 minutes flipping halfway.
Heat a sauté pan on medium heat and add your olive oil. Add your kale and a little salt & pepper. Let cook until wilted. Add in your chickpeas and add in your chili powder, garlic powder and additional salt and pepper. Cook until chickpeas have warmed through.
Once your burgers are done, cut them into bite sized pieces. Cut open your sweet potatoes and add your kale/chickpea mix and your pieces of veggie burger on top. Drizzle tahini on both sweet potatoes and serve!
Thank you to Dr. Praeger's for sponsoring this post. It means a lot to me to work with brands I love and support my blog.