Need a last minute holiday recipe? Try these delicious lasagna roll ups with a tofu ricotta and "meaty" mushroom filling.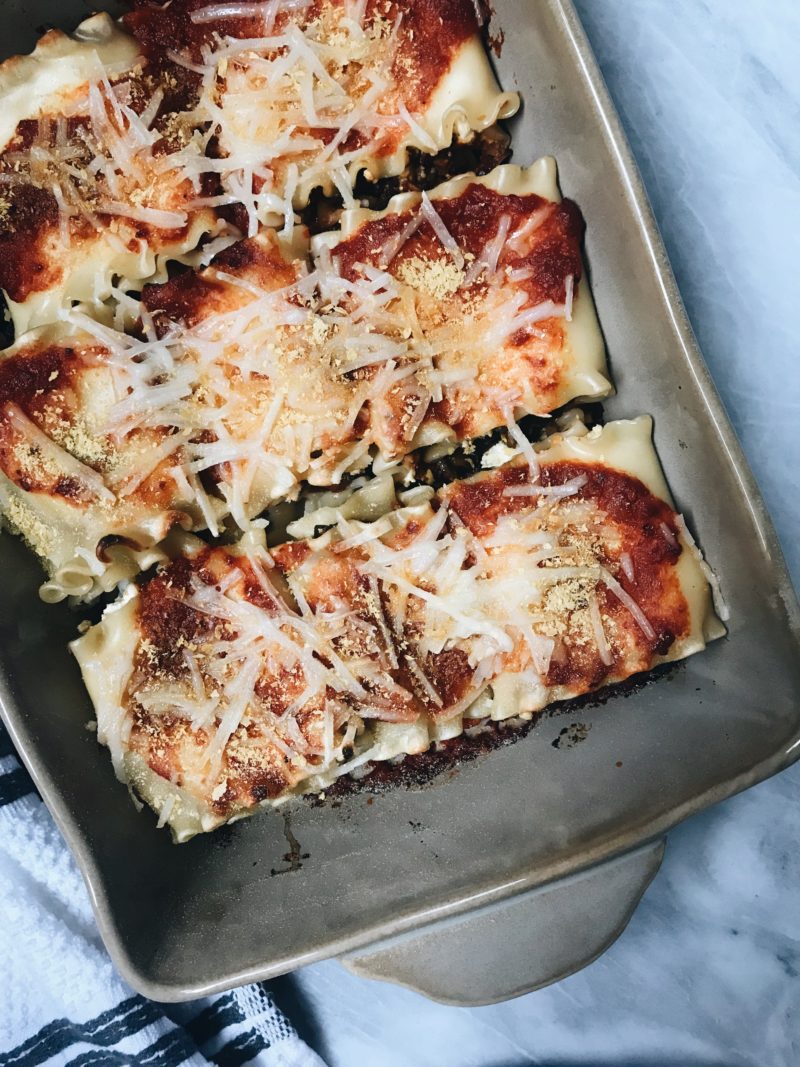 Figuring out what to make for the holidays, or gatherings in general, can be difficult. This can also be hard when you're Vegan but want to create a recipe that you know non-Vegans would enjoy.
These lasagna roll ups are the perfect choice to fix this problem. They're a different take on your traditional lasagna and they're also easier to portion out per person.
My favorite part about this recipe is the tofu ricotta filling. There are a million ways to make vegan ricotta, but since I am allergic to nuts (a common ingredient in some vegan "ricotta's") tofu has been my favorite way to create it. You don't have to blend anything, and it contains basic ingredients.
One ingredient in this vegan ricotta that gives it such a cheesy flavor is nutritional yeast. My favorite on the market is the Bob's Red Mill Nutritional Yeast .
If you are unfamiliar with Nutritional Yeast, its not your normal baking yeast. It's deactivated, and has B-12 in it. It's really popular among the Vegan/Vegetarian community because B-12 isn't found naturally in plants. It's a complete protein, and has a cheesy flavor.
While I am not a nutritionist, I do know that a B-12 deficiency can be harmful. Nutritional Yeast is fortified with B-12, and doesn't naturally contain the vitamin. It's an easy way to supplement B-12 and add flavor to your dishes. I love Nutritional Yeast in my pastas, veggie bowls, avocado toast, etc.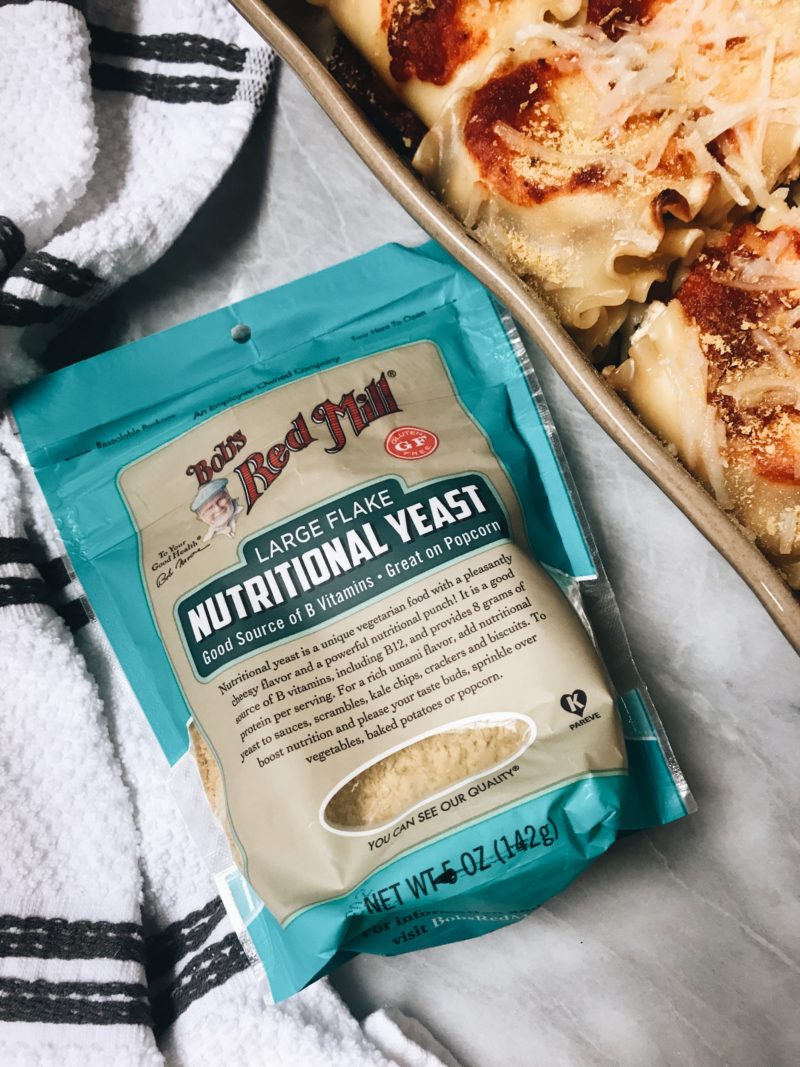 I lean on Bob's Red Mill for so many different products. I love their flours in baking, their oats for breakfast, and also I have a big obsession with their tri-color pearled couscous (random, but it's delicious!) They're my go-to for endless reasons as they have a large product line. Most of their products are Vegan and their gluten free products are made in a dedicated gluten free facility.
I also wanted there to be a "meaty" component to this recipe so I decided to use mushrooms! If you aren't a fan of mushrooms you can definitely add vegan "beef" crumbles. However, I think mushrooms work just as well. The key is to dice them up super small as it gives that meaty texture to the dish.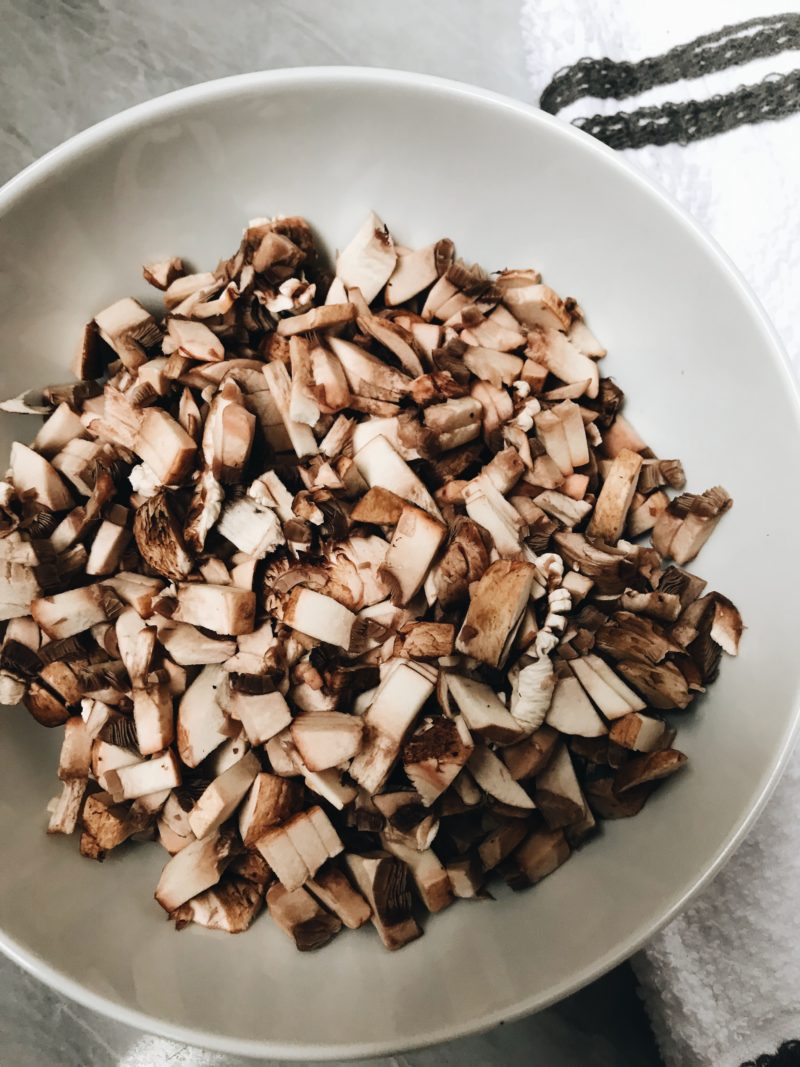 Just an idea on how small I diced up my mushrooms.
The filling also has some spinach for added greens.
When I baked it I added some Vegan cheese but that is an optional step! I also sprinkled on additional nutritional yeast for some extra cheesy flavors.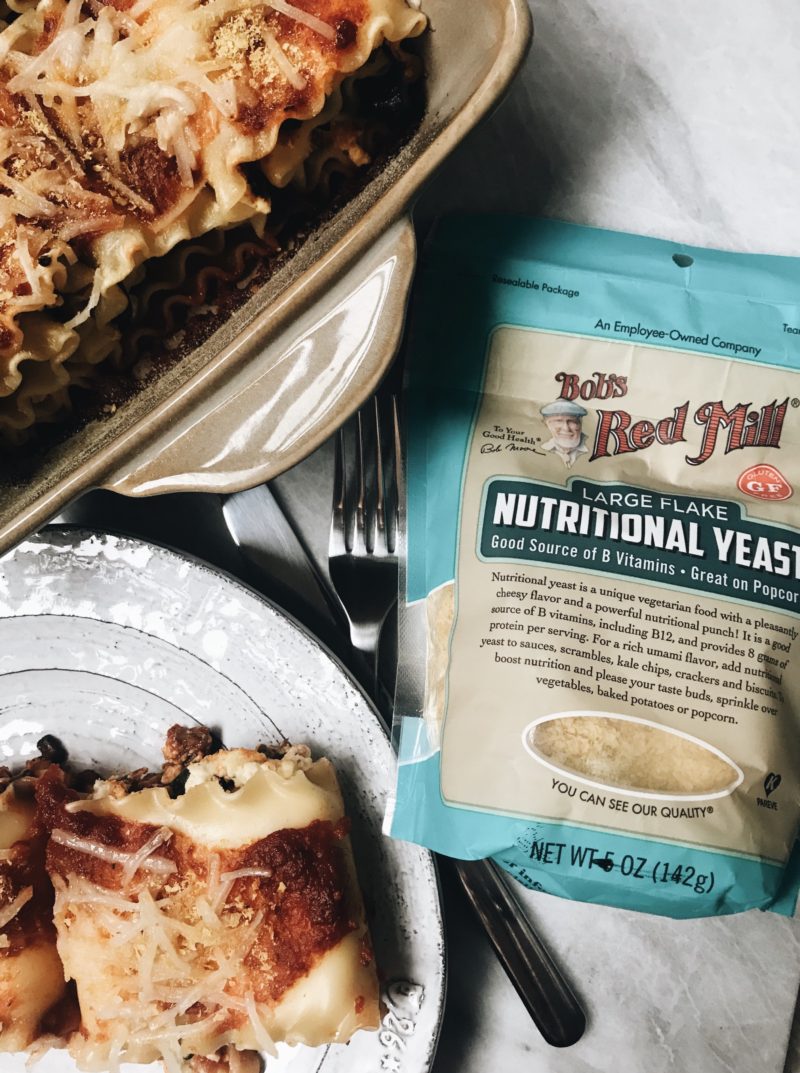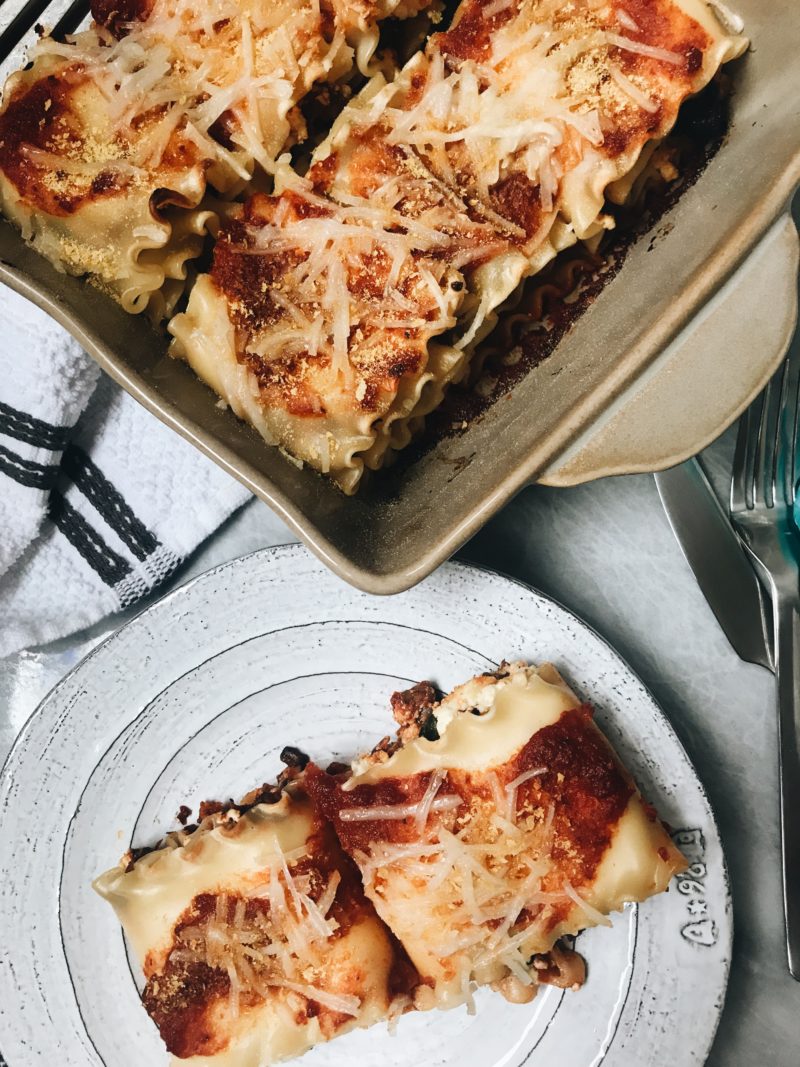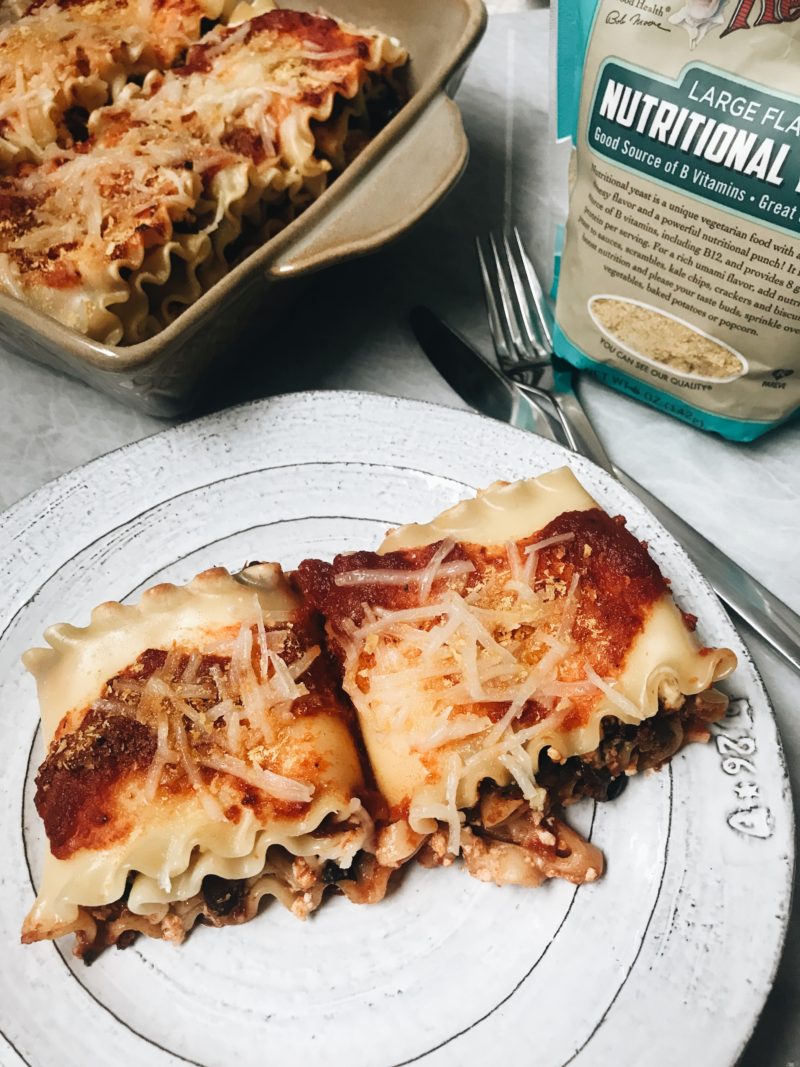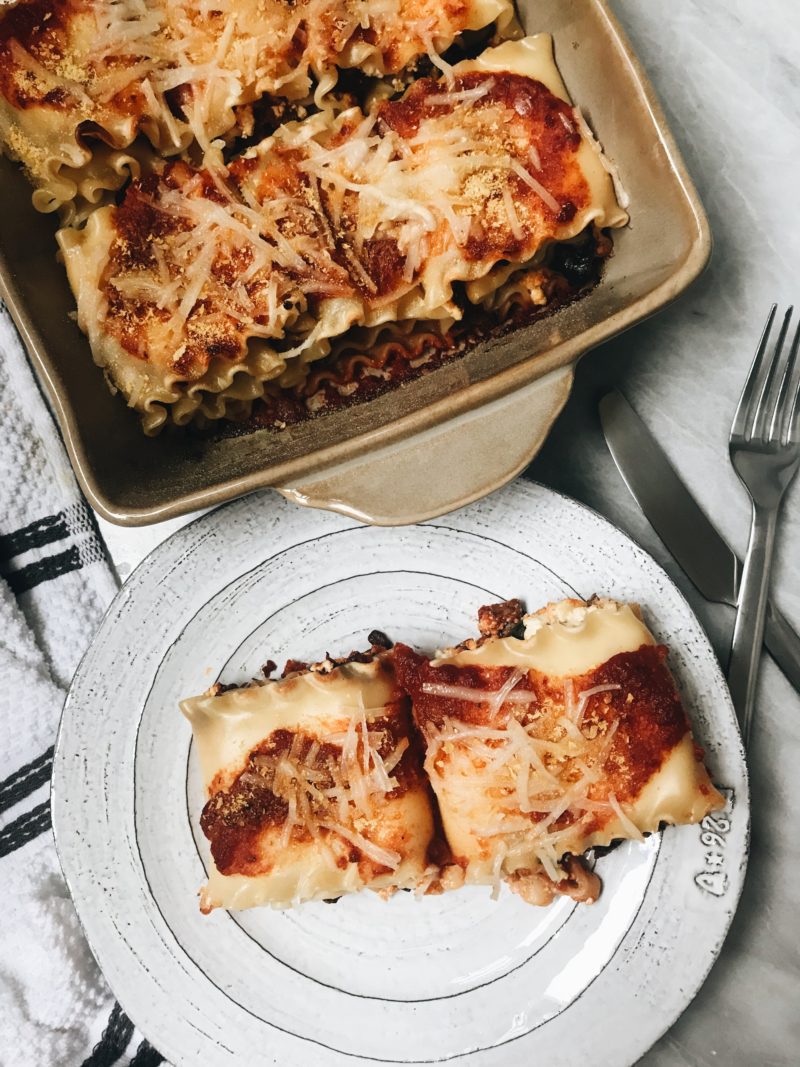 I hope that you enjoy this recipe!
If you make any of my recipes, don't forget to tag me on Instagram @plantbasedjane
Lasagna Roll Ups

Ingredients
8 lasagna noodles
1 cup jarred pasta sauce
3/4 cup vegan mozzarella
2-3 tablespoons Bob's Red Mill Nutritional Yeast for topping

For the tofu ricotta

1 block firm tofu
1/4 cup Bob's Red Mill Nutritional Yeast
1/4 cup vegan cream cheese
1/4 panko bread crumbs
1 tsp Italian seasoning
1/2 tsp garlic powder
1/4 tsp salt
1/4 tsp pepper

For the mushroom filling

1 tablespoon olive oil
2 garlic cloves, crushed
2 1/2 cups mushrooms finely diced
5 oz spinach
1/4 tsp salt
1/4 tsp pepper
1/2-3/4 cup jarred tomato sauce
Instructions
Bring a large pot of salted water to a boil. Add your lasagna noodles and cook according to package instructions.
While the pasta is cooking, begin your mushroom filling. Heat up a sauté pan on medium heat and add a little olive oil. Add in your diced mushrooms and cook until the mushrooms are beginning to soften. Add a little salt and pepper
Add in your garlic cloves and mix for 30 seconds. Add in your spinach and mix until spinach is wilted. Season with a little more salt and pepper. Add in your pasta sauce and cook for 3-4 minutes or until the sauce begins to thicken up. Turn off heat.
Begin your tofu ricotta. Add your tofu to a bowl and mash well with a fork. Add in your remaining ricotta ingredients and mix well while still mashing everything together. Set aside.
Once your noodles are done, drain and mix the noodles with a little oil to prevent them from sticking together.
Take your casserole dish and place around 1/4-1/2 cup sauce on the bottom and spread evenly with a spoon.
Flatten out your noodles on a flat work space. Using a spoon, evenly spread your tofu ricotta on your noodles. Then, add a spoonful of your mushroom/spinach mix. Carefully, roll your lasagna noodles up and place seam side down in the casserole dish. Repeat this process with the rest of your noodles.
Add another 1/2-3/4 cup sauce on top of the noodles and top with your vegan mozzarella and nutritional yeast. Place in oven on broil for 3-5 minutes or until the vegan mozzarella has melted.
Serve!
Thank you to Bob's Red Mill for sponsoring this post. It means a lot to me to work with brands I love and support my blog.