Jump to recipe
This comforting Mushroom Risotto is perfect for cold Winter nights, or for those trying out Veganuary.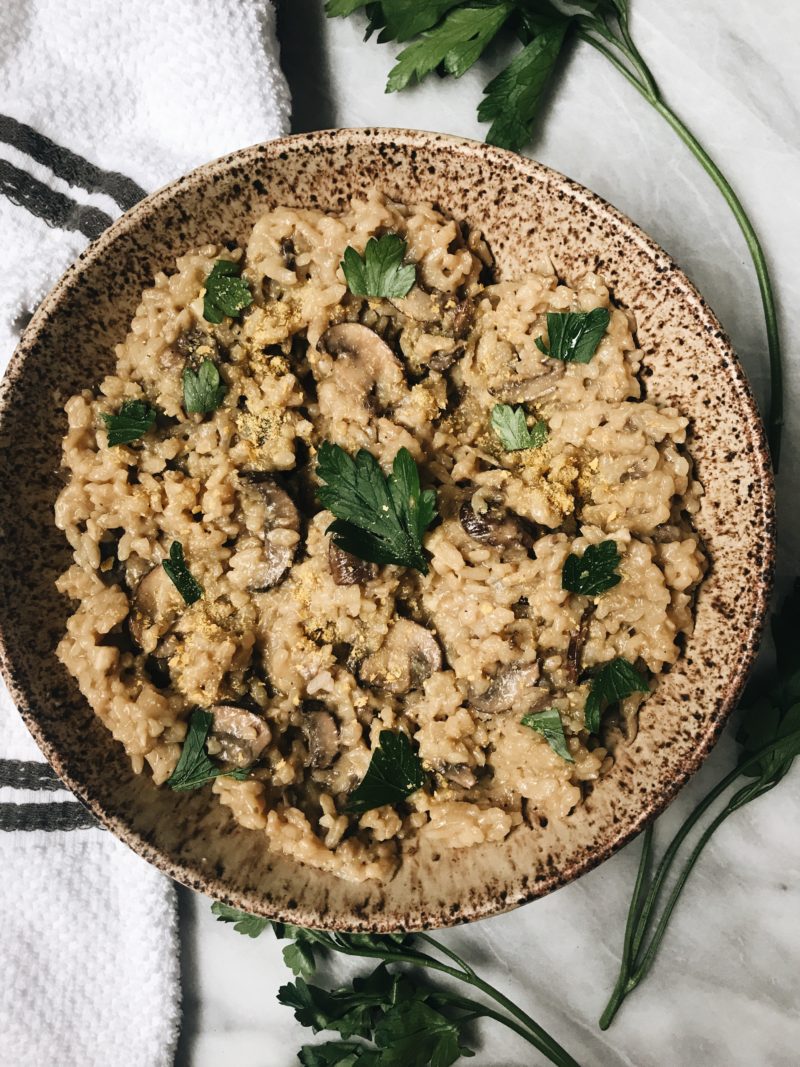 I absolutely love risotto! Risotto's are such a decadent dish and are always a crowd pleaser.
This is my second risotto recipe. My first risotto recipe was posted just over a year ago and it's for this Broccoli "Cheddar" Risotto.
I didn't start eating mushrooms until just over a year ago as well. In general, I am a pretty picky eater. It has definitely improved since I've gone Vegan and just in general growing up. At 25, I still do get weirded out by certain foods but I like to think my pallet has expanded.
Mushroom risotto's are pretty popular in many restaurants, but of course they also contain dairy in them. I wanted to create my own take that was Vegan (obviously), but still had great flavor to it.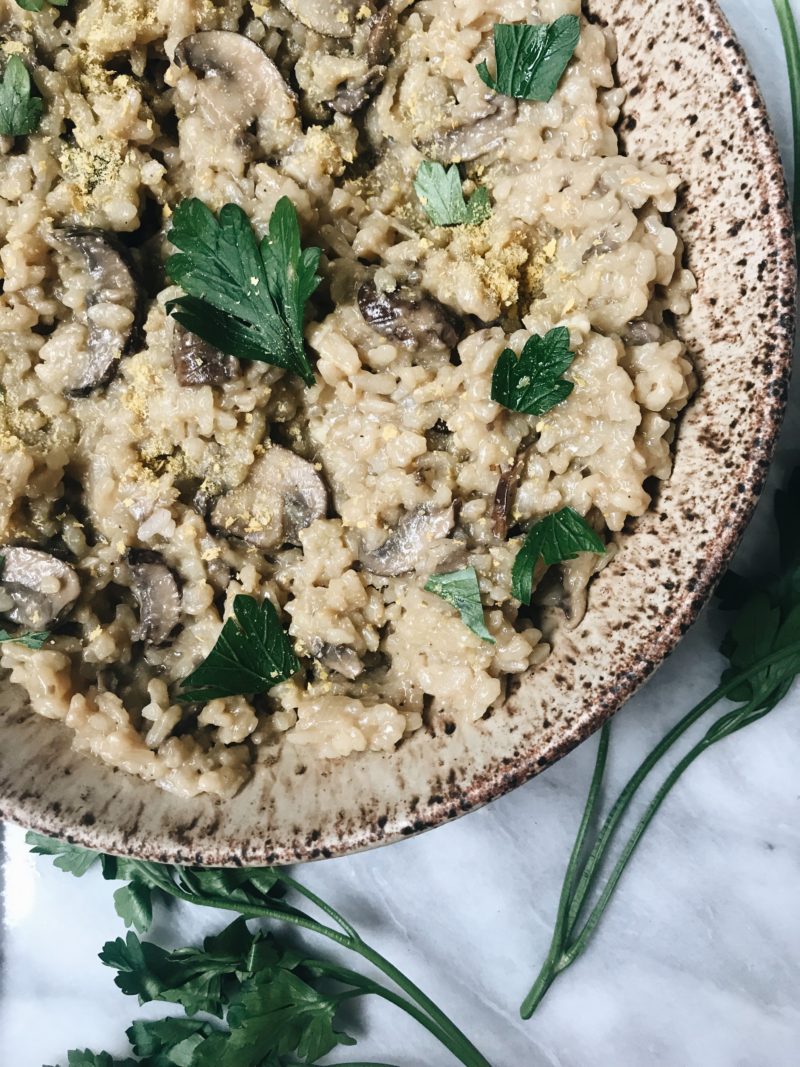 In general, risotto is a bit labor intensive. You really can't walk away from the pan for more than one minute due to the fear that the risotto rice may stick to the bottom of the pan. It is done in a few steps but in general it's a pretty easy dish to make. It just takes constantly being aware of how the dish is cooking.
With it also being Veganuary, I wanted to create a dish for those trying out being Vegan for the month. I would like to think this recipe is non-vegan approved (even though it's just me eating it), but as someone with a pickier taste – I think it's pretty awesome.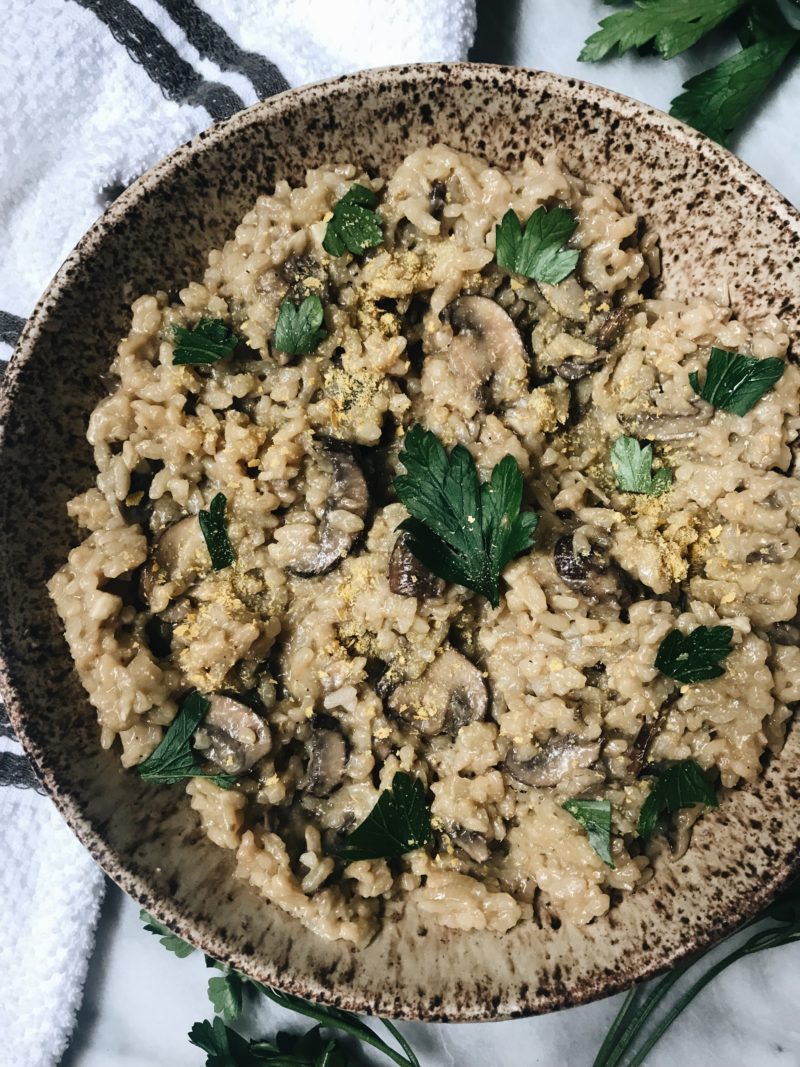 I hope that you enjoy this recipe!
If you make any of my recipes, don't forget to tag me on Instagram @plantbasedjane
Mushroom Risotto

Notes
You can also add vegan parmesan in replacement or in addition to the nutritional yeast.

Ingredients
1 cup Arborio rice
2 cups Baby Bella mushrooms
1 tablespoon olive oil
1 shallot, diced (can sub for 1/2 medium onion)
2-3 cloves of garlic, minced
4 cups vegetable broth (I personally did not use low sodium)
1/4 cup nutritional yeast
salt & pepper to taste
Instructions
Begin by washing your mushrooms. Mushrooms are generally pretty dirty so what I like to do is rinse them under hot water, then using a dampened paper towel rub all the extra dirt off them. Slice up your mushrooms, dice your shallot and mince your garlic.
In a medium to large pot, heat up your olive oil. Add in your shallot and cook for 2-3 minutes. After 3 minutes, add in your garlic and sauté for an additional 30 seconds. Add your mushrooms and cook for 1-2 minutes, or until the mushrooms begin to cook down. Add your rice and mix for another minute so that your rice can get nice and toasty.
Begin by gradually 1 cup of your vegetable stock to your mixture. Allow to simmer and mix continuously until almost all the liquid has absorbed. During this process I kept my stove on a medium heat. Repeat this step continuously until you've used up all of your vegetable broth. Once all the liquids have been absorbed, turn off the heat. Add in your nutritional yeast and salt & pepper to taste. Plate and add the optional garnish of parsley.
Serve immediately.