Jump to recipe
Make this yummy NUT FREE mini puffed rice cereal bar as a snack or prep and take a few for an on the go breakfast! Made in partnership with One Degree Organics.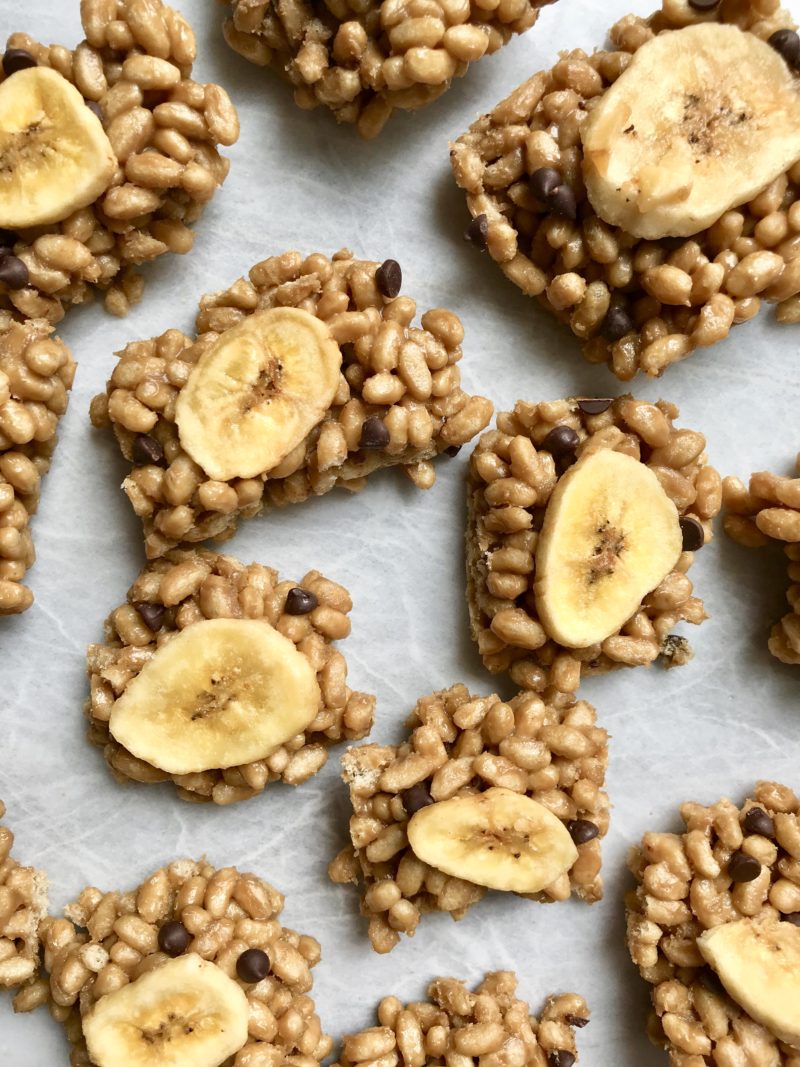 I love cereal bars! However, vegan and specifically nut free ones can be hard to come by. I decided to just make my own because 1. It has way less ingredients 2. It saves you a bunch of money!
I also really love One Degree Organics Sprouted Brown Rice Crisps so I knew they would be the perfect addition to make these cereal bars perfect.
I talk about One Degree Organics often and my love for all of their products. They make sprouted flours, cereals, granolas, bread and a bunch more. Not only do I appreciate their products, but also their ethics and morals. Each box comes with a traceable code that you can enter on their site to see exactly where all their ingredients come from. They have a close bond with all their farmers and you can even read about each one of their site.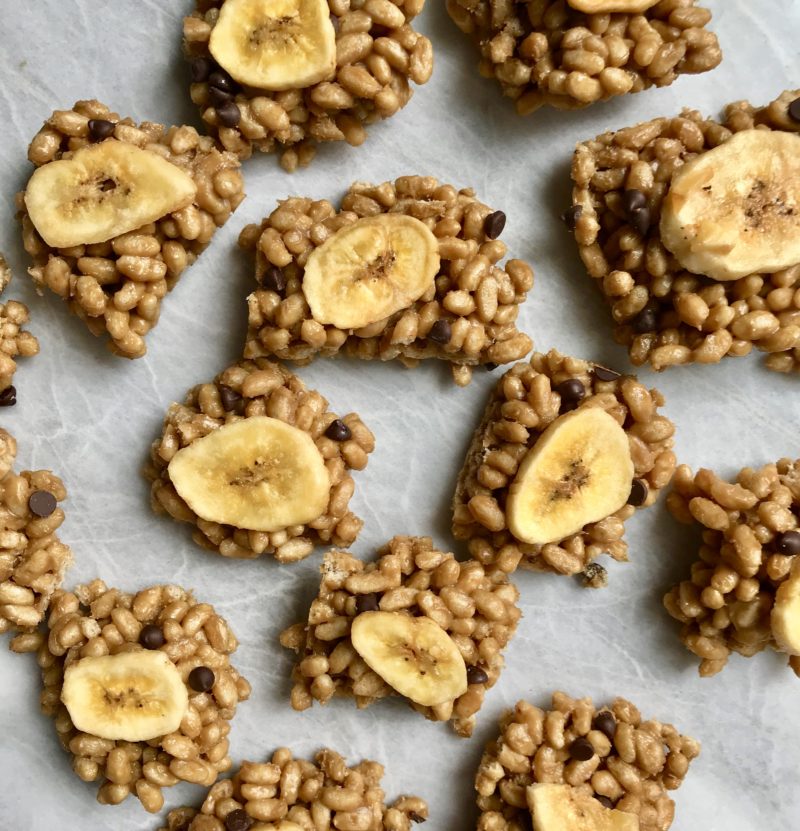 To make these cereal bars nut free, I subbed for sunflower butter. You want to make sure your sunflower butter has no added ingredients and to be just "sunflower seeds." If you aren't allergic to nuts, you can definitely use any nut butter of your choosing.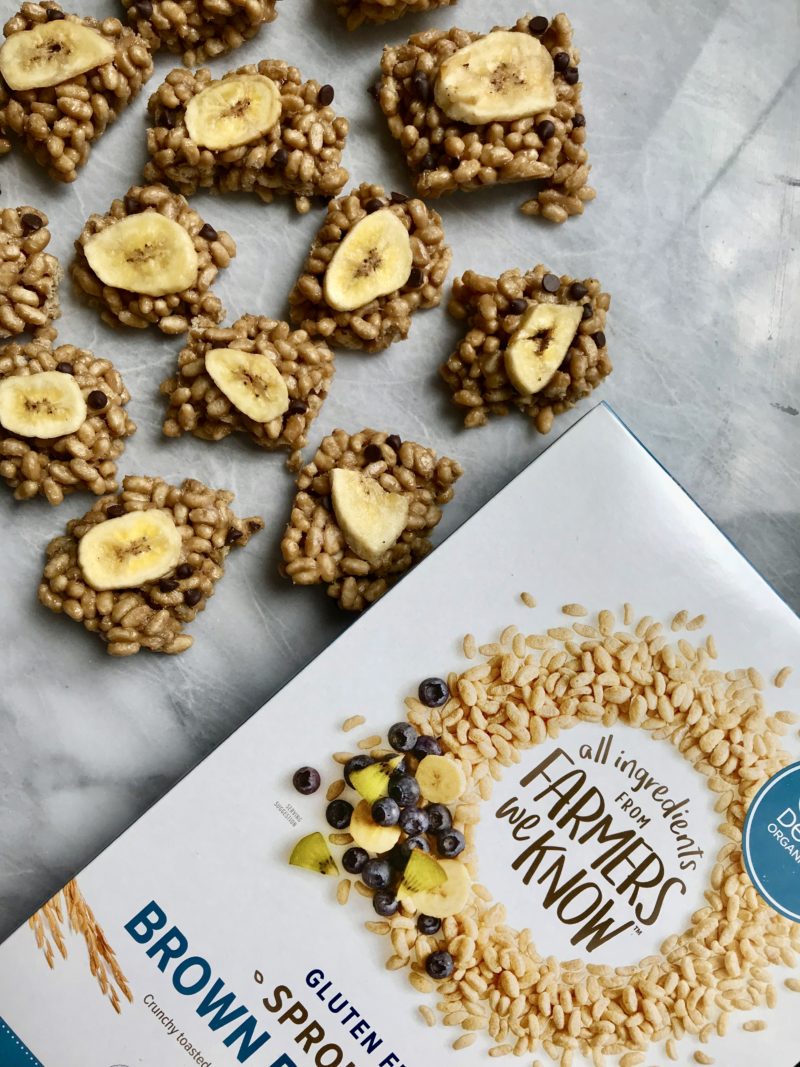 I also decided to add some vegan chocolate chips and banana chips as the toppings, but you can always sub in your favorite ingredients. The Sprouted Brown Rice Crisps go with pretty much everything. I even add them to top my smoothies or even my oats. I always love having a bit of crunch in everything.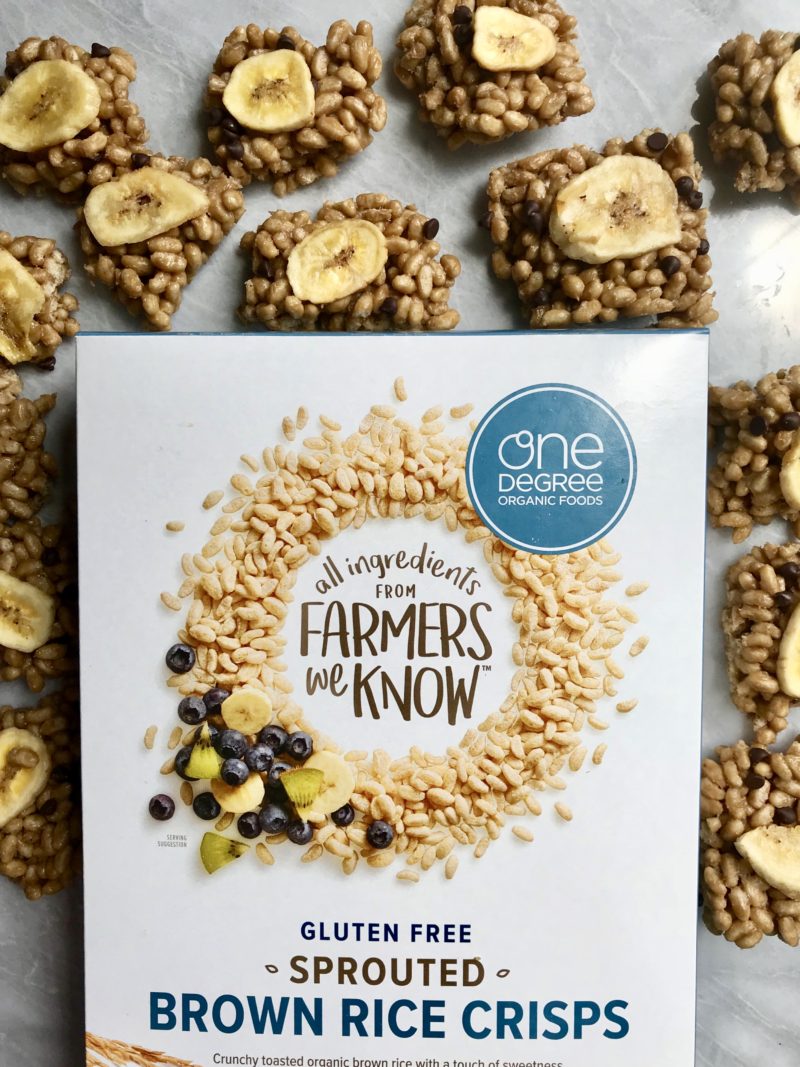 I hope that you enjoy this recipe!
If you make any of my recipes, don't forget to tag me @plantbasedjane.
To find the Sprouted Brown Rice Crisps near you, click here.
Ingredients
2 1/2 cups One Degree Organics Sprouted Brown Rice Crisps
1/2 cup unsweetened sunflower butter
1/3 cup maple syrup
3 tablespoons coconut oil
1/4 tsp cinnamon
1/2 cup vegan chocolate chips (I used minis)
1/2 cup banana chips
Instructions
Begin by placing your brown rice crisps in a large bowl.
Over a low heat, melt together your sunflower butter, maple syrup, coconut oil and cinnamon. Stir constantly and keep a close eye as it can burn easily. Once everything has melted together, pour over your cereal. Mix to combine and place in a 8x8 baking sheet lined with parchment paper and place in the fridge for 20 minutes.
After 20 minutes, take out and place your chocolate chips. Don't mix in your chocolate chips at first as it will melt in the cereal. Pour over your chocolate chips and using your fingers press them all in. Place back in fridge overnight. Press in your banana chips and cut into squares. The banana chips will stay in place if you put back into the fridge - or enjoy on the spot!
Thank you so much to One Degree Organics for sponsoring this post. It means a lot to me to work with brands I love and support my blog!