This is a ridiculously easy prep recipe that tastes delicious! Perfect for summer days or packing to work or school. Made in partnership with Sunbasket.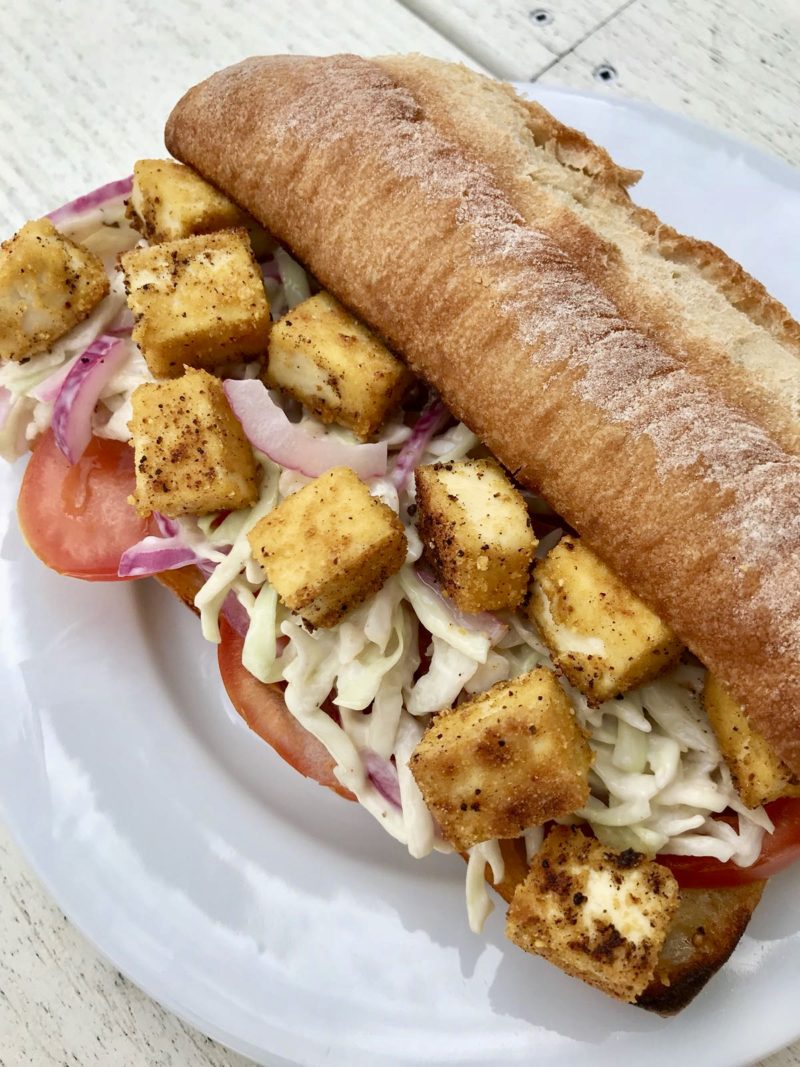 This Sunbasket recipe I got this month has to be one of my favorites! I love a good Vegan sandwich and this one really delivered.
If you aren't familiar with Sunbasket, it's a meal delivery service. Every week, you will receive 3 meals which are super easy to make and are delicious. You can either choose to get meals that serve two, or four. This year they added a Vegan menu and I have been obsessed!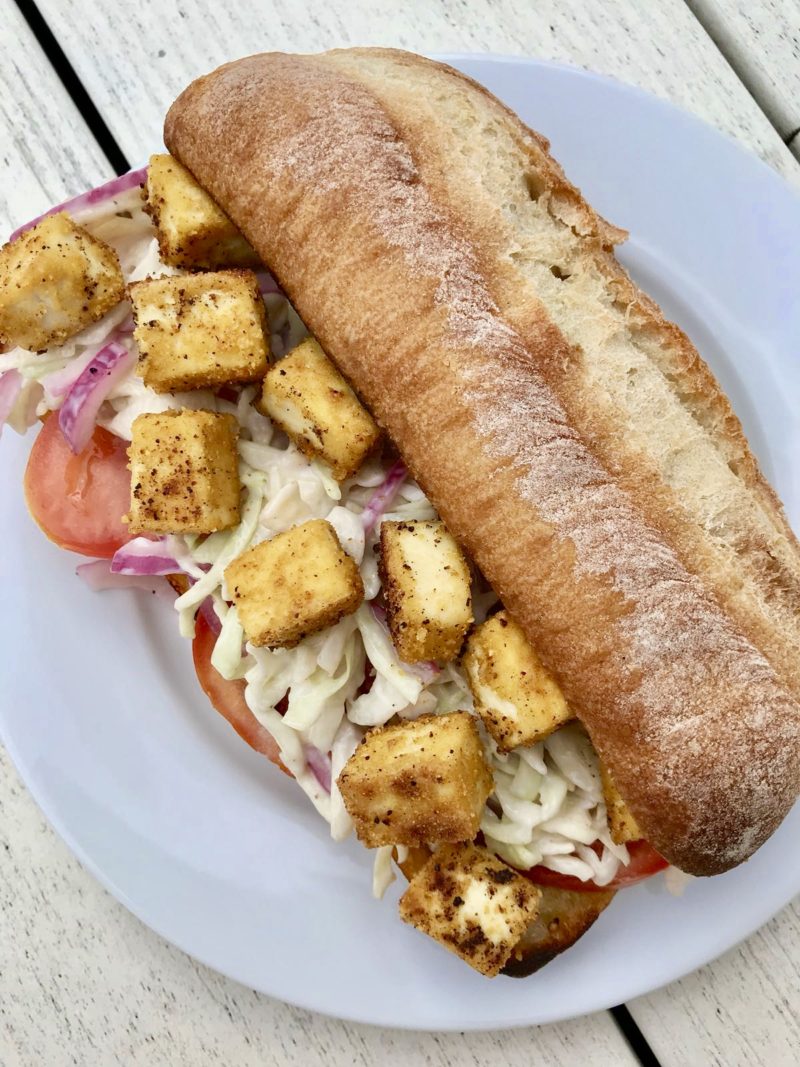 All of the produce you will find in your Sunbasket is organic, with meals approved by dietician's. The packaging that your meals come in is also 100% recyclable and compostable.
The other two meals I got in my box that week were:
Mediterranean salad with falafel
Miso tempeh burgers with garden salad and dijon vinaigrette
I love how versatile the recipes are! They're also good to prep in advance.
I have gotten questions about since I am one person, who eats the other meal? ME! I make it all at once and then I have the second portion for lunch or dinner the next day. It's actually super convenient and cost effective because if you are doing this as a single person, you're technically getting 6 meals out of it.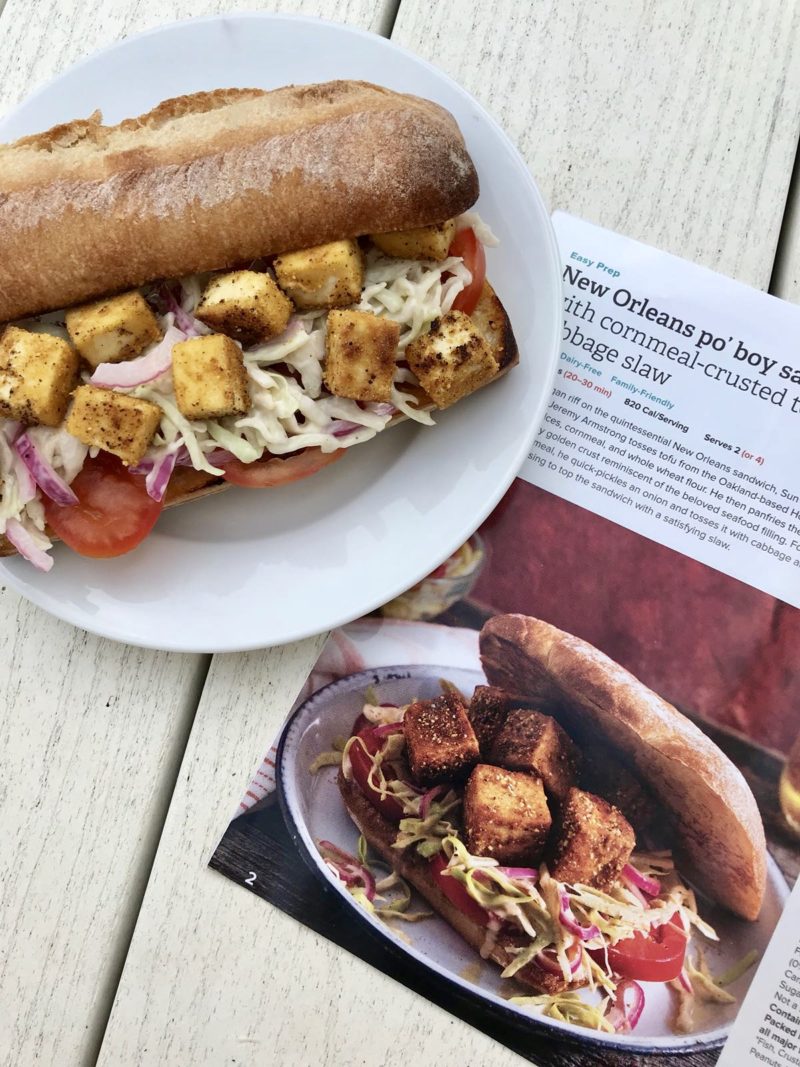 I think my favorite part was the addition of the quick pickle onion. I really dislike raw onion but the red wine vinegar really calmed down the harsh flavors of the onion and made it taste absolutely delicious. I will definitely continue to do this to red onions in the future.
The only thing in this recipe I had to tweak was the vegan caesar I was given. The pre-made dressing contained almond milk and cashew butter. Since I have a nut allergy, I replaced it with some Vegan mayonnaise. I gave the caesar to my parents to try.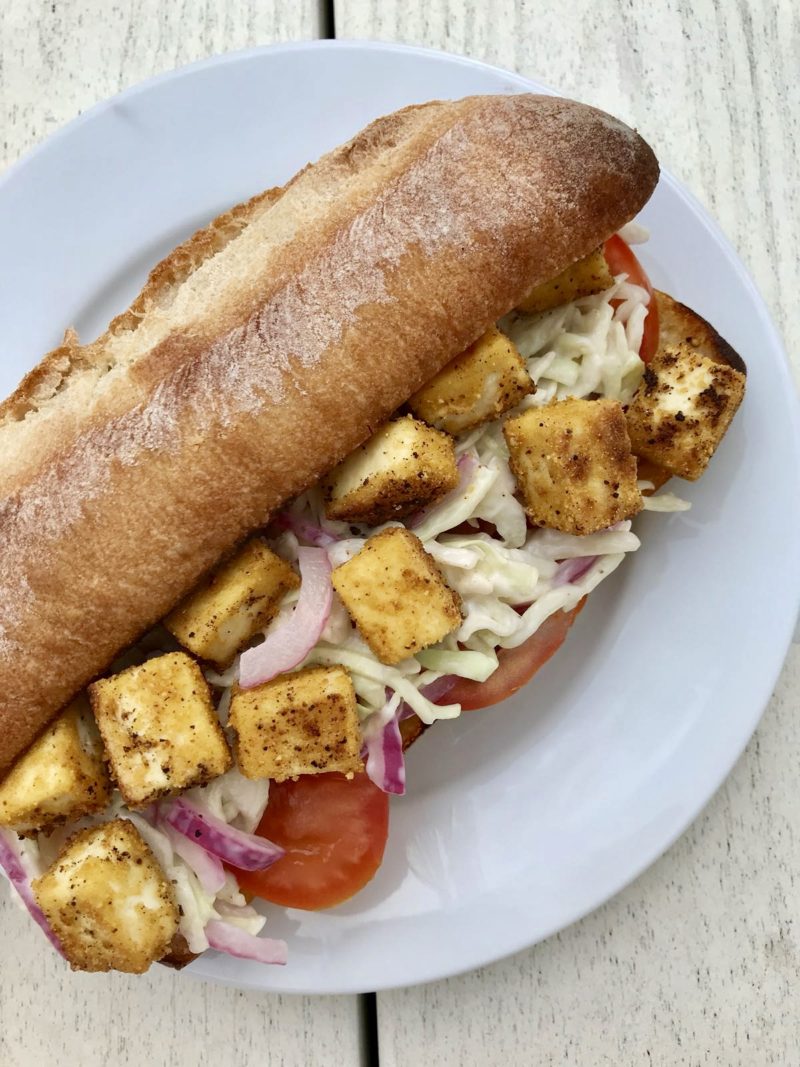 I hope you enjoy this AMAZING recipe! If you make any of my recipes, please don't forget to tag me on Instagram @plantbasedjane.
New Orleans Po'boy Sandwiches

Ingredients
1 red onion
1 1/2 tablespoon red wine vinegar
12 oz extra firm tofu
Po'Boy Seasoning blend (3 tablespoons corn meal, 1/4 cup whole wheat flour, 1/4 tsp celery seeds, 1/2 tsp sweet paprika, 1/4 tsp black pepper, 1/4 tsp ground mustard, salt & pepper)
2 ciabatta rolls
1 tomato
Vegan Caesar Dressing (*CONTAINS NUTS* - 1/4 cup almond milk, 1 tablespoon cashew butter, 1 tablespoon lemon juice, 1 tsp capers, 1/4 tsp vegan worcestershire sauce, 1/4 tsp salt, 2 tablespoons nutritional yeast, 1 clove garlic, salt & pepper - blended)

sub 1/4 cup vegan mayo if allergic

1/4 tsp cayenne
2 cups shredded cabbage
Instructions
Begin by pickling your onion, thinly slice 3/4 cup red onion and add to a bowl. Pour in your red wine vinegar, salt and pepper. Mix and let sit.
Make your tofu. Press tofu to get out excess water and cut into cubes. As the tofu is pressing, make your seasoning blend. Once your tofu is pressed, add to the seasoning blend and coat to combine. Transfer tofu to a plate.
In a large frying pan on medium-high heat, add in some oil. Warm until hot, but not smoking. Add in your tofu and cook, turning occasionally. Let cook for 6-8 minutes. Transfer to a paper towel lined plate and season with salt and pepper.
Using the same pan with some oil left over, toast your ciabatta rolls. cut your rolls horizontally and toast your rolls cut side down. Cook until lightly browned (3-4 minutes). Remove from heat.
Prep your tomato by cutting it into 1/4 inch slices.
Now, create your slaw. Combine either your vegan caesar (or vegan mayo) and your cayenne. Mix well to combine. Using a slotted spoon, transfer the pickled onion into a bowl and add your cabbage. Add in your caesar or mayo and mix to combine.
Transfer your ciabattas to a plate cut side up. Add on your tomato, slaw and tofu. Serve any remaining slaw on the side!
Thank you to Sunbasket for sponsoring this post. It means a lot to me to work with brands I love and support my blog.