I love everything Caesar. That is why I am so excited for this Caesar Pasta Salad. With a Tahini based dressing and all the nutritional yeast, I am sure you'll love this recipe too! Made in partnership with Bob's Red Mill.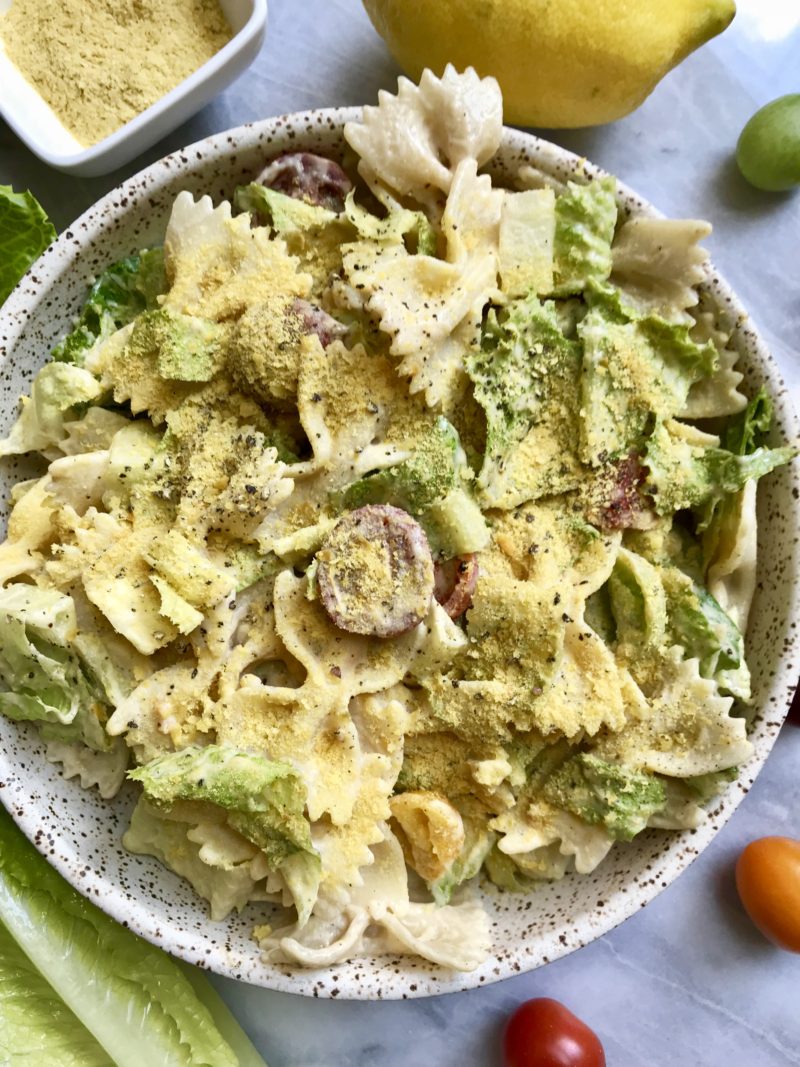 Pasta salads are one of my favorite Summer time recipes. They're perfect to bring to work, serve at BBQs or just enjoy with your family.
Before I went Vegan I would live on Caesar Salads. So when I went Vegan I knew I wanted to perfect my own Caesar dressing. A lot of Vegan Caesar's are loaded with vegan mayo, so I knew I wanted something different. After experimenting with other ingredients I realized that tahini would be a great base. Obviously with other ingredients, like nutritional yeast.
Nutritional yeast is the key to getting that "cheesy" flavor in recipes without using any Vegan cheese to begin with. I love me some Vegan cheese, but sometimes it can be hard to come across.
I use the Bob's Red Mill Nutritional Yeast. 1/4 cup of nutritional yeast has 8 grams of plant based protein. It is also loaded with many vitamins like b12. Now I may not be a nutritionist, but I do know that vitamin b12 is really important for Vegans.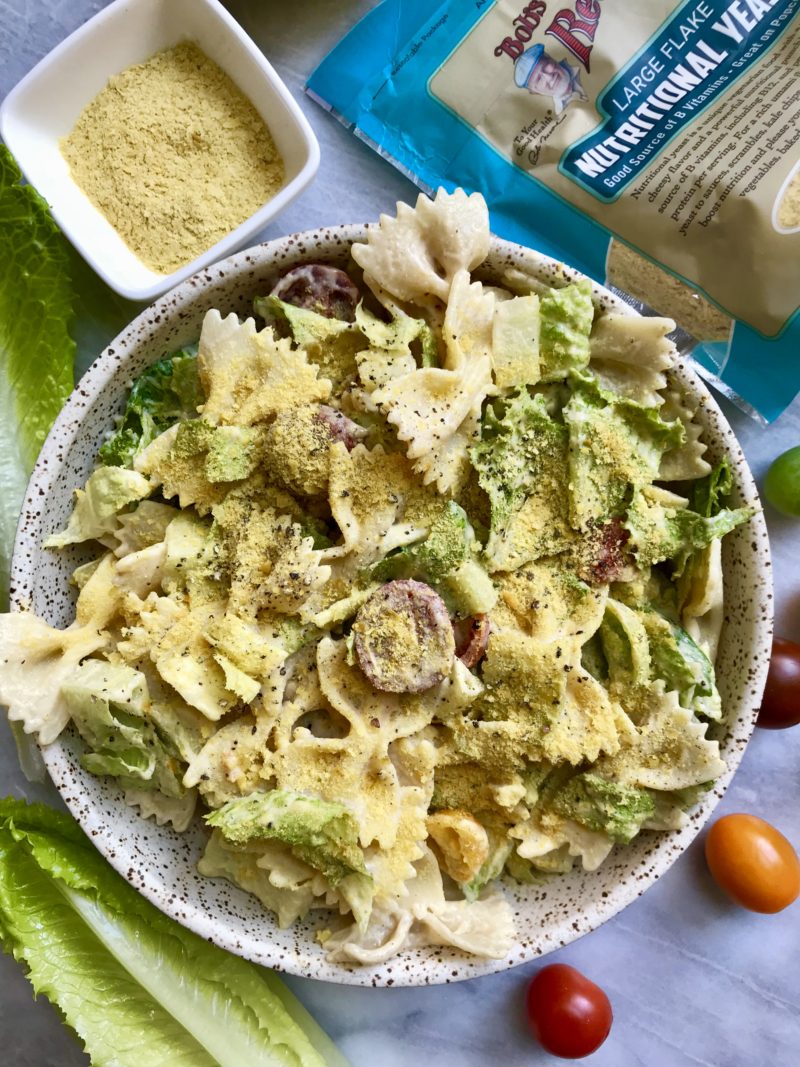 We cannot find b12 from natural plant sources so that is why nutritional yeast is so great. A deficiency in b12 can lead to anemia and nervous system damage. If you want to know your b12 levels, getting a blood test done could be very beneficial. That is why I try to consume nutritional yeast on the daily.
I use Bob's Red Mill's oats, flours, coconut sugar, etc. All of their products are vegetarian (with many being vegan) meaning that checking labels on their products are super easy and you always know they will be reliable.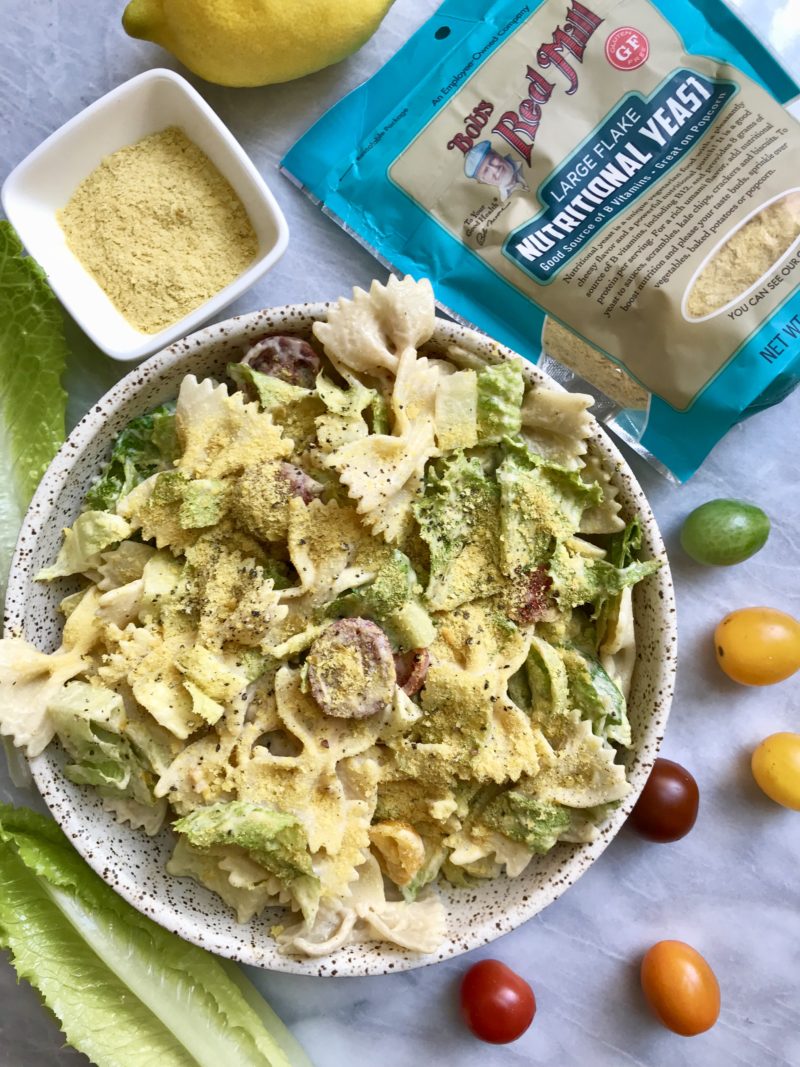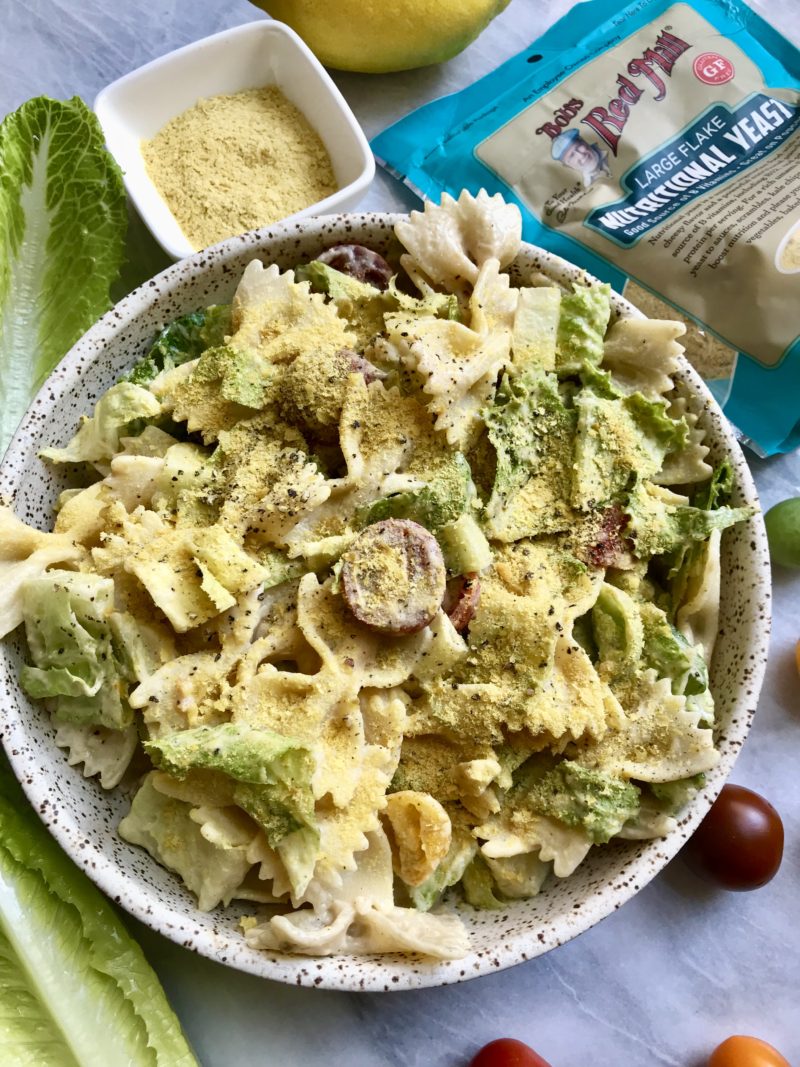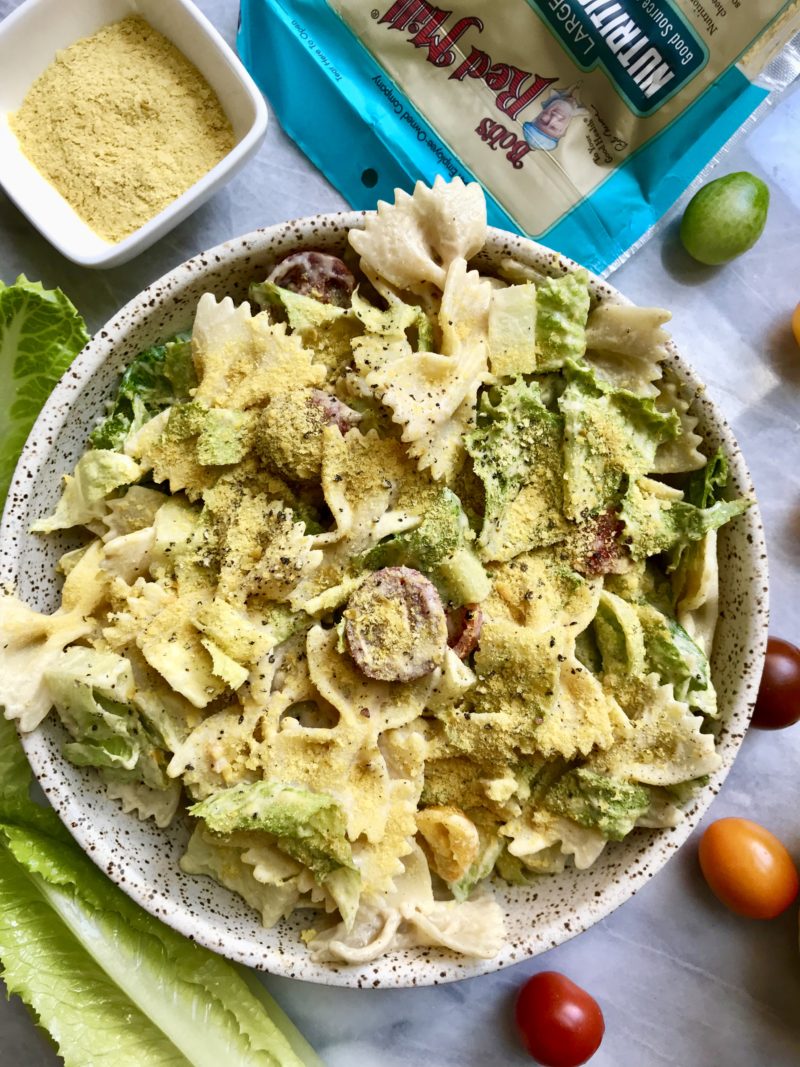 I hope that you enjoy this recipe!
If you make any of my recipes, don't forget to tag me on Instagram @plantbasedjane
Caesar Pasta Salad

Ingredients
2 1/2 cups pasta of choice
2 cups romaine lettuce
1 cup sliced cherry tomatoes
2 tablespoons nutritional yeast to top with

Caesar Dressing

1/4 cup tahini
2 tablespoons lemon juice
2 tablespoons nutritional yeast
1 tsp vegan worcestershire
1/4 tsp garlic
1/4 tsp salt
1/4 tsp pepper
1/8 tsp maple syrup
2-3 warm tablespoons water to thin
Instructions
Cook your pasta according to package instructions.
As your pasta is cooking, wash and cut up your lettuce. Slice your cherry tomatoes.
Once your pasta is done cooking, shock it with cold water to stop them from cooking. Let sit until cooled.
Add to a bowl with your lettuce and tomatoes.
To make your dressing, add all your ingredients except the warm water in a small bowl. It will be thick so gradually add your tablespoons of water until thinned out but still with a thicker texture.
Add your dressing to your pasta, lettuce and tomato and mix until combined. Add to a serving bowl and top with additional nutritional yeast and cracked black pepper. Serve!
Thank you to Bob's Red Mill for sponsoring this post. It means a lot to me to work with brands I love and support my blog.