Broccoli what? Yes, you heard that right. Try this delicious Broccoli Pesto for a creamy and dreamy sauce.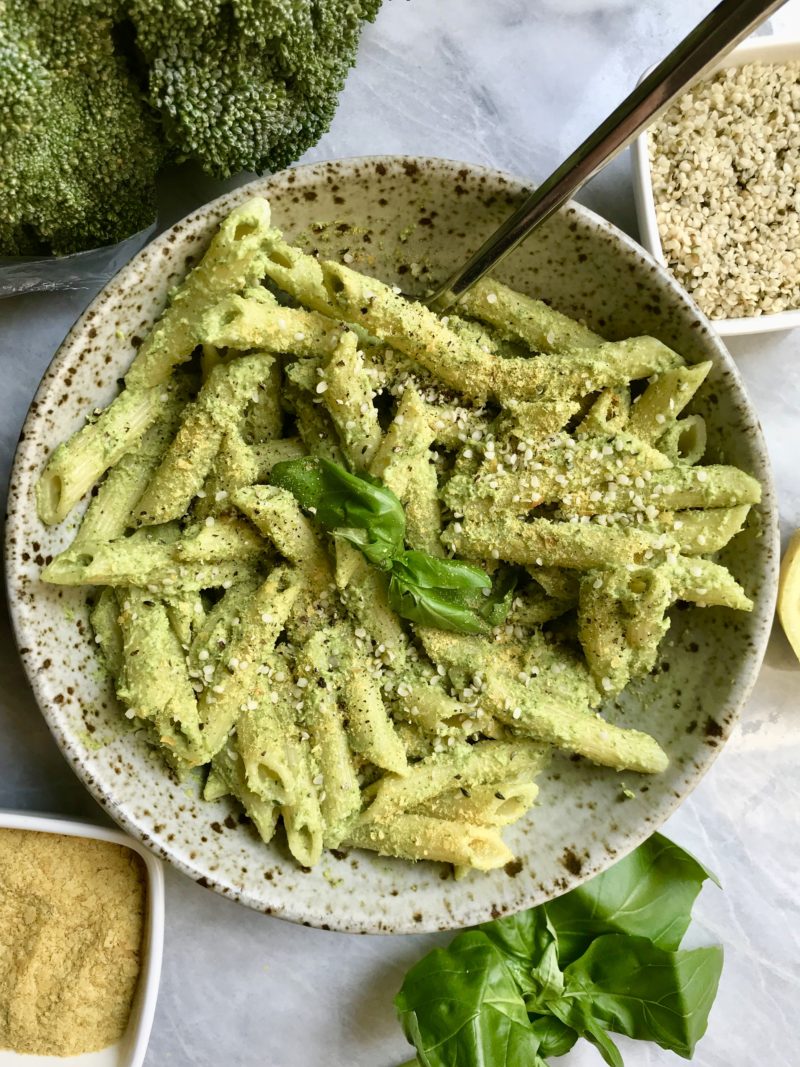 I know what you're probably thinking, "what the hell is broccoli pesto?" Everyone knows broccoli is my all time favorite vegetable…so why not combine it in one of my favorite pasta sauces???
This is actually a collaboration with my friend Nikki from @Nikkivegan or her youtube channel, https://www.youtube.com/user/MissVranHalen. She started this new series on her Instagram called #LearnToLoveIt where she collabs with different bloggers where they pick a veggie that people don't usually like, and come up with a fun recipe to help people learn to love it! I absolutely love this idea and when she asked me I jumped at it! We went with Broccoli and I knew I wanted to come up with something creative.
I don't have many broccoli based recipes on my blog, but another broccoli recipe I have on here that I love is my bang bang broccoli .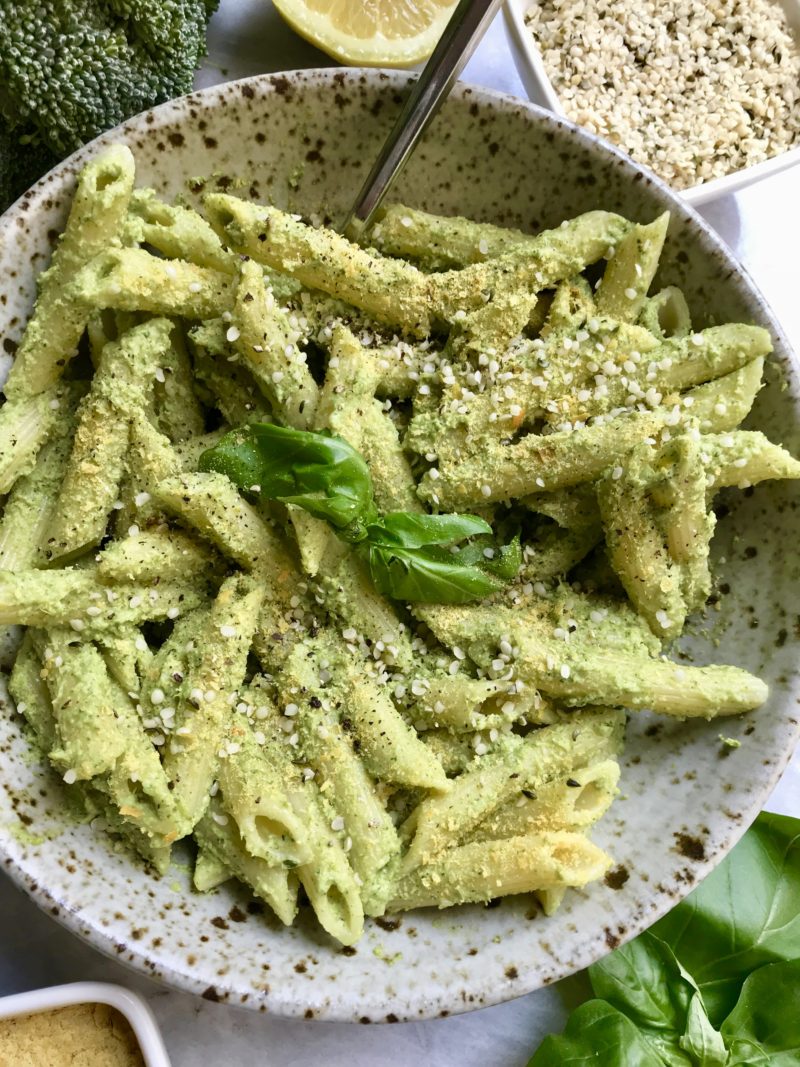 Not only is this pesto super tasty, but packed with so many nutrients from the broccoli. Did you know that broccoli is apart of the cabbage family? It is also high in vitamin c & k.
I was the pickiest child. I could go on proving about how picky I was, but you could just ask my family and friends. I was known to be on the prison food diet eating only carbs that consisted of: rice, pasta, bread and that's pretty much it.
When I went Vegan the shock factor was real. So having broccoli as my favorite vegetable probably gives my family heart palpitations.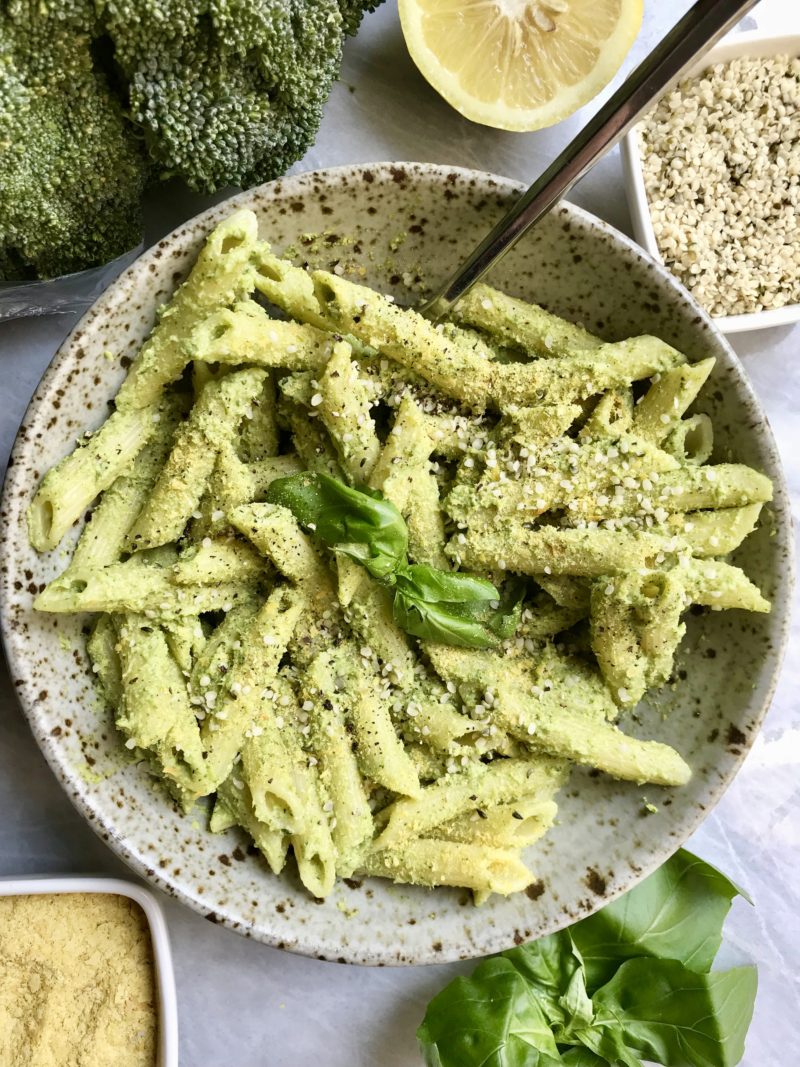 I am so excited about this recipe. Basil is also a love of mine. I'm lucky enough to have family who live in Europe and owned a beautiful house in Italy for a long time. We would visit often and I just remember the entire area smelling like basil. Every time I smell basil I instantly am brought back to some of the best times of my life (except the time I fell down their spiral staircase, but that's another story).
As this recipe is Vegan and nut free, nutritional yeast replaces the parmesan and hemp hearts replace the pine nuts.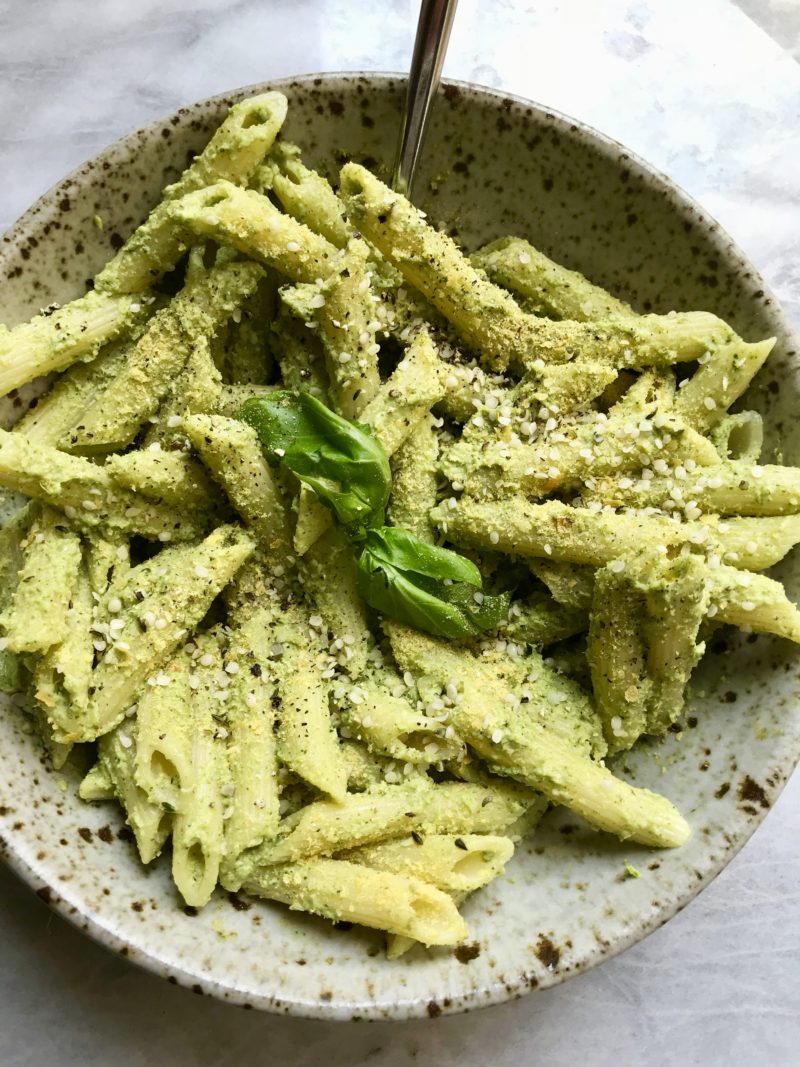 I hope that you enjoy this recipe!
If you make any of my recipes, don't forget to tag me on Instagram @plantbasedjane.
Don't forget to check out my friend Nikki's Recipe! You can find her recipe here. She made a broccoli cheddar panini on garlic sourdough – YUM.
Broccoli Pesto

Ingredients
1 head of broccoli
1/2 cup basil
1/4 cup nutritional yeast
3 tablespoons hemp hearts
1/2 lemon juice
1 garlic clove
1/4 cup olive oil
1/2 tsp salt
1/2 tsp pepper
Instructions
Begin by steaming your broccoli. Either boil or use a steamer. Steam for 5 minutes. Drain, and let sit to become cool.
Once your broccoli as cooled, add it to a food processor or high speed blender with your remaining ingredients. Blend until smooth!
Enjoy!