Hello everyone! Not a recipe today. Instead, I wanted to give a recap on my trip to Boston last week.
Boston is my favorite city (Yes, even more than NYC). So it was really special for me to spend my 25th birthday there. My boyfriend and I first went to Boston together (his first time, not mine) in August for our 5th year anniversary. We loved it so much and have been back once more since then. So when my birthday was coming around I knew that I wanted to spend it in a city that is super close to my heart. When I think about it, I actually spent my 13th birthday in Boston as well. Maybe I have a thing with milestone ages and Boston?
When we went back to Boston in November, it was for a wedding. We stayed in Cambridge and only ventured to the heart of the city of Boston once since we were busy with one of my family members weddings (It was such a great wedding btw).
So when we were planning our trip back we immediately knew that we wanted to go back to the Revere Hotel in Back Bay. We loved Back Bay, and we absolutely fell in love with the hotel. Almost a year ago they had a major renovation meaning that everything was new and absolutely beautiful.
We were able to stay in a suite this time and we were just blown away. We loved the room so much.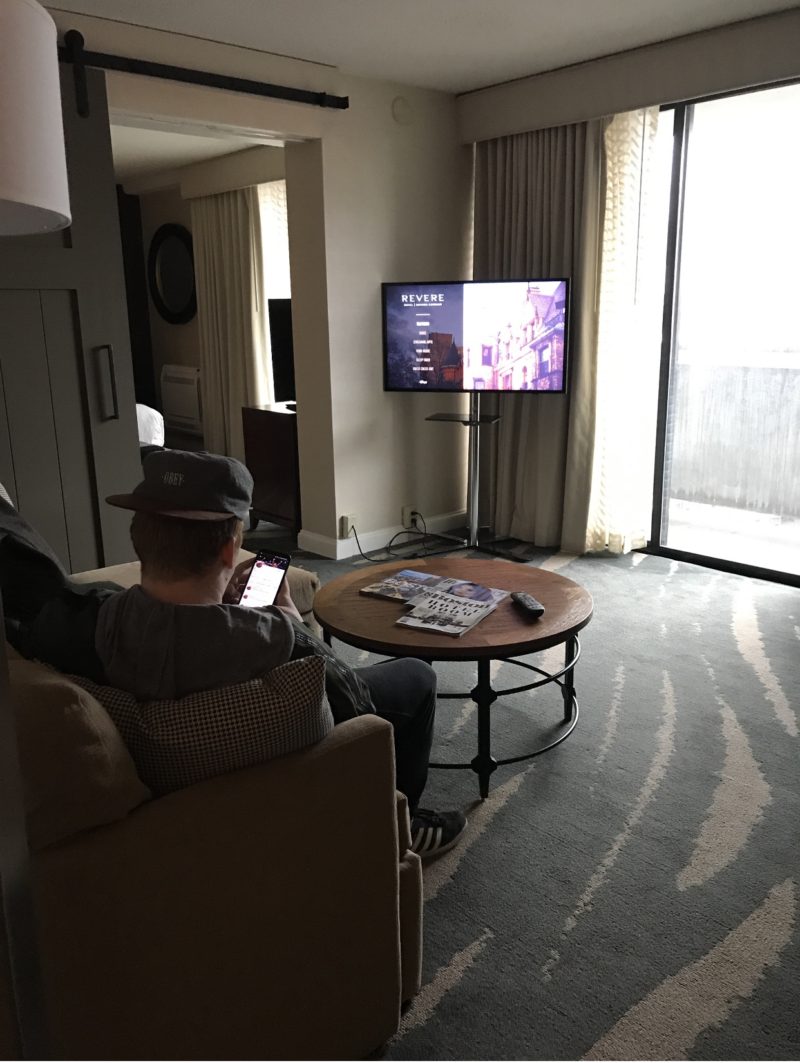 When you walked in there was a long hallway which brought you into the "living room" portion. A super comfortable L shape couch and a TV. We also had a balcony in the living room AND the bedroom. It was luxurious, comfortable and felt like you were at home. Sometimes when you're at a hotel everything seems super boring and I really love to feel like I am on vacation but still getting that homey vibe. The Revere Hotel let's you feel like you're on vacation but doesn't sacrifice comfort.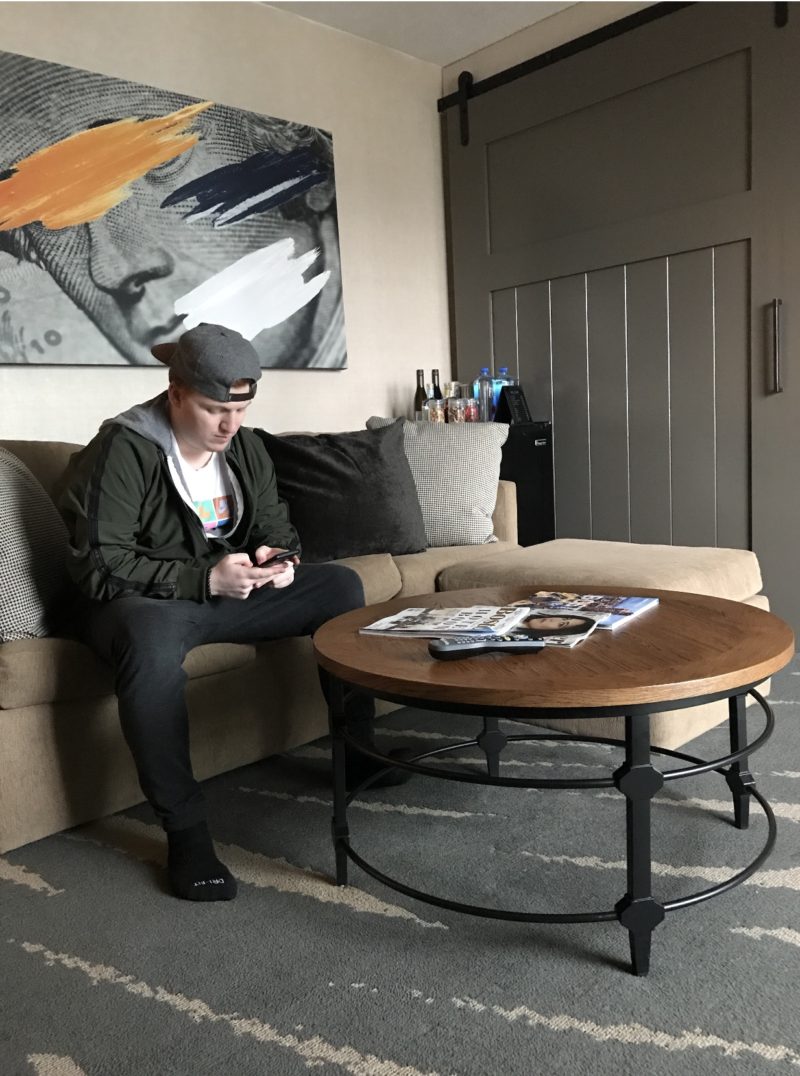 There was also a REALLY big "mini fridge." 7-11 is across the street so we went and stocked up on snacks, fruit, water, etc.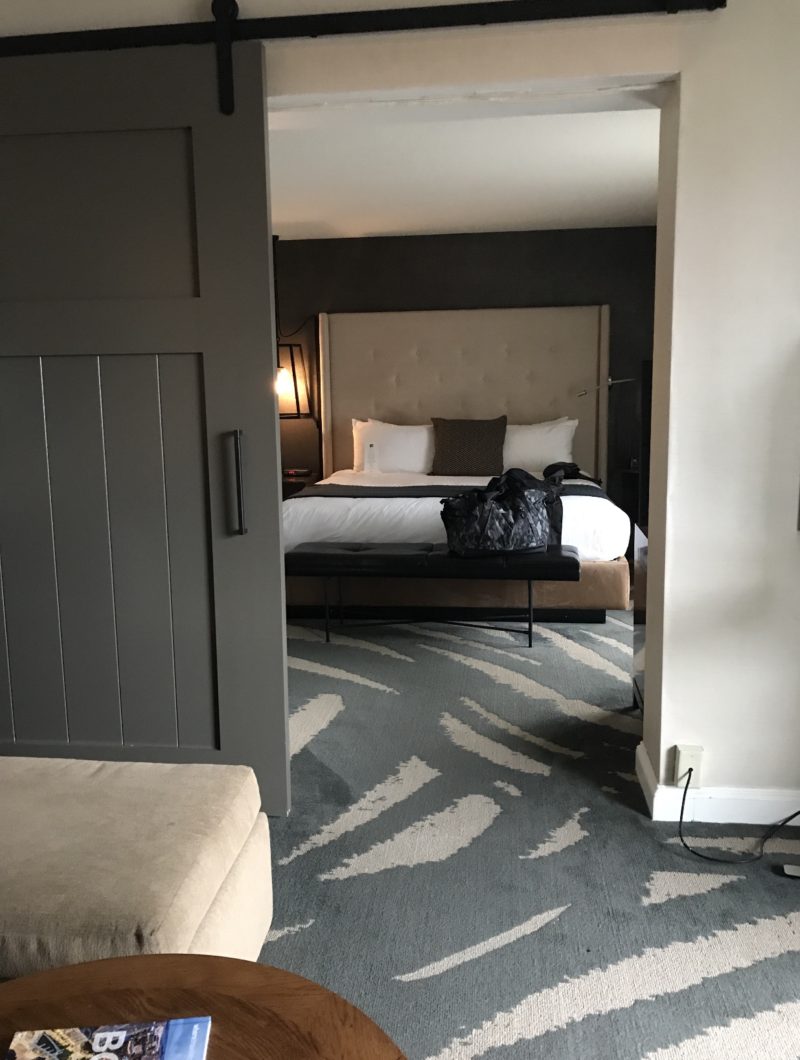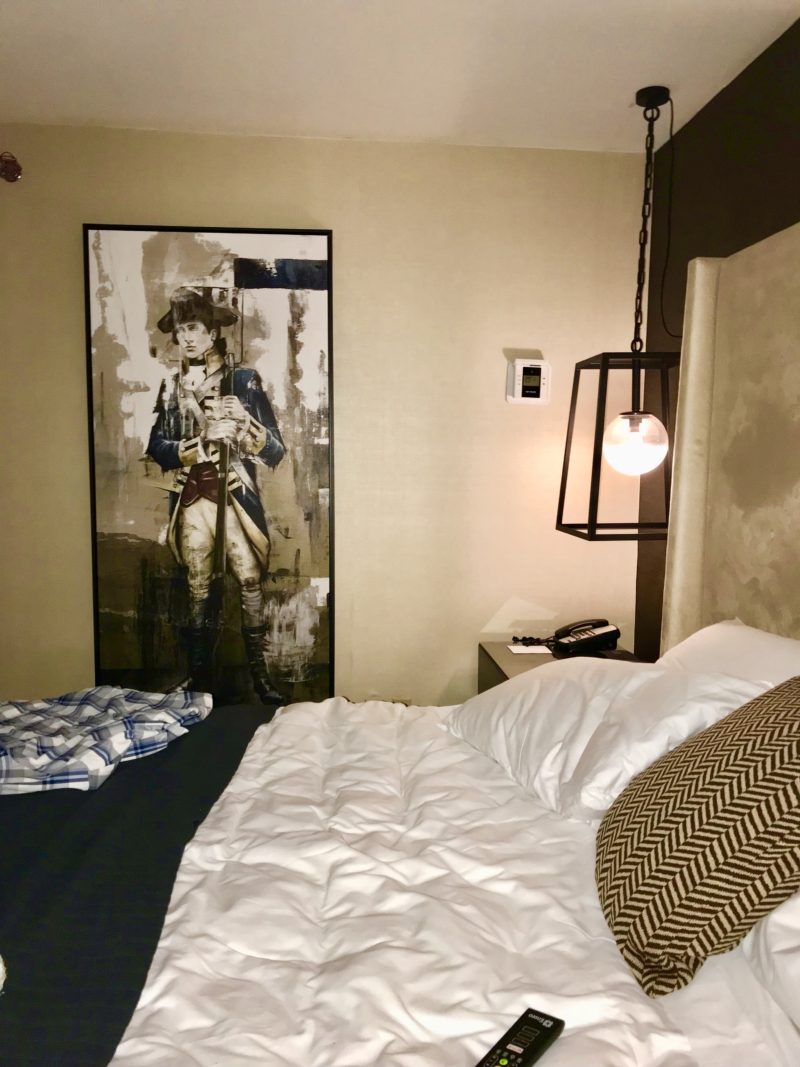 Lastly, the bedroom. Separated by a barn door which I knew Joanna and Chip would be proud of. I remember last time getting the most amazing nights sleep in their comfy King sized beds and that happened once again. I always love sleeping in hotel beds. They're always so comfortable! They also have a pillow menu.
We got to Boston around 4 and it was raining. We had dinner at the hotel's new restaurant Rebel's Guild later that night so we went for a little walk and then relaxed by watching Netflix in bed. Revere Hotel has an option to let you sign into your Netflix, Hulu, Pandora, Crackle & more. So when you come back from your long day of traveling or sight seeing, you can log into your own account and watch whatever show you left before you went on your trip.
We got to the restaurant and I was blown away by it's beauty.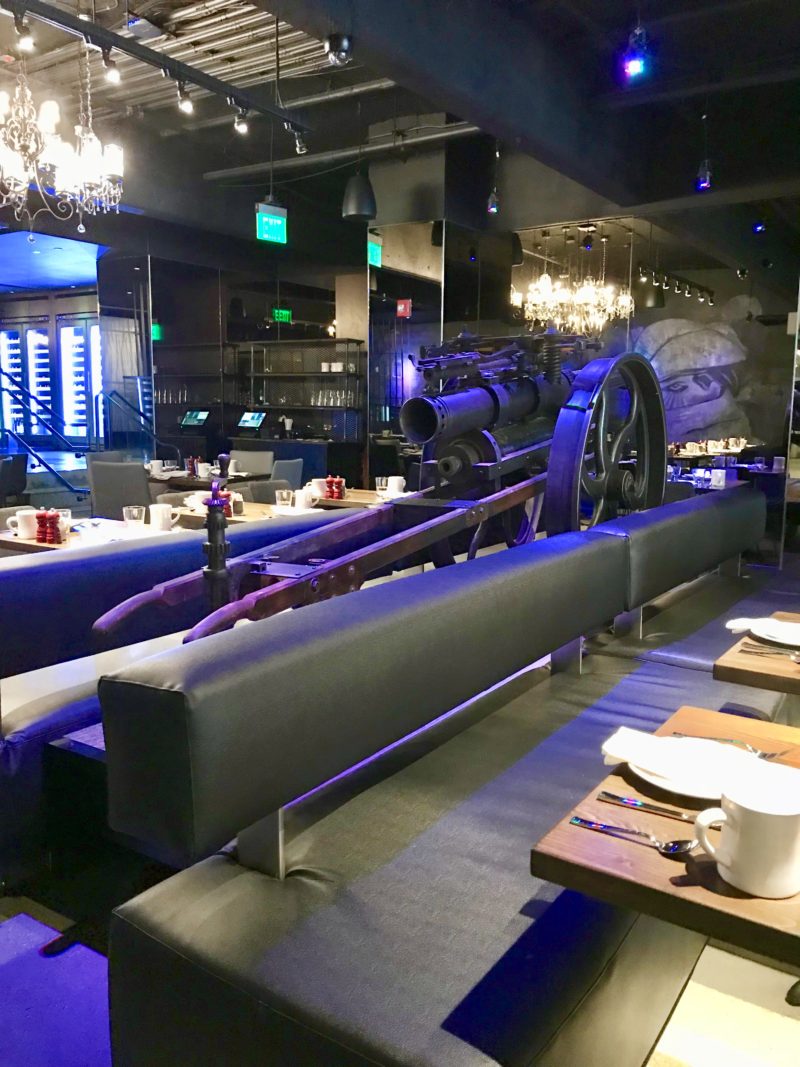 To start I got the salad which was so delicious! I also was a huge fan of the spiralized carrots on top!
For dinner I got the orecchiette with broccoli rabe. It comes with goat cheese but I asked for no goat cheese but the pasta was still super flavorful. I was so full and so happy.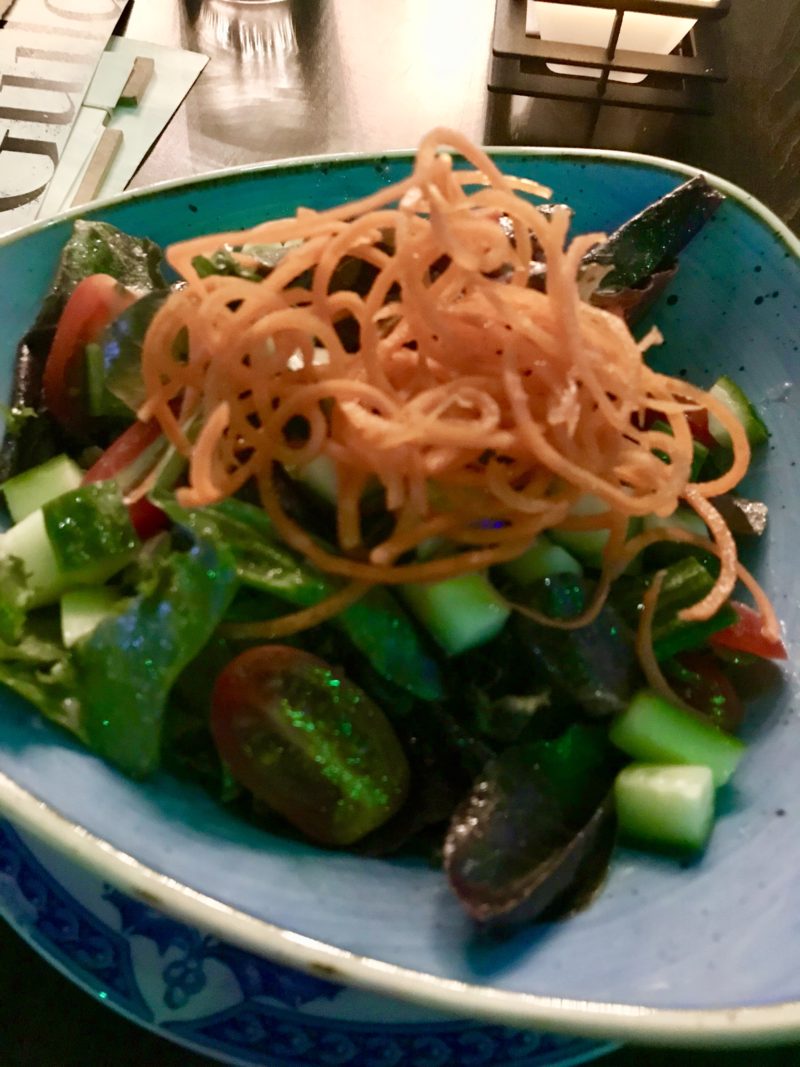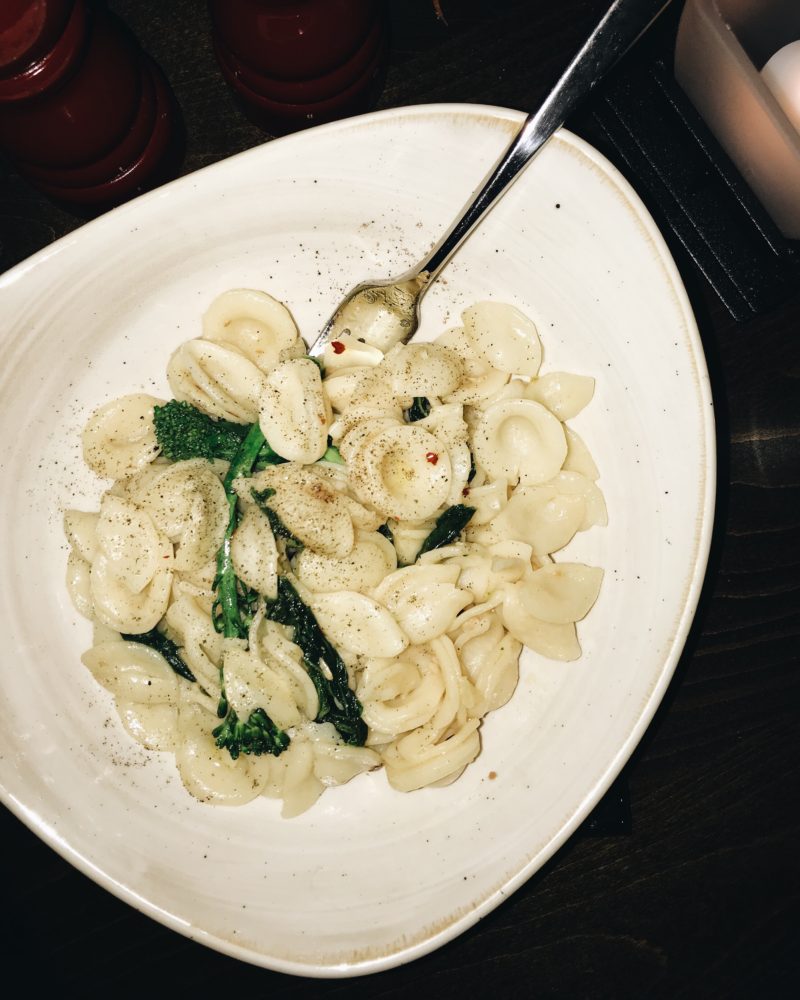 After dinner we went for another little walk, then went back to the room, watched TV and went to bed.
Day Two:
The next morning we woke up and I WAS 25! We went for a birthday breakfast and the buffet before a long day of walking/celebrating.
I got oatmeal topped with berries, coconut & my own sunflower butter. I always travel with my own sunflower butter as I am allergic to nuts and it's always good to have to snack on, or in this case, top with oatmeal!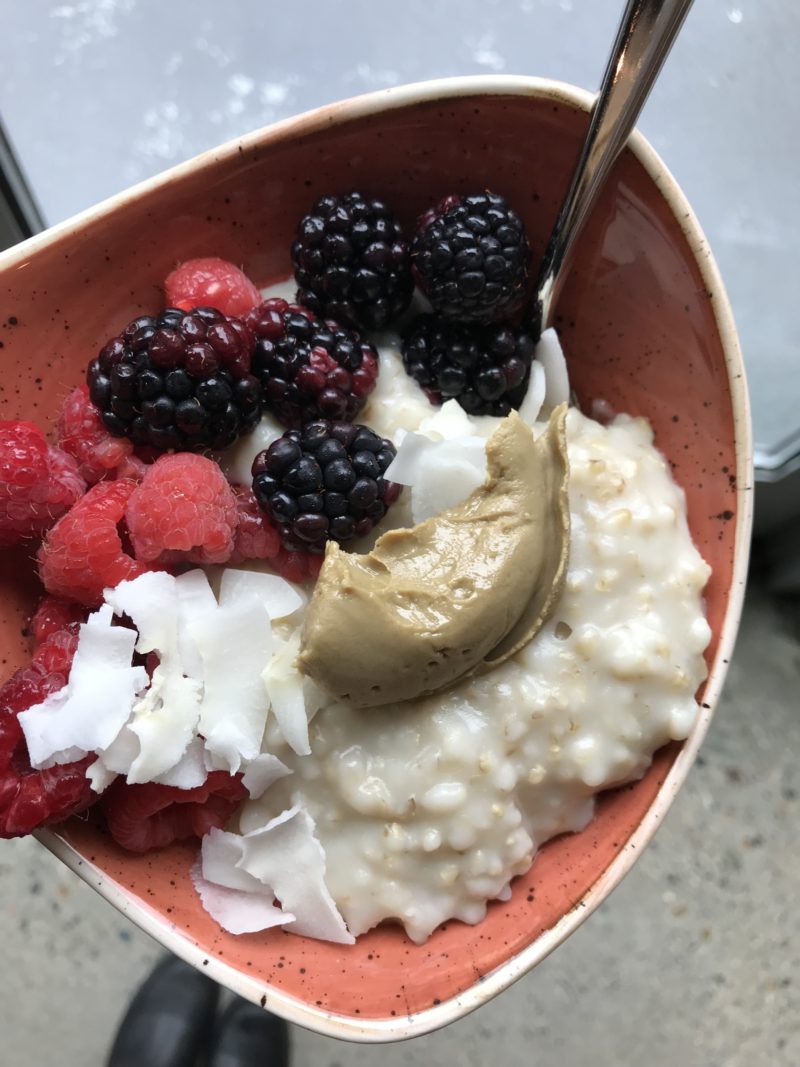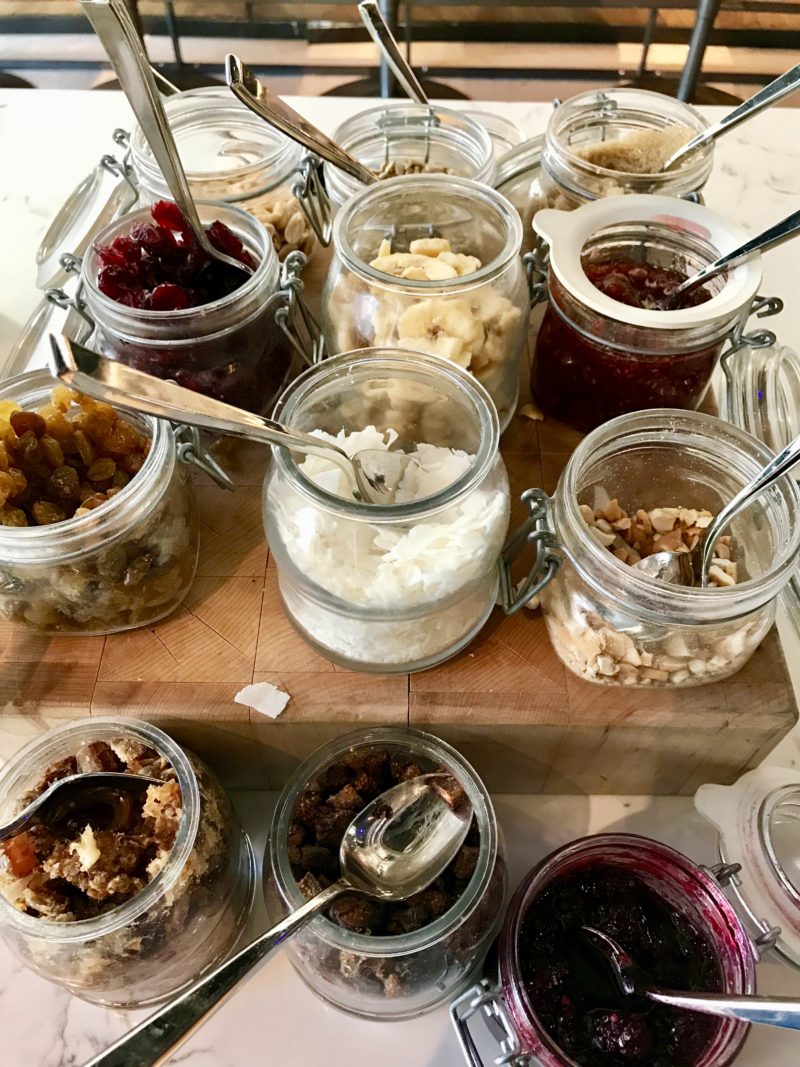 I was super obsessed with this oatmeal topping bar. I have never seen anything like this! They had so many nuts, seeds, coconut, etc. It made me really happy to see that there were so many vegan toppings and that they appreciated the fact that oatmeal doesn't have to be boring!
During the day we walked a lot, went to quincy market for lunch, the Paul Revere house (it was only fitting since we were staying at the Revere Hotel) came back to the hotel and relaxed until…VEGGIE GALAXY!
I knew I wanted to eat at Veggie Galaxy for my birthday because after being there twice before and I fell in love with the food. It is Vegan & Vegetarian (anything can be made Vegan) and has all the old school diner feels with a twist.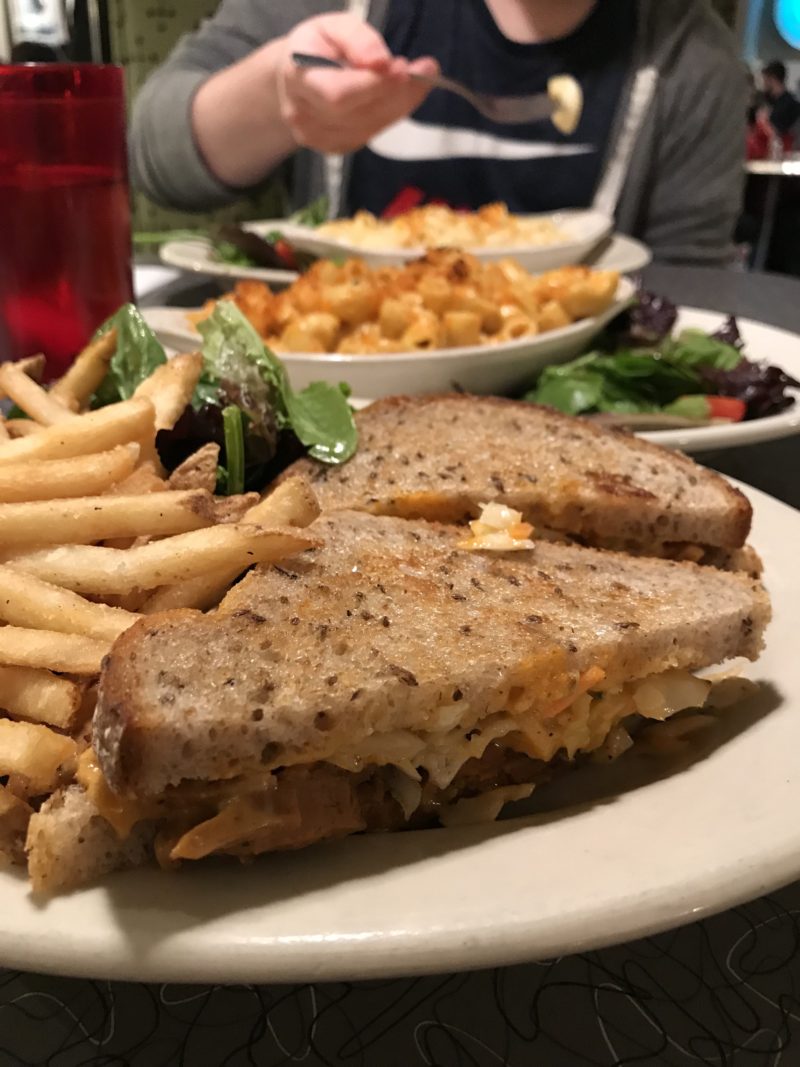 I got the rachel sandwich which was corned beef seitan, coleslaw & their vegan cheese sauce. I also got their Vegan mac n cheese and ate some of it but took it to go and ate it later in the hotel room (lol).
Day 3:
Our last full day was a rainy one. We did get unlucky with this weather but we didn't mind.
We took a walk in the morning and were trying to figure out what to do for breakfast. It wasn't until my boyfriend spoke the most beautiful words I've ever head, "do you want to go back to veggie galaxy?" ….um YES! I didn't think we'd get the chance to go back but when he brought it up I was already in the Uber waiting to go.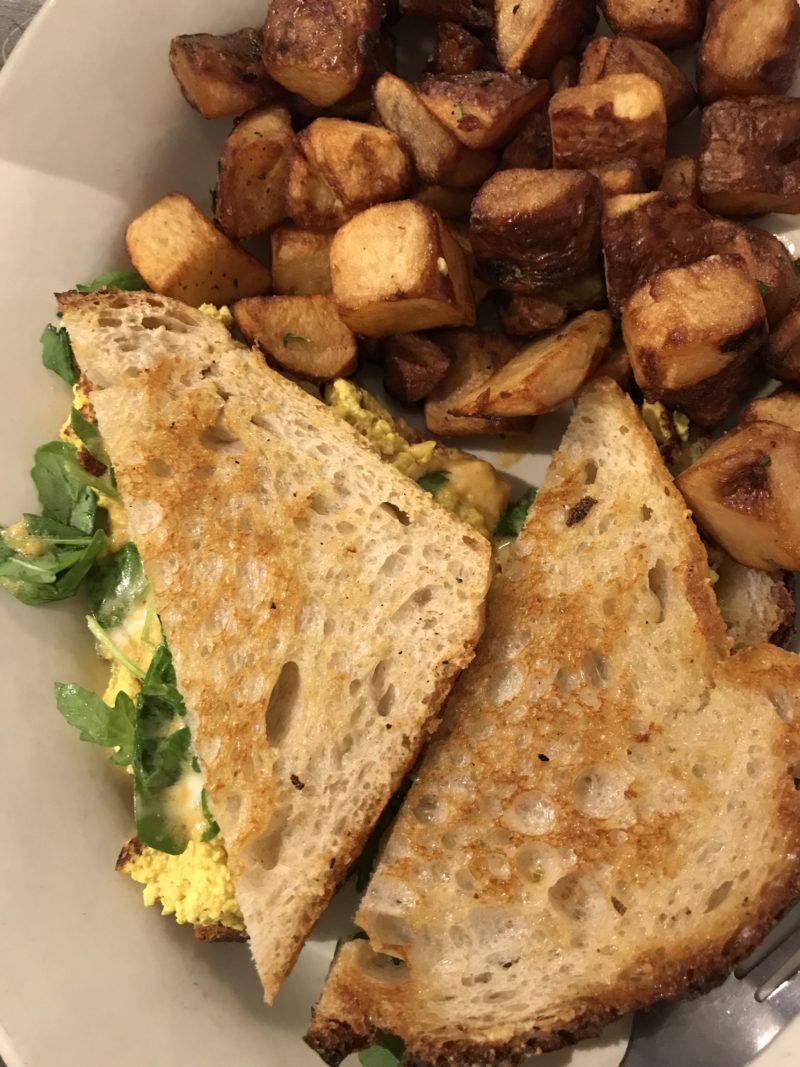 I got their breakfast sandwich! In it was tofu scramble, vegan cheese sauce, arugula and a garlic vegan mayo. IT WAS AMAZING! I am still craving it.
We were kind of tired and by this time it was down pouring so we decided to go chill back in the hotel. We had tickets to the Red Sox game later that night and really were afraid it would get rained out. Luckily the rain stopped in time!
However before we went we decided to get something to eat. Ball park food is ridiculously overpriced and not even that good. Also, it can be hard finding vegan options. Last time we went to a game I had a pretzel. So we decided to walk DOWN THE BLOCK FROM OUR HOTEL to Blaze Pizza. If you haven't heard of Blaze Pizza, it's like the chipotle of Pizza. Same idea, and they even have Vegan cheese. Last time we were in Boston we went there every day and we didn't go yet so we thought it was the perfect idea.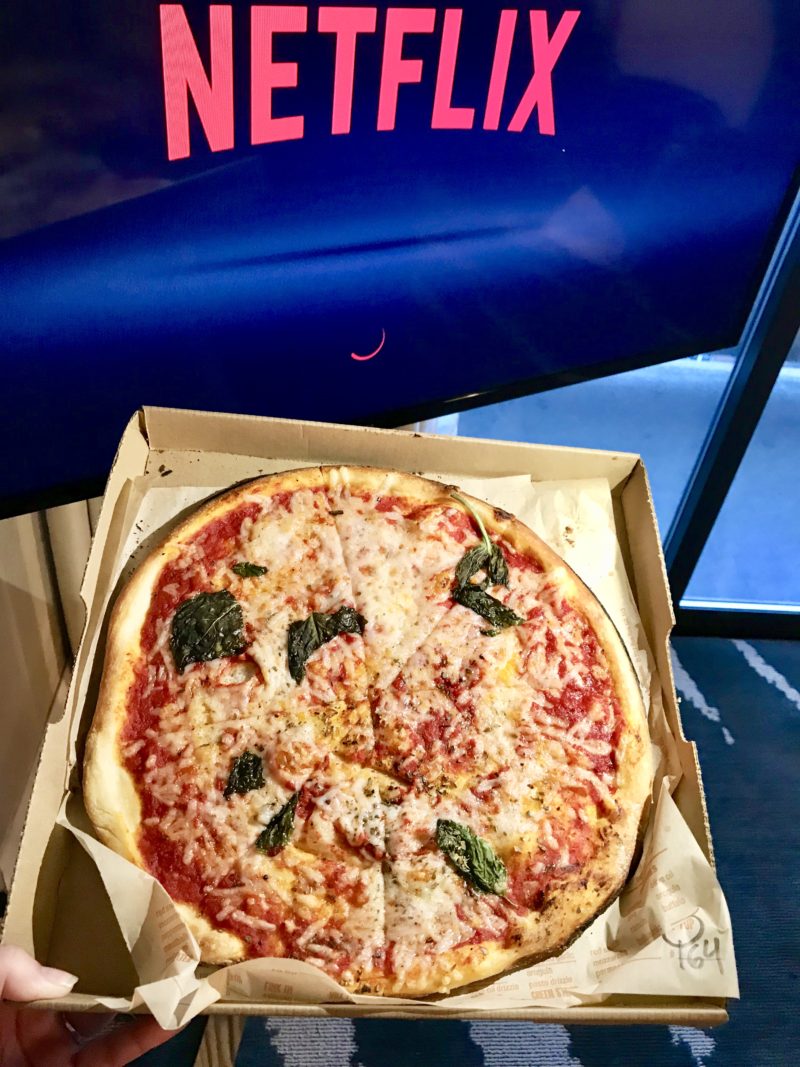 I went super simple with vegan cheese and basil. We hung in the hotel while eating it and watched Netflix. Currently I am watching The Originals. The Vampire Diaries is one of my favorite shows and I started The Originals a year ago and then just kinda got bored. So in the last few weeks I've started rewatching it and am back into it.
We then went to the game and had a lot of fun! Boston is so much smaller compared to NYC and the traffic is basically non existent. The ballpark was only around a 15 min uber ride. I definitely could NOT do that to Citi Field or Yankee Stadium.
After the game we came back to the hotel and relaxed. I feel asleep soon after.
Our last day 🙁
I woke up early to get some hotel breakfast. There was no way I was taking the train on an empty stomach. A hangry Jane is not a fun Jane.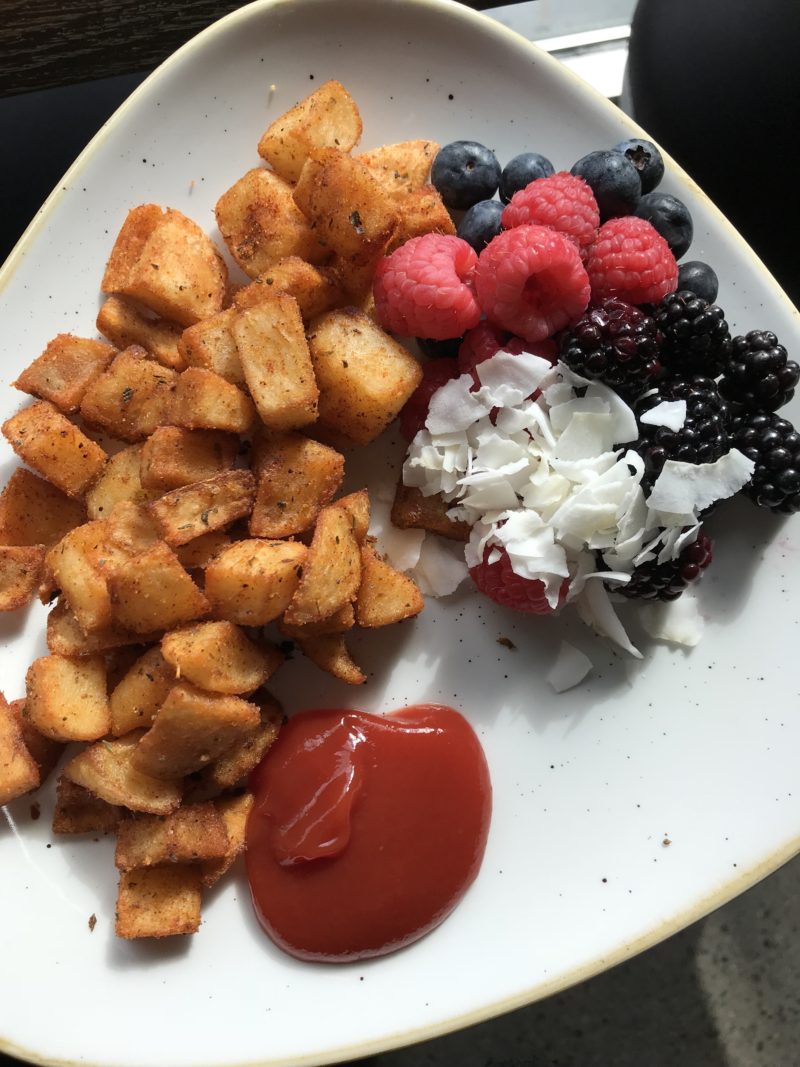 I switched it up this time and went with their breakfast potatoes which were SO flavorful. I also got some berries and coconut on top.
We came upstairs, packed up and went to the train.
I was so sad to leave but excited to see my dog.
We had the best time and I had the best birthday yet. Our trip wouldn't have been so great without the Revere Hotel. They were super accommodating and we just had the most amazing time.
I highly recommend that if you're in the Boston area to check out the Revere Hotel. It made our trip 10x more exciting and made us feel right at home, especially when it was super rainy out.
We can't wait to go back to Boston again!