Earlier this week I made a poll on my Instagram asking if you'd guys to see a gift guide geared towards Veganism. Whether this is something to show your loved ones as an idea what to get you, or good for your Vegan friends/fam.
I wanted to break this up into a few categories. Some things are great for foodies, ones who want compassionate fashion, etc.
Cookbooks:
The Colorful Kitchen by Ilene Godofsky Moreno: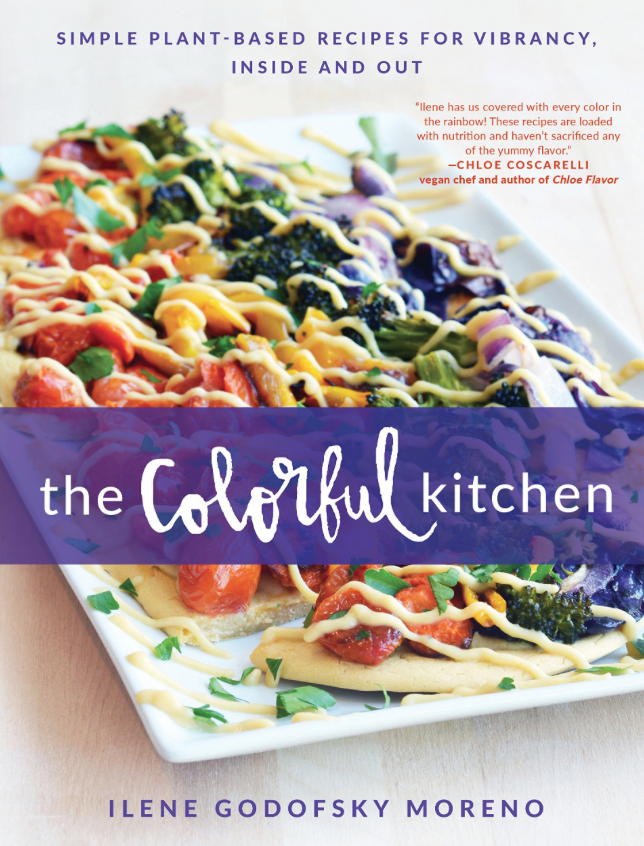 My friend Ilene from The Colorful Kitchen is releasing her very first cookbook this December 12th. It's full of delicious and nutritious Vegan recipes inspired by what she says "colorful, not complicated." It's available for pre-order right now on Amazon.
Frugal Vegan by Katie Koteen and Kate Kasbee:
This is a cookbook that I have had for awhile and I really love it! The recipes are super simple but pack a lot of flavor and also labeled for allergens (nuts, gluten, etc.). This book has 99 recipes that show you don't need to spend a lot of money to eat a healthy vegan lifestyle. Check it out on Amazon.
Blossom Cookbook by Ronen Seri and Pamela Elizabeth: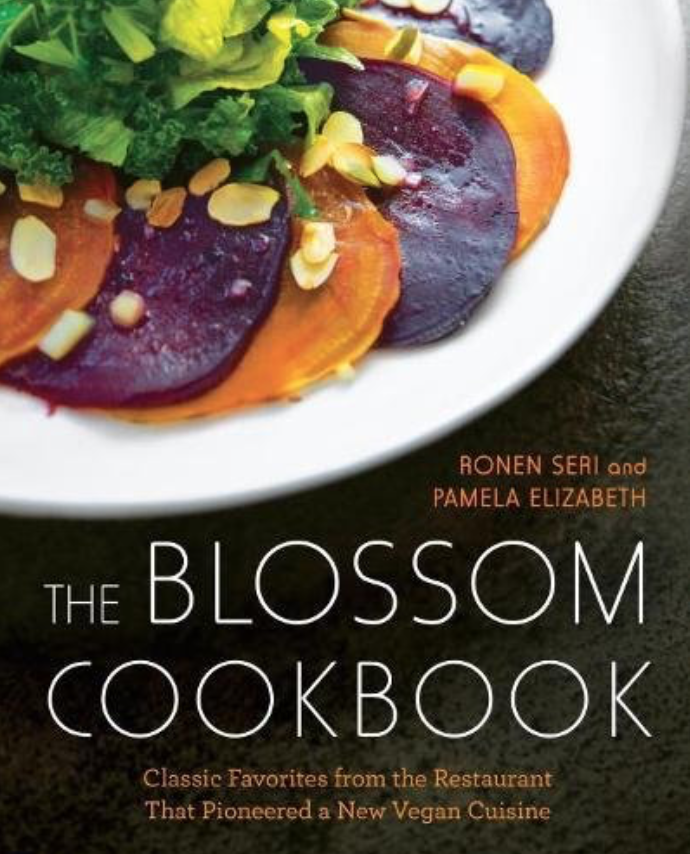 Last but certainly not least, my all time FAVORITE cookbook! Why do I love this cookbook? Because it's from my favorite restaurant Blossom here in NYC. This cookbook has SO many recipes from the restaurant menu (and tons more) including the dressing to their caesar dressing which is always what I get when going! Whenever people ask me where to go on their trips to NYC I always recommend Blossom because the food is amazing. Now, you can make some of your favorites in your own kitchen! Find it on Amazon.
Foodie Favorites:
Back To The Roots:

I love these Back To The Roots products! Give these easy items to your friends to help them grow their own herbs/mushrooms! I have the basil one and I love watching it grow and watering it! It is an incredibly easy process and upkeep and your friends will love these creative gifts. They also have a ton more herb options as well as a few gift sets. Check them out here.
Vegan Cuts: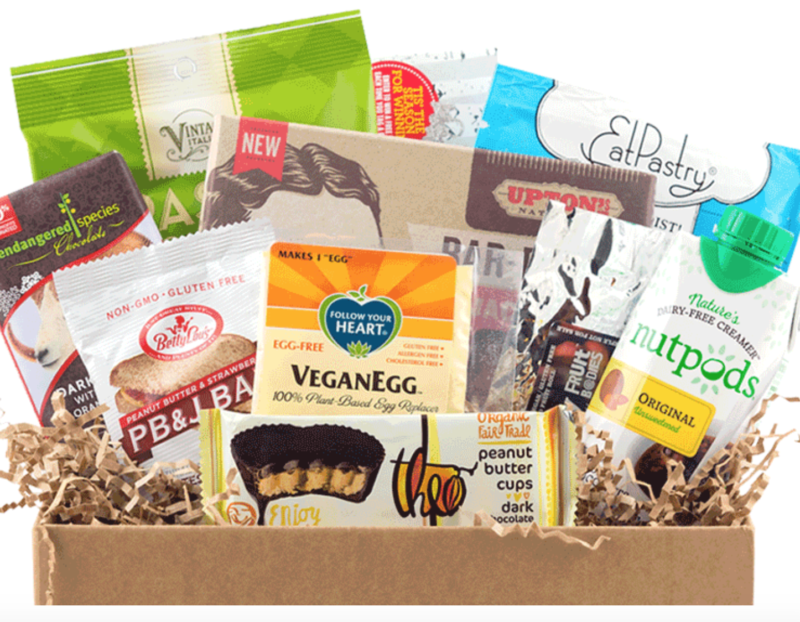 This is such a great subscription gift to give for your foodie Vegan friends! Every month Vegan Cuts will send a box loaded with full size Vegan snacks! It's a range from candy/chocolate, drinks, cookies, chips, etc. This is the perfect loaded snack box & allows for you to give a gift every month depending on how long you buy the subscription for! Vegan cuts also has a beauty & makeup box so depending what your Vegan friend is into, they'll be super satisfied! Check out Vegan Cuts here.
Purple Carrot:

Purple Carrot is a subscription meal delivery service. Once a week, you will get 3 meals (For either 1-2 people or 3-4) that are super unique and easy. Each recipe comes with a recipe card and pre-packaged foods for incredibly easy cooking. All of the recipes are 100% Vegan and carefully crafted. This service is great for busy Vegans or Vegans starting out having a harder time figuring out what to cook! Check them out here.
Compassionate Fashion/Jewelry:
Jewels by SJB:

Jewels by SJB is owned by my good friend Sue. Not only is she literally the most beautiful person I know inside & out, but she creates stunning and compassionate jewelry. All of her jewelry are hand made in her home with love and is the perfect gift for the holidays season. If you aren't into stamped Vegan jewelry, she also makes a number of different pendents, rings, bracelets, etc. They're classy and dainty, and to make things even better…she ships world wide! Check out her jewelry here.
Peas & Love:

Peas & Love is founded by another friend of mine, Tanairi. She creates beautiful and handmade stamped bracelets including totes & bumper stickers. 25% of her sales she donates to various charities including The Humane League and Mercy for Animals. I even did a collaboration with her in which I designed 4 different stamped bracelets (listed above!) in which some of the proceeds go to the Catskill Animal Sanctuary. Check out Peas & Love here.
In The SoulShine:

In The Soulshine is your one stop shop for everything Vegan related. Their items range from clothing, to bags and stickers. Their items are available for women, men & children so it's great for a whole family. I personally have the tote, pictured above and bring it everywhere with me! They're Australian based, made ethically in Bali, and ship worldwide so if you're interested in purchasing for the holidays I would get it ASAP! Check them out here.
Matt and Nat: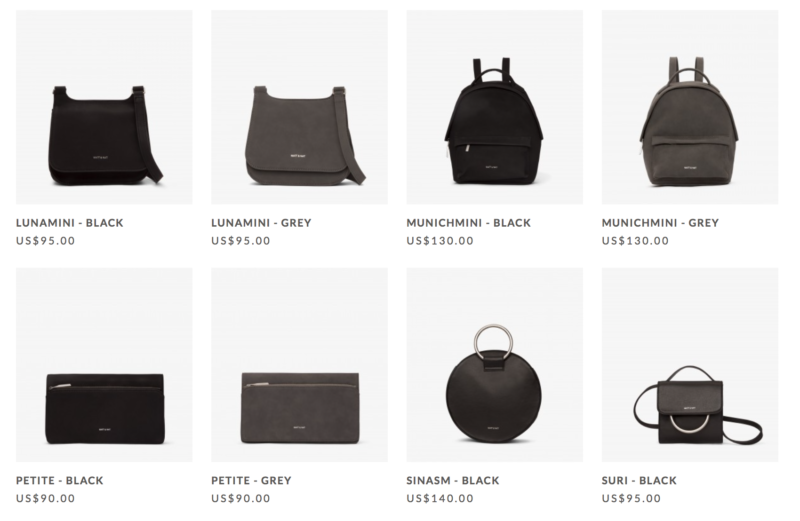 Matt and Nat is my go to for Vegan purses. I am absolutely in love with everything they make. Not only are they reasonably priced (compared to how much I used to spend on purses) but they are VEGAN LEATHER! They are made from recycled plastic bottles! All of their styles are gorgeous but I am particularly obsessed with their holiday collection this year! I mean just look at them! They're so beautiful. Check them out here.
Health/Wellness:
Pique Tea: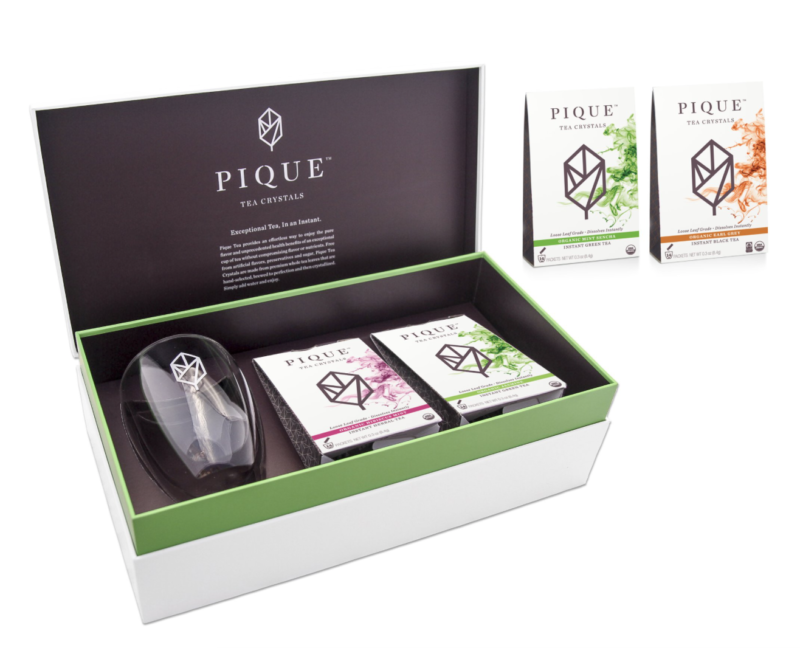 I've been drinking Pique Tea for a few months now and am absolutely in love! Pique is not your typical tea, in fact it's tea crystals. All you have to do is add your tea crystals to your water and stir with a spoon and within seconds you have the most flavorful cup of tea you've ever tried. They also can be used for iced tea as well! My whole family loves them and they're also incredibly easy to travel with. For the holiday season they came out with this Holiday Gift Box. This gift box comes with 1 Pique double walled glass cup (I seriously love this cup and use it all the time), and 4 cartons of their different flavors of tea. Each pack comes with 14 sticks so in total you're getting 56 glasses of tea! Honestly amazing for the price. Check them out here.
Amoda Tea: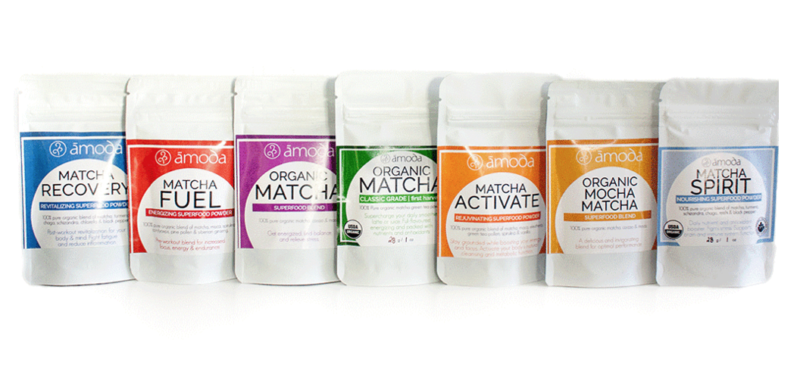 Amoda tea is also another one of my favorite tea companies. I use their Matcha as well as their Golden Turmeric Ginger. Amoda has seriously A TON of gift sets as well as a monthly tea subscription box that you could gift to someone! I am really in love with this Amoda Elevated Matcha Mini Set but they also have a Latte & Smoothie set as well as a Herbal Wellness mini set. Check them out here.
Saje Wellness: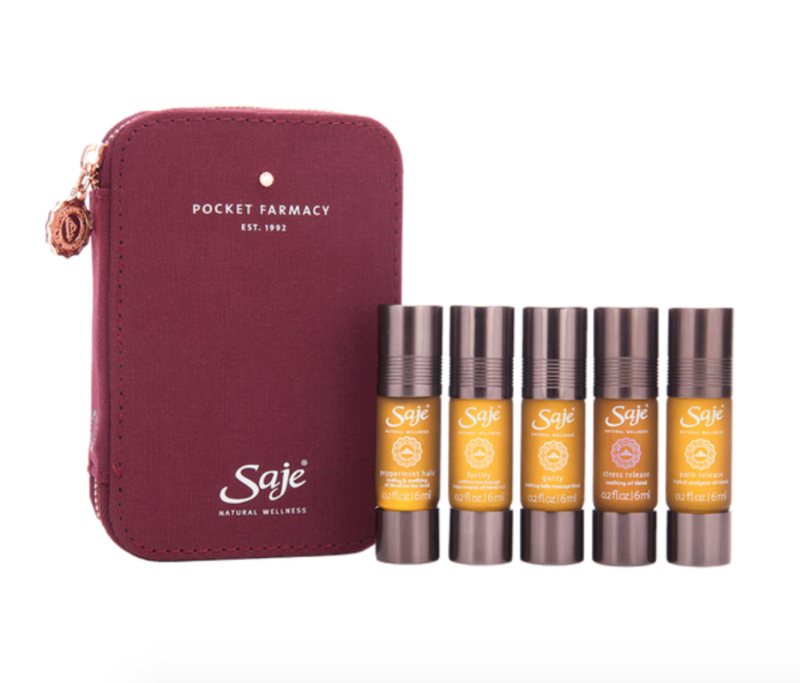 Where do I even begin talking about Saje Wellness? Well, I will begin with this Pocket Farmacy which I literally take everywhere with me. These come with 5 different essential oil blends which target different needs in your life. For instance, I can't live without my peppermint halo. I KID YOU NOT it takes away EVERY headache I have so I don't have to rely on medication. Some of you even told me that when you bought it after seeing it on my insta/snapchat that the peppermint halo really does work. I also love to use all the other essential oils in this set including the gutzy & stress release. If you want to get acquainted better with essential oils, or know someone who loves them, this is seriously the gift for them. Check out Saje here.
Osea Malibu: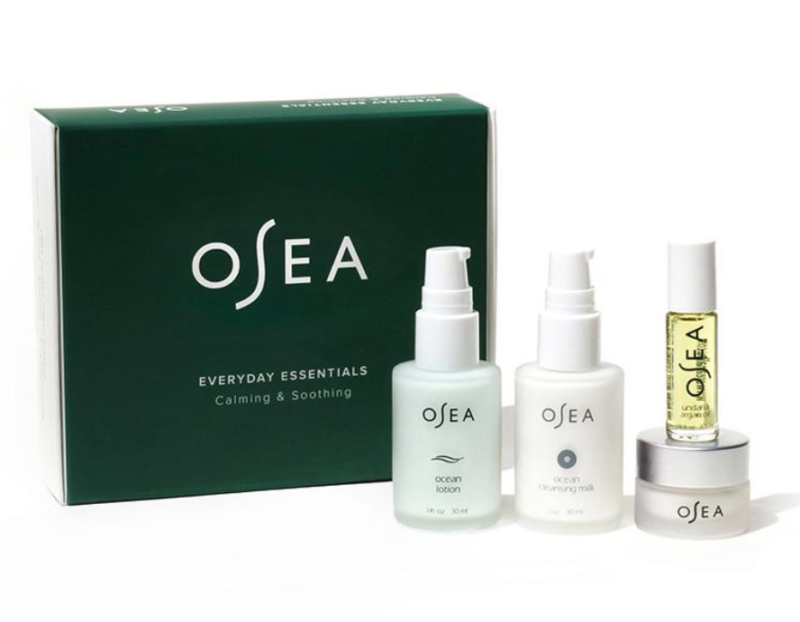 You guys know I love Osea Malibu so much. I use a wide variety of their products and could not recommend them more! Osea offers little sets like this Everyday Essentials Calming & Soothing Kit that is great to use as a gift set. This one pictured would be great for dryer sensitive skin, but they have other boxes for all skin types. All of their products are Vegan & Cruelty free and working so well. I am madly in love with the brand. Check them out here.
Other/Miscellaneous
Veg News Subscription: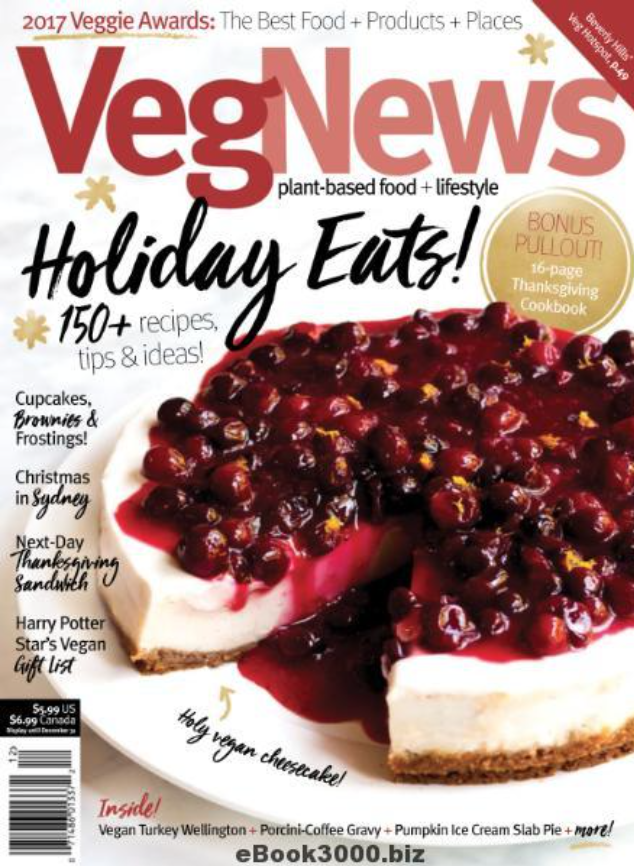 I got a Veg News subscription as a gift a year ago and I am so happy with it! Veg News is a completely Vegan magazine ranging from talking about food, fashion & lifestyle. It is such a staple in my life and I look forward to receiving it. I gain a lot of inspiration as well as learn about different brands and learn more about the environment. It is honestly a very thoughtful gift that they will love! Check out Veg News here.
Milk &Honey Luxuries:

This is an adorable gift to get for your foodie friend! I have both a fork & spoon (Both pictured above!) and I love it. It's a great gift for your foodie friends or those who love to post their meals! It's a thoughtful and unique gift to give someone who can use it forever! You can also personalize one and add any inside jokes/sayings that you know your friends/loved ones are into! Check out Milk & Honey Luxuries here.
Planet Box: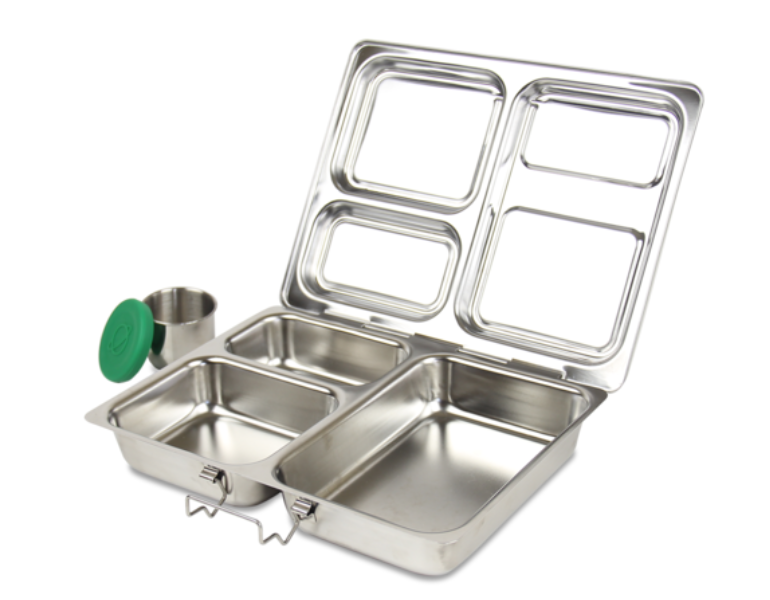 I love my planet box for carrying food on the go! They fit a lot of food but are also very stylish. This is the launch box, which I own, and love it! It's non toxic as well as dishwasher safe, for easy cleaning. These are great to give to those who always bring their own meals to work or who like to prep their meals for school/classes. Check out planet box here.
Himalayan Pink Salt Lamp: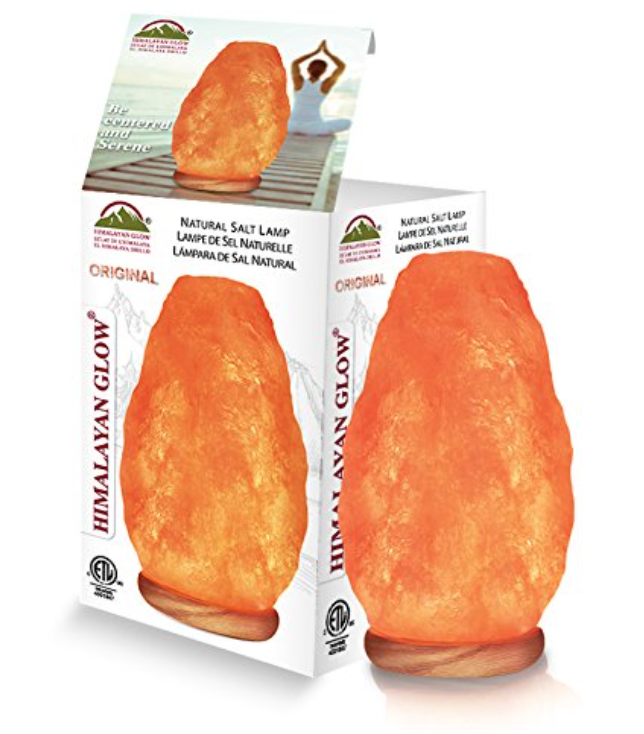 Obviously salt lamps aren't just for Vegans, but I thought it would be a good idea to include it. I have a pink salt lamp and I love it. There are also a lot of holistic natural healing affects surrounding the pink salt lamp. They are said to help promote better sleep, help allergies, and overall improve air quality. They're also great for a night light. Check out a salt lamp here.
Honorable Mentions:
This super cute Vegan pizza pin.
A tofu press – perfect for your tofu loving friends.
Hot air popcorn making – perfect for oil free delicious popcorn!
Want to make your friends laugh? Get them one pound of nutritional yeast.
Perfect for more oil free cooking, an air fryer is the perfect gift and works for so many different recipes.
I hope that you were able to gain some inspiration/ideas to give your friends/family for the upcoming holidays! Let me know in the comments below what is on your holiday wish list!